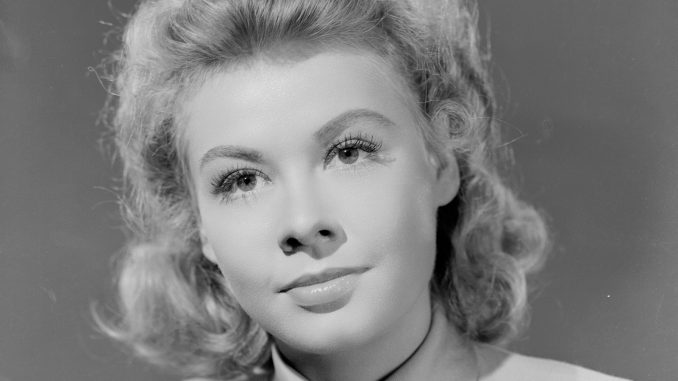 Who is Vera-Ellen?
The late American actress and dancer Vera-Ellen Rohe was born in Norwood, Ohio USA, on 16 February 1921, meaning that Aquarius was her zodiac sign. She had roles in only two TV series and 14 movies, and is perhaps still remembered best for playing Judy Haynes in the hit 1954 romantic musical comedy movie "White Christmas", which Michael Curtiz directed, and which starred Rosemary Clooney, Danny Kaye and Bing Crosby. It follows four members of a song-and-dance team who've fallen in love with each other, and are now trying to help save a failing Vermont inn of their former coach; the film was nominated for two awards, including an Oscar for Best Music, Original Song.
Vera-Ellen, Danny Kaye, and Bing Crosby on the set of White Christmas, 1954… pic.twitter.com/2qDj9lQwBA

— Classic Movie Hub (@ClassicMovieHub) February 17, 2021
Education and early life
Vera-Ellen was raised in Norwood by her mother Alma C. Westmeier who was a housewife, and father Martin F. Rohe who was a piano salesman – both were German immigrants; because Vera-Ellen didn't speak about having siblings, it's believed that she had none.
She was 10 when she started taking dance lessons, and eventually began practicing at Hessler Studio of Dancing, alongside the late actress, singer and activist Doris Day. Aged 13, Vera-Ellen competed on the radio talent show "Major Bowes Amateur Hour", winning and then launching her career as a professional dancer.
She studied at a local high school, from which she matriculated in 1939, and then worked as a dancer and stage actress for seven years prior to launching her career on TV.
Broadway
Vera-Ellen's Broadway debut was in the 1939 musical "Very Warm for May", while she then performed at Radio City Music Hall as one of the youngest Rockettes; she could then have been seen appearing in Broadway plays "A Connecticut Yankee", "By Jupiter" and "Panama Hattie".
Roles in movies
Vera-Ellen's debut film role was playing Susie Sullivan, one of the main characters in the 1946 sports comedy "The Kid From Brooklyn", directed by Norman Z. McLeod, and which also starred Danny Kaye and Virginia Mayo. It follows a milkman who's managed to knock out a boxing champion, and has now launched his career as a professional boxer. Also in 1946, Vera-Ellen played Myra Charters in the musical "Three Little Girls in Blue".
Some of her following roles were in the 1947 romantic musical "Carnival in Costa Rica", the 1948 biographical musical comedy "Words and Music", and the 1949 musical crime comedy "Love Happy". Also in 1949, she played Ivy Smith in the critically acclaimed romantic musical comedy "On the Town", directed by Stanley Donen, and which starred Gene Kelly, Frank Sinatra and Betty Garrett; it follows three sailors as they're searching for love in New York City during their one-day leave – the movie won four of its six award nominations, including an Oscar win for Best Music, Scoring of a Musical Picture.
Vera-Ellen was then cast to play supporting characters in the 1950 biographical musical comedy "Three Little Words", the 1951 musical comedy "Happy Go Lovely", and the 1952 romantic comedy "The Belle of New York".
She starred as Princess Maria in the 1953 romantic musical comedy "Call Me Madam", directed by Walter Lang, and which also starred Ethel Merman and Donald O'Connor. It follows the life of American hostess Sally Adams, and the film won four of its eight award nominations, including an Oscar win for Best Music, Scoring of a Musical Picture.
Vera-Ellen appeared in only two other films prior to retiring from acting: the 1953 family sports drama "Big Leaguer", and the 1957 musical "Let's Be Happy"; she then chose to stay away from the media's attention, and focused on being a housewife.
Roles in TV series
Vera-Ellen's debut TV series role was playing Guest in the 1954 episode "Imperfect Lady" of the comedy "Lux Video Theatre", which starred Ken Carpenter, Jay Jackson and Otto Kruger, and is a compilation of short comedy videos starring a number of popular Hollywood actors and actresses; the series aired from 1950 through 1959, and was nominated for 11 awards.
Vera-Ellen's only other TV series role was playing Sally Baxter in the 1957 episode "The Man Across the Hall" of the musical comedy "The Ford Television Theatre", which starred Philip Carey and Laraine Day, and follows an attractive man and a woman who are in an unhealthy relationship.
Other credits
Vera-Ellen performed various songs in nearly all of the movies and TV series in which she appeared, including four songs in the 1951 romantic musical comedy movie "Happy Go Lovely", five songs in the 1952 romantic musical comedy film "The Belle of New York", and also five songs in the 1953 romantic musical comedy movie "Call Me Madam".
She made a guest appearance in a number of talk-shows, such as "Washington Square", "Perry Como's Kraft Music Hall", and "The Dinah Shore Chevy Show".
Awards and accolades
Vera-Ellen received her own star on the Hollywood Walk of Fame on 8 February 1960.
Love life and husband
Vera-Ellen was married twice. Her first husband was American dancer Robert Hightower, whom she had met at a dancing club; the two married in February 1941 but divorced in November 1946.
Vera-Ellen's second husband was wealthy oilman Victor Rothschild; the two exchanged vows in 1954, and Vera-Ellen gave birth to their daughter Victoria Ellen in 1963. Victoria was three months old when she died from sudden infant death syndrome (SIDS), which Vera-Ellen found it hard to cope with, and was when she chose to quit the film industry for good, and to stay away from media.
She and Victor divorced in 1966, and it's widely believed that she remained single until her death.
Interesting facts and hobbies
Some magazines described Vera-Ellen as 'extremely thin', and many people believed that she was struggling with an eating disorder, anorexia in particular. She often wore a sweater that covered her neck during the shooting of "White Christmas", and rumors began circulating that this was because she had anorexia-caused wrinkles on her neck. Vera-Ellen's best friend Bill Dennington denied these rumors, as well as her second husband Victor, and niece-by-marriage Ileana Rothschild.
Vera-Ellen never stopped taking dance lessons, and enjoyed swimming in her spare time; she suffered a mild stroke when she was around 40 years old, and swimming helped her recover.
She loved to listen to Frank Sinatra's music, and he was also amongst her favorite actors.
Death, appearance and wealth
Vera-Ellen was 60 when she lost her fight against ovarian cancer on 30 August 1981 – her body was buried at Glen Haven Memorial Park in Los Angeles.
She had blue eyes and blonde hair, was 5ft 4ins (1.63m) tall and weighed around 115lbs (52kgs).
Vera-Ellen's net worth at the time of her death was estimated at over $3 million.