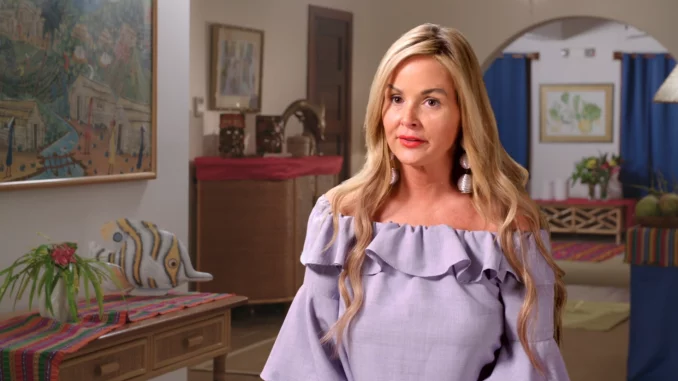 Stephanie Davison
Stephanie Davison is known to fans of the "90 Day Fiancé" franchise as a controversial and even villainous character. Her eyebrow-raising antics have been well-documented across the internet for years, and despite her storyline never having an official ending due to not appearing in the Tell-All episode, Stephanie manages to remain in the headlines to this day.
Stephanie Davison and her much younger boyfriend Ryan Carr, were first seen in season eight of "90 Day Fiancé". Stephanie, a self-proclaimed cougar who was born and raised in Michigan, first met Ryan while vacationing in Belize and decided to bring him to the U.S to marry. Ignoring the criticism from those in their inner circle due to the 25-year age gap, Stephanie and Ryan appeared determined to walk down the aisle….until their relationship ended and she began dating his married cousin, Harris Flowers.
So, Stephanie and Ryan weren't invited to the Tell-All episode, but the 52-year-old explained her side of events during an Instagram Live. According to the Michigan native, she and Ryan split way back in August 2020 before filming began, but they both went along with the fake storyline when producers of the show supposedly convinced Stephanie to remain for the sake of her brand.
When Stephanie flew to Belize in October 2020, she was allegedly assaulted by Ryan. In the end, they broke up due to the strain of the coronavirus pandemic, and Ryan not having money or means to provide for his family; however, Stephanie remained in the show to promote her clinic business. The blonde's followers were left incredulous when she claimed to have never been romantically involved with Harris, who made a six-hour trip to meet Stephanie as soon as she broke up with his cousin.
According to Stephanie, the storyline between herself and Harris was completely fabricated, and she was also manipulated by the production team. Some fans even believed that she was taking drugs due to her slurring her speech and looking exhausted, but Stephanie claimed that her haggard appearance was caused by 15-hour filming days, and the anti-histamines and steroids she was taking for bug bites.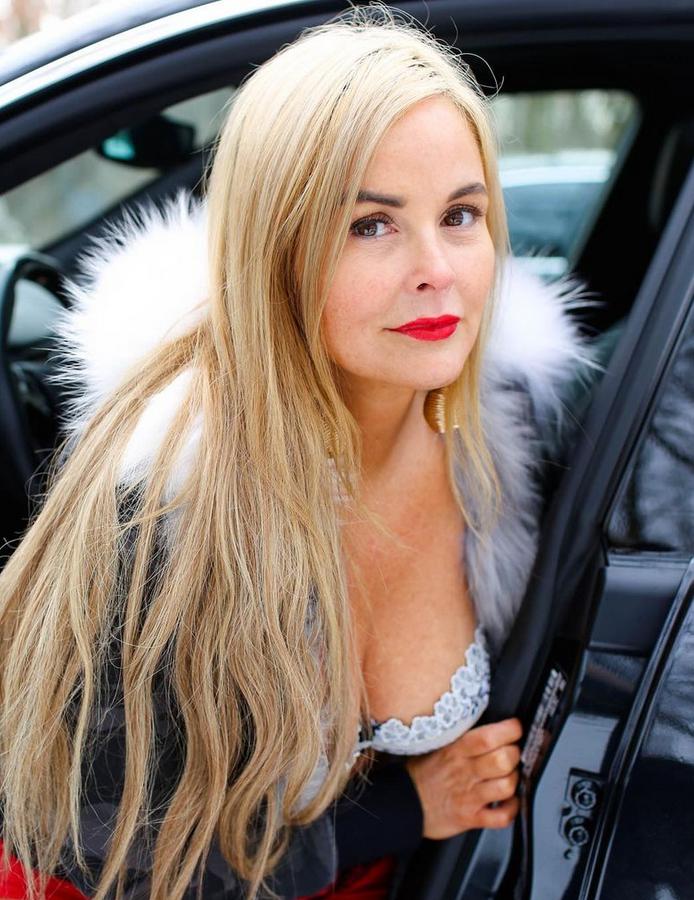 If anyone was wondering how Harris's wife Emma felt about the outlandish situation, Stephanie added that she had sent her a computer as a Christmas gift, and wanted Harries to obtain a work visa and come to the US to financially support his family. In May 2021, the "90 Day Fiancé" star was still legally engaged to Ryan, and apparently had to wait until December of the same year for the engagement to become void.
On-screen antics aside, Stephanie landed herself in hot water with the Michigan Attorney General Dana Nessel, after claiming that her weight loss clinic's injections prevented COVID-19. Dana publicly called on Stephanie to retract her statement, with news outlets later reporting that the TV personality had reached an agreement with the State of Michigan.
Ryan's last Instagram post dates back to March 2021, whereas Stephanie has also been taking long social media breaks since she's no longer part of the "90 Day Fiancé" universe. Apart from her disastrous or fictionalized love life, Stephanie also suffered a devastating blow with the death of her pet cat Cooper.
Following a lengthy Instagram hiatus, Stephanie popped back up by posting a selfie with O.J Simpson, captioning the snap: "Time to get away again for some more sun! #West Palm Beach #NO I DON'T LOOK LIKE HER!!! #my quarterly post." By "her", Stephanie was referring to Nicole Brown Simpson, O.J.'s deceased ex-wife whom he was accused of murdering. Needless to say, netizens found Stephanie's words insensitive and crass and considered the photo another of her publicity stunts.
Over a year has passed since Stephanie and O.J's selfie, and fans are wondering what the entrepreneur is doing these days. Understandably, she hasn't been invited back onto TLC after "exposing" the producers of "90 Day Fiancé" in April 2021. However, controversy sells, and with over 140,000 Instagram followers Stephanie, could probably work as a content creator or influencer if she wished.
The businesswoman's last Instagram post to date was on 17th April 2023, when she teased the possibility of buying a new pet cat. She was also recently spotted at a photoshoot with Stephanie Matto, the founder and CEO of Unfiltrd Official. The namesakes got to know each other when Stephanie won an auction for a one-hour virtual date with Matto, who went viral in summer 2022 for sensationally claiming to earn thousands of dollars a week by selling her flatulence in jars.
In September 2022, the two Stephanies were seen spending time with adult film actress Alexis Monroe. It remains unclear what the three women were discussing that night, but some fans think that a possible collaboration of some sort could be in the works between the rather unlikely group.
Undeniably, Stephanie's "90 Day Fiancé" run was full of highlights and lowlights. The episode in which she met Ryan in Belize wearing a facemask with his face printed on it has often been discussed by viewers of the show; during the same trip, the self-described "lifelong bachelorette" showered her younger boyfriend with opulent gifts such as a $3,000 snake watch.
*90 Days Fiance Stephanie Davison Spill Tea*90 Day Fiancé star Stephanie Davison has left fans stunned by announcing…

Posted by What's Happening Belize Media on Monday, May 24, 2021
What makes Stephanie's allegations against the show even more shocking is that, at the time of filming those scenes, she and Ryan had apparently been separated for months because he kept demanding money from her. We'll probably never know who was telling the truth, as spokespeople for "90 Day Fiancé" have refused to comment on the situation.
Despite often being dragged online for her attention-seeking behavior, such as the time she recorded herself giving out cash to strangers to celebrate International Happiness Day, Stephanie will go down in history as an unforgettable part of "90 Day Fiancé". It's expected that the outgoing blonde will return to social media this summer, mid-2023, as she usually posts every couple of months to let her fans know that she's still alive and well. Ryan's whereabouts are unknown, as are Harris's and his wife Emma's.