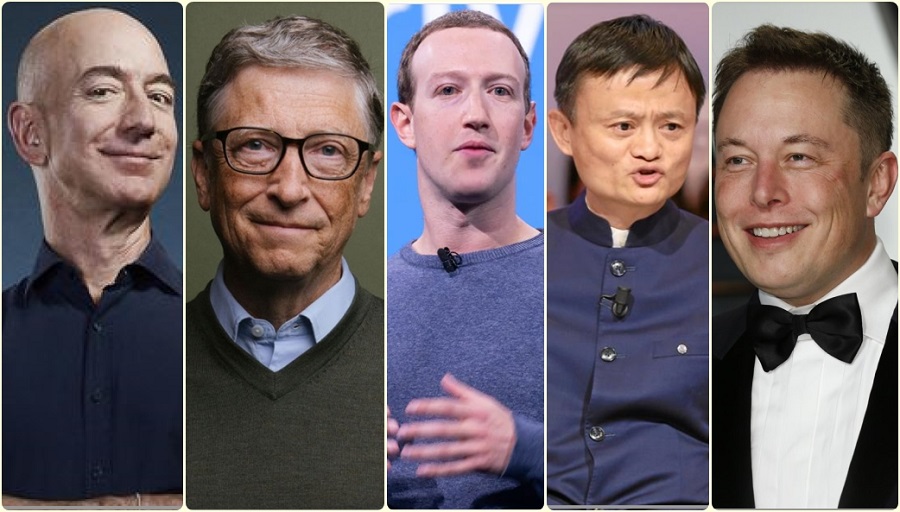 We are all accustomed to the idea that a college degree is required to make it in the world. But this isn't always the case. There are many billionaires who managed to become self-made and successful without a college degree.
From tech giants to entertainment moguls, these people prove that hard work and dedication can make dreams come true, even in the absence of a college education. This, however, is not to say that college degrees are not important.  Getting education is still the best way to open up avenues for success.
That said, here are 10 self-made billionaires who don't have degrees:
Mark Zuckerberg
The co-founder of Facebook and current CEO, Mark Zuckerberg, was accepted into Harvard University but never graduated due to his commitment to launching the social media platform. He left Harvard University after his sophomore year to focus on building the social media platform. As of 2022, he has a net worth of $43.5 billion dollars.
Bill Gates
Microsoft founder Bill Gates dropped out of Harvard after only two years but went on to become one of the wealthiest people in the world, with an estimated net worth of $104.2 billion dollars as of 2022.
Richard Branson
The founder and chairman of the Virgin Group dropped out of school at 16 to start his own business venture with a magazine called Student Magazine, which later became Virgin Records and ultimately gave rise to the Virgin brand we know today.
Steve Jobs
Apple co-founder and former CEO Steve Jobs famously dropped out of Reed College after only one semester due to financial constraints but still managed to revolutionize personal computing with Apple products like the iPhone, iPad, and MacBooks while becoming one of the most successful entrepreneurs in history with an estimated net worth at its peak was around $10 billion dollars at the time of his death in 2011.
Oprah Winfrey
Talk show host, actress, producer, and philanthropist Oprah Winfrey left Tennessee State University after only one year yet went on to be one of the most influential women in entertainment history with an estimated net worth currently standing somewhere between $2-2.5 billion dollars
Larry Ellison
Co-founder and former CEO of Oracle Corporation, Larry Ellison, did not finish college because he had family obligations that took him away from school, but he still managed to launch Oracle, which became one of the leading software companies in history.  Ellison amassed an estimated net worth currently standing at around $91 billion dollars, making him one of the wealthiest men on earth.
Jack Ma
Chinese entrepreneur Jack Ma also left university without graduating yet went on to become one of China's most successful businessmen by founding Alibaba Group, which is now an international eCommerce giant. He is China's richest man, with an estimated current net worth clocking in at around $22.9 billion dollars.
Henry Ford
American industrialist and founder of Ford Motor Company, Henry Ford, dropped out of school at the age of 16 to take care of his family's farm. He left farming to become a machinist, eventually founding the iconic car company in 1903. His net worth at the time of his death in 1947 was estimated to be around $188 billion dollars when adjusted for inflation.
Walt Disney
Disney left school at the age of 16 to join the army, but his real passion was drawing. He eventually started his own animation studio, which produced iconic films such as Snow White and the Seven Dwarfs, Cinderella, and more. By the time of his death in 1966, he had an estimated net worth of $5 billion dollars.
Michael Dell
Founder of Dell Technologies, Michael Dell, dropped out of the University of Texas after his freshman year to launch his computer business which went on to become a global IT powerhouse. He currently has an estimated net worth of $51.7 billion dollars.
Wrapping Up
These billionaires have all achieved success without a college degree, proving that anything is possible with hard work and dedication. While getting an education is still important, it's not the only path to achieving success and wealth. You can be creative and innovative in pursuit of your goals and make use of available resources.
But what does it take to be successful even without a college degree? Well, by following these successful people, you will note that it takes:
●  Hard work- You need to be willing to invest long hours and put in the hard work necessary to make it as an entrepreneur.
●  Creativity- The same way casinos have bonuses such as Red Stag casino no deposit bonus, you need to be able to think out of the box and come up with new ideas.
●  Determination- You must remain focused and committed even when things seem difficult or uncertain.
●  Dedication- You must stay focused and remain dedicated to your goals so you can see them through even when the odds are against you.
●  Risk-Taking- You will need to take risks and be willing to step out of your comfort zone to succeed.
●  Networking- Establishing strong relationships with others, especially those in your industry, can help open doors for you and give you access to valuable resources.
With the right combination of these characteristics, you can achieve success regardless of whether or not you have a college degree.