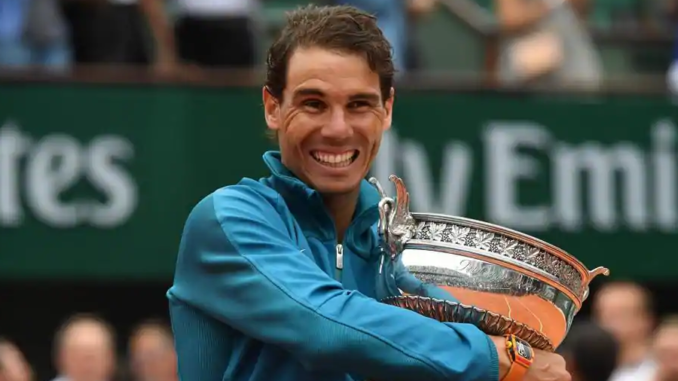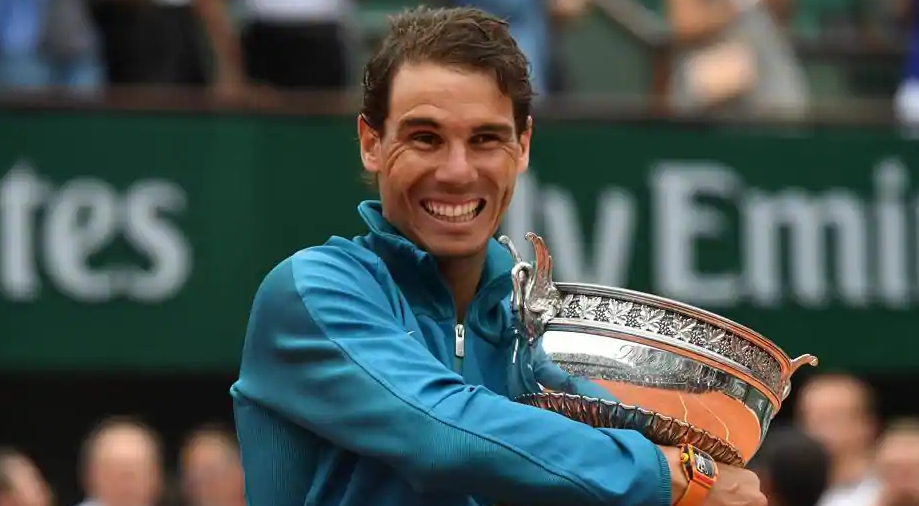 The 35-years-old, Rafael Nadal (born June 3, 1986) is a professional tennis player from Manacor, Mallorca, Spain. Until now, he has won 21 Grand Slam men's singles titles, the most in history. Moreover, he has won 90 ATP singles titles, with 62 on clay, including a record 13 French Open titles and 26 of his 36 Masters titles. His 81 consecutive wins on clay is the longest single-surface win streak in the Open Era. He has won the Stefan Edberg Sportsmanship Award five times and was the Laureus World Sportsman of the Year in 2011 and 2021.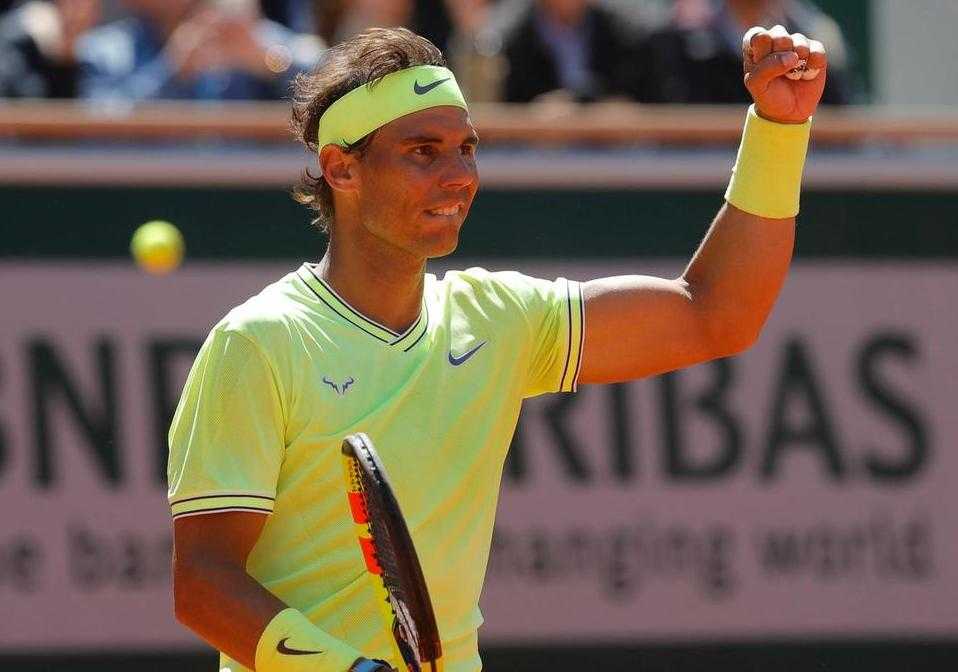 Source: @thenational.ae
Here are the 10 things that you didn't know about Nadal.
1. Nadal choose tennis over soccer at age 12 
At age 12, he won the Spanish and European tennis titles in his age group, while he was also playing football. His father, Sebastian Nadal Homer made him choose between football and tennis so that his schoolwork would not deteriorate entirely. Nadal said: "I chose tennis. Football had to stop straight away." Back then, when he was 8, he won an under-12 regional tennis championship at a time when he was also a promising football player. He idolized Barcelona striker Ronaldo as a child, and via his uncle got access to the Barcelona dressing room to have a photo with the Brazilian.  
2. Nadal has revealed himself to be agnostic
He was raised a Catholic but now calls himself an agnostic. Being a Spaniard, it is natural that Nadal would come from a Catholic tradition, which he does. But he revealed he doesn't practice the faith anymore. He is more of an agnostic these days. During an interview, in which Nadal was directly asked if he believes in God and what he thinks about athletes who cross themselves during gameplay, he said: "It's hard to say, 'I don't believe in God.' I would love to know if God exists. But it's a very difficult thing for me to believe. I don't know. It's private and I don't want to speak about it, but I say, 'If God exists, you don't need [to cross yourself] or pray.' If God exists, he's intelligent enough to [do] the important things, the right things."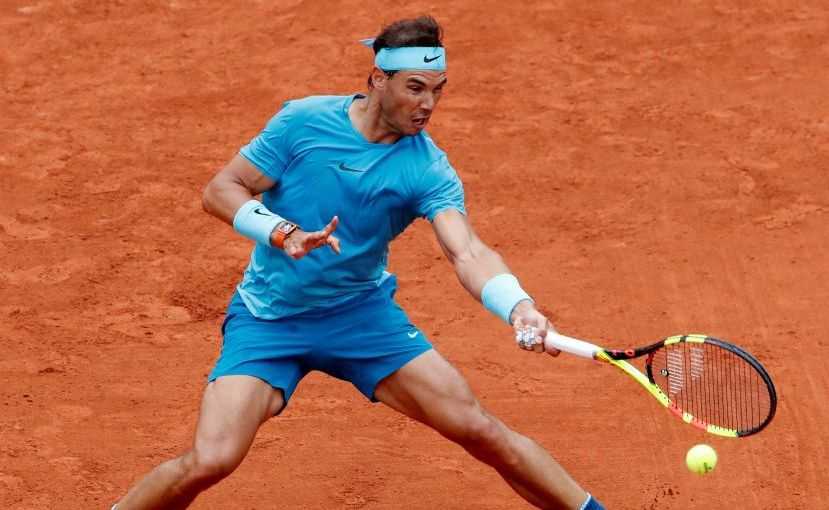 Source: @firstpost.com
3. He became one of the youngest players to win an ATP match
On 29th April 2002, at 15 years and 10 months, the world No. 762 Nadal won his first ATP match, defeating Ramón Delgado, from Paraguay, and became the ninth player in the Open Era to do so before the age of 16. 
4. He is a fan of the football clubs, Real Madrid and RCD Mallorca
Nadal is an avid fan of association football club Real Madrid. He also supports RCD Mallorca, as it is the home team from his island. On 8th July 2010, it was reported that he had become a shareholder of RCD Mallorca, his local club by birth, in an attempt to assist the club from debt. He reportedly owns 10 percent and was offered the role of vice president, which he rejected. He remains a passionate Real Madrid supporter; ESPN.com writer Graham Hunter wrote, "He's as Merengue as [Real Madrid icons] Raúl, Iker Casillas and Alfredo Di Stéfano."
5. Nadal won the Monte Carlo Masters for the fifth consecutive year (2005-2012)
Nadal won the Torneo Conde de Godó in Barcelona and beat 2004 French Open runner-up Guillermo Coria in the finals of the 2005 Monte Carlo Masters and the 2005 Rome Masters. He defeated Federer in the final of the Masters Series Monte Carlo in four sets in 2006. He won the titles at the Monte Carlo Masters, the Open Sabadell Atlántico in Barcelona, and the Rome Masters, before losing to Roger Federer in Hamburg Masters final in 2007. Next, he beat Federer at the Monte Carlo Masters for the third straight year, capturing his Open Era record fourth consecutive title there in 2008. He began his European clay-court season at the Monte Carlo Masters in 2009, where he defeated Novak Djokovic to win a record fifth consecutive singles title there. He won the Monte-Carlo Rolex Masters, beating Fernando Verdasco in the final in 2010. He began his clay-court season by winning the 2011 Monte-Carlo Rolex Masters with the loss of just one set. He was seeded 2nd at the 2012 Monte-Carlo Rolex Masters and in the final, he topped No. 1 Novak Djokovic to win his 8th consecutive Monte Carlo trophy.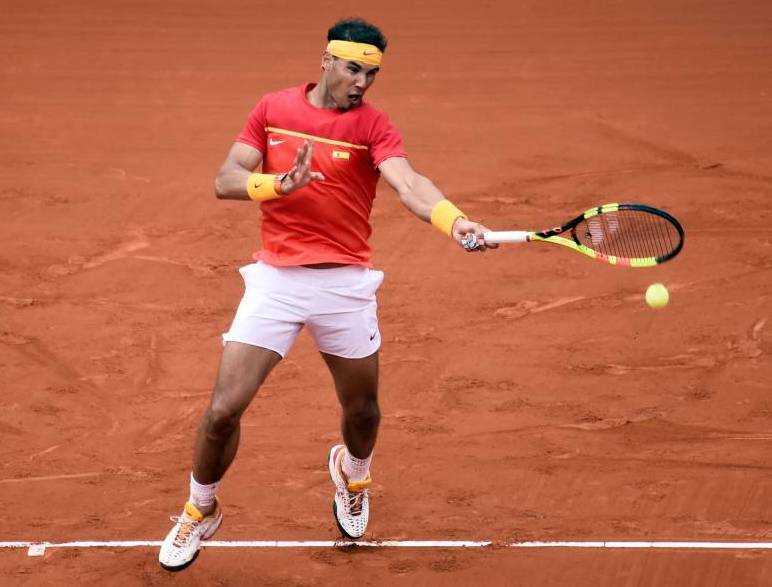 Source: @japantime.co.jp
6. At 19, Nadal won the French Open for the first time
In 2005, he won the French Open on his first attempt as a 19-year-old defeating Mariano Puerta, and then he went on to win 4 consecutive crowns from 2005 to 2008, defeating then-world-No. 1 Roger Federer in three consecutive finals from 2006 to 2008 (he also defeated Federer in the 2005 semi-finals) and again in 2011 final (Nadal is the only player to defeat Federer in four finals at the same Major. Moreover, he is also the only player to beat Federer in the finals of three different Grand Slams, the French Open, the Australian Open, and Wimbledon).   
7. Rafael Nadal has earned the title "King of Clay"
Nadal, the winner of a record 13 French Open men's singles titles, is noted for his success on clay; since his debut in 2005, he has only lost three times at the tournament – in 2009, 2015, and 2021. Nadal holds the record for the longest winning streak by any male player on a single surface since the Open Era began in 1968: 81 clay court wins between April 2005 and May 2007. He also holds the record for most clay-court titles in the Open Era, with 62. His game is perfectly suited for clay, as he has an aggressive, behind-the-baseline game with heavy topspin. His attitude, fitness, skill, and strength make him a unique Tennis player.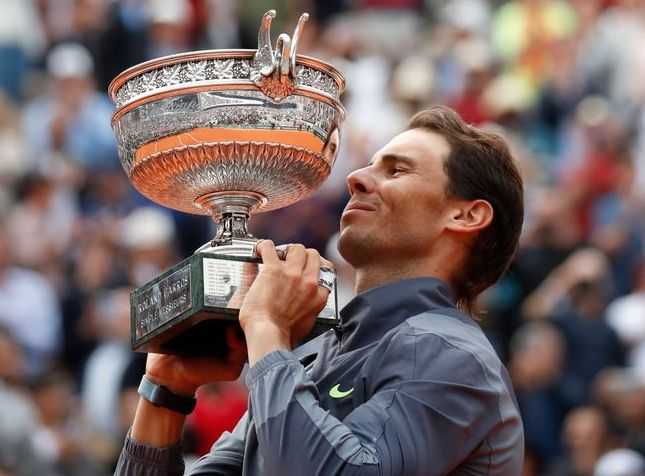 Source: @huffpost.com
8. Nadal has a current net worth of around 200 million dollars
As of 2022, the net worth of Rafael is around $200 million. He is one of the highest-paid tennis stars in the world. He is third all-time in winnings in tennis history with over $124 million. Only Djokovic (nearly $148 million) and Federer (just under $130 million) have amassed more winnings money. As of today, his total prize money is US$127,121,385. As per sources, he is making more than $14 million annually from his tennis career. He has been sponsored by Kia Motors since 2006. He also has clothing and shoe endorsement deals. He has endorsement deals with Nike, Lanvin, AeroPro Drive, Duralat 15L, Query, Richard Mille RM027, Emporio Armani, Armani Jeans, PokerStars online poker, among others. He purchased a customized yacht worth upwards of three and a half million at the Cannes yachting festival back in September 2015. 
9. His left arm is bigger than his right arm
Nadal is famous for the power of his left-handed tennis style. Whereas there is an imbalance between how frequently he uses each arm, the muscles have developed differently. Thus, the diameter of his left arm, as measured around the largest part of his bicep is a hole four centimeters larger than his right. Despite being left-handed while playing tennis, Nadal is known for being right-handed while doing things in everyday life such as writing and playing golf. 
10. His uncle was a top-level professional soccer player
His uncle, Tony might be well known for his coaching, but another uncle named Miguel Angel Nadal is a retired professional soccer player. He played for FC Barcelona and RCD Mallorca at the club level and even earned 62 caps with the Spanish national team. His uncle Miguel Ángel Nadal became an assistant coach under Michael Laudrup.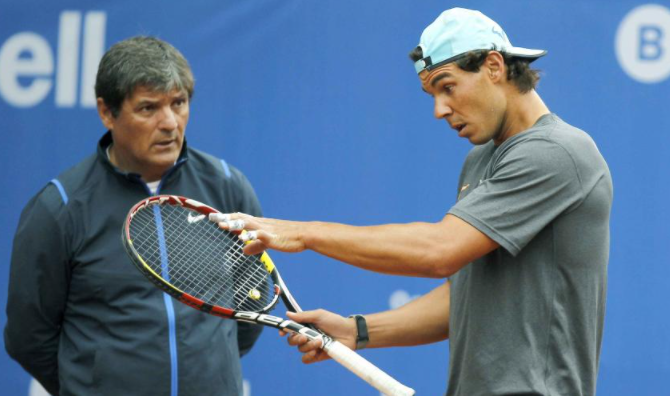 Source: @tennisworldusa
Rafa Mir Biography – Spanish tennis player