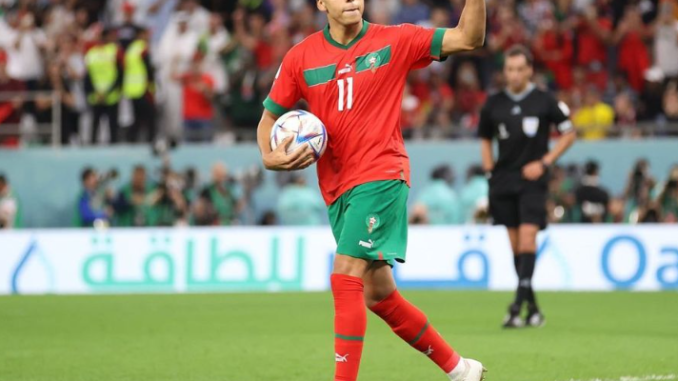 Abdelhamid Sabiri is a Moroccan professional footballer. He currently plays as an attacking midfielder for Serie A club Sampdoria. In his international career, he has represented Morocco national team. From 2018-19, He also represented Germany Under-21 level. As for clubs, Sabiri has previously played for Sportfreunde Siegen, 1. FC Nürnberg, Huddersfield Town, and SC Paderborn.
Sabiri was selected to play in the 2022 Qatar world cup for Morocco's national team. He made his world cup debut as a substitute on 23rd November 2022 against Costa Rica in the Group F fixture at Al- Bayt Stadium. Morocco has now reached the quarterfinal phase of this ongoing world cup knocking out Giant Spain in the round of 16 matches on 6th December.
Where is Abdelhamid Sabiri from?
Abdelhamid Sabiri was born on 28th November 1996 in Goulmima, a city in the Errachidia province in eastern central Morocco. His birth name is Abdelhamid Sabiri. He holds Moroccan nationality and belongs to the Amazigh (Berber) ethnic group. Her star sign is Sagittarius. He is a follower of Islam. 
 Abdelhamid Sabiri was born into a middle-class Arabian family. He immigrated with his parents to Germany when he was only 3 years old, and moved to live in Frankfurt. As a keen football fan since childhood, he was determined to become a footballer and received his training in Nuremberg.
Who does Abdelhamid Sabiri play for?
Sabiri began his youth career playing for the junior team of the German club Tue Koblenz based in the city of Koblenz in the early 2010s. He made his professional debut with Sportfreunde Siegen in the German fifth tier where he played from 2015-2016.
FC Nürnberg
 In 2016, Sabiri was transferred to 1. FC Nürnberg, initially playing for the club's reserve team. He was promoted to the first team in January 2017 and made nine 2. Bundesliga appearances towards the end of the season. 
Huddersfield Town
On 23rd August 2017, Sabiri moved to the English club Huddersfield Town on a three-year deal.  The club had recently been promoted to the Premier League, the highest tier of English league football.

He made his Premier League debut in a 2–0 loss away to West Ham on 11 September 2017. He made sporadic appearances for the Terriers, after suffering injuries, before his contract was terminated by mutual agreement on 27 August 2019. 
Ascoli
On 28 September 2020, he joined the Italian Serie B club Ascoli on a two-year contract. He played at the Ascoli for two years making 43 appearances and scoring eleven goals. 
Sampdoria
On 29 January 2022, he moved to Serie A club Sampdoria on loan with an option to buy and a conditional obligation to buy. Sabiri made his debut in a 2–0 loss against Atalanta B.C. He scored his first goal for the club against Spezia, in his seventh appearance for the team.
Abdelhamid Sabiri International Career 
Sabiri was first called to Germany's under-21 side in October 2018. 

In September 2022, Sabiri was called up to join the Moroccan national team. He played his first match in a friendly against Chile in Barcelona where he scored a goal. 

On 10th November 2022, he was selected to play in Morocco's 23-man squad for the 2022 FIFA World Cup in Qatar. 
Abdelhamid Sabiri Transfer news 
On 23rd August 2017, Sabiri was transferred to English club Huddersfield Town on a three-year deal. 

On 27th August 2019, he moved to SC Paderborn on a two-year deal. 

On 28th September 2020, he joined the Italian Serie B club Ascoli on a two-year contract. 

On 29 January 2022, he joined Serie A club Sampdoria on loan from Ascoli turning into a permanent transfer deal months later. 
Is Abdelhamid Sabiri married?
If we take a glimpse at Abdelhamid Sabiri's social media accounts like Instagram, and Facebook we cannot trace or find any proof regarding his girlfriend or any link with the girl. In every photo and video posted by him, we can only find him clicking photos of himself or with his co-actors and family. 
From here we can know that he is a guy highly dedicated to his career and work. Possibly, his focus on his profession might have made this handsome dude stay away from the relationship bond. But we are not 100 percent sure about his relationship background because who knows that he might have secretly dated his loved one.
What is Abdelhamid Sabiri's salary?
As of December 2022, the net worth of Abdelhamid Sabiri is estimated to be US $1.5 Million. As of the 2022-23 season, the midfielder signed a contract with Sampdoria that nets him a salary of €110,000  annually. His current market value is €3 million. 
The football star hasn't lack behind in living a moderate lifestyle through his massive earnings. He owns a beautiful apartment in Germany. His family has real estate property in Morocco. The player drives a BMW M3, and Porsche. 
How tall is Abdelhamid Sabiri?
Abdelhamid Sabiri is 6ft 1 inch tall and his body weight is around 80 kg. He has an Athletic build body. As a football player, he regularly does workouts and gym exercises to keep himself fit and active. He has a short-cropped haircut that is black in color. His eyes color are also black as well.
He always does heavy exercise which includes weight lifting, push-ups, Single-leg squats, Dumbbell bench step-ups, and others. He arrives every morning at the Sampdoria FC football training center for warm-ups and training.