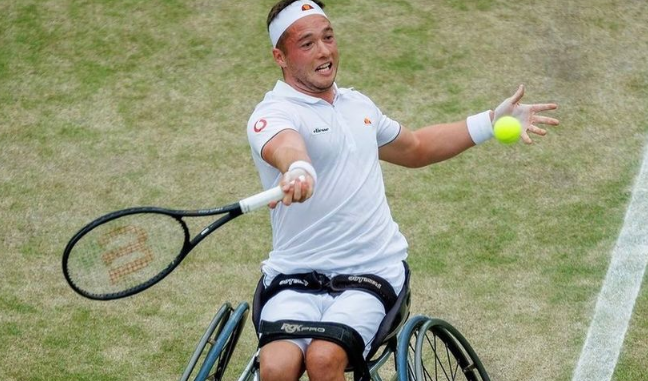 Alfie Hewett is a British wheelchair tennis player. He is renowned as one of the best wheelchair tennis players of his era. He has excelled in both the singles and the doubles formats of the sport, having become world number 1 in singles in January 2018 for the first time (world number 2 as of July 2022) and world number 1 in doubles in February 2020 for the first time (world number 1 as of July 2022), as per the official ITF (International Tennis Federation) rankings. At Grand Slam tournaments, in the singles format, as of July 2022, he had won 5 titles – the French Open thrice (2017, 2020, 2021) and the US Open twice (2018, 2019). As of July 2022, he had also reached the singles final of the Australian Open twice (2021, 2022) and the Wimbledon Championships once (2022).
At Grand Slam tournaments, in the doubles format, as of July 2022, he had won 15 titles – the Australian Open thrice (2020, 2021, 2022), the French Open thrice (2020, 2021, 2022), the Wimbledon Championships 4 times (2016, 2017, 2018, 2021), and the US Open 5 times (2017, 2018, 2019, 2020, 2021). All 15 of these doubles titles came in partnership with fellow British wheelchair tennis player Gordon Reid. Alfie and Gordon achieved the 'Calendar Slam' (the feat of winning the Australian Open, the French Open, the Wimbledon Championships, and the US Open in one discipline in the same calendar year) together in 2021, becoming the first to do so in the wheelchair men's doubles since 2014.
What is Alfie Hewett Famous For?
Alfie Hewett is a wheelchair tennis player from England. 
He is the current world No. 1 in doubles and a former world No. 1 in singles by ranking. 
When was Alfie Hewett Born?
Alfie Hewett was born on 6th December 1997 which makes him the present age of 24 as of 2021. He is from Norwich, Norfolk, England, United Kingdom. He grew up with his two siblings; Ellie Hewett (Twin Sister), and Barny Hewett (Younger Brother) whereas he has not disclosed the details about his parents. Only the fact is known that his parents split. He has 2 younger half-brothers through his mother's second marriage. Sagittarius is his zodiac sign. He holds British nationality and his ethnicity is British-White. 
Alfie was born with a congenital heart defect and had to undergo surgery when he was just 6 months old. He also suffered from Legg–Calvé–Perthes disease, a childhood hip disorder initiated by a disruption of blood flow from the pelvis to the hip joint, that causes the affected bone(s) to stop growing. The disorder severely limited his ability to walk and he was forced to start using a wheelchair when he was about 6 years old. Although unable to perform in able-bodied sports, his ability to walk was not completely diminished. The student body of his high school had witnessed him using crutches and even, reportedly, running while carrying his crutches. 
She attended Acle High School (now known as the Acle Academy), a secondary school in Acle, Norfolk. After he graduated from high school, he joined City College Norwich, a college of further and higher education in Norfolk. He studied sports and exercise science there.
Alfie Hewett Tennis Career
In July 2016, Alfie won the 2016 Wimbledon Championships – Wheelchair men's doubles, alongside Gordon Reid against the French pair Stéphane Houdet and Nicolas Peifer. 
He won a silver medal in the men's singles event at Rio 2016. 
Next, he won silver in the doubles event with partner Gordon Reid. 
He won his first Grand Slam in singles at the French Open in May 2017. 
In July 2017, he won the 2017 Wimbledon Championships – Wheelchair men's doubles, alongside Reid.
After that, he won the 2017 NEC Wheelchair Tennis Masters in Loughborough, UK. He ended 2017 ranked No 2 in the world, then a career-high.
He became the world number 1 on 29th January 2018. 
He won his first Super Series singles title at the Cajun Classic in Baton Rouge, the USA in March 2018. 
He claimed his second Super Series title at the US Open USTA Wheelchair Championships in St. Louis on 2nd September 2018.
In October 2018, he won the singles title at the US Open as well as the doubles title with Gordon Reid.
In September 2019 he successfully defended both his singles and, with Gordon Reid, doubles titles at the US Open. 
He won the French Open singles title in three sets against Joachim Gérard in 2020 and partnered Reid to win all three available Grand Slam doubles titles at the Australian Open, US Open, and French Open, with the Wimbledon Championships, canceled due to the COVID-19 pandemic. 
He won a silver medal in the men's doubles with Gordon Reid at the 2020 Summer Paralympics and lost the bronze medal singles match to Reid, world number 2.
He spoke about his Paralympic future being "out of his hands", due to a review into whether his disability is severe enough to qualify him to play in a wheelchair under the 2019 revision of International Tennis Federation rules. 
He was allowed to continue his tennis career after an alteration to the new ITF rules in November 2021. 
What is Alfie Hewett Net Worth?
Alfie Hewett is a wheelchair tennis player whose net worth is estimated to have $5.5 Million as of 2022. He is making an annual salary of around $1 Million. He has been sponsored by Boost Drinks (a UK-based energy drinks brand), Ellesse UK (a British subsidiary of Ellesse, an Italian sports apparel company), Vodafone UK (British telecommunications services provider), Papa John's (an American pizza restaurant chain), Wilson Sporting Goods (American sports equipment manufacturer), Adidas AG (German multinational corporation that designs and manufactures shoes, clothing, and accessories).
His main source of wealth comes from his tennis career and he is living a standard and comfortable lifestyle at present. 
Who is Alfie Hewett's Girlfriend?
Alfie Hewett is an unmarried man but he is currently in a relationship with his beautiful girlfriend, Lily Cunningham. They are together since the year 2022. They are enjoying their life a lot and his sexual orietnation is straight.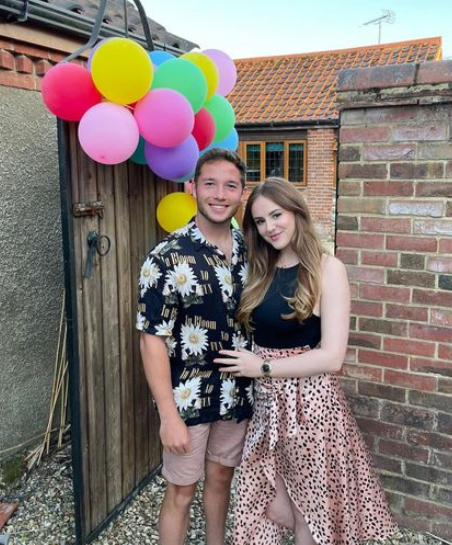 Previously, he dated Harrie Cundy (2020-2021). 
Alfie Hewett Height and Weight
Alfie Hewett stands at the height of 5 ft 6 in or 1.67 m and his body weight consists of 65 kg or 143.5 lbs. His body type is Athletic. He has light brown hair with blue pair of eyes. He has a sports rugged beard with an affable smile.