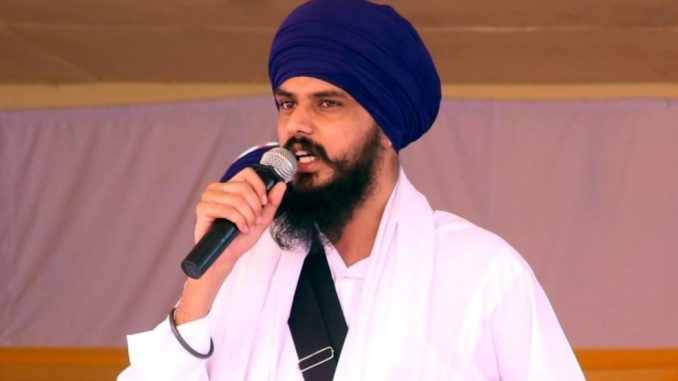 Amritpal Singh is a self-styled radical Indian Khalistani separatist activist from Punjab, India. He is famous for being the head of Waris Panjab De, an organization that advocates for the Khalistan movement. He was declared the leader of Waris Panjab De after the death of Deep Sidhu, but his succession is disputed by some aides of Sidhu and critics claim that he wasn't endorsed by Sidhu's family. Despite his disputed position as leader, he has risen to prominence since returning from Dubai in September 2022. Since February 2023, Amritpal Singh is married to his wife, Kirandeep Kaur. 
Singh has been involved in several controversial incidents, including issuing threats against government officials, vandalizing gurudwaras, and leading armed groups. He has also been accused of kidnapping and assault, leading to his arrest and a police crackdown on his organization in March 2023. In early 2012, Amritpal shifted to Dubai where he is managing his family's transport business. On 20th August 2022, Amritpal Singh, leaving behind permanent resident status in Canada, shifted back to India to take over the leadership of Waris Punjab De. He is also known as "Bhindranwale 2.0" in Punjab's religiopolitical circles.
What is Amritpal Singh's religion?
Amritpal Singh Sandhu was born on 17th January 1993, in Jallupur Khaira, Baba Bakala, Amritsar, Punjab, India. He turned 30 years old in 2023. He holds Indian nationality and belongs to the Indian-Asian ethnic background. His father's name is Tarsem Singh, and his mother's name is Balwinder Kaur. He has an elder brother and twin sisters. Amritpal Singh follows Sikhism and is vocal about his beliefs. Reportedly, Amritpal Singh strongly advocates for Sikh rule and has expressed his opinion on various occasions. During an address to the gathering in Behbal Kalan village, where police officials had opened fire on people protesting against the sacrilege of Guru Granth Sahib, he spoke about how Sikhs have been slaves for 150 years, first to the British and now to the Hindus. He believes that the only way for the Sikh community to be free is by having Sikh rule. Despite his beliefs, Amritpal Singh is known for being a committed and hardworking individual who values his roots and traditions. 
In 2022, Amritpal Singh faced backlash from the Christian community for making derogatory comments about Jesus Christ during one of his events. As a result, the Christian community protested against him for four hours at PAP Chowk in Jalandhar, Punjab. Amritpal Singh had remarked, "Jesus who could not save himself, how he will save everyone else?" The protestors demanded that an FIR be filed against him under Section 295A of the Indian Penal Code (IPC) for hurting religious sentiments and attempting to cause communal unrest. Honey Mahajan, the President of Shiv Sena, reportedly accused Amritpal Singh of seditious activities and promoting the idea of creating a separate Sikh state, similar to the militant leader of the Sikh organization Damdami Taksal Jarnail Singh Bhindranwale. On 2nd October 2022, Mahajan urged the government to arrest Amritpal Singh. Subsequently, on 7th October 2022, Amritpal Singh's Twitter account was banned for his pro-Khalistani tweets, and the Ministry of Home Affairs instructed the state government to monitor his activities.
For his education, Amritpal Singh studied till class 10th. He enrolled himself on a polytechnic course in Kapurthala, Punjab but did not complete the course.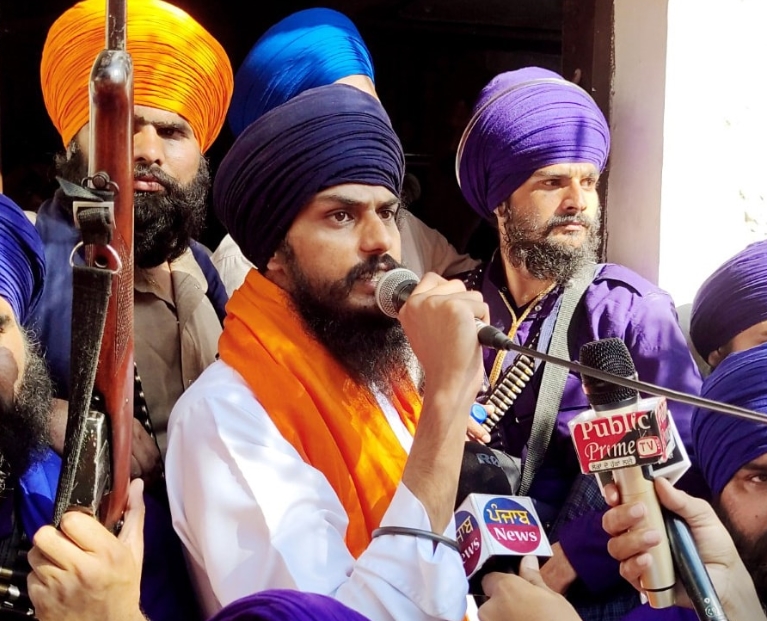 How was the Career of Amritpal Singh?
Amritpal Singh has been actively participating in various campaigns and events to promote Sikhism and social welfare. On 25th September 2022, he attended a large gathering in the holy city of Anandpur Sahib, Punjab, and announced his presence in the state. He then started his first phase of the Punjab tour, called Khalsa Vaheer, which began from Akal Takht Sahib, Amritsar. 
Later, in Sri Ganganagar, Rajasthan, he organized his first "Amrit Parchaar" campaign, where around 647 people took Amrit and became part of the Khalsa order. He also initiated a 'Ghar Wapsi' campaign, where 927 Sikhs, Hindus, and Christians in Anandpur Sahib took Amrit, garnering media attention. The Haryana Gurudwara Parbhandak Committee under the Haryana Government supported him for this campaign. 
Likewise, he also held another large Amrit Parchaar campaign in Amritsar, where 1,027 Sikhs and Hindus from across India took Amrit to become Khalsa Sikhs. Moreover, on 23 November, the 'Waris Punjab de' organization began a "Khalsa Vehir" campaign under his leadership. In addition to promoting Sikhism, he has also organized various campaigns against social issues such as drug addiction. His efforts to promote Sikhism and social welfare have gained him popularity among many people in Punjab and beyond.
He is a strong supporter of the Khalistan movement, which seeks a separate homeland for people of the Sikh faith. He has openly spoken in favor of Khalistan and its geopolitical benefits, stating that the ideology will never die. 
He has also expressed admiration for Khalistani militant Jarnail Singh Bhindranwale and has been seen dressed similarly to him with heavily armed men around him. He has also made threatening statements towards Union Home Minister Amit Shah and has entered the Golden Temple with armed men called "Faujaan". His supporters have even referred to him as a second Bhindranwale.
Amritpal was briefly placed under preemptive house arrest by Punjab Police in November 2022, after a Shiv Sena politician was murdered by someone allegedly with a Waris Punjab De sticker on his vehicle. However, Singh had no prior connection with the murder. After his release, he conducted an Amrit Parchaar campaign in Haryana.
On 9 and 13 December 2022, his supporters vandalized two gurudwaras in Biharipura and Jalandhar respectively, claiming that sitting on chairs and sofas at the level of the Guru Granth Sahib at the gurudwara was disrespectful. They burned the furniture at these two gurudwaras.
In February 2023, an FIR was registered against Amritpal Singh and six of his associates after a man complained of being kidnapped and beaten by Singh's associates. One of his close associates, Lovepreet Singh Toofan, was arrested by the police.
After the arrest, he issued an ultimatum to the Punjab Police to revoke the case, and when the police did not respond, his supporters broke through police barricades and stormed the police complex, armed with automatic guns and sharp weapons. Several police personnel was injured, and police vehicles were damaged. Punjab police later released Lovepreet Singh after the court ordered his release based on the police report. 
In an interview with NDTV, he alleged that the police filed a "false case" against Lovepreet, and hundreds of Waris Punjab De supporters went to meet the police at Ajnala where Lovepreet Singh was kept. He also said that the media is misleading people about the Ajnala incident.
On 18th March, Punjab Police arrested 78 people and detained several others from Waris Punjab De in a crackdown, while Amritpal Singh was reported to be absconding. Internet services in Punjab were suspended until 19 March.
Who is Amritpal Singh's wife?
Amritpal Singh tied the knot with his wife, Kirandeep Kaur on 10th February 2023, and they are happily married. Their wedding took place at his native hamlet of Jallupur Kheda in Amritsar, Punjab. Because of privacy concerns, his wedding was moved from Fatehpur village Jalandhar to Amritsar. Kirandeep is a non-resident Indian (NRI) from the United Kingdom. The couple seems to have a great understanding of each other, and there are no signs of any discord or trouble in their relationship. They are living a joyous life together, and there are no indications of any possibility of a divorce in the future. However, they do not have any kids at the moment.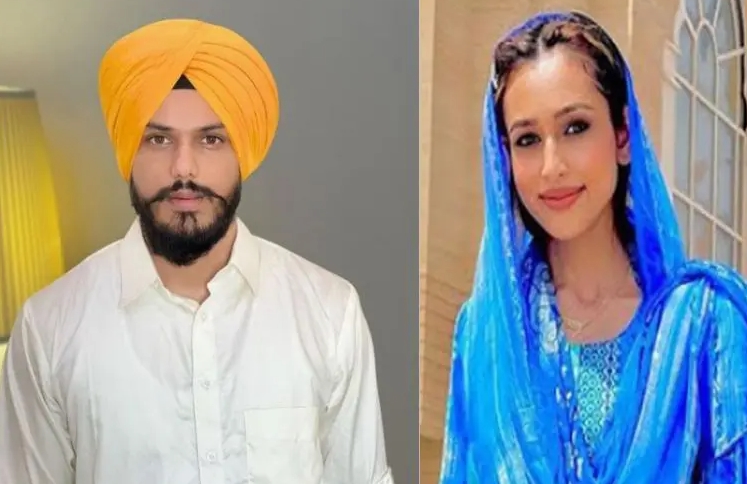 Despite being married, Amritpal Singh and Kirandeep Kaur do not have any children. It is not clear whether they are planning to have kids in the future, but they seem to be content with their life as a couple. Their marriage is a testament to their love and commitment to each other, and they are enjoying each other's company to the fullest.
How much is Amritpal Singh's net worth?
Amritpal Singh is an activist who has made significant contributions to society through his social work. He has been involved in social work for several years and has been committed to making a positive impact on society. Through his work, he has been able to inspire and motivate people to come together for a common cause. He has played a vital role in various social movements, advocating for human rights and equality. 
According to sources, he has a net worth of $2 million, which he has accumulated through his primary activity as an activist. His passion for social work and activism has enabled him to make a significant difference in people's lives. Despite his financial success, he remains dedicated to serving his community and working toward the betterment of society. He is leading a modest lifestyle at present. 
How tall is Amritpal Singh?
Amritpal Singh is a handsome man who is very committed to maintaining his physical health and frequently goes to the gym to exercise. He follows a strict diet and practices healthy lifestyle habits to keep his body in good shape. He has dark brown eyes and black hair.
Amritpal Singh stands at a height of 5 feet 11 inches, which is approximately 180 cm or 1.80 m. He weighs around 75 kg or 165 lbs and has a typical body build. He wears a turban on his head. Despite his average body build, Amritpal takes his health seriously and works hard to ensure he is always at his best.