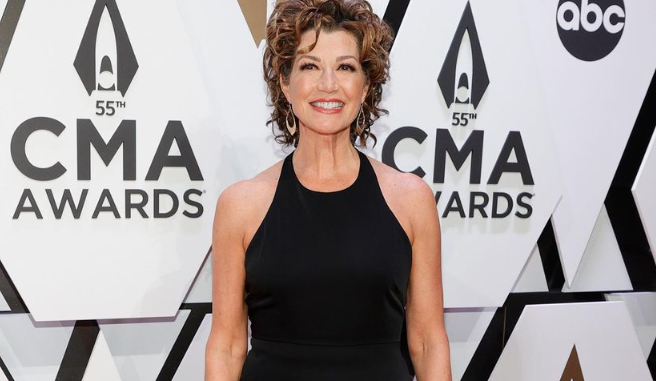 Amy Grant is an American singer, songwriter, musician, TV personality, and author. She began in contemporary Christian music (CCM) before crossing over to pop music in the 1980s and 1990s. She is often referred to as 'The Queen of Christian Pop.' As of 2009 she had sold more than 30 million albums worldwide, won six Grammy Awards, 22 Gospel Music Association Dove Awards, and her album was the first Christian album to go platinum. In 2022, she was announced as a recipient of the Kennedy Center Honors. In 1977, she recorded her first album, "Amy Grant", produced by Brown Bannister. In 1986, she scored her first Billboard Hot 100 No. 1 song in a duet with Peter Cetera, "The Next Time I Fall". She released the blockbuster album "Heart in Motion" in 1991  which became her best-selling album to date, topping the Billboard Christian album chart for 32 weeks, selling five million copies in the U.S., and producing her second No. 1 pop single "Baby Baby" and producer another three top 10 on Billboard Hot 100; "That's What Love Is For", "Every Heartbeat" and "Good for Me". Apart from her musical career, she hosted the reality TV show, 'Three Wishes' and has also authored a number of books, one of the most popular ones being, her memoir, 'Mosaic: Pieces of My Life So Far'.
What is Amy Grant Known for?
Being a singer-songwriter and author from the USA.
Being one of the first Christian artists to have successfully made a shift into the pop music market. 
What is Amy Grant's Real Name?
Amy Grant was born on November 25, 1960, in Augusta, Georgia, the USA. Her real name is Amy Lee Grant. She is American by nationality and his ethnicity is mixed of English, Scottish, and Welsh. She was born as the youngest one of four sisters. She grew up in a closely-knit family in Nashville, Tennessee and it was her early church-going days that triggered her love for Christian stories, hymns, and songs, that would later go on to influence her work. She is a great-granddaughter of Nashville philanthropist A. M. Burton (founder of Life and Casualty Insurance Company, eponym of Nashville's Life & Casualty Tower, WLAC Radio, and WLAC-TV) and Lillie Burton. She attended Harpeth Hall School. Additionally, she also attended Furman University and Vanderbilt University. When she was a teenager, she taught herself to play the guitar and also worked part-time at a recording studio.
Amy Grant Singing Career
Grant wrote her first song "Mountain Top" in 1976. She then recorded a demo tape for her parents with church youth leader Brown Bannister. After Chris Christian heard the demo, he offered a recording contract five weeks before her 16th birthday.
She released her debut album "Amy Grant" in 1977 followed by her other albums including "My Father's Eyes", "Never Alone", "Age to Age", "A Christmas Album", "Straight Ahead", "Unguarded", "Lead Me On, "Heart in Motion", "Home for Christmas", "House of Love", "Behind the Eyes", "A Christmas to Remember", "Legacy… Hymns and Faith", "Simple Things", "Somewhere Down the Road", "How Mercy Looks from Here".
In September 2012, she took part in a campaign called "30 Songs / 30 Days" to support Half the Sky: Turning Oppression into Opportunity for Women Worldwide, a multi-platform media project inspired by Nicholas Kristof and Sheryl WuDunn's book.
On August 19, 2014, she released an album of hits remixed by well-known engineers and DJs. The album was titled In Motion: The Remixes. 
On February 12, 2015, she announced a new compilation album titled Be Still and Know… Hymns & Faith, to be released. The album was released on April 14, 2015. 
She released a Christmas album on October 21, 2016, Tennessee Christmas which charted in the U.S. at No. 31 on the Billboard 200 and at No. 3 on the Billboard Top Holiday Albums chart. 
In February 2017, she released a new song, "Say It With a Kiss", with an accompanying video. 
As an author, her first book 'Amy Grant's Heart to Heart Bible Stories" was published in 1985 which was followed by 'Breath of Heaven (Mary's Song)', and 'Mosaic: Pieces of My Life So Far.' 
Awards and Achievements
Successful singer, Amy Grant has won six Grammy Awards and 22 Gospel Music Association Dove Awards. Some of her awards are:
Won Best Gospel Vocal Performance, Female in 1983 and 1984
Best Gospel Vocal Performance, Female in 1988
Won Best Southern, Country or Bluegrass Gospel Album in 2005
Won the St. John University Pax Christi Award and Nashville Symphony Harmony Award in 1994
Won the Sarah Cannon Humanitarian Award – TNN Awards, Academy of Achievement Golden Plate Award, and Easter Seal Nashvillian of the Year Award
1992: Junior Chamber of Commerce Young Tennessean of the Year
1994: St. John University Pax Christi Award
1994: Nashville Symphony Harmony Award
1996: Sarah Cannon Humanitarian Award – TNN Awards
1996: Minnie Pearl Humanitarian Award – Columbia Hospital
1996: Voice of America Award – ASCAP
1996: Academy of Achievement Golden Plate Award 
1999: "An Evening with the Arts" Honor – The Nashville Chamber of Commerce, Nashville Symphony, and Tennessee Performing Arts Center
1999: The Amy Grant Room for Music and Entertainment – The Target House at St. Jude's Children's Hospital
2001: Easter Seals Nashvillian of the Year Award
2003: Inducted into the GMA Gospel Music Hall of Fame
2003: Summit Award – Seminar in the Rockies
2006: Amy Grant Performance Platform – Nashville Schermerhorn Symphony Center
2006: Hollywood Walk of Fame star unveiled 
2007: Charter member of Tiffany Circle – Red Cross
2007: Inducted into the Christian Music Hall of Fame 
2008: Class of 1966 Friend of West Point award with Vince Gill
2012: Honorary Doctorate Degree of Music and Performance – Grand Canyon University
2015: No. 52 in The Top 100 Female Artists of the Rock Era (1955–2015) 
2022: Kennedy Center Honoree 
How Rich is Amy Grant?
Singer, songwriter, and musician, Amy Grant has made a huge fortune from her music career. As of 2022, her net worth is estimated to have $55 million. She has not revealed her current salary and career earnings. Her main source of wealth comes from the music industry releasing albums, singles, and songs. She is living a lavish lifestyle at present. 
Who is Amy Grant's Husband?
Amy Grant is a married woman to her husband, Vince Gill. Her spouse, Vince is a country singer-songwriter. They got married on 10th March 2000. They have a daughter together: Corrina Grant Gill, who was born on March 12, 2001. Today, the happily married couple is enjoying their life a lot. 
Prior to her marriage to Vince, she was married to fellow Christian musician, Gary Chapman. The pair married on June 19, 1982. They have three children together: Matthew Garrison Chapman, Gloria Mills Chapman, and Sarah Cannon Chapman. The pair later divorced in 1999. In the November 1999 CCM Magazine, Grant explained why she left Chapman and married Gill: I didn't get a divorce because 'I had a great marriage and then along came Vince Gill.' Gary and I had a rocky road from day one. I think what was so hard—and this is (what) one of our counselors said—sometimes an innocent party can come into a situation, and they're like a big spotlight. What they do is reveal, by comparison, the painful dynamics that are already in existence. 
What is Amy Grant Height?
Amy Grant has a tall height of 5 feet 7 inches. Her body weight consists of around 58 kg. She has a body measurement of 34-26-33 inches. Her hair color is brown and her eye color is dark brown. 
In June 2020, Grant had heart surgery to repair partial anomalous pulmonary venous return (PAPVR), a congenital heart condition.