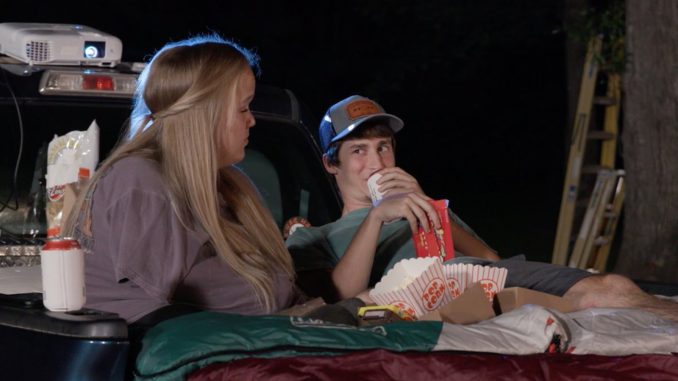 For eight years, fans have watched the five children of Trent and Amber Johnston grow up from the little children they were when the reality television series premiered in 2015, into young men and women. Over the years for which the show has aired on TLC, Elizabeth Johnston, one of Trent and Amber's biological children, has grown from a little girl into a teenager going on her first date, crying and healing through her first break-up, and meeting Brice, the supposed love of her life, as fans cheered her on, looking forward to watching the happy couple take a big step in their relationship. Recently, Elizabeth did something that aroused suspicion that her relationship with Brice is over. Keep watching to find out what Elizabeth did, and the answer to the question on every person's mind, "Are Brice and Liz from "7 Little Johnstons" still together?
Throwback: Super Sweet | 7 Little Johnstons

We're throwing it back to this super sweet moment between Liz and Brice 😍 The cutest couple is back on an all new season of #7LittleJohnstons, premiering Tuesday, August 16 at 9/8c!

Posted by TLC on Thursday, August 4, 2022
"7 Little Johnstons"
TLC is known for its unique and insightful reality television series that take viewers into the homes and lives of cast members. The American cable television channel didn't disappoint its viewers when it promised and delivered a show featuring the family of entitled "7 Little Johnstons." The unique family comprised, the family patriarch Trent, Amber the matriarch, their two biological children, Jonah and Elizabeth, and their adopted children, Anna, Alex and Emma, who all have dwarfism and use the show as a platform to educate their viewers about the condition. "7 Little Johnstons" was received positively by viewers and critics, and has maintained a consistent viewership for its 12 full seasons and its 13th season, which is currently running.
Elizabeth Johnston
Born on 7 December 2001, Elizabeth is 21 years old and about 4 feet tall, about 1.3m. She was bullied often due to her height, but besides that, her experiences growing up were typical of children and teenagers her age. She went to the high school in her district, met a boy and fell in love for the first time. Viewers of the show had known him, and suspected that the two would become romantically involved long before the then-teenage Elizabeth introduced James as her first boyfriend. Unfortunately, James and Elizabeth's relationship was doomed to suffer the fate of most high school relationships, ending abruptly when James broke up from Elizabeth via text, and immediately started dating another girl.  Fortunately, the experience didn't deter Elizabeth from finding and opening herself to love, otherwise she wouldn't have fallen in love with Brice.
Trent and Amber Johnston instilled financial discipline in their children throughout their childhood, insisting that they must know how to save money, since they wouldn't intervene when the children faced financial difficulties for failing to plan their finances properly. Elizabeth took their advice to heart, and started laying a financial foundation for her future, even before she graduated high school. She's a talented artist who uses her skills and talent to create and sell artwork on Etsy. She designs cards, creates paintings, and makes sculptures, which she promotes and sells on her social media pages as well. Besides her art, Elizabeth values education, and studied in an institution under the Technical College System of Georgia.
Brice Bolden
After a devastating breakup from her friend-turned-boyfriend, James, Elizabeth threw herself into her art. However, fate had other plans for the reality television star, when it put Brice Bolden in her path. Brice is of average height, but the height difference didn't bother him as Elizabeth worried it would. Like Elizabeth, Brice values his education, however, he chose a different path, as after matriculating, Brice enrolled for and completed his HVAC diploma, since when he's been working in commercial and residential buildings, while saving up to afford a house with Elizabeth.
Relationship Timeline
Elizabeth first introduced Brice to the world on her Twitter in February 2019. A few days later, on Valentine's Day, her "great friend" gave her a bouquet of roses, which Elizabeth excitedly shared with her fans and followers. He followed up with a bold proposal, as he asked Elizabeth to go to their upcoming Prom with him. Excited fans suspected that Brice and Elizabeth were in a relationship, but had no confirmation until Elizabeth posted a picture of her, Brice and her dog on Instagram, in the caption declaring her love for Brice, and confessing that she saw a future with him.
With their relationship out in the open, Brice had to convince Elizabeth's friends and family that he was the right man for her. Her friends invited him to join them on a fishing trip, during which they grilled him under the guise of getting to know him better. Through their questions, viewers learned that Brice has never been arrested, wanted to finish school before he considered getting married, and wanted to have children with Elizabeth, but she would decide when and how many kids they had. By the end of the trip, Brice had impressed Elizabeth's friends so much that they gave him their stamp of approval.
Brice's next hurdle was the Johnstons. With them, he answered questions for hours before they accepted him and welcomed him into their home and family television series. Amber and Trent were taken with Brice immediately, just as Brice's parents loved Elizabeth and looked beyond her height. With the approval of their respective friends and families, Brice and Elizabeth were ready to take a major step in their relationship, and start living together.
A Big Move
Elizabeth and Brice have been contemplating moving in together since 2021, but when she shared the news with her parents, they opposed it, with Trent insisting that there is a natural progression to a relationship – dating, becoming engaged, living together, and then getting married. The couple moved ahead with their discussion regardless, covering all bases, much to their fans' approval. Elizabeth was keen to ensure that they defined the household chores each partner would take on, and the financial contribution each would make. She was fixated on the fact that she has lived by herself for years, and has therefore, bought most household appliances, including a washer-dryer, but keen-eyed fans noted that Brice wished he could contribute more.
In 2022, the couple delayed Brice's much-anticipated move into Elizabeth's apartment – she explained that Brice wanted to take the coming months to save up to be financially stable by the time he started living with her. While some fans hailed Brice's decision as evidence of his maturity and level-headedness, others smelled foul play, claiming that his parents talked him out of living with her. Nevertheless, the recently-premiered season brought some good news for both groups of fans, who learned that Brice and Liz have been scouting for a house. They found one they liked, but it was above their budget, so they agreed to keep looking.
The End?
While Brice and Liz were making plans for their future, her friends and siblings were waiting for him to go down on one knee and pop the question.In early 2023, Elizabeth's sister, but barely a month later, the internet is awash with news of the couple's break-up. The speculation stems from a major change in Elizabeth's Instagram.
Since the start of their relationship, Liz has posted photos of her and Brice documenting their relationship for her fans and followers. She captions them with messages declaring her love for Brice, and letting him and her followers know how much she values him, and enjoys having him in her life. All the photos are now gone from her profile, either archived or deleted, fueling speculation that the couple has broken up. Brice has also been inactive on Instagram since December 2022, but hasn't removed any pictures of him and Liz from his profile, and neither Brice nor Elizabeth has confirmed the worrying news that their relationship is over.
Immediately after Liz's action, fans thronged her account, sharing encouraging messages below her photos. Some said they'd always thought that she was too mature for him, while others highlighted her positive qualities such as her intelligence and drive. While one group of Liz's followers supported her, a second group was calling her out for allegedly forcing what she wanted onto Brice, and failing to consider his needs as long as she got her way. One fan claimed that Brice always seemed miserable, and didn't want the things Liz pushed him towards, while another claimed the couple seemed awkward and never had chemistry. One went as far as accusing Liz of breaking up from Brice, expecting him to fight back, only to be disappointed when he walked away.
For now, the rumors of Brice and Liz's break-up remain unsubstantiated until one or both partners confirm the unfortunate news. Fans can only continue to follow the couple on its house-hunting adventures in the 13th season of "7 Little Johnstons," which premiered on April 13, to look for clues confirming the allegations, or wait until the couple confirms the status of the relationship and impending cohabitation.