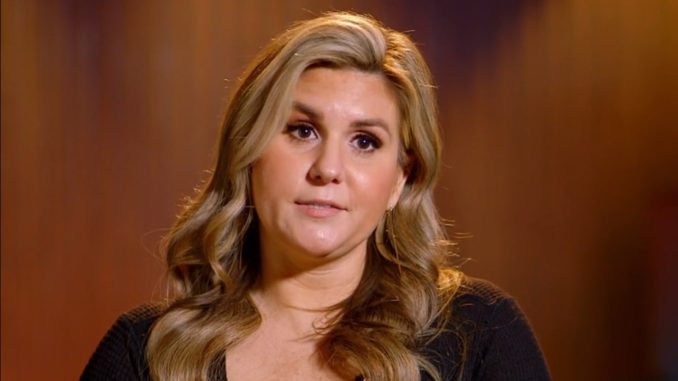 Brandi Passante is one of the most recognized faces in the reality television series "Storage Wars." She's undergone a series of challenges in her personal life these past few years, that some fans thought would drive her to end her participation in the show. Fans wouldn't hold it against her if she indeed took some time off to rejuvenate, since it was devastating to deal with problems publicly such as the death of a loved one, domestic abuse, single motherhood, and an autoimmune disease. She bravely faced these misfortunes head-on, while inspiring others to maintain a positive outlook on life, by continuing to set goals and striving to achieve them.
Get to know Brandi Passante before "Storage Wars"
Brandi Leigh Passante was a Texas native, who was born on 16 May 1980, in the most populous county in the US, Harris County, to parents Joe Passante and Cheryl Gibson Begandy; she has two brothers, Alexander and Bruce. In the rare times that she mentioned her upbringing, it was to say that she had a tumultuous childhood. In one podcast guest appearance, she never refuted what the host said about her home – that it was unstable, unpredictable, and erratic at times. Brandi also agreed when the host said that she probably felt that she never stood on solid ground and that she just skated around to get by.
Her family was from a long line of coal-mining hillbillies. However, her father worked on cars, and his specialization was installing windows and windshields. In an interview, it was insinuated that she underwent mother-daughter challenges but never went into details. Fans then surmised that the reason why she didn't like to talk about it was that she had a not-so-happy childhood, and it was somehow confirmed when she said, 'I was constantly questioning if I was adopted or something, because I just felt that I never belonged.' Be that as it may, Brandi had fond memories of her "Papaw," her grandfather on her mom's side named Robert Gene Gibson, who passed away in May 2013. He was the star of her first post on her Facebook account.
When Brandi met Jarrod
Aside from very rare photos and stories shared on her social media pages, nobody really knew anything about her until she joined a reality TV show with her boyfriend, Jarrod Schulz. Fans loved to hear how Brandi and Jarrod first met – it was back in 1999 when she started working at a carpet cleaning business, and he was her direct supervisor. Initially, he would jokingly tell everyone that she stalked him after their first meeting, but he confessed later on that he relentlessly pursued her. He knew that she was way out of his league, so he became creative as his friends would remind him to be extra careful and nice in dealing with her. Brandi said that he wore her down as he followed her wherever she went. His persistence won her over, and a few years later, they had two kids, Cameron and Payton.
What was "Storage Wars" all about?
In the 21st century, reality shows redefined the TV format. People from all walks of life not only in the US but around the globe were hooked on these types of shows; they even dominated social media and streaming platforms. When "Storage Wars" was launched in 2010, the TV industry was shocked that something as banal or trivial as abandoned storage lockers would generate so much interest from viewers. Even some of the A&E executives thought that the idea would never work, but it did – in its first season, it averaged close to 2.5 million viewers weekly, and became one of the most viewed non-scripted shows on the cable channel. Its popularity started the whole storage auction craze on the entire reality TV programming, and has since enjoyed high viewership ratings, now approaching its 15th season this 2023.
"Storage Wars" featured a group of business entrepreneurs who purchased abandoned storage lockers or units by bidding on them during an auction at storage facilities. In most states in the US, a storage unit on which the rent hadn't been paid for the past three months, the storage facility owners had the right to put it up for auction. Valuables such as artwork, machinery, antiques, and jewelry were reported to have been found in them; it had become a form of treasure hunting, but in storage facilities instead of going to exotic islands.
During the first season, Brandi Passante along with her fiancé Jarrod Schulz was joined by other storage buyers such as Dave Hester, Barry Weiss, Darrell Sheets and Brandon Sheets with resident auctioneers Dan and Laura Dotson.
All new #StorageWars tonight pic.twitter.com/WgxckdwZ7y

— Brandi Passante (@Brandipassante) April 21, 2021
Her journey with "Storage Wars"
One of the reasons that the reality series industry became a huge hit was mainly due to the interesting and controversial characters who were introduced to the public. In "Storage Wars," Brandi easily became a fan favorite along with Jarrod, as they were the underdogs in a group of veteran storage auction buyers.
How did Brandi join "Storage Wars"
The producers of "Storage Wars" were on the lookout for people who were buying abandoned storage lockers in California. Brandi said that they were included in the cast mainly by chance – they were attending an auction in a storage facility center, and people from the production crew were filming for the pilot episode of the TV show. They initially talked to Jarrod, but when they saw Brandi, they immediately asked him if she would be interested in appearing on TV. It wasn't as if the couple ever thought they would be on TV someday, but they agreed, as it could be good for their business, and at the same time bet paid for it. She said, 'We really didn't think it would go anywhere, but it became a big deal.'
Brandi Passante's first appearance in the series
When viewers first saw her, they thought that she was from the stereotypical mold of those gorgeous blondes who were unfairly described as vain, dumb, and immensely superficial, but she wasn't like that. During the first episode, she was introduced as Jarrod's wife and business partner, who managed their second-hand thrift store called Now and Then located in Orange, California. Since she was the one who handled the accounting books, she knew if the store was making money out of Jarrod's auction purchase. One day, he bought a unit with a car in it, but Brandi was still wary about the purchase, since their store still had the dirt bikes that turned out to be broken when he got them from an auction. This time around, he brought some great news, as he had someone appraise the car and said that it was worth around $2400. Brandi was happy that for once Jarrod was right; they were lucky. since he never had a chance to know if the car was running when placing a bid on the abandoned storage locker, for which he later paid $700.
She started to take a larger role in storage hunting
It didn't take long before Jarrod took Brandi to the auctions – normally, she would stay in the store while Jarrod hunted for the storage unit, but they decided to change their strategy and have her accompany him, to have another set of eyes and ears. She planned to stay in the background, look around, but make sure that the other buyers didn't realize if Jarrod was interested in a unit or not, and their plan worked. Brandi kept on bidding during the auction and the others never realized that they had been played because at the end of the bidding process, Jarrod even asked the auctioneer who won the bidding. Some of the veteran buyers said that if they knew that she was Jarrod's wife, they would have aggressively joined the bidding. Brandi said, 'I'm not usually a bidder on the units so I think it kind of threw them off'; the other buyers said it wouldn't happen again. She scored big, as most of the things inside the unit were unopened boxes with brand-new electronic gadgets. They earned $2300 from the unit, for which they paid just $800.
Started in a spin-off series called "Married to the Job"
Brandi and Jarrod became a favorite couple in the original series, and their popularity led the production team to give them a special. It was a test run, and the executives then gave the green light to produce the spin-off series, "Brandi and Jarrod: Married to the Job." Viewers were curious about how the couple managed two thrift stores in California while raising their two kids at the same time; it was launched in August 2014 and had eight episodes, mostly about how Jarrod proposed to Brandi and their wedding plans, because apparently, they hadn't officially exchanged wedding vows yet, even if they treated each other as husband and wife. For some reason, it never went past that first season, but they just continued filming for the original series.
Controversies Brandi dealt with while in "Storage Wars"
"Storage Wars" was supposed to be a reality TV series, but it didn't mean that the stars could talk about their private lives in front of the camera if they wanted to. The cast had certain rules to follow, and the executive producers insisted on this requirement to maintain the stability of the show. Here are some of the controversies that Brandi was embroiled in but were never discussed on the show:
Brandi sued the Internet's Most Hated Man
In October 2012, the reality TV star filed a lawsuit against Hunter Moore, also known as "Internet's Most Hated Man" – he published unauthorized pornographic photos of men and women on his site, IsAnyoneUp.com. He claimed that he started it as a form of 'revenge porn' for those who had been jilted or wronged in a relationship. Many people submitted photos to him, and Hunter made money out of it. Brandi received many disturbing messages through Twitter such as 'Love the pics' and 'Can't wait for the video.' She found out that Hunter posted nude photos, which he claimed were hers but were actually fake. She won the case as the judge ruled in her favor in June 2013 except for the actual damages that she was seeking. Brandi asked for $2.5 million, but the judge only awarded her $750, and payment for attorney fees. The court said that she was unable to provide pieces of evidence for the estimated calculation of damages, but Hunter's site was shut down after it received a cease and desist order.
She had plastic surgery as required by the A&E network
Dave Hester once filed a complaint against the producers of "Storage Wars" calling it fake, and that the producers staged most of the scenarios in the show. He also mentioned that the A&E network required Brandi to undergo plastic surgery to enhance her looks, and make her face more pleasing to the audience. Nobody believed it since there were many in the cast who weren't asked to have a procedure done, but continued to be in the show. A few childhood and teen photos that were posted on her social media looked just like her adult self, so fans assumed that Dave was trying to be controversial and attract attention to his legal complaint.
Brandi and Jarrod quietly split up in 2018
The funny and sometimes spicy banter between Brandi and Jarrod was one of the reasons why fans fell in love with them. It was found out later on that the couple broke up in 2018, but they kept it a secret partly because of the TV show, and mainly for their children. It happened just after filming the 12th season of the show; there were times that some fans thought that the two separated since they were seen with a different person on their social media pages, but since neither officially confirmed it, it was just treated as a rumor. They never addressed it until the premiere of the 13th season. Jarrod said that just because they weren't together anymore, it didn't mean that they couldn't work in the same business.
Just chillin waiting on a All New Storage Wars tomorrow Outlaw Apparel

Posted by Jarrod Schulz on Tuesday, November 13, 2018

Posted by Brandi Passante on Tuesday, November 13, 2018
Her life after the split
Many people were surprised by the shocking revelations that unfolded after Brandi broke-up from her longtime partner. She became a little bit more open about herself, saying that for many years, she was forbidden to have an identity. 'And so these last couple of years, I'm kind of coming into my own, and figuring out who I am.'
Lost her father in 2020
After the split-up became public, she lost her father, Baldassare Joseph Passante, on 26 October 2020 from lung cancer. Apparently, her father had been sick most of her life, as he suffered from Chronic Obstructive Pulmonary Disease (COPD) for about 35 years. He also had arthritis, osteoporosis, and liver cancer. She paid tribute to her father on her Facebook account, with a photo of her sleeping on his father's lap when she was still a baby. Brandi recalled that her father never once yelled or got mad at her.
Auto-immune disease
Some fans could sometimes be rudely vulgar on social media. Brandi was called names due to her raspy voice. She addressed it by telling everyone that she had been suffering from an auto-immune disorder, Hashimoto's Disease., which specifically targeted the thyroid glands, and that made her voice raspy at times.
Single motherhood
The transition in her life was a little harder than she thought it would be. She said that being a single mother would have been easier if her children were still young kids instead of teens, because they could be rebellious at times. Brandi shared, 'Teenagers are tough, especially when you're doing it by yourself.' However, it seemed that they've adjusted pretty well now, based on her Instagram post, which showed her son matriculating from high school. She wrote, 'So proud, & so fortunate to have these 2 beautiful, kind, & loving souls. I don't know what I did to deserve them.'
Domestic violence charges
When Brandi and Jarrod revealed publicly that they'd broken up, everyone thought that everything was already resolved between them, since it had happened two years before they announced it. In April 2021, Brandi was out with friends in a bar in California; when Jarrod arrived at the place, the two talked but things got heated and she told him to go home. He refused and was getting physical by pushing her hard twice while yelling at her. Someone in the bar called the police, but when they arrived, he was long gone. However, after a report was filed, he was arrested for misdemeanor domestic violence battery.
People weren't surprised anymore to see Brandi offering her services to fund-raising events such as the Women's Own Worth in Arkansas – the organization helped abused women by empowering them with opportunities. She hosted the event, and raised about $100,000 for its cause. She said, 'I've experienced some things in my life, and it's a really wonderful cause.' Brandi was still shy in sharing details of her misfortunes, and some people felt that it was because of her children.
She might have undergone many tragic events in her life, but she'd moved on, and there were rumors about her happily dating a new guy recently, but never sharing his identity.