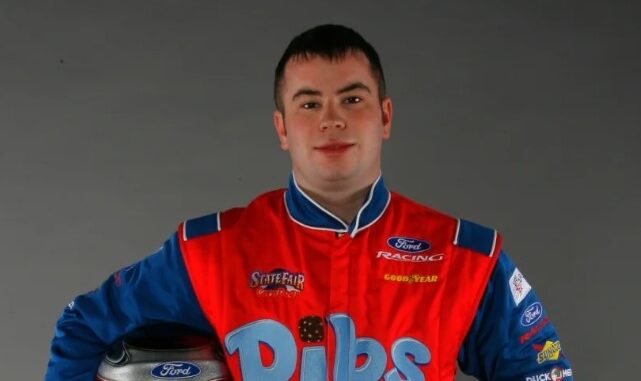 Stock car racing driver Bobby East sadly died on 13 July 2022. The day became his last when he went to fill gas in his car at 76 gas station in Westminster, California. An individual named Trent Millsap approached East and they exchanged words. Millsap stabbed East in his chest and was rushed to the nearby hospital where he died from the injuries sustained from the stabbing. 
East was a former NASCAR driver, who also raced in USAC and ARCA. He had one of the most successful achievements when he became USAC National Midget Series champion in 2004. He was a member of Ford's driver development program. 
What is Bobby East Famous For?
Won 2004 USAC National Midget Series.
Named 2004 USAC Driver of the Year.
Former NASCAR Driver
Where is Bobby East From?
Bobby East was born on 17 December 1984. He was born in Torrance, California in the United States. An American nationality, East hails from white ethnicity and follows Christianity. His father, Bob East is a renowned short-track car builder of midgets, sprints, and silver crown machines. There is not much information about his parents, siblings, early life, family, and net worth. His net worth was estimated at around $2 million.
Former NASCAR Driver Bobby East Career
Bobby East started racing at an early age. Featured in the USAC National Midget event at the Illiana Motor Speedway in Schererville, Indiana in 2001, he became the youngest driver at 16 years old to win a feature event there. His success continue to grow when he became the 2004 USAC National Midget Series champion. He drove the Steve Lewis Racing No. 9 and the car's chassis was built by his father. He won 15 events in the series' three divisions during the 2004 USAC season. He won seven national midgets, five national sprint cars, and one each in the Silver Crown, Western States Sprint Car, and Speedrome Regional Midget Series. He won the Hut Hundred and the Turkey Night Grand Prix. 
Following the successful season, he moved to race stock cars. He initially failed to qualify for two of three races in the NASCAR Craftsman Truck Series. He drove Roush Racing's No. 33 Ford. He qualified at Phoenix where he finished in 30th place after wrecking his car. He also failed to qualify at the Homestead season-finale where he drove the No. 21 for Wood Brothers/JTG Racing. 
He made his ARCA Re/Max Series debut at Talladega in 2005. He drove the No. 29 Ford for K Automotive Racing. He made his NASCAR Busch Series debut at Memphis in 2005. He drove the No. 46 for ST Motorsports and finished in 17th place. He finished 23rd in points in the 2006 season. After competing in Baker Curb Racing in 2007, he returned to Truck Series in 2008. Reunited with Roush, he drove the No. 09 Zaxby's Ford F-150 winning the pole for the race at IRP. 
He is a 2008 Copper World Classic winner. His last effort in NASCAR came at the Cup Series Carl Edwards' Nationwide Series where he failed to qualify in the field. In the later years, he was not seen racing in the top flight. 
How Did Bobby East Die?
Bobby East was killed after a heated word exchange with an unknown assailant at the 76 gas station in Westminster, California on 13 July 2022. He was filling his car when he was approached by a man named Trent Millsap and the two exchanged words. Millsap stabbed East in his chest and he was rushed to the hospital where he died from his injuries. Millsap who had a warrant for a parole violation was later found to be hiding in an apartment in nearby Anaheim. He was killed in a shootout with the Orange County police authorities. 
Who was Bobby East Wife?
Bobby East was a married man. He was married to Natasha Zulu. The couple got married in 2019. They shared a son together.