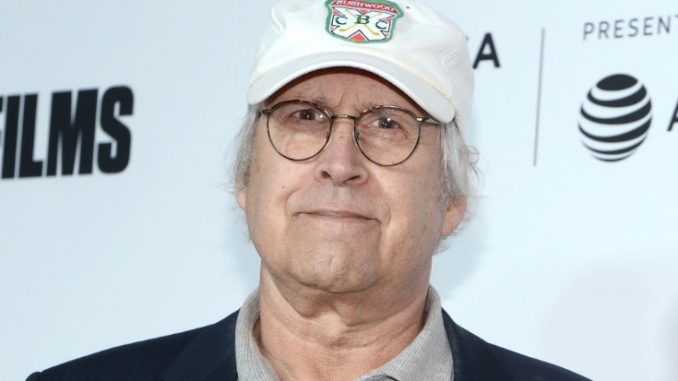 Chevy Chase is a well-known American comedian, actor, and writer. He gained fame as a key cast member on the popular sketch comedy show, "Saturday Night Live" (SNL), where he was a part of the first season's cast. He was known for his "Weekend Update" segment, which became a regular feature on the show. In addition to performing, Chase also wrote for the show and earned three Primetime Emmy Awards out of five nominations and two Golden Globe Award nominations. Throughout his career, he has appeared in numerous films, including Foul Play (1978), Seems Like Old Times (1980), and the National Lampoon's Vacation series. He also starred in Fletch (1985) and its sequel Fletch Lives (1989), Caddyshack (1980), Spies Like Us (1985), Three Amigos! (1986), and Hot Tub Time Machine (2010). He has hosted the Academy Awards twice and briefly had his late-night talk show, The Chevy Chase Show. Chase is currently married to his third wife, Jayni Luke. 
Chase's most iconic role is perhaps as Clark W. Griswold in the National Lampoon's Vacation series, which includes Vacation (1983), European Vacation (1985), Christmas Vacation (1989), and Vegas Vacation (1997). He played the role of Irwin "Fletch" Fletcher in Fletch (1985) and its sequel Fletch Lives (1989). In addition to his film and television work, he has also done voice-over work for animated shows like Family Guy and starred in the NBC sitcom Community from 2009 to 2012, playing the character of Pierce Hawthorne. With a career spanning more than five decades, Chevy Chase is regarded as one of the most prominent figures in American comedy.
Who are the Parents of Chevy Chase?
Chevy Chase, whose full name is Cornelius Crane Chase, was born on October 8, 1943, in Lower Manhattan, but grew up in Woodstock, New York. He spent his childhood at Castle Hill, the Cranes' summer estate in Ipswich, Massachusetts. Chase was named after his adoptive grandfather, Cornelius, while his grandmother gave him the nickname "Chevy" from the medieval English ballad "The Ballad of Chevy Chase". His father, Edward Tinsley "Ned" Chase (1919–2005), was a book editor and magazine writer, and his mother, Cathalene Parker (née Browning; 1923–2005), was a concert pianist and librettist who was adopted by Cornelius Vanderbilt Crane, heir to The Crane Company. His mother's mother was also an opera singer who performed at Carnegie Hall. Chevy Chase has an older brother named Ned Jr. His parents divorced when he was four; his father remarried into the Folgers coffee family, and his mother remarried twice. In a 2007 biography, Chase stated that he was physically and psychologically abused as a child by his mother and stepfather, John Cederquist. Both of his parents died in 2005. Chase is American by nationality and is of Mixed ethnicity. He celebrated his 79th birthday in 2022. 
For his education, Chevy attended Riverdale Country School in The Bronx, New York City, before being expelled, but ultimately graduated as valedictorian from the Stockbridge School in Massachusetts. Chase then attended Haverford College for a year before transferring to Bard College, where he graduated in 1967 with a Bachelor of Arts in English. He did not enter medical school and claimed he avoided the draft by "falsely" claiming to have homosexual tendencies. In addition to his academic achievements, Chase played drums with the college band The Leather Canary, which included school friends Walter Becker and Donald Fagen, who later founded the successful group, Steely Dan. Chase also played drums and keyboards for a rock band called Chamaeleon Church, which recorded one album for MGM Records before disbanding in 1969. However, Chase reportedly became incensed when he heard the final mix because the producer made several alterations, including muting his bass drum. 
How was the Career of Chevy Chase?
Chevy Chase co-founded the underground comedy ensemble Channel One in 1967 and was a writer for the "Smothers Brothers" TV show comeback in 1975, after having written a one-page spoof of "Mission: Impossible" for Mad magazine in 1970. He transitioned to comedy as a full-time career in 1973 when he became a writer and cast member of "The National Lampoon Radio Hour", which also featured John Belushi, Gilda Radner, Bill Murray, and Brian Doyle-Murray. Chase and Belushi appeared in National Lampoon's off-Broadway revue Lemmings, and he also appeared in the movie "The Groove Tube", directed by Ken Shapiro, another co-founder of Channel One, which featured several Channel One sketches.
Chase was one of the original cast members of NBC's late-night comedy television show, "Saturday Night Live" (SNL), and was known for his skill at physical comedy. He introduced every show except two during the first season and became the original anchor for the "Weekend Update" segment of SNL, where he wrote comedy material and developed his catchphrase introduction, "I'm Chevy Chase… and you're not". In addition to receiving two Emmy Awards and a Golden Globe Award for his comedy writing and live comic acting on the show, Chase was ranked tenth in overall importance in Rolling Stone's February 2015 appraisal of all 141 SNL cast members to date. Chase acknowledged the influence of Ernie Kovacs on his work in SNL and thanked Kovacs during his acceptance speech for his Emmy Award. NBC executives referred to Chase as "The first real potential successor to Johnny Carson" and claimed he would begin guest-hosting The Tonight Show Starring Johnny Carson within six months of a 1975 New York magazine cover story that called him "The funniest man in America". However, Chase did not appear on the program until May 4, 1977, when he was promoting a prime-time special for NBC.
He then left "Saturday Night" Live in the middle of the second season in late 1976, becoming the first member of the original cast to depart the show. He moved to Los Angeles with his girlfriend Jacqueline Carlin, whom he later married, and was replaced by Bill Murray. Chase continued to make cameo appearances on the show and hosted SNL eight times until 1997, when he reportedly hit Cheri Oteri on the back of the head and harassed female writers, resulting in him being banned from the show. However, SNL creator Lorne Michaels disputed this claim and has since called it "idiotic." Although Chase has not returned to host the show, he has made several appearances on SNL over the years, including the 25th anniversary special, the 40th anniversary special, and various sketches and segments.
In the late 1970s, Chase made a name for himself with his roles in box office hits like "Tunnel Vision", "Foul Play" and "Oh! Heavenly Dog". He turned down the opportunity to play Eric "Otter" Stratton in National Lampoon's "Animal House" to work on Foul Play, a decision he made to focus on his acting skills. In 1980, he starred in the successful Harold Ramis comedy "Caddyshack", which grossed $39 million on a $6 million budget. The same year, he also reunited with Foul Play co-star Goldie Hawn for Neil Simon's "Seems Like Old Times", which was also a commercial success, grossing more than $43 million. After the release of these films, Chase released a self-titled record album, which included cover versions of songs by Randy Newman, Barry White, and The Beatles, among others.
Chase's success continued in the 1980s, with his most successful movie at the time being 1983's "National Lampoon's Vacation", which grossed $61 million on a $15 million budget. He also starred in the popular comedy "Fletch" in 1985, which grossed over $50 million on an $8 million budget. In 1986, Chase teamed up with fellow SNL veterans Steve Martin and Martin Short for the Lorne Michaels–produced comedy "Three Amigos", which was a box office success, grossing $39 million on a $25 million budget. He later starred in the hit film "Funny Farm" in 1988, which grossed $25 million and currently has a 65% approval rate on Rotten Tomatoes. Throughout his career, Chase has received numerous accolades for his work, including two Primetime Emmy Awards and a Golden Globe Award.
In 1980, Chase had a near-death experience while filming "Modern Problems", which caused him to suffer from a deep depression. Despite this setback, he continued to pursue his passion for acting and entertainment, becoming a well-known figure in the industry. His contributions to film and television have made him a beloved and respected figure in the world of comedy.
In the late 1980s, Chevy was a highly successful and visible celebrity, earning around $7 million per film at the height of his career. He appeared in Paul Simon's 1986 video for "You Can Call Me Al" and hosted the Academy Awards in 1987 and 1988. He continued his successful run with sequels to "National Lampoon's Vacation", including "European Vacation" and "Christmas Vacation", which grossed $50 million and $71 million, respectively. In 1987, he set up Cornelius Productions, a company with a first-refusal deal with Warner Bros., and also played saxophone on stage at Simon's concert in Central Park. In 1991, he recorded and appeared in the music video "Voices That Care" to support U.S. troops involved in Operation Desert Storm and the International Red Cross.
Chase experienced a period of three consecutive film flops in the early 1990s, with "Nothing but Trouble" in 1991, "Memoirs of an Invisible Man" in 1992, and "Cops & Robbersons" in 1994 having a combined gross of $34 million in the United States. Despite high commercial expectations, his weeknight talk show, "The Chevy Chase Show", was canceled by Fox after just five weeks in 1993. However, Chase found success with some of his subsequent movies, including "Man of the House", "Vegas Vacation", "Snow Day", and "Orange County". Chase has received numerous awards and honors for his contributions to the entertainment industry, including being Hasty Pudding's 1993 Man of the Year, receiving a star on the Hollywood Walk of Fame, and The Harvard Lampoon's Lifetime Achievement Award in 1996. 
In more recent years, Chase has made guest appearances on "Law & Order", "Brothers & Sisters", and "Chuck", as well as appearing in the film "Hot Tub Time Machine", a short online film featuring the Griswold Family, and the Netflix movie "The Last Laugh". He also reprised his role as Clark Griswold in the fifth "Vacation" installment, titled "Vacation", in which he has a brief though pivotal cameo appearance.
From 2009 onwards, Chase made a comeback to NBC, playing the role of Pierce Hawthorne, an elderly moist-towelette industrialist, in the sitcom "Community". The show garnered critical recognition for its exceptional acting and writing and appeared on several year-end "best-of" lists by critics. Additionally, it gained a dedicated fanbase, earning the status of a cult classic.
Chevy Chase Awards and Achievements
1976 Primetime Emmy Award for Individual Performance in a Variety Program for Saturday Night Live
1976 Primetime Emmy Award for Outstanding Writing for a Variety Series for Saturday Night Live
1978 Primetime Emmy Award for Outstanding Writing for a Variety Special for The Paul Simon Special
Received a star on the Hollywood Walk of Fame on September 23, 1993, at 7021 Hollywood Blvd
Who is Chevy Chase's Wife?
Chevy Chase has been married to his current wife, Jayni Luke, since 1982, and the couple has been together for over 40 years. They tied the knot o 19th June in a beautiful ceremony in Los Angeles and have since been leading a peaceful life together. They are proud parents of three daughters named Cydney Cathalene Chase (b. 1982), Caley Leigh Chase (b. 1984), and Emily Evelyn Chase (b. 1988) who are all grown up now, and the family seems to be doing well. Despite being married in the past, Chevy Chase and Jayni Luke have managed to keep their relationship strong, and their bond seems to be unbreakable. The couple resides in Bedford, New York.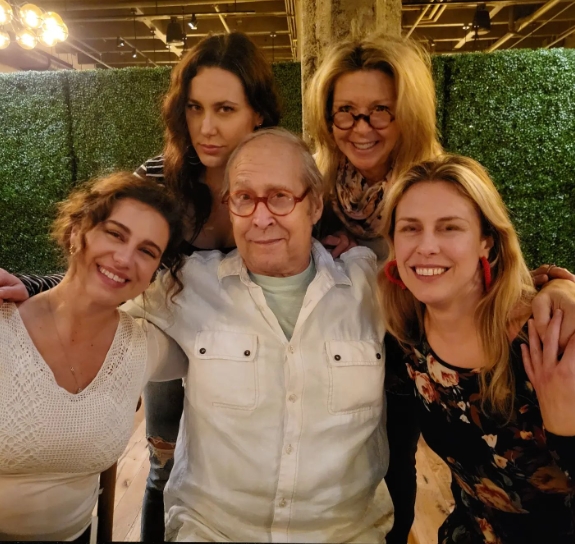 Before settling down with his current wife, Chevy Chase was known for his playboy lifestyle and had been in several relationships with famous women. In the past, he first dated Jacqueline Bisset. He then dated and got married to his first wife, Susan Hewittd (1973-1976). He married his second wife, Jacqueline Carlin on 4th December 1976 which ended via divorce on 14th November 1980. Although his past relationships have been a subject of much speculation, Chevy Chase has put it all behind him and seems to be fully committed to his wife and family. He has moved on from his past affairs and is now focused on leading a happy and contented life with his wife and children.
How much is Chevy Chase's net worth?
Chevy Chase, an American comedian, writer, and actor, has built a successful career in the entertainment industry and amassed a fortune of $50 million. He began his career as a comedian, performing in small comedy gigs, and later joined "The National Lampoon Radio Hour" in 1973. Chevy then became one of the original members of the first season of "Saturday Night Live," where he gained recognition and popularity. In the 1980s, he starred in several successful movies, including "National Lampoon's Vacation," "Fletch," and "Caddyshack," which earned him millions of dollars. Chevy continued his career in the 1990s and beyond, working on various projects and campaigns for political candidates, such as Bill Clinton and John Kerry. Further, he has done endorsement work for the likes of Dollar Rent-a-Car, www.historychannel.com, Doritos, AFLAC Insurance, ColaTurca (Turkey), Old Navy Clothing, and Chase Manhattan Bank Sapphire Credit Card.
Throughout his career, Chevy Chase has earned a significant amount of money from his acting, writing, and producing work. Notable salaries from his career include $800 per week as a member of the original cast of Saturday Night Live, $500,000 for his role in Caddyshack, $5 million for his role in National Lampoon's Vacation, $7 million for his role in Fletch, and reportedly $125,000 per episode for his role in the TV series Community. As per TheRichest, in 1989, he got $6,000,000 for appearing in Christmas Vacation. Likewise, Chevy made $4,000,000 for starring in Cops and Robbersons. Additionally, in 1995, his salary for appearing in Man of the House was recorded to be $2,000,000. Aside from his career, Chevy Chase has invested in multiple luxury properties, making smart real estate decisions. He purchased a house in the Hollywood Hills for $2.5 million and later sold it for $5.5 million. He also owns a home in Bedford, New York, which he purchased for $4.5 million and later listed for $8.5 million. In addition, Chevy has owned properties in New York City and a private lake property in Kent, Connecticut, which he listed for $8.5 million in 2015. In 2017, Chase purchased a 7-bedroom, 8-bathroom mansion in the Beverly Hills neighborhood of Los Angeles for $8.5 million. He has also owned other properties such as apartments in New York City. He has shown a good sense of investing in real estate by diversifying his portfolio and making profitable investments. He is living a lavish lifestyle from his career earnings. 
How tall is Chevy Chase?
Chevy Chase stands tall at a height of 6 ft 3½ in or 191.5 cm, making him one of the tallest actors in the industry. He weighs around 78 kg or 172 lbs and has an average body build. His hair color is grey, which complements his dark brown eyes. Additionally, Jacobi has a distinctive dimpled chin, which is a notable feature of his face. He is known for his towering height, deadpan delivery, and often portraying fathers and family men in his roles.
Jacobi is health-conscious and has taken care of his body throughout his life. He used to run 5 miles a day to keep himself fit. However, in February 2021, he was hospitalized due to a heart issue. After spending almost 5 weeks in the hospital, he was finally discharged in March 2021. Despite his health scare, Jacobi remains committed to his craft and continues to work on various projects in the entertainment industry.