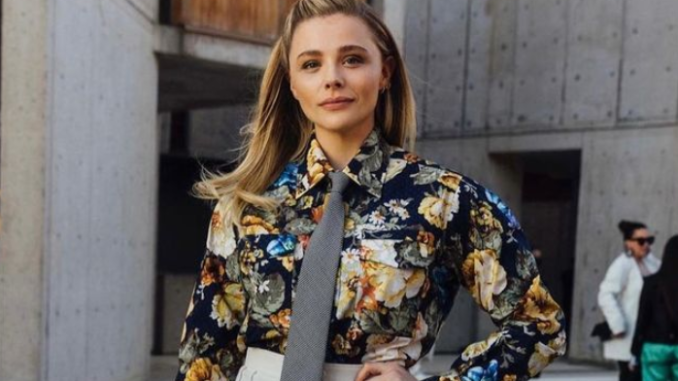 Chloe Grace Moretz is an American actress who is renowned for portraying roles such as Abby in Let Me In, Mindy McCready / Hit-Girl in Kick-Ass, Shelby in Neighbors 2: Sorority Rising, and Rachel Hansen in 500 Days of Summer. She began acting as a child, with early roles in the supernatural horror film The Amityville Horror (2005), the drama series Desperate Housewives (2006–07), the supernatural horror film The Eye (2008), the drama film The Poker House (2008), the drama series Dirty Sexy Money (2007–08), the romantic comedy film 500 Days of Summer (2009) and the children's comedy film Diary of a Wimpy Kid (2010).
Her breakthrough came in 2010 with her critically acclaimed performances as Hit-Girl in the superhero film Kick-Ass. Likewise, she has appeared in Room 6, Wicked Little Things, Not Forgotten, Hugo, Muppets Most Wanted, Carrie, The Equalizer, November Criminals, My Name Is Earl, The Guardian, 30 Rock, The Peripheral, American Dad!, Family Plan and more. For her acting skills, she has won several awards such as the Elle Style Awards, Empire Awards, MTV Movie & TV Awards, People's Choice Awards, Saturn Awards, Teen Choice Awards, and many more.
As a model, she has been featured on the cover of popular magazines such as Jalouse, Marie Claire, Flaunt, Vogue, Teen Vogue, Love, Interview, Elle, Crash Magazine, and InStyle. 
Chloe Grace Moretz Known For
Chloe Grace Moretz is an American actress and model. 
She is known for her role in movies like The Amityville Horror (2005), (500) Days of Summer (2009), Diary of a Wimpy Kid (2010), Kick-Ass (2010), Let Me In (2010), Hugo (2011), and Dark Shadows (2012).
Chloë Grace Moretz says 'Family Guy' meme 'used' her body 'as a joke'
In a recent interview, Chloe opened up and spoke about the issues she faced as a child star in the eyes of the public. She spoke in particular about "Family Guy." She said the memes on her body affected how she saw herself and spoke about a particular picture of her entering a hotel and getting pizza. The image was taken as an act in the show, affecting her deeply. She was uncomfortable as her body became a part of a joke. 
What Ethnicity is Chloe Grace Moretz?
Chloe Grace Moretz was born on 10th February 1997 in Atlanta, Georgia, United States. She was raised in Cartersville, Georgia. She holds American nationality and her ethnicity is Mixed as she is of German and English descent with traces of Swiss-German, Scottish, and Welsh roots. Her mother, Teri Duke, is a nurse practitioner, and her father, Dr. McCoy "Mac" Moretz (1957–2021), was a plastic surgeon, and heir to the Moretz hosiery business, bought out in 2011 for $350 million.
She has four older brothers: Brandon, Trevor, Colin, and Ethan; an older sister, Kathleen, died shortly after birth. Her brother Brandon serves as her business manager; her brother Trevor has been her acting coach since 2010 and accompanied her on trips and press dates when her parents were unable to attend. She has described her family as "very Christian," specifically Southern Baptist.
She moved to New York City in 2002, with her mother and brother Trevor, because he had been accepted into the Professional Performing Arts School. Her present age is 25 as of 2022. 
Chloe Grace Moretz Career Timeline (Acting)
She started her acting role as Violet in two episodes of the CBS series "The Guardian", and her first film role was as Molly in "Heart of the Beholder".
In 2005, she appeared in "The Amityville Horror". 
After Amityville, Moretz received several guest-starring roles on TV, as well as a small role in "Big Momma's House 2".
Her recurring TV characters include Kiki George in Dirty Sexy Money and Sherri Maltby in Desperate Housewives. 
She also voiced the U.S. version of the animated character Darby in My Friends Tigger & Pooh.
She co-starred as Cammie, an abused child, in The Poker House. 
She appeared in the 2010 film "Kick-Ass" which was followed by Let Me in (2010), Texas Killing Fields (2011), The Invention of Hugo Cabret (2011), Hick (2012), Kick-Ass 2 (2013), Movie 43 (2013), Carrie (2013). 
She reprised her role as Hit-Girl for Kick-Ass: The Game and played young Lady Emily in Dishonored.
From March 25 through April 27, 2014, Moretz made her Off-Broadway debut in The Library. 
She played the protagonist, Mia, in the adaptation of Gayle Forman's If I Stay (2014). 
She co-starred with Zac Efron and Seth Rogen in the film Neighbors 2: Sorority Rising, the sequel to Neighbors in 2016. 
She headlined the drama film Brain on Fire. 
In November 2015, Moretz was attached to Shane Carruth's third film, The Modern Ocean. 
In 2017, Moretz co-starred in the crime drama November Criminals. Next, she starred in the comedy-drama I Love You, Daddy. 
In 2018, Moretz starred in the drama film The Miseducation of Cameron Post. 
She next appeared in the horror film Suspiria. 
She then starred opposite Isabelle Huppert in Greta, a thriller film. 
In 2019, Moretz voiced Wednesday Addams in the CGI animated film The Addams Family. 
In 2021, she appeared in the live-action/animated film Tom & Jerry, Shadow in the Cloud, and the sequel The Addams Family 2. 
She signed on for a role in Mattson Tomlin's first film as director, Mother/Android, and will appear in the upcoming Amazon Prime Video series The Peripheral. 
In 2021, Moretz executive produced the six-part Snapchat Original series, Coming Out. 
She is set to voice the title character in the animated film Nimona, to be released on Netflix in 2023.
Apart from her acting career, she is also into the fashion line.
She has appeared in photo shoots, including editorials, features, and covers, for magazines including Flaunt, Vogue, Teen Vogue, Jalouse, Marie Claire, Interview, Elle, Love, Crash Magazine, InStyle, and many others. 
In 2012, Moretz also became the face of American youth clothing retailer Aéropostale, appearing at various events, videos, and reports.
In February 2013, Elle magazine awarded her with the "Next Future Icon Award" at the Elle Style Awards gala held in London. 
Chloe Grace Moretz Awards and Achievements
Won Elle Style Awards in 2013
Won Empire Awards in 2011 for her role in "Kick-Ass"
Won MTV Movie & TV Awards in 2011 for her role in "Kick-Ass" and in 2013 for her role in "Kick-Ass 2"
Won People's Choice Awards in 2012 for her role in Hugo 
Won People Magazine Awards in 2014
Won Saturn Awards in 2011, 2014
Won Scream Awards in 2010 & 2011
Won Teen Choice Awards in 2015, 2016
Won Women in Film Crystal + Lucy Awards in 2012
Won Young Artist Award in 2011 & 2012
Won Young Hollywood Awards in 2014
How much is Chloe Grace Moretz's Net Worth?
Chloe Grace Moretz is a successful actress who has made a huge fortune from her career work. She is one of the most recognized and well-known actresses in the Hollywood industry who gained popularity not only as a lead actress but also rose popularity for her early roles as a child artist in many popular movies. As of 2022, she has a net worth of $12 million. She accumulated her net worth through her modeling and acting career.
She is mainly known for her child roles in popular films like The Amityville Horror, Desperate Housewives, and Dirty Sexy Money. She also earns through her modeling projects, brand endorsements, and other business ventures. Her present annual salary is around $1 Million. Her main source of wealth comes from the entertainment industry. She is living a lavish lifestyle at present. Details about her mansion and property are still to get disclosed yet. 
Is Chloe Grace Moretz in a relationship?
Chloe Grace Moretz is currently having dating rumors with Kate Harrison. In December 2018, Chloe was seen with model Kate Harrison after having dinner at Nobu in California. These sparked dating rumors. Her sexual orientation is queer.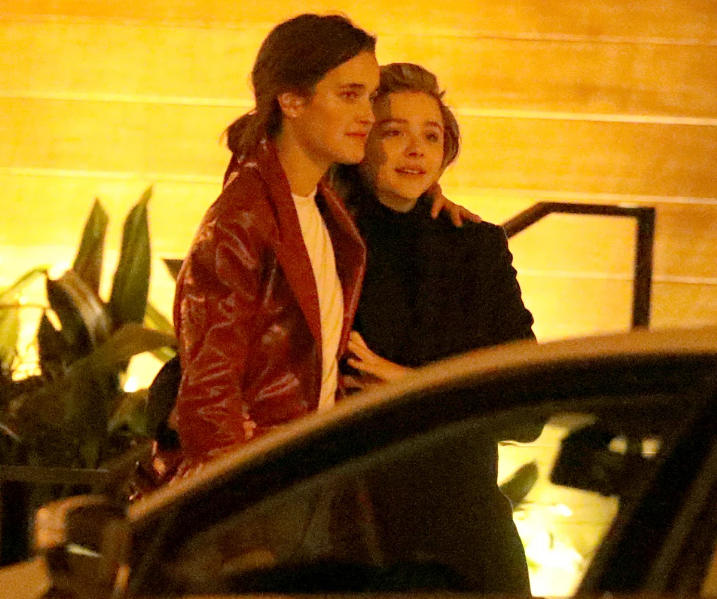 Previously, she was in an open relationship with Colin Ford in 2013, and Cameron Fuller from 2012 to 2014. After then, she dated her ex-boyfriend, Brooklyn Beckham who is David and Victoria Beckham's oldest son. They began dating each other in July 2014 after getting introduced to her via a mutual friend at SoulCycle in Santa Monica, California. He used to work out there with his dad. The couple dated ON and OFF until September 2016. Later in March 2017, the couple again sparked dating rumors. In September 2017, the couple again resumed dating. This time they decided to separate in March 2018 after dating for 6 months.
Everything To Know About Brooklyn Beckham
In March 2016, she was rumored to have hooked up with Brazilian soccer player Neymar, Jr. when they were seen during a night out in Paris. In February 2017, English actor, Alex Roe and Chloe were rumored to be dating each other after he joined her at her 20th birthday party. They also appeared together in the movie The 5th Wave in 2016.
Chloe Grace Moretz Height and Weight
Chloe Grace Moretz has a height of 5 ft 4 inches. Her body weight is 54 kg. She has a body measurement of 33-25-35 inches. Her waist size is 25 inches and her hip size is 35 inches. Her bra size is 32A. She has blonde hair and green eye. Her cute smile makes her different from others.