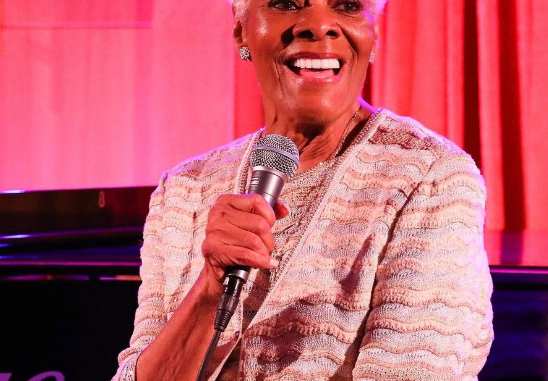 Marie Dionne Warrick, professionally known as Dionne Warwick is an American singer, actress, and television host. She has performed with her mother, aunts, and uncles as a part of the Drinkard Singers from an early age. She released successful singles like "Don't Make Me Over", "I Say A Little Prayer", "Walk On By", "Do You Know the Way to San Jose?", "Anyone Who Had a Heart", and many others. She ranked among the 40 biggest hitmakers between 1955 and 1999, based on her chart history on Billboard's Hot 100 pop singles chart. Dionne is also a former Goodwill Ambassador for the UN's Food and Agriculture Organization. She released the single "Nothing's Impossible" a duet featuring Chance the Rapper on 26th November 2021. Currently, her documentary entitled, "Dionne Warwick: Don't Make Me Over" premiered on national television on CNN on 31st January 2023.
Dionne Warwick famous for
She is an American singer, actress, and television host.

She is a former Goodwill Ambassador for the Food and Agriculture Organization.
When was Dionne Warwick born?
Dionne Warwick was born on 12th December 1940 with the real name of Marie Dionne Warrick in East Orange, New Jersey, U.S. She is American by nationality and mixed by ethnicity as she has African-American, Dutch, Native American, English, Irish, Scottish, and Brazilian (disputed) ancestry. Likewise, her religious belief is in the Christian religion and her race is black. Her father Mancel Warrick was a Pullman porter, chef, record promoter, and CPA and her mother Lee Drinkard was the manager of the Drinkard Singers. She also had a sister, Delia ("Dee Dee"), who died in 2008, and a brother, Mancel Jr., who was sadly killed in an accident in 1968 at age 21.
Moving to Dionne's education, she finished East Orange High School in 1959, Warwick pursued her passion at the Hartt College of Music in West Hartford, Connecticut. 
Dionne Warwick Music Career
Dionne Warwick kicks off her singing career as a child at the New Hope Baptist Church in Newark, New Jersey as she joined the Gospelaires which later became the recording group the Sweet Inspirations.

Then she was noticed by the song's composer, Burt Bacharach while she was performing background on the Drifters' recording of their 1962 release "Mexican Divorce" and was signed to Bacharach's and David's production company, according to Warwick, which in turn was signed to Scepter Records in 1962 by Greenberg. 

Her debut Scepter album, "Presenting Dionne Warwick", was released in early 1963 and Scepter Records released her first solo single, "Don't Make Me Over" in November 1962 as her name was misspelled on the single's label.

She began using the new spelling, "Warwick", both professionally and personally.

Her fourth single, "Anyone Who Had a Heart", was released in November 1963 and her biggest UK hits were "Walk On By" and "Do You Know the Way to San Jose?".

Similarly, she launched her ninth album "Dionne Warwick in Valley of the Dolls", in 1968 and on the soundtrack to "Alfie". She was also named the Bestselling Female Vocalist in the "Cash Box Magazine" poll in 1964.

Besides, the January 1967 LP "Here Where There Is Love" was her first RIAA-certified Gold album, and featured "Alfie" and two 1966 hits as her follow-up to "I Say a Little Prayer", "(Theme from) Valley of the Dolls", was unusual in several respects.

As well, actress Barbara Parkins suggested that Dionne be considered to sing the film's theme song which was written by songwriting team Andre and Dory Previn while the film version of "Valley of the Dolls" was being made though she also re-recorded a version of the movie theme (#2 for weeks), "Do You Know the Way to San Jose?" and several new Bacharach-David compositions.

Later her final Bacharach/David penned single on the Scepter label was March 1971's "Who Gets the Guy", and her final "official" Scepter single release was "He's Moving On" b/w "Amanda", both from the soundtrack of the motion picture adaptation of Jacqueline Susann's "The Love Machine".

Also, Dionne had become the priority act of Scepter Records with the release of "Anyone Who Had a Heart" in 1963 though she had sold an estimated 35 million singles and albums internationally in less than nine years and more than 16 million singles in the U.S. alone. 

She formed her own label, Sonday Records in 1970, of which she was president but left the family atmosphere of Scepter Records for Warner Bros. Records, for a $5 million contract in 1971.

She then returned to New York City's A&R Studios in late 1971 to begin recording her first album for the new label, the self-titled Dionne in January 1972.

Subsequently, her career stalled in the early 1970s although she remained a top concert draw throughout the world as she recorded 1974's "Then Came You".

She has recorded five albums with Warners including, "Dionne" (1972), "Just Being Myself" (1973), "Then Came You" (1975), "Track of the Cat" (1975), "Love at First Sight" (1977) but her five-year contract with Warners expired in 1977, and with that, she ended her stay at the label.

She later moved to Arista and released her RIAA-certified million-seller "I'll Never Love This Way Again" in 1979 and became the first female artist in the history of the awards to win in both categories the same year.

Analogously, Dionne launched her second Arista album, "No Night So Long" in 1980 as well as hosted a two-hour TV special called Solid Gold '79" in the following year of January. 

Her song "Heartbreaker" became one of Warwick's biggest international hits, returning her to the Top 10 of Billboard's Hot 100 as well as #1 Adult Contemporary and No. 2 in both the UK and Australia.

Then, she launched "How Many Times Can We Say Goodbye" in 1983 as she contributed her voice to the multi-Grammy Award-winning charity song "We Are the World" in 1985 as well as recorded the American Foundation for AIDS Research (AmFAR) benefit single "That's What Friends Are For" in the following year.

Furthermore, she released her most successful album of the 1980s, titled "Friends" though her most publicized album was 1993's "Friends Can Be Lovers".

She was also nominated to be Goodwill Ambassador of the Food and Agriculture Organization of the United Nations (FAO) on 16th October 2002 as her first Christmas album was released the following year. The CD is entitled "My Favorite Time of the Year".

She starred on the 24th May 2006, fifth-season finale of "American Idol" and signed with Concord Records in 2006 after a fifteen-year tenure at Arista, which had ended in 1994. Her first and only release for the label was "My Friends and Me" and a compilation CD of her greatest hits and love songs, "The Love Collection", entered the UK pop charts at number 27 on 16th February 2008.

In the following year, her second gospel album, "Why We Sing", was released and she started recording an album of songs from the Sammy Cahn and Jack Wolf songbooks in 2008. The finished recording, entitled "Only Trust Your Heart", was released in 2011.

As well, she starred in "The Celebrity Apprentice 4" and was dismissed from her "apprenticeship" with Donald Trump during the fourth task of the season.

Likewise, she has performed in several shows like "The Jonathan Ross Show" though she collaborated with country singer Billy Ray Cyrus for his song "Hope Is Just Ahead" on 19th September 2013.

Dionne also made a cameo appearance in the Christian drama "Let There Be Light" directed by Kevin Sorbo.

Additionally, she starred in season 3 of "The Masked Singer" as the Mouse in 2020. 

She came back during the first part of the season three finale to sing "What the World Needs Now is Love" despite being eliminated in the second round.

She has also made a guest appearance during Gladys Knight's and Patti Labelle's Verzuz battle. Together they performed Warick's song, "That's What Friends Are For".

Dionne lists her honorary doctorate from Hartt among those awarded by six other institutions: Hartt College, Bethune-Cookman University, Shaw University, Columbia College of Chicago, Lincoln College, Illinois May 2010, Doctor of Arts (hon.), and University of Maryland Eastern Shore in "My Life, as I See It: An Autobiography".

Furthermore, she released the single "Nothing's Impossible" a duet featuring Chance the Rapper on 26th November 2021. 

Currently on 31st January 2023, her documentary entitled, "Dionne Warwick: Don't Make Me Over" premiered on national television on CNN.
Awards and Achievements
Grammy Hall of Fame for her work in "Don't Make Me Over" 

American Music Awards  for her work in "That's What Friends Are For"

Billboard Music Awards for her work in "That's What Friends Are For"

NAACP Image Awards for Outstanding Female Artist

People's Choice Awards

Women's World Awards

Soul Train Music Awards

ASCAP Awards

Trumpet Awards
Who is Dionne Warwick married to?
Dionne Warwick is a married woman. She tied the knot with actor and drummer William Elliott and the couple divorced in May 1967. They reconciled and remarried in Milan, Italy, in August 1967. She gave birth to her first son, David Elliot on 18th January 1969 whereas her second son Damon Elliott was born in 1973. Her older son David is a former Los Angeles police officer and her second son, Damon Elliott, is a music producer. But again the couple separated and Warwick was granted a divorce in December 1975 in Los Angeles on 30th May 1975. The court denied Elliott's request for $2,000 a month (equivalent to $9,500 in 2019) in support pending a community property trial, and for $5,000, when he insisted he was making $500 a month in comparison to Warwick making $100,000 a month (equivalent to $475,000 in 2019). Dionne stated "I was the breadwinner. The male ego is a fragile thing. It's hard when the woman is the breadwinner. All my life, the only man who ever took care of me financially was my father. I have always taken care of myself." As of now, she is living a single life with her family. Reflecting on her sexual orientation, she is straight. 
Furthermore, Dionne Warwick was arrested at Miami International Airport for possession of marijuana in 2003. It was discovered that she had 11 suspected marijuana cigarettes inside her carry-on luggage, hidden in a lipstick container. She was later charged with possessing marijuana totaling less than five grams. 
What is Dionne Warwick's net worth?
Dionne Warwick has reached great heights in her career already. She has a net worth of around $10 million as of 2023. She also earns a handsome amount of salary too which is also in millions of dollars per year. She listed liabilities that included nearly $7 million owed to the Internal Revenue Service for the years 1991 to 1999 and more than $3 million in business taxes owed to the state of California due to the reported mismanagement of her business affairs. Dionne also was listed with a tax delinquency of $2,665,305.83 in personal income tax and a tax lien was filed on 24th July 1997. In addition, her major source of income is her singing career.
How tall is Dionne Warwick?
Dionne Warwick is a beautiful and adaptable singer who is 5 ft 7 in or 170 cm tall and her body weighs around 66 kg or 145.5 lbs. She is a woman with black hair however, her hair has turned gray with her advancing age. Her eyes color are dark brown and her body build type is average. Besides, Dionne was also hospitalized after a fall in the shower at her home on 24th January 2015. After ankle surgery, she was released from the hospital and now, she is healthy, fit, and fine.