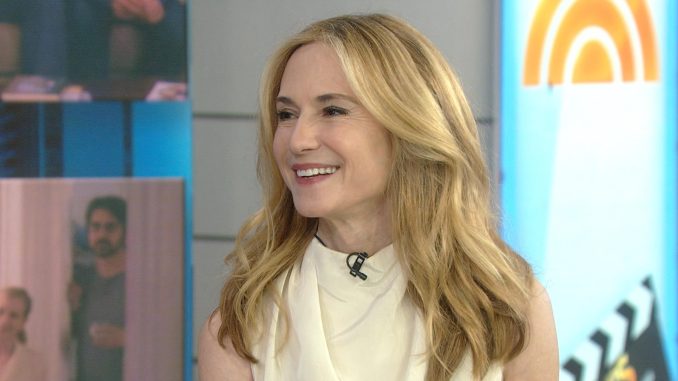 Who is Holly Hunter?
American actress Holly Patricia Hunter was born in Conyers, Georgia USA, on 20 March 1958, making Pisces her zodiac sign. She's appeared in nearly 70 TV series and movies, and is perhaps still known best for playing one of the lead characters Jane Craig in the 1987 romantic comedy movie "Broadcast News", written and directed by James L. Brooks, and which also starred William Hurt and Albert Brooks. It follows the lives of two rival TV reporters, and the movie won 15 of its 39 award nominations, including seven Oscar nominations, some of which for Best Picture, Best Actor in a Leading Role and Best Cinematography.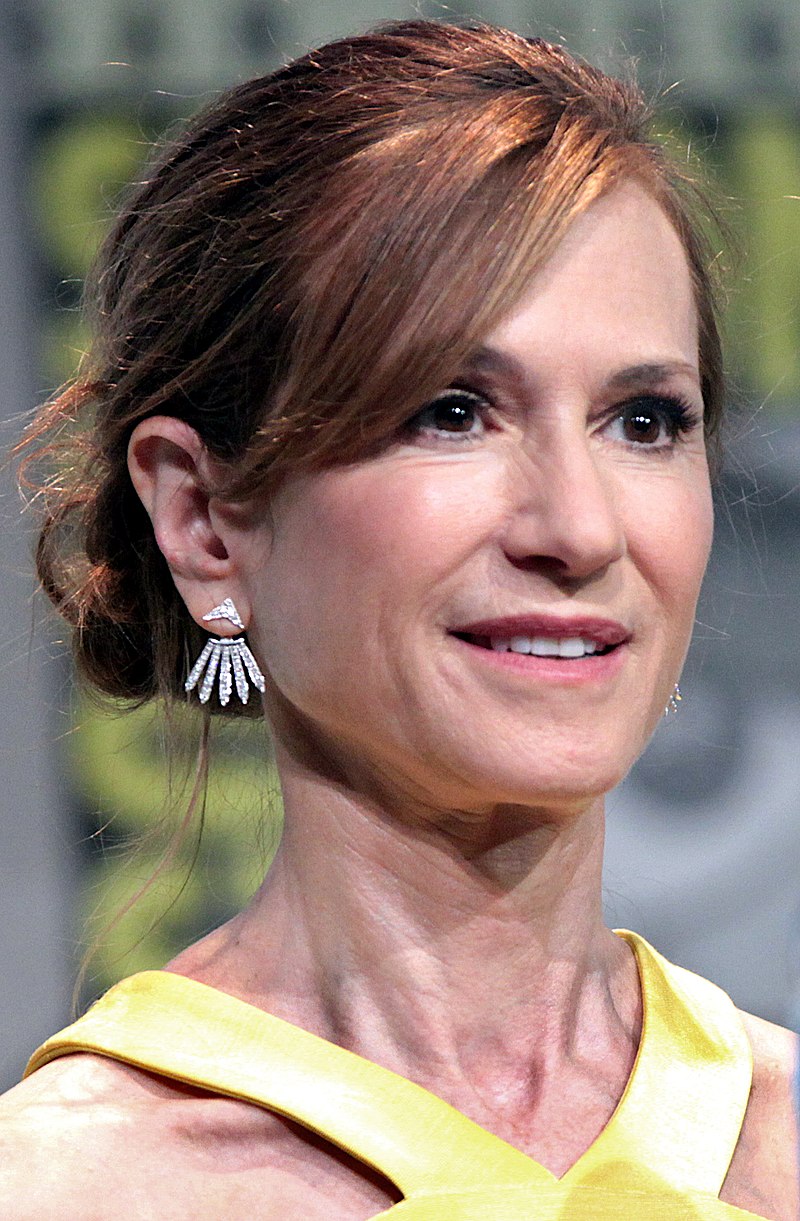 Education and early life
Holly and her five older siblings were raised in Conyers by their father Charles Edwin Hunter who was a representative of a sporting goods company and a farmer with his 250 acre farm, and mother Marguerite 'Dee Dee' (nee Catledge) who was a housewife.
Holly was encouraged by her parents to start appearing in school plays, and was 11 when she appeared in her first; she suffered from the viral disease mumps in her childhood, and it left her deaf in her left ear. She studied at Rockdale County High School and began acting in theatre plays during her four years there, while she gained recognition with her performance in the plays "Fiddler on the Roof" and "Oklahoma, Man of La Mancha".
Holly matriculated in 1976, and then enrolled at Carnegie Mellon University, graduating with a Bachelor's degree in 1980.
Roles in movies
Holly made her debut film appearance in the 1981 horror "The Burning", written and directed by Tony Maylam, and which starred Brian Matthews, Leah Ayres and Brian Backer. It follows a disfigured serial killer as he's killing teenagers at a summer camp in New York State. Some of Holly's following roles were in the 1983 romantic drama "Svengali", the 1983 romantic drama "An Uncommon Love" and the 1984 crime thriller "Blood Simple".
The year 1987 saw her play the lead character Ed in the critically acclaimed crime comedy "Raising Arizona", written and directed by the Coen brothers, and which also starred Nicolas Cage and Trey Wilson. It follows a couple who've adopted one of their close family member's quintuplets, and the film was nominated for four awards. Holly appeared in a couple of other popular movies in the '80s, including the 1987 drama "A Gathering of Old Men", the 1987 romantic comedy "End of the Line" and the 1989 comedy "Miss Firecracker".
The year 1993 saw her star as Ada McGrath in the hit 1993 romantic musical drama "The Piano", written and directed by Jane Campion, and which also starred Harvey Keitel and Sam Neill. It follows a mute woman who's been sent to New Zealand to marry a farmer, but has fallen in love with a farm worker; the movie won 65 of its 121 award nominations, including three Oscar wins for Best Actress in a Leading Role, Best Actress in a Supporting Role and Best Writing, Screenplay Written Directly for the Screen. Some of Holly's roles in the remainder of the decade were in the 1993 mystery thriller "The Firm", the 1995 romantic comedy "Home for the Holidays" and the 1999 romantic drama "Woman Wanted".
The year 2003 saw her play the main character Melanie Freeland in the critically acclaimed drama "Thirteen", written and directed by Catherine Hardwicke, and which also starred Evan Rachel Wood and Nikki Reed. It follows a 13 years old girl who's just discovered drugs and sex, and the movie won 14 of its 63 award nominations, including an Oscar nomination for Best Actress in a Supporting Role (Holly). Some of Holly's notable performances in the following years were in the popular 2004 animated action adventure "The Incredibles" (lead voice role), which won two Oscars for Best Animated Feature Film of the Year and Best Achievement in Sound Editing, the 2005 crime comedy "The Big White" and the 2006 short animated comedy "Chicken Little: Deleted Scenes" (voice role).
In 2014, Holly starred as Dawn in the drama "Manglehorn", directed by David Gordon Green, and which also starred Al Pacino and Harmony Korine. It follows the life of eccentric small-town locksmith Manglehorn who's trying to start anew after his heart's been broken; the movie was nominated for only a single award.
Holly's three most recent movie roles have been in the 2017 romantic comedy "The Big Sick", the 2017 romantic musical drama "Song to Song", and the 2018 animated action adventure "Incredibles 2" (voice role).
Roles in TV series
Holly's appeared in only a couple of TV series, as she's spent her career focused on winning movie roles.
Her debut TV series role was portraying Mary Lincoln in six 2001 episodes of the biographical historical documentary "American Experience", created by Stephen Fitzmeyer and Henry Hampton, and which today stars David McCullough, David Ogden Stiers and Michael Murphy. It's a documentary about the US history, the series has been airing since 1987, and has won 94 of its 206 award nominations, which include an Oscar nomination for Best Documentary, Features.
Holly's following role came in 2007, when cast to voice Robin in the episode "Chirp Flies the Coop" of the animated adventure comedy "Peep and the Big Wide World", and from 2007 through 2010, she starred as Grace Hanadarko in the popular fantasy "Saving Grace", which Nancy Miller created, and which also starred Kenny Johnson and Leon Rippy. It follows a police detective who's been offered redemption of her life by an angel – the series won five of its 23 award nominations.
Holly's three most recent TV series roles have been in three episodes of the 2019 animated comedy "Bless the Hearts" (voice role), the 2021 episode "Chore Day – The Incredibles Way" of the short animated comedy "Pixar Popcorn", and all the 20 episodes (lead role) of the 2022 comedy "Mr. Mayor".
MR. MAYOR | Official Trailer

It may be his birthday, but we're the ones getting a present! The official trailer for Ted Danson's new show Mr. Mayor is here! Be there for the 1-hr premiere Thursday, Jan. 7 at 8/7c on NBC.

Posted by The Good Place on Wednesday, December 23, 2020
Other credits
Holly received special thanks for the 2000 horror thriller movie "Lost Souls" and the 2002 documentary film "Moonlight Mile: A Journey to Screen".
She has three producing credits: the 2001 sports comedy movie "When Billie Beat Bobby", the 2003 drama film "Thirteen" and all the 46 episodes of the fantasy series "Saving Grace" from 2007 through 2010.
Some of Holly's recent talk-show appearances have been in "Entertainment Tonight", "Late Night with Seth Meyers" and "Today".
Awards and nominations
Holly's won 47 of her 145 award nominations, including her 1994 Oscar win for Best Actress in a Supporting Role for her performance in "The Piano"; she was also nominated for an Oscar in 1988, 1994 and 2004, for her performances in "Broadcast News", "The Firm" and "Thirteen", respectively.
Some of Holly's other wins include a 2008 Gracie Allen Award for Outstanding Female Lead – Drama Series and a 2009 Women in Film Lucy Award, both for "Saving Grace", and a 2012 Golden and Platin Film, Netherlands Golden Film Award for "Jackie".
She was honored with her own star on the Hollywood Walk of Fame on 30 April 2008.
Love life and relationships
Holly avoids speaking about her love life in public, but occasionally allows her fans to take a glimpse into it. She was married  to Polish cinematographer Janusz Zygmunt Kamiski, exchanging vows in 1995, but their divorce was finalized in 2001. Janusz has worked on several hit movies, including the evergreen 1993 historical drama "Schindler's List", and the 1998 war drama "Saving Private Ryan".
Since 2001, Holly's been in a relationship with British actor Gordon MacDonald; the two met while performing together in a production of "By the Bog of Cats", and Holly gave birth to their twin sons Press and Claude on 17 January 2006.
She's yet to mention other men whom she's perhaps been with, Holly's in a long-term relationship with Gordon MacDonald as of April 2023 and they have twin sons together, while she had previously been married to Janusz Zygmunt Kamiski.
Interesting facts and hobbies
Holly's an avid pianist, and performed all the piano music in the 1993 movie "The Piano", which was amongst the reasons why she was awarded an Oscar.
Her uncle was the first commander of the world-famous US Air Force Demonstration Squadron, The Thunderbirds.
Holly was offered a role in the critically acclaimed 1984 crime thriller movie "Blood Simple", which she declined, but introduced the Coen brothers to her roommate Frances McDormand, who then won the role and married one of the brothers.
She was invited to portray God in the 1999 adventure comedy "Dogma", but declined; the movie became a box office success, and was nominated for eight awards.
Holly's favorite actress is the late Heather O'Rourke, and some of her favorite movies include "Poltergeist II", "Terror in the Aisles" and "Massarati and the Brain".
Age, height and net worth
Holly's age is 65. Her eyes are brown and hair is blonde, she's 5ft 2ins (1.57m) tall and weighs around 110lbs (49kgs).
Holly's net worth's been estimated at over $16 million, as of April 2023.