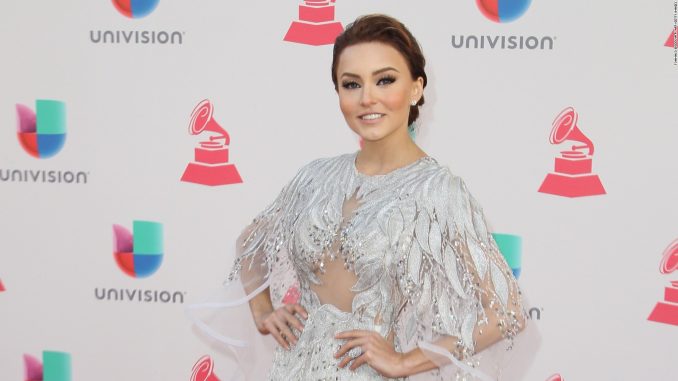 Who is Angelique Boyer?
Although she is perhaps known best for her role as Sandy in the series "Alma de Hierro", the actress Angelique Boyer rose to prominence as a teenage girl playing Vico in the 2004 series "Rebelde", also starring Estefania Villareal and Zoraida Gomez, with whom Angelique formed the band called C3Q'S; they released one single, entitled "No Me Importa".
Intrigued? More about her career beginnings, her life, and how she's doing now, you'll find out by reading this paper. So, keep on scrolling.
Early life, family, and education
Born Angelique Monique-Paulette Boyer Rousseau under the zodiac sign of Cancer on 4 July 1988, she will soon celebrate her 35th birthday. Although Angelique was born in Saint-Claude, France she was raised in Mexico City, Mexico. She was a toddler when her Spanish father and French mother relocated to Mexico, so Angelique holds both French and Mexican citizenship. She has an elder brother, Arnaud.
When it comes to her educational background, she attended Centro de Educación Artística, and upon matriculating in 2006, she didn't go to college but pursued her acting career.
Acting career
Angelique made her acting debut playing Anette Elizalde in an episode of the series "Corazones al Limite" in 2004, and later that year, she landed the role of Victoria 'Vico' Paz in the family comedy-drama series "Rebelde". Angelique appeared in 308 episodes of this series aired from 2004 to 2006, about six teenagers who have one thing in common: their love of music. Although the show had no nominations, it was very popular among teenagers worldwide.
In the following year, Angelique made her big-screen debut playing Chica Francesca in the horror "J-ok'el", also starring Dee Wallace and Tom Parker, which won the Park City Film Music Festival Gold Medal for Excellence.
Later in 2007, Angelique was cast to play Margarita Villasenor in the series "Muchachitas Como Tu", followed by her most notable role to date, as Sandra 'Sandy' Hierro Jimenez in the soap opera "Alma de Hierro". Angelique was seen in 391 episodes of this drama, about a family of seven who face problems of hate, lies, and divorce. The series aired from 2008 through 2009.
WILD HEART A telenovela I never got to watch,the cast was amazing and the location too was breathtaking,aired on tv3…

Posted by Empire of Telenovelas on Friday, November 19, 2021
In the following years, Angelique was seen as Estrella in "Wild Heart" (2009-2010) before she landed the lead role in the romantic drama series "Teresa", also starring Aaron Diaz and Sebastian Rulli. The show followed the story of Teresa, a young woman whose greed rules her life. Teresa's parents have made significant sacrifices to provide her with a pleasant, normal life, but she wants more, a lot more. The series was on the air from 2010 through 2011, had no nominations, but was well-rated by the audience (7.7/10).
In 2012, Angelique portrayed Elisa in "Abyss of Passion", followed by her role as Monserrat Mendoza in "Lo Que La Vida Me Robo" (2013-2014). Two years later, she played Ana Laura/Ana Leticia/Ana Lucia in the romantic drama series "The Three Sides of Ana", which brought her a nomination for the Soap Award France for International Best Actress.
From 2018 through 2019, Angelique was seen as Lucia Borges in 88 episodes of the series "Amar a Muerte", and for her performance, she won the Premios TVyNivelas Award for Mejor Actriz (Best Actress in a Telenovela).
Angelique followed with her role as Elisa Cantu in "Empire of Lies" (2020-2021) before she was cast to play Renata Sanchez Vidal in the 2021 soap opera "Vencer el Pasado", which followed the story of four women of different backgrounds and ages, who struggle with modern life – Angelique won two Premios Juventud Awards- Mi Actriz Preferida (My Favorite Actress) and Me Enamoran (Best On-Screen Couple), which she shares with Sebastian Rulli.
Her fans can enjoy her performance as Leona Bravo in the series "El Amor Invincible" which premiered in February 2023, in Mexico. It's a remake of the popular 2014 drama "Mar Salgado", and Angelique co-stars with Daniel Elbittar and Danilo Carrera.
 Love life and relationships
Just like the characters she played in the telenovelas, Angelique appears to have an interesting love life. She has been the subject of various rumors about her romances, however, what we do know is that back in 2006 until 2010, she was in a relationship with Diego Boneta, a Mexican actor and singer.
In the following year, she dated Sebastian Zurita, also a Mexican actor, perhaps known best for the series "How to Survive Being Single", which he wrote, directed, and starred in.
There have been rumors saying that Angelique was in a relationship with American actor Drew Roy, however, the two haven't commented on these assumptions.
From 2011 through 2014, Angelique was in a relationship with Jose Alberto Castro, a Mexican producer and director, and this love story was under the spotlight all the time, mostly because of the age difference as Jose is 25 years older than her. Besides the age gap, the two had other problems – he was a divorced 45-year-old man and Angelique was in her twenties, and her parents didn't approve of this relationship. She abandoned her family home and left to live with Jose – as she said, it was a hard decision to make.
The two separated, and rumors about Angelique and her co-star Sebastian Rulli began circulating the internet, many saying that Sebastian is the main reason for Angelique's and Jose's break-up, which in the end, showed to be true.
As of May 2023, Angelique is in a relationship with Sebastian, and they seemingly enjoy their romance, if we could judge by the photos they post on their social media profiles. Despite the rumors, the two haven't married.
#TBT – Angelique Boyer e Sebastian Rulli no #PremiosTVyNovelas2020 ❤️ pic.twitter.com/YifrAEE6m2

— Graciana (@Rullique) November 11, 2021
Net worth
Angelique, according to critics, is a rising telenovela star, and many believe that her time is still ahead of her. She's starred in multiple hit shows, and if you're wondering how wealthy this young actress is, her net worth as of May 2023 is estimated to be more than $6 million.