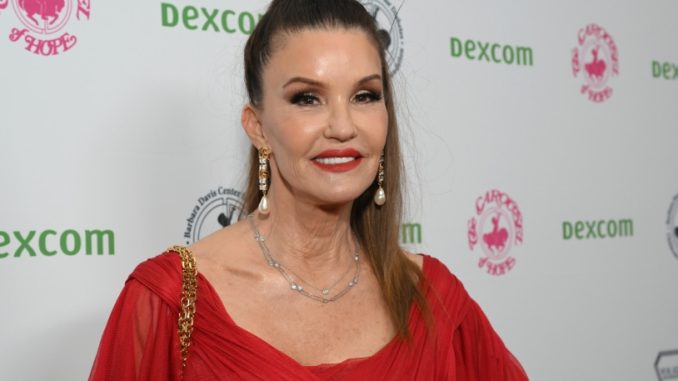 Janice Dickinson is a well-known American model, businesswoman, and television personality. Her modeling career was highly successful during the 1970s and 1980s, and she was often referred to as the "first supermodel." She has also worked as a judge on four seasons of America's Next Top Model and appeared on several reality shows, including I'm a Celebrity…Get Me Out of Here!, Celebrity Rehab with Dr. Drew, and Celebrity Big Brother 16. In 2005, Dickinson opened her own modeling agency, which was chronicled on the reality series The Janice Dickinson Modeling Agency. Due to a head injury that necessitated hospitalization, she had to pull out from I'm a Celebrity… South Africa, where she was set to make an appearance in 2023. She is currently married to Dr. Robert Gerner who is her fourth husband. 
In addition to her television work, Dickinson has also written three autobiographical books: No Lifeguard on Duty (2002), Everything About Me Is Fake… And I'm Perfect (2004), and Check Please! Dating, Mating, and Extricating (2006). These books provide insights into her personal and professional life and have been well-received by fans and critics alike. Despite financial setbacks, Dickinson has continued to pursue her passion for modeling and television, and she remains a prominent figure in the entertainment industry.
Who are Janice Dickinson's Parents?
Janice Dickinson, born on 16th February 1955 in New York City, grew up in Florida and is the second daughter of her parents, Jennie Marie and Ray Dickinson. Her birth name is Janice Doreen Dickinson and she has two siblings, an elder sister, Alexis, who is a real estate agent, and a younger sister, Debbie, who also became a model. Janice's mother was of Polish descent while her father is of Irish and Scottish descent, making her of mixed ethnicity. She is American when it comes to her nationality. As of 2023, Janice celebrated her 68th birthday. She had a very rough childhood. She has been open about the emotional and physical abuse she suffered as a child and teenager, and how her father used to sexually abuse one of her sisters. Of her childhood with her "rageoholic pedophile" of a father, Dickinson stated, "Because I wouldn't give in and let him have sex with me, I was verbally and physically abused on a daily basis. I was told that I looked like a boy and wouldn't amount to anything." There is no information about her education as she has not shared any details.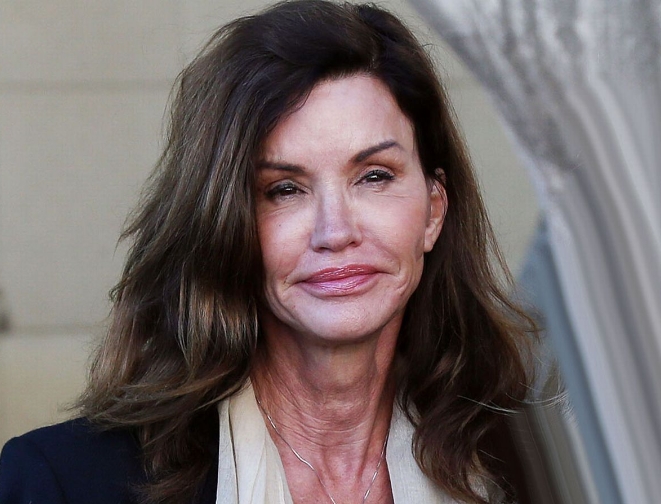 Janice Dickinson Career Timeline
Janice Dickinson started her modeling career in the early 1970s in New York City after winning the national competition "Miss High Fashion Model." 
Despite her unique and striking appearance, she was turned down multiple times by modeling agents before being discovered by photographer Jacques Silberstein. Dickinson's exotic looks helped her establish herself in the European fashion industry while working in Paris.
Returning to New York in 1978, Dickinson's career took off, and she became one of the most recognized supermodels of the 1980s. 
She graced the covers of several prestigious magazines and worked with some of the most prominent names in fashion. Her modeling career was highly successful, as she was featured in various magazines such as Harper's Bazaar, Cosmopolitan, Photo, Vogue, Marie Claire, and Playboy. She worked with notable fashion designers such as Bill Blass, Gianni Versace, Valentino Garavani, Azzedine Alaïa, Pino Lancetti, Halston, Oscar de la Renta, and Calvin Klein. Her modeling success is reflected in the fact that she appeared on the cover of Vogue 37 times, but only on the international editions, as well as seven consecutive covers of Elle. Furthermore, she represented several brands like Revlon, Alberto VO5, Balmain, Obao, Christian Dior, Clairol, Hush Puppies, Orbit Gum, Max Factor, Virginia Slims, and Cutex in advertising campaigns.
Despite being rejected by Eileen Ford earlier in her career, Dickinson eventually signed with Ford Models before moving to John Casablancas's Elite Model Management.
She became a fashion photographer and even launched her own jewelry line on HSN. She also recorded a song called "Crazy" in 2009, showcasing her talents beyond the fashion industry. 
The origin of the term supermodel has been a topic of debate for decades. Janice Dickinson, a famous model from the 1970s, claims to have coined the term in 1979 and to be the first supermodel. However, evidence suggests that the term was already in use as early as the 1940s. 
In 1942, Judith Cass used the term "super models" in her Chicago Tribune article. In 1943, author Clyde Matthew Dessner used the term in his book "So You Want to Be a Model!" Despite these early references, it wasn't until the 1960s and 1970s that the term became widely used in the fashion industry.
Twiggy, an English model, was referred to as a supermodel by The New York Times and The Daily Times of Salisbury, Maryland in 1967. 
A 1968 article in Glamour magazine described Twiggy, Cheryl Tiegs, Wilhelmina, Veruschka, Jean Shrimpton, and 15 other models as "supermodels." The term continued to gain popularity throughout the 1970s, with models such as Penelope Tree, Cybill Shepherd, Margaux Hemingway, Beverly Johnson, and Naomi Sims being described as supermodels.
Despite Dickinson's claims, Lisa Fonssagrives and Dorian Leigh, who began their careers before Dickinson was born, are recognized as the first supermodels of the 20th century. Gia Carangi and Jean Shrimpton have also been referred to as the first supermodels. 
Lauren Hutton is sometimes considered the first supermodel because she was the first model to get a cosmetics contract, with Revlon in 1974. Ultimately, the debate over who was the first supermodel may never be fully resolved, but it is clear that the term has been used to describe many iconic models throughout the years.
In 2003, Janice gained attention for her role as a judge on the reality television show "America's Next Top Model." Her experience in the fashion industry allowed her to offer valuable advice to contestants, and she became known for her witty and brutally honest critiques. Dickinson often quarreled with her fellow judges, particularly Kimora Lee Simmons and Nolé Marin, and had tensions with Tyra Banks, who replaced her with Twiggy after four cycles. Despite this, Dickinson made guest appearances on the following three cycles of America's Next Top Model.
In 2006, Dickinson starred in her own reality show, "The Janice Dickinson Modeling Agency", which documented her launching a new career as a modeling agent. The show ran for four seasons and aired on the Oxygen cable television channel. 
In 2007, she appeared on the British reality show "I'm a Celebrity…Get Me out of Here!", where she set the record for most Bushtucker trials, competing ten times in a row. She gained second place in the competition, with Christopher Biggins coming first.
Dickinson has made guest appearances on several other television shows, including "Charmed", "Celebrity Rehab with Dr. Drew", and "90210:. She was a housemate on the sixteenth season of the British reality show "Celebrity Big Brother" in 2015. 
In 2020, Dickinson appeared on season 24 of "The Bachelor". In 2023, she was scheduled to appear on "I'm a Celebrity… South Africa", but had to withdraw from the show after suffering a head injury, which required her to be taken to the hospital. 
As an author, she has written several books, including her memoirs titled "No Lifeguard on Duty: The Accidental Life of the World's First Supermodel" (2002) and "Everything About Me Is Fake… And I'm Perfect" (2004). Her third memoir, "Check Please! Dating, Mating, and Extricating" (2006), discusses her experiences with dating and the men in her life. 
Who is Janice Dickinson married to?
Janice Dickinson is a married woman. In 2012, she announced her engagement to Dr. Robert Gerner ("Rocky"), a psychiatrist whom she married on 10th December 2016. The duo is enjoying their present life a lot. Prior to this, she has been married three times. Her former husbands include Ron Levy, Simon Fields, and Alan B. Gersten, also known as Albert Gersten. She wedded Ron Levy on March 26, 1977, but they later split up. She then married Simon Fields in 1987. Her marriage with Fields also ended in divorce. Dickinson was in a wedding lock with Albert Gersten from February 14, 1995, to 1996, but their marriage didn't work out. She dated Joe Kaplan from 2007 to 2009. She was involved in a short-lived relationship with Sylvester Stallone from 1993 to 1994.  Dickinson also had an affair with producer Michael Birnbaum, with whom she had Savannah. Prior to that, she was in a relationship with Mike Reinhardt from 1975 to 1979. In addition, she has been linked to many other high-profile men, including Warren Beatty, Bruce Willis, Tommy Fry, Ronnie Wood, Liam Neeson, and Steve Bing. 
Dickinson has two children, a son named Nathan and a daughter named Savannah. Savannah was born in 1994, while Dickinson was having an affair with Sylvester Stallone. There were speculations that Stallone was the father of Savannah, but DNA tests later proved that he was not. Dickinson has openly discussed her numerous sexual relationships with both male and female celebrities in her books and interviews.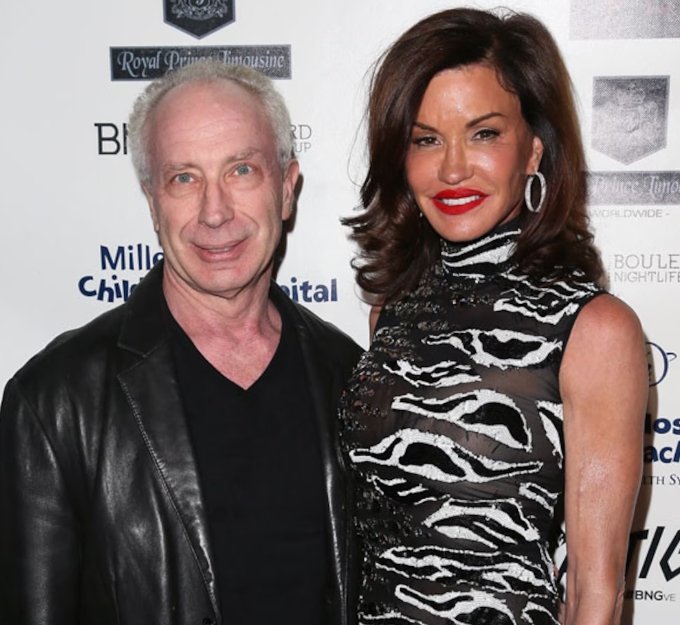 How much is Janice Dickinson's net worth?
Janice Dickinson, the American model, TV personality, talent agent, and author, has achieved a great deal of success in her career and is set to return to reality TV in "I'm a Celebrity… Get Me Out of Here!" Despite her past earnings, her net worth currently stands at $500,000 as of 2023. One of the reasons for this is due to a bankruptcy filing in 2014, where she listed nearly $1 million worth of debt to various creditors. She owed $300,000 to City National Bank, which she agreed to pay in installments of $100,000, but also owed money to numerous other individuals and institutions, including Dr. Uzzi Reiss and dermatologist Arnold Klein, both of whom she owed over $8,000. Additionally, she hadn't paid taxes in over ten years, and her debt to the IRS, New York state, and California exceeded $500,000.
In a 2013 interview with Radar Online, Dickinson expressed remorse for her financial state and vowed to pay everyone back. However, she still faced financial struggles, including unpaid rent on her home in West Los Angeles, which amounted to $5,900 per month, and a $43,000 tax lien. She owed a lot of money because, over the years, she has gotten a lot of plastic surgery. The Sun reported that "Janice has been very open about getting plastic surgery – revealing she has had facelifts, a boob job, a tummy tuck, neck lift, liposuction, and Botox." Despite these setbacks, Janice Dickinson remains determined to turn her financial situation around and get back on track. Her main source of wealth comes from the modeling and entertainment industry. 
How tall is Janice Dickinson?
Janice Dickinson, the American model and television personality, has a tall and slender physique. She stands at a height of 5 feet 10 inches (178 cm) and weighs around 59 kg (130 lbs). Her body measurements are 24 inches for the waist, 36 inches for the hips, and 34 inches for the bust, giving her a slim figure with a curvy shape.
Dickinson's distinctive features include her brown eyes and dark brown hair, which complement her striking appearance. Her shoe size is 8.5 (US). Overall, she has maintained a fit and healthy body throughout her modeling and television career, which has spanned several decades. In March 2016, Janice Dickinson was diagnosed with breast cancer.