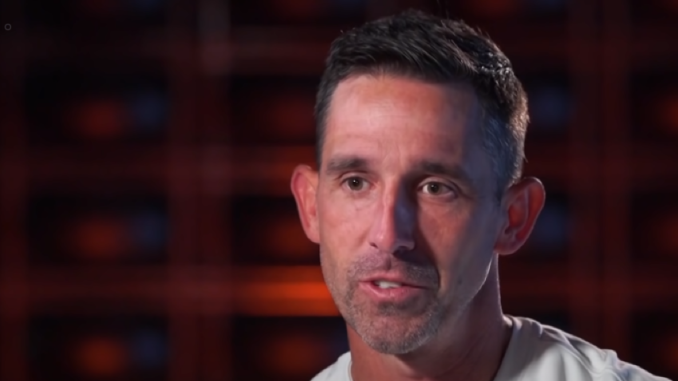 Kyle Shanahan is an American head coach and offensive coordinator. Further, he had served as an offensive coordinator for several NFL teams including Houston Texans (2008-2009), Washington Redskins (2010-2013), and Atlanta Falcons (2015-2016). He along with his father Mike Shanahan (former head coach of Redskins) and other coaching staff had to resign in December 2013 for insulting the officials and a loss to the Cincinnati Bengals.
Moreover, he began his head coaching career with the NFL team San Francisco 49ers on 6 February 2017 signing a six-year deal. The American coach has been fined on different occasions including the second week game in the 2020 NFL when he didn't wear a face mask properly. Also, in July 2021, NFL fined him $50,000 for violating practice rules during organized team activities. Let us scroll over more information to know more about him.
Read about Jay Leach, Daniela Rajic, Sean Payton, Tom Brady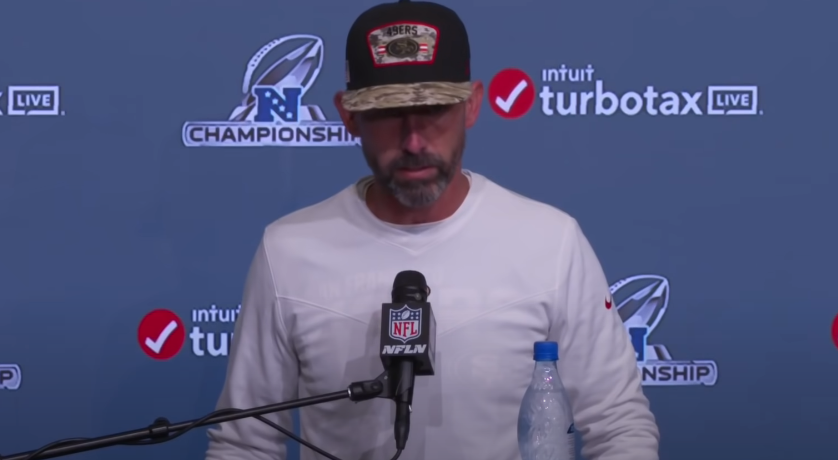 Caption: The American head coach, Kyle Shanahan.
Source: YouTube
Kyle Shanahan: Bio, Family, & Education
The football player was born on 14 December 1979 in Minneapolis, Minnesota, while his father Mike Shanahan. He is the eldest child of parents Mike Shanahan and his wife Peggy. Further, his father is a former American football coach best known as the head coach of the Denver Broncos of the NFL team. Also, he has a younger sister named Krystal. He has a nationality of America and belongs to the white caucasian ethnicity.
Regarding his education, he attended Saratoga High School in 1994 when his father worked as offensive coordinator for the San Francisco 49ers. He later transferred to Cherry Creek High School in Colorado while his father served as head coach of the Denver Broncos. After graduation, he chooses to join the University of Texas at Austin over Duke University as a redshirt freshman.
Kyle Shanahan: Career & Life Achievements
Though he played as a wide receiver on a Longhorn team for the University of Texas. He graduated from the university in 2003 and then he became a graduate assistant to Karl Dorrell at UCLA. After that, Tampa Bay Buccaneers hired him as their assistant coach for offensive quality control under the head coach Jon Gruden. In 2006, he joined Houston Texans working under the former football coach Gary Kubiak and had served as wide receivers coach. During this time, he was officially promoted as the youngest coordinator in the NFL in January 2008.
In 2010, he joined his father who was working with the Washington Redskins at the time. From 2014 to January 2015, he worked in an offensive coordinator position for the Cleveland Browns. In the same month, he became the new offensive coordinator for the Atlanta Falcons. In the 2016 season, he was named the NFL Assistant Coach of the Year after the Falcons' offense earned an 11-5 record in a division title against the New England Patriots. However, he left the Patriots in 2017 to join the San Francisco 49ers as their head coach. Since then, he has been serving the position for the team winning several matches.
Kyle Shanahan: Personal Life & Wife
He is happily married to his longtime girlfriend-turned-wife, Mandy Shanahan. The duo initially met when both attended Cherry Creek High School in Colorado. Soon then they started to date but their relationship came to a halt when they went to a separate universities. But after some years, they met again and decided to live together. Following that, they got married on 5 July 2005. He and his wife became the proud parent of three children: Stella, Carter, and Lexi Louise.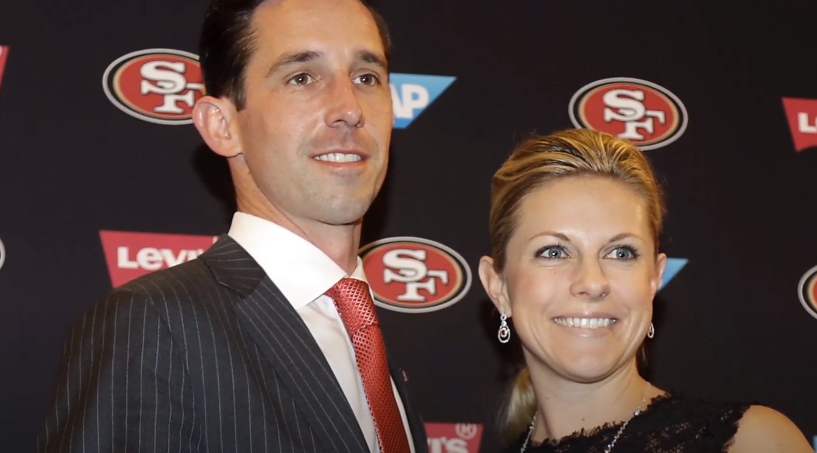 Caption: Kyle and his wife Mandy Shanahan.
Source: YouTube
Kyle Shanahan: Net Worth & Social Media Profiles
He surely maintains a good six-digit number in his salary working as a head coach. Though he has not available the exact salary, the head coach holds an average salary of around $6,692 million annually in rough. However, the coaches can get paid above $1 million exceeding $5 million for their performance and strategy. Therefore, he has an estimated net worth of above $4 million coming from his contracts with NFL teams.
He is not active on different social media platforms with verified accounts under his name.
Kyle Shanahan: Body Measurements
He has an athletic body type with a tall height of 6 feet 2 inches or 1.88 meters. Further, his body weighs around 81kg with unknown body measurements of chest or biceps. He has dark brown hair color as well as the same eyes color.