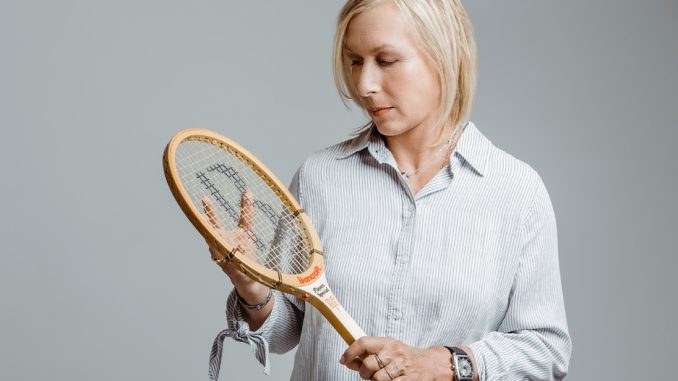 Martina Navratilova is a Czech–American former professional tennis legend who is renowned for winning twenty Wimbledon tennis titles including singles, doubles, and mixed doubles. She won singles titles across all four grand slam tournaments and was ranked world number one in singles for 332 weeks during her career. She was named WTA Player of the Year seven times from 1978 to 1986. She was an obsessive attacker who spent the majority of her time on the net. She used her lefty serve and crisp volleys to control rallies and time away from her opponents.
She started tennis at age 4 when she bounced tennis balls against a concrete wall. Starting playing tennis regularly at the age of 7, Navratilova managed to win the Czechoslovakian national championship in 1972 at the age of 15. After turning professional in 1975, she went on to win a record 167 career titles and 59 Grand Slam titles, which includes singles (18), doubles (31), and mixed doubles (10), in a career that lasted until 2006. She spent 332 weeks as world No1 in singles and 237 weeks in doubles, making her the only ever player to have held the top spot in both for over 200 weeks. She was inducted into the tennis hall of fame in 2000. She has also authored a series of fiction and is active in the gay rights movement. 
On Thursday, July 6, 2006, Navratilova played her last matches at Wimbledon, with partner Liezel Huber losing a quarterfinal match in women's doubles to fourth seeds and eventual champions Yan Zi and Zheng Jie, and later in the same day with partner Mark Knowles losing in the third round of mixed doubles to eventual champions Andy Ram and Vera Zvonareva.
Martina Navratilova diagnosed with two forms of cancer
Tennis legend Martina Navratilova has two cancer diagnoses. Navratilova has been diagnosed with both stage 1 throat and breast cancer, after seeking medical attention for an enlarged lymph node in her neck. Navratilova, 66, told The Sunday Times she's processing the dual diagnosis with hope for a positive outcome. "This double whammy is serious but still fixable," she said. "I'm hoping for a favorable outcome. It's going to stink for a while but I'll fight with all I have got."
The cancer type is HPV and this particular type responds really well to treatment. he breast cancer is completely unrelated to throat cancer. Both of these cancers are in their early stages. Because of the recent diagnosis, Martina won't be covering the Aussie Open for Tennis Channel from their studio but hopes to be able to join in from time to time by Zoom. The diagnoses come 13 years after Navratilova first recovered from breast cancer. She previously spoke on her first cancer diagnosis in an advocacy piece for the My Time Our Time campaign by Novartis. "You realize your life can change in a nanosecond, so that seize the day thing definitely applies," she said. Of her time in treatment, she said, "Being a positive person helped a lot, and surround yourself with positive people as well."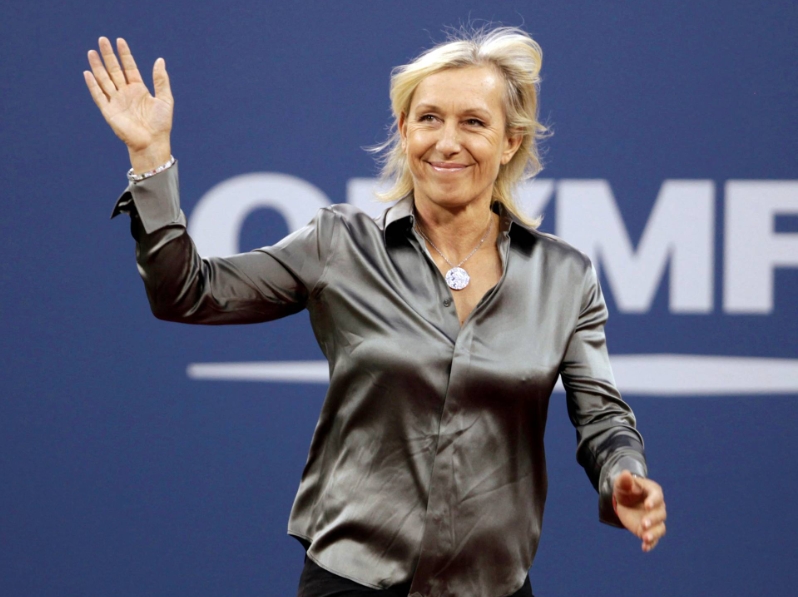 What is Martina Navratilova Famous For?
Martina Navratilova is a former professional tennis player.
Martina is famous for being the greatest tennis player of all time who has won 18 major singles titles, 31 major women's doubles titles, and 10 major mixed doubles titles, for a combined total of 59 major titles, the most in the Open Era. 
Martina is also the most successful female tennis player to ever grace SW19 with a record 9 ladies' singles championships, arguably producing some of her best performances at the All England Club. 
Who are Martina Navratilova's Parents?
Martina Navratilova was born on October 18, 1956, in Prague, Czechoslovakia (the Czech Republic). Her father, Mirek Subert was a professional ski instructor. Her mother, Jana Navratilova is an accomplished gymnast, tennis player, and ski instructor. She has a sister, Jana Navratilova, and an older half-brother.
Her parents divorced when Martina was three. Her mother remarried Mirek Navrátil. Navratilova then adopted her stepfather's last name, tweaking it slightly by adding a feminine "ova" at the end. Her stepdad became her first tennis coach. Her grandmother, Agnes Semanska, was a tennis player for the Czechoslovak Federation before the Second World War and had a ranking as high as No. 2 among Czech women during her amateur career. When she was 4, she was hitting a tennis ball off a concrete wall and started to play tennis regularly at age 7.
In 1972, at the age of 14, Navratilova won the Czechoslovakia national tennis championship. In 1973, at age 16, she made her debut on the United States Lawn Tennis Association professional tour but did not turn professional until 1975. In 1973, she made the quarterfinals where she lost 6–7, 4–6 to Evonne Goolagong. She made the quarterfinals the next year and lost to Helga Masthoff (née Niessen). 
Martina holds Czech nationality and her ethnic background is Czech-White. Her zodiac sign is Libra and she follows the Christianity religion. She celebrated her 66th birthday on October 18, 2022. 
Martina Navratilova Tennis Career  
Martina debuted as a professional tennis player in 1975 while she was still in her teens. At age 17 in 1974, she won her first professional singles title in Orlando, Florida. Next, she was the runner-up at two major singles tournaments in 1975; the Australian Open (won by Goolagong) and the French Open (won by Chris Evert in three sets). 
After losing to Evert in the semifinals of the US Open in September, Navratilova then went to the offices of the Immigration and Naturalization Service in New York City and informed them that she wished to defect from Communist Czechoslovakia. Then, she received a green card and in 1981, she became a US citizen.  
She teamed with world number one Evert to win the French Open women's doubles title in 1975. They teamed again in 1976 to win the Wimbledon women's doubles title over Billie Jean King and Bette Stove. 
Martina won her first major singles title at Wimbledon in 1978 where she defeated Evert in three sets in the final and captured the world No. 1 ranking for the first time on the WTA. Next, she successfully defended her Wimbledon title in 1979, again beating Evert in the final in straight sets, and earned the World No. 1 ranking at the end of the year for the first time. 
In 1981, she won her third major singles title by defeating Evert in the final of the Australian Open. She also defeated Evert to reach the final of the US Open, where she lost a third-set tiebreak to Tracy Austin. She won both Wimbledon and the French Open in 1982. 
She lost in the fourth round of the first major event of 1983 in the French Open. Then, she captured the year's three remaining major titles (the Australian Open was held in December at that time).
During 1982, 1983, and 1984, Navratilova lost a total of only six singles matches. Next up, she won the 1984 French Open. She entered the 1984 Australian Open with a chance of winning all four titles in the same year. From 1985 through 1987, she reached the women's singles final at all 11 major tournaments held during those three years, winning six of them. 
From 1982 through 1990, she reached the Wimbledon final nine consecutive times. She reached the US Open final five consecutive times from 1983 through 1987 and appeared in the French Open final five out of six years from 1982 through 1987. 
In 1985, Navratilova played in the French Open final against Chris Evert. Navratilova battled back from 3–6, 2–4 down to 5–5 all in the third set before Evert hit a winning backhand passing shot on match point to defeat Navratilova 6–3, 6–7(4–7), 7–5.
In outdoor matches against Evert, Navratilova led 10–5 on grass and 9–7 on hard courts, while Evert was up 11–3 on clay. 
In 1986 at the U.S. Open, she prevailed over 16-year-old German Steffi Graf in a semi-final 6–1, 6–7(7–3), 7–6(10–8) before handily winning the final over Helena Suková 6–3, 6–2. She next defeated Graf in straight sets at the WTA Tour Championship and with an 89–3 record, earned the number-one ranking for the fifth consecutive year. 
Martina reached all four Grand Slam finals in 1987, winning two of them (she lost the Australian Open to Hana Mandlíková). 
In 1988, Graf won all four major singles titles, beating the 31-year-old Navratilova 5–7, 6–2, 6–1 in the Wimbledon final. In 1989, Graf and Navratilova met in the finals of both Wimbledon and the US Open, with Graf winning both encounters 6–1 in the third set. Graf defeated Navratilova in the finals of the WTA Tour Championships their third and final match of the year.
Her final Grand Slam singles triumph was in 1990. She then played for the Boston Lobsters in the World TeamTennis pro league through the 2009 season.
In 1991, she lost in the US Open final to No. 1 Monica Seles; and, in 1994, at age 37, Navratilova reached the Wimbledon final, where she lost in three sets to Conchita Martínez. 
She was inducted into the International Tennis Hall of Fame in 2000. She returned to the tour to mostly play doubles events in 2000. 
In 2002, she beat world No. 22, Tatiana Panova, then lost in the next round to Daniela Hantuchová in three sets. After a year, she won the mixed doubles titles at both the Australian Open and Wimbledon where she partnered with Leander Paes. 
She later made a return to singles at the 2004 French Open after an absence of 10 years. But she was defeated by Gisela Dulko in the first round. She then won a singles match over Catalina Castaño 6–0 6–1 at the first round of Wimbledon in 2004.
She played her last matches at Wimbledon, with partner Liezel Huber losing a quarterfinal match in women's doubles to fourth seeds and eventual champions Yan Zi and Zheng Jie on July 6, 2006. On the same day, she partnered with Mark Knowles losing in the third round of mixed doubles to eventual champions Andy Ram and Vera Zvonareva. 
Retirement
Martina Navratilova capped her career by winning the mixed doubles title, her 41st major doubles title (31 in women's doubles and 10 in mixed doubles), and 177th overall, at the 2006 US Open with American doubles specialist Bob Bryan. 
She won 167 top-level singles titles (more than any other player in the open era) and 177 doubles titles. 
Her last title in women's doubles came on August 21, 2006, at the Tier I Rogers Cup in Montreal, Quebec, where she partnered with Nadia Petrova. 
She won 18 major singles titles: nine at Wimbledon, four at the US Open, three at the Australian Open, and two at the French Open.
Her overall record in 67 major singles events was 306–49 (120–14 at Wimbledon, 89–17 at the US Open, 51–11 at the French Open, and 46–7 at the Australian Open). 
She is the only player to have won at least one tour event for 21 consecutive years and won the singles and doubles at the same event a record 84 times. 
She was ranked in the world's top 3 in singles for 15 years between 1977 and 1993. 
Her career singles match win total of 1,442 is the most during the open era.
Throughout her long career, she had many coaches including Miroslav Navrátil, George Parma, Věra Suková, Renée Richards (1981–1983), Mike Estep (1983–1986), and Craig Kardon (1988–1994). 
Coaching career
In December 2014, it was announced that Navratilova had joined Agnieszka Radwańska's coaching staff. 
In April 2015, after Radwańska struggled in the first half of the season, the pair decided to part ways. 
Writing Career
In 1985, she released an autobiography, co-written with The New York Times sports columnist George Vecsey, titled Martina in the U.S. and Being Myself in the rest of the world. 
Previously, she co-wrote an instruction book with Mary Carillo in 1982, entitled Tennis My Way. 
She later wrote three mystery novels with Liz Nickles: The Total Zone (1994), Breaking Point (1996), and Killer Instinct (1997). 
In 2006, she published a health and fitness book entitled "Shape Your Self".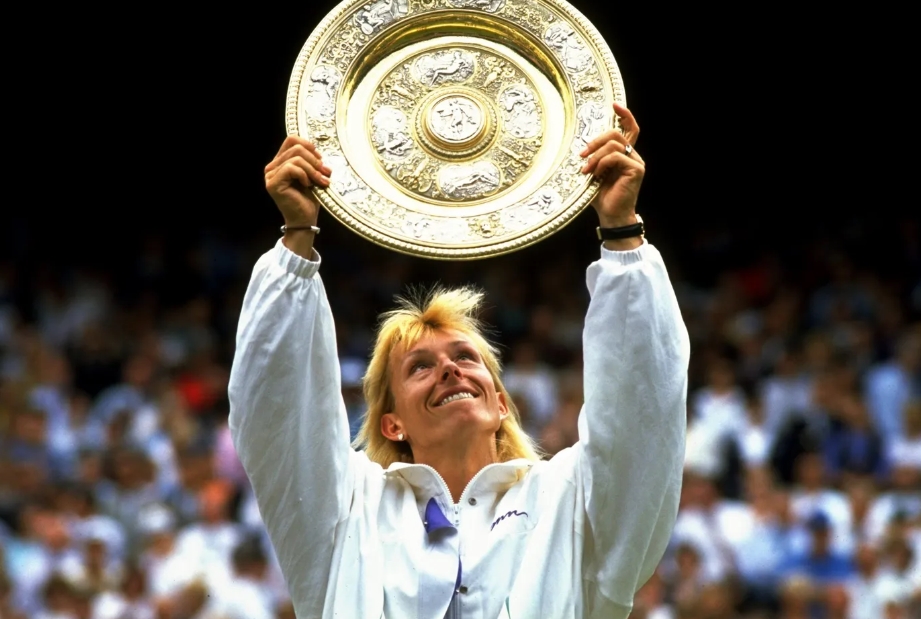 Martina Navratilova Awards and Achievements
AP Female Athlete of the Year 1983 and 1984
ITF World Champion 1979, 1982, 1983, 1984, 1985, 1986.
WTA Player of the Year 1978, 1979, 1982, 1983, 1984, 1985, 1986.
BBC Sports Personality of the Year Lifetime Achievement Award 2003
Czech Sport Legend Award 2006
BBC's 100 women 2013 
Her other achievement includes:
Tennis magazine selected her as the greatest female tennis player for the years 1965 through 2005, directly over Steffi Graf
Billie Jean King, a former World No. 1 player, said in 2006 that Navratilova is "the greatest singles, doubles and mixed doubles player who's ever lived."
In 2008, tennis historian and journalist Bud Collins called Navratilova "arguably, the greatest player of all time."
Became a member of the Laureus Sports Foundation's Academy in 2000
Was named by Equality Forum as one of their 31 Icons of the LGBT History Month in 2006
Awarded the International Tennis Federation's (ITF) highest accolade, the Philippe Chatrier Award, for her contributions to tennis both on and off the court in 2009
Was named one of the "30 Legends of Women's Tennis: Past, Present, and Future" by Time in June 2011
The Tennis Channel named Navratilova as the second greatest female tennis player of all time, behind Steffi Graf, in their list of 100 greatest tennis players of all time in March 2012
Was among the first class of inductees into the National Gay and Lesbian Sports Hall of Fame in 2013
Was made an honorary fellow of Lucy Cavendish College of the University of Cambridge in 2016
Who is Martina Navratilova married to?
Martina Navratilova is married to her longtime girlfriend-turned-wife, Julia Lemigova. They first met in a Parisian gay bar. They tied the knot on December 15, 2014, in New York, USA. Right now, the duo is enjoying their life peacefully.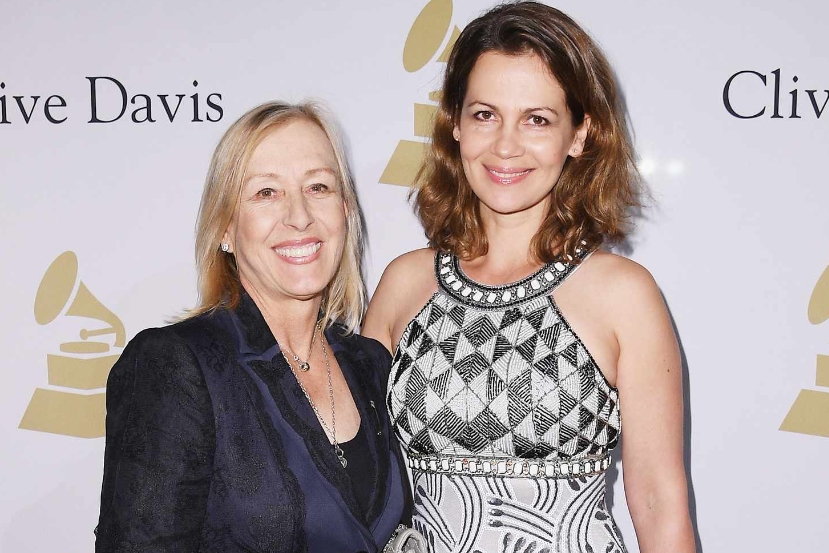 In 1981, shortly after becoming a United States citizen, she gave an interview to New York Daily News sports reporter Steve Goldstein, coming out as bisexual and revealing that she had a sexual relationship with Rita Mae Brown. Since 1981, she identified herself as a lesbian. 
Previously, Martina Navratilova had a long-term relationship with Judy Nelson (1984-1991), whom she met at a tournament in Fort Worth in 1982. Their split in 1991 resulted in a televised palimony lawsuit, which was settled out of court. 
Who is Martina Navratilova's Partner, Julia Lemigova?
Martina Navratilova's partner, Julia Lemigova (born 26 June 1972) is a Russian former model who was Miss USSR in 1990. She is a cast member of the Bravo reality television series The Real Housewives of Miami. Previously, in 1997, Lemigova became romantically linked to banker Édouard Stern, with whom she had a son, Maximilian, who died of shaken baby syndrome while in the care of a new nanny. 
How much is Martina Navratilova's Net Worth?
Martina Navratilova, a former professional tennis player, has an estimated net worth of around $25 million US as of January 2023. She is one of the greatest tennis players of all time. Although she retired in 2006, Navratilova has continued to grow her wealth as an author and activist. Her prize money during her tennis career is more than US $21,626,089. She is making her annual income in millions of dollars.
Her main source of wealth is her tennis career and she is also making a cool sum of money from endorsement deals. Her sponsors, Thorlo athletic socks, Denon sound systems, Yonex rackets, and Avia sports shoes are the most popular ones. She lives a lavish lifestyle right now. 
In 2015, Martina Navratilova gave fans the opportunity to live a life of luxury in her Miami Beach home… at the cost of $7,900 per month. Navratilova placed her home up for rent, and while the price was high, the home is totally worth it. Sporting waterfront views of Biscayne Bay, this single-family home has four bedrooms, an open-concept living area, a backyard pool, and easy access to the beach.
Previously, she sold the house in Nokomis for $2.5 million. This home is situated on the western edge of Florida and comes with 3,966 sqft, four bedrooms, five bathrooms, and views of Sarasota Bay. Outside there is even a heated pool, a private garden, and a private dock with two boat lifts. She has also been linked to a property in Carbondale, Colorado, though not much information about this home has been made available to the public. 
How tall is Martina Navratilova?
Martina Navratilova is a tennis player with a slim body type. She has blonde hair color with a pair of blue eyes. She stands tall at the height of 5 feet 8 inches. Her well-maintained body weight consists of 64 Kg. Her body measurement is still to get unfolded yet. 
Martina Navratilova Health
As per the New York Times' Jane E. Brody, in September 1982, an acute attack of toxoplasmosis "contributed to Martina Navratilova's defeat during the United States Open tennis tournament", in which No. 1 seed Navratilova unexpectedly lost to No. 7 seed Pam Shriver in the quarterfinal round. By late October, Navratilova had "apparently recovered". She began to wear glasses in 1985 and recalled that her vision had begun to deteriorate in 1984. She continued to wear glasses for tennis for many years. 
On April 7, 2010, she announced that she was being treated for breast cancer. A routine mammogram in January 2010 revealed that she had a ductal carcinoma in situ in her left breast, which she was informed of on February 24, and in March she had the tumor surgically removed; she received radiation therapy in May.
Navratilova was hospitalized after developing high-altitude pulmonary edema while attempting a climb of Mount Kilimanjaro in Tanzania in December 2010. 
In January 2023, she was diagnosed with both throat (stage one) and breast cancer. This came after she discovered a swelled lymph node on her neck, leading her to take medical tests. 
She has described herself as a vegetarian. In an April 2006 interview, she said she had begun eating fish again because she found it hard to get enough protein while on the road.