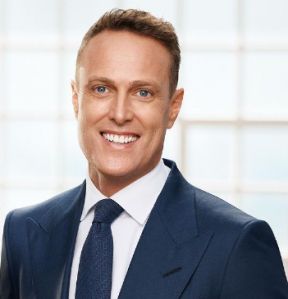 Matt Shirvington, a versatile Australian athlete and television presenter, is widely recognized for his reign as the Australian 100m national sprint champion from 1998 to 2002. He achieved prominence as the third fastest Australian sprinter in history. Notably, he showcased his skills at the Sydney 2000 Olympics by qualifying for the 100m semi-finals and securing a respectable 5th place. At the 1998 Commonwealth Games held in Kuala Lumpur, Shirvington shattered the Australian national 100m record, finishing fourth in the final with an impressive time of 10.03 seconds. In an unexpected turn, Matt was appointed as a sprint training coach for the St George Illawarra Dragons during the 2012 NRL pre-season, despite his allegiance to the Manly-Warringah Sea Eagles. Furthermore, in June 2023, the Seven Network made a significant announcement that Shirvington would permanently replace David Koch as the co-host of Sunrise. This appointment follows his consistent fill-ins on Fridays in recent months and will officially commence on Monday, June 12. In addition to his professional endeavors, he maintains an active presence on social media platforms, boasting a following of 11.8K on Instagram and 8.8K on Twitter. He has also served as a National Ambassador for CanTeen, an esteemed Australian organization dedicated to providing support for young individuals grappling with cancer.
Matt Shirvington Background
Matt Shirvington made his debut in the world on October 25, 1978, in Davidson, New South Wales, Australia. He proudly holds Australian nationality and belongs to an Australian-white ethnic background. Embracing the Christian religion, he identifies himself as a follower. With a current age of 44, Shirvington annually celebrates his birthday on October 25th. Astrologically, his zodiac sign is Scorpio. While information regarding his mother remains undisclosed, his father, Peter Shirvington, gained recognition as a notable athlete who represented Australia in rugby union during the 1970s. Additionally, Matt's younger brother, Drew Shirvington, pursued a career in athletics and specialized in the 800-meter event.
In terms of Matt's educational background, he received his schooling at St Martin de Porres Catholic Primary School, located in Davidson.
Matt Shirvington Athlete Career
Matt Shirvington was a versatile athlete who participated in various track and field events, including the 100m, 200m, and 4x100m relay. However, he found the most notable success in the 100m sprint. Throughout his career, he competed in prestigious competitions such as the 2000 Olympic Games, the Athletics World Championships spanning from 1999 to 2007, and the Commonwealth Games in 1998 and 2006.
A remarkable achievement for Matt was his consecutive victory in the Australian national titles for the 100m sprint event, which he claimed for five consecutive years starting in 1998. At the 1998 Commonwealth Games held in Kuala Lumpur, he made history by breaking the Australian national 100m record, finishing fourth in the final with an impressive time of 10.03 seconds. 
He held this record until Patrick Johnson surpassed it with a time of 9.93 seconds in 2003. Additionally, he made appearances in two World Indoor Championships 60m finals, further showcasing his talent and versatility.
Furthermore, in 2004, Matt showcased his dancing skills as a contestant in the inaugural series of "Dancing with the Stars". The following year, he took on the role of a presenter and reporter on "Beyond Tomorrow".
In July 2020, he made a significant career move by joining the Seven Network as the weekend sports presenter on "Seven News Sydney", where he took over from Jim Wilson. He also assumed the role of a fill-in host and sports presenter on "Sunrise", "Weekend Sunrise", and "The Morning Show".
From February 1, 2021, he began hosting the competition series "Holey Moley", followed by the hosting role for the competition series "Ultimate Tag", starting on March 7, 2021.
In January 2022, the Seven Network made another announcement, stating that he would join as a host on "Sydney Weekender", succeeding the long-running host Mike Whitney.
He joined the commentary team for the network's coverage of the 2022 Commonwealth Games in Birmingham 
in July 2022.
However, in January 2023, Shirvington's role as Sydney Weekender came to an end as Sam Mac took over as the host. This allowed him to shift his focus toward his expanding commitments to Seven News and Seven Sport.
In June 2023, the Seven Network delivered another significant news by announcing that Matt would permanently replace David Koch as the co-host of "Sunrise", a position he had been regularly filling in for on Fridays in recent months. His official start date for this role is set for Monday, June 12.
As well, he embarked on a new journey as a sports presenter, joining Sky News Australia in June 2010. Three years later, he received the exciting announcement of becoming the new host for the Fox Sports NRL coverage in 2013.
Simultaneously, he also took on the role of a co-host on The Back Page. Displaying his versatility, he co-hosted the ASTRA Awards alongside Shaynna Blaze in 2014. Additionally, Shirvington has previously held the position of host for Friday Night Football on Fox League.
In a notable cameo, Matt made a brief appearance and delivered a single line in the third episode of the TV series:"30 Seconds". Expanding his presence on the screen, Shirvington also took on a guest role in 2010 on the Australian edition of the popular show "The Biggest Loser".
In a fascinating turn of events, during the 2012 NRL pre-season, Shirvington found himself appointed as a sprint training coach for the St George Illawarra Dragons, despite his unwavering allegiance as a fan to the Manly-Warringah Sea Eagles. However, the story took another interesting twist in the 2016 NRL pre-season when he decided to become a member of the Sea Eagles himself. To show his dedication and support, he recorded a heartfelt video message, encouraging fellow Manly supporters to either renew their memberships or join the club.
Awards and Achievements
World finals
2001 Edmonton: 4 x 100m relay – Bronze
National finals
2000 Telstra Athletics Championships, Hobart: Men's 100 m – Gold
2001 Telstra Athletics Championships, Sydney: Men's 100 m – Gold
2002 Telstra Athletics Championships, Canberra: Men's 100 m – Gold
2003 Telstra Athletics Championships, Adelaide: Men's 100 m – Gold
2004 Telstra Athletics Championships, Perth: Men's 100 m – Gold
2005 Telstra Athletics Championships, Perth: Men's 100 m – Gold
Olympic finals 
2000 Sydney: Men's 100 m – Semi finalist
2000 Sydney: Men's 200 m – Quarterfinalist
Commonwealth finals
1998 Kuala Lumpur: Men's 100 m – Finalist
Personal best(s)
10.03 seconds (1998 CG: Kuala Lumpur): Men's 100 m
Is Matt Shirvington still married?
Matt Shirvington, the charismatic athlete and television presenter, is happily married to the accomplished author Jessica Shirvington. Their love story has been blessed with two lovely daughters and a son, and they currently reside in the serene neighborhood of Mosman, New South Wales. Their deep bond and harmonious connection indicate a strong foundation, making it highly improbable for them to separate in the future. They radiate immense happiness in their domestic life, sharing abundant love with one another. As for his sexual orientation, Matt identifies as straight.
Matt Shirvington Net Worth 2023
Matt Shirvington stands out as one of those exceptional individuals who possess a remarkable breadth of experience and unwavering commitment to everything he undertakes. Having achieved great heights in his career, he currently boasts a net worth of $5 million as of 2023, accompanied by an impressive annual salary of $400,000. With such substantial financial resources at his disposal, he leads a life of opulence and luxury. His primary sources of income stem from his successful endeavors as an athlete and television presenter. Content and fulfilled in his chosen profession, he exudes happiness and satisfaction.
Matt Shirvington Measurements: Height, Weight & Size
Matt Shirvington possesses a striking presence that effortlessly captivates attention, thanks to his impeccable physical attributes. Standing at an impressive height of 6 feet tall and maintaining a well-balanced body weight of 80 kg, he embodies a standard of stature that commands admiration. His light brown hair frames his face, perfectly complementing his dark brown eyes that exude depth and allure. With an athletic body build, enriched by toned biceps and an overall perfect physique, Shirvington showcases his confidence by fearlessly embracing shirtless appearances.