USA Network launched its newest survival competition series, "Race to Survive: Alaska," on 3 April 2023. Eight teams of two took on the hardcore challenge of a 46-day, 300-mile race in volatile weather and inhospitable terrain for a chance to take home $500,000. With that much prize money at stake, viewers could expect the competition to be quite intense. In the Alaskan wilderness, however, it was not simply a race but a matter of survival, and this added a great deal of excitement to the reality show. The caliber of the contestants would have been top-notch for them to qualify in the game, so it would be pretty interesting to see how each team fared.
All about "Race to Survive: Alaska"
Over the course of 46 days, teams of two will have to traverse an unforgiving terrain from Ketchikan to Cordova and then up through the Alaskan Aleutian Islands, which is a chain of 55 smaller islands and 14 large volcano islands that extend 1,200 miles from the Alaskan Peninsula to Russia's Kamchatka Peninsula, without a chartered path, and survive off the land and with what they can carry on their backs. There are six races, and at the end of each one, they will find a crate with one less set of medallions, so the last team to arrive will be left with nothing, and therefore eliminated.
With the cast members having diverse skill sets, the production created the challenges taking that into account, and tried to find the median that would somehow even the playing field, at least initially. As the race progressed, they ramped up the challenges, and the survival skills, endurance, and mental toughness of the participants were greatly tested. The teams had some downtime, as they could only move forward for 12 hours each day, and then wait for the race to recommenc. Even if there were about 21 hours of light at that time in Alaska, they couldn't keep going. However, essentially the game had no off button, as they were still out in the elements – there were no rooms provided where they could rest properly, comfortably. Once the signal was given that 12 hours had passed, they stopped wherever they might be at that point in the race.
They were given time to regroup at the end of each leg of the race at a survival camp. Those who arrived ahead of the others got first choice of the ideal spot to set up their shelter, and find resources. The teams were instructed to bring whatever they thought they would need for various outdoor activities. There were supplies, however, that were made mandatory by the production, particularly those that would keep them safe. Some packs were heavier than others, and perhaps this was part of a team's strategy. Heavier ones might slow people down because they would tire more easily, but they had all their bases covered as they brought everything. Lighter ones might make them travel faster, but might lack something they would need later on.
Some said it was reminiscent of "Amazing Race" and "Survivor," so viewers who watched these two reality game shows would have a fair idea of what it was going to be like. However, Executive Producer Alan Bishop, assured viewers that "Race to Survive: Alaska" had achieved 'the pure expression of man vs. the wild environment like no other series.'
The production scouted various locations, not just to provide a different kind of challenge at each leg of the race, but also to ensure that every episode had a unique look, feel, and tone, keeping in mind the safety of the cast and crew. That said, bears are a constant threat, and the cast was trained extensively in bear awareness. The weather was also unpredictable, even if they filmed during summer, as they still had days when it rained and even snowed.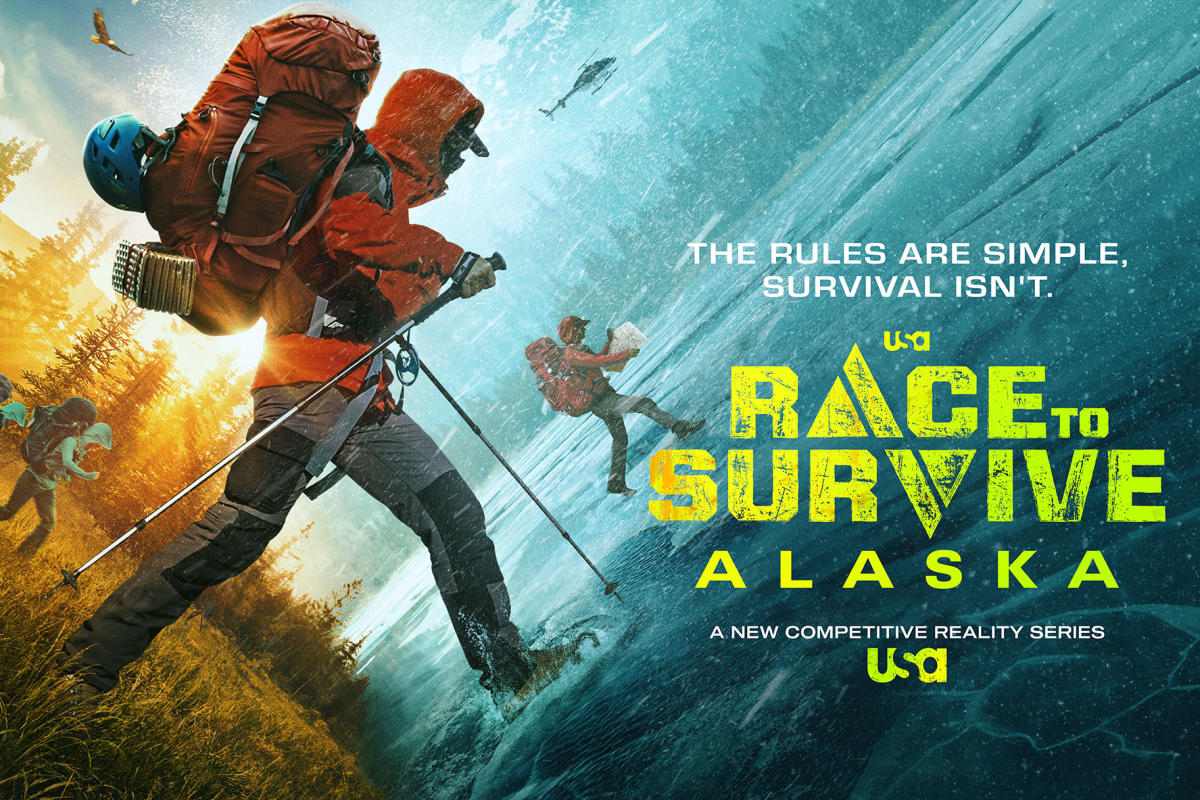 Meet the teams
The TV series executive producer reported that the contestants were painstakingly chosen, to ensure that each of them had the essential skills to make it through the race, such as rappelling, rock climbing, swimming, and kayaking. It was paramount that they had navigational skills too, meaning that they could find their way across rough country to various checkpoints using a compass and a map.
The initial pool of 14 teams underwent a pre-boot camp in Leavenworth, Washington State, and skills-based training to assess the degree of competency, and were ranked on a scale of one to five. After that, the production reduced the number to eight teams based on what they wanted for the TV show. Those chosen went through a more serious boot camp in Ketchikan, Alaska. Here are the eight teams that participated in "Race to Survive: Alaska" and some spoilers on their adventures from a couple of episodes that were aired:
Jeff and Hunter Leininger – Father and son duo
53-year-old Jeff might be the oldest contestant, and his 21-year-old son Hunter the youngest, but no one should discount them because both had been going on adventure races for most of their lives. Hunter believed that this prepared them for participating in what he called a 'dream adventure' that challenged them like never before; this pushed him way out of his comfort zone. His dad was the one he would trust most with his life on this toughest race across Alaska.
Hunter was only seven when he joined a six-hour race, and he'd been hooked ever since. The appeal of adventure racing when he was young was that he could race with his father. He was 11 when he became the National Record holder for the youngest racer to finish the 2012 US Adventure Racing Association (USARA) 24-Hour Nationals in New York. He set a World Record as the youngest finisher at 13 in the 72-Hour Sea to Sea Expedition Race in Florida (2009), and 16 in the Adventure Racing World Series Championship in Wyoming (2017). The secret, he said, was to never give up, even when the going got tough, or he was in a lot of pain.
Jeff might have the right experience to back him up, as he'd participated in over 100 Endurance Races, but it seemed that in getting old, he'd developed some fears that made him hesitate in taking on some of the obstacles, knowing that one mistake could cost them the race. He struggled walking through the marshes, as his foot got stuck in a muddy sinkhole a few times. He also accidentally nicked his knuckle with the blunt side of an axe as he was hammering a spike on a tarp, causing it to bleed.
Brett Gatten and Esther Sanderlin – Dating for two years
Shortly after relocating to Alaska, Brett met Esther through a dating app, and they hit it off as in sharing a passion for the outdoors. As she greeted him on his birthday on Instagram, she called him her favorite mountain man and said, 'We've been on so many adventures already, and I've loved everyone of them!!! You truly are my perfect match, with your adventurous spirit, drive, patience, goofiness, competitiveness and spunk!!' He's competed in Olympic Track Triathlons, while she's a Champion Dog Sledder and a bush pilot. She has three kids from a previous marriage, but are both divorcees who found another chance at love, and have been dating for two years, the majority of which they've spent hunting, fishing, and going on snowmobile rides.
Both were in their 40s when they joined the ultimate adventure in "Race to Survive: Alaska." The two carried 78-pound packs, heavier than anybody else's, and it seemed to create a problem for them considering that it was the hottest time of the year in Alaska at 82F degrees. On top of that, they were a bit overdressed, so it wasn't a surprise when Esther was heard saying repeatedly that it was really hot, and she needed electrolytes. Brett, however, just wanted to keep going, perhaps not realizing that Esther's condition was becoming serious.
Esther passed out from severe heatstroke, and viewers could hear one of the First Responders saying that she was unresponsive. She was airlifted from the race and taken to a hospital, where she stayed in the Intensive Care Unit (ICU) for three days, fortunately making a full recovery.
Wilson and Oliver Hoogendorn – Inupiaq brothers
Wilson is a 23-year-old gold diver, while his older brother, 25-year-old Oliver, is a commercial fisherman. The two were natives of Nome, Alaska, so it was like they had home-field advantage. If that wasn't enough to give them an edge over the other teams, then being the first Native Alaskan team to reach the summit of Denali in 13 days, and to ski down from the highest peak in just one day should do it. The Inupiaq brothers won over viewers quickly, as they gave off positive and fun vibes; it was a survival race, but they seemed to be having the time of their lives. Wilson is keen on experiencing new things, and likely to dive head-first into danger, while Oliver is the voice of reason.
Max Djenohan and Christian Junkar – Outdoor enthusiasts
33-year-old Max was not new to surviving in the wilderness, as he'd previously appeared in multiple seasons of Discovery Channel's "Naked and Afraid." He spent 156 days naked on four continents, and was only provided with a satchel and allowed to bring with him one useful item, such as a fire starter or a machete to survive. This meant that he had a great chance at winning this race, as he not only had a partner, but also a backpack full of things he would need. 25-year-old Christian is an experienced ice climber with excellent navigational skills, having worked as a mountain guide. The two met through a common friend; both are opinionated so it's expected that they will butt heads during this race.
Cason and Bella Crane – Brother and sister duo
Cason, 29, and his 25-year-old sister Bella are Ivy League graduates. Their mother, Isabella de la Houssaye, had participated in the Ironman World Championships and completed 50 marathons in just about 50 states. After she was diagnosed with stage IV lung cancer at the age of 54, she went on an adventure with each of her five kids. She took Bella with her to climb Mount Aconcagua, and she and Cason ran a marathon in Alaska.
The siblings are very much into outdoor adventures. Cason is the first openly gay mountaineer to successfully climb the highest mountains of each of the continents, referred to as the Seven Summits, and plant the Pride Flag at the age of 20. This was a goal of the Rainbow Summits Project that he launched to raise awareness and funds for the American non-profit organization called The Trevor Project, which was focused on suicide prevention efforts among LGBTQ youth. On her own, Bella completed the Pacific Crest Trail, which is a 4,000km-long hiking trail with elevation that ranges from 110 feet above sea level to about 13,000 fee,t, 4,000 meters and passes through seven national parks and 25 national forests. The siblings hoped to make their family proud, and show the world what they were capable of, considering their background.
TONIGHT IS THE NIGHT!!! #RacetoSurvive on @USANetwork at 11pm ET!!! #CraneNation #CasonandBella pic.twitter.com/Oa67woAWyb

— Cason Crane (@casoncrane) April 3, 2023
Genevive Walker and Favia Dubyk – Rock-climbing duo
Genevive, 33, is a wilderness first responder as well as a certified rock-climbing guide and instructor. She joined the Rock Guide Course, an affinity program of the American Mountain Guides Association, to hone her skills in various terrains, rope management, efficient transitions, and self-rescue. Self-discovery is a lifelong journey for her, as she admitted to having a never-ending battle with her own identity, saying, 'Never felt black enough or white enough so mixed was my default.'
She met Favia, who is a year older than her, at a rock-climbing festival, and it appeared that they bonded over wanting to create and establish space for black female climbers. Favia is a physician and a professional rock climber – for seven years, she held the 100-meter track record at Harvard University. Her story was quite inspiring, because she went through a lot from being an athlete to being bedridden as she had advanced-stage Hodgkin's lymphoma, and underwent chemotherapy. After she recovered, she proceeded to get her athleticism bac, and competed in the "American Ninja Warrior," an entertainment sports reality show. She didn't want to have any regrets, and became highly motivated to live life to the fullest.
Robin Moore and Elizabeth Killham – New friends
The two women met in Egypt, as they were having a grand time skydiving over the Great Pyramids. As they shared a passion for outdoor adventure, it didn't take much for them to want to join "Race to Survive: Alaska," which would certainly test their survival skills. Robin, 45, is a licensed pilot, who took on the mountaineering challenge of the Seven Summits. Elizabeth, 36, had backpacked her way around the globe. Both women worked in the medical field, with Elizabeth as a veterinarian and Robin as an ER doctor.
Hakim Isler and Justice Norman – Martial arts enthusiasts
Some described the team of Hakim and Justice as the most unusual. Hakim, 45, is an army veteran who was deployed in Operations Iraqi Freedom and Enduring Freedom, serving in Special Operations Forces as Psychological Operations Sergeant. He was dubbed the "Black MacGyver" because of his know-how of primitive survival skills, and this was tested when he participated in the challenge of surviving the wilderness with the barest of essentials in Discovery Channel's "Naked and Afraid" – Hakim taught this particular skill set to veterans who suffered from post-traumatic stress disorder (PTSD). He was reported to be a bona fide ninja as well, having earned a 5th Degree Black Belt in To-Shin Do or Ninja Self Defense. He talked about the history of ninjas in Discovery Channel's "Unsolved History."
For years, Justice, 38, practiced the Indonesian Martial Art of Merpati Putih. He met Hakim when the latter enrolled in a course on how to perceive things without using one's eyes. When the two joined hands in "Race to Survive: Alaska," they called themselves team ninja, as Hakim explained that ninja meant one who persevered or endured. They aimed to show everyone what people with a background in martial arts discipline were capable of.
Since "Race to Survive Alaska" is still ongoing, it will be interesting to see how the relationship between the two people on each team evolves as the race progresses, and the pressure to win possibly becomes too much for them. Will some teams form alliances, or will they be too wary of each other, not wanting to be with a team that slows them down, or gets the better of them? With each episode, viewers will get a chance to know each individual, as more of their personalities is revealed.
The difficulties that these teams face are all too real, as one team was eliminated during the premiere episode, not by finishing last on the first leg of the race, but because someone from that team was rushed to the hospital for a medical emergency. The first couple of episodes that were aired might have shown which teams were leading in the race, however, as there are still many adventure challenges ahead in the most extreme terrain in the world, anything can happen, and most likely will!