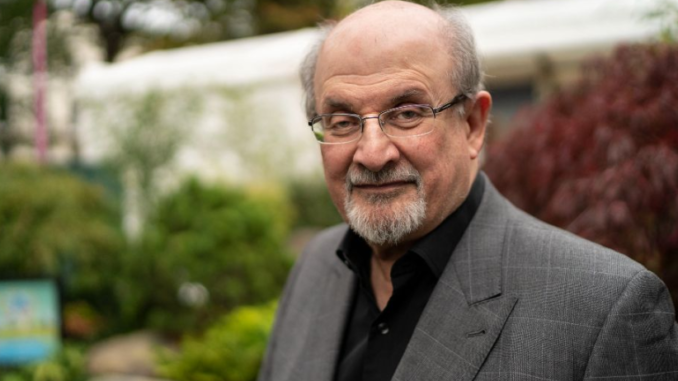 Sir Ahmed Salman Rushdie shortly named Salman Rushdie is an Indian-born British-American novelist. He released his first novel "Grimus" which did not garner much positive response. His second novel, "Midnight's Children" (1981), won the Booker Prize in 1981 and was deemed to be "the best novel of all winners" on two occasions, marking the 25th and the 40th anniversary of the prize. It was Rushdie's fourth novel "The Satanic Verses" that enraged the Muslim community across the globe to such an extent that Ayatollah Khomeini issued a 'fatwa' or a death sentence against him. In 2012, he published Joseph Anton: A Memoir, an account of his life in the wake of the controversy over The Satanic Verses. His other novels are The Ground Beneath Her Feet (1999), The Enchantress of Florence (2008), The Golden House (2017), and Quichotte (2019). On 12th August 2022, he was attacked while he was about to speak at an event in Chautauqua, New York. A man rushed onto the stage and stabbed him several times, just before he was about to deliver a speech. It was later revealed that he was on a ventilator and could not speak. Police identified the attacker as Hadi Matar, 24, of Fairview, New Jersey. He was arrested at the scene and was awaiting arraignment. Matar was born a decade after "The Satanic Verses" was published. The motive for the attack was unclear, State Police Maj. Eugene Staniszewski said. 
What is Salman Rushdie Famous For?
Being a novelist, writer, and professor. 
For his ability to combine magical realism with historical fiction. 
What is Salman Rushdie's Religion?
Salman Rushdie took birth on June 19, 1947, in Mumbai, India. He holds Indian nationality and his ethnicity is Indian-Kashmiri-Asian. His birth name is Ahmed Salman Rushdie. His present age is 75 as of 2022. His father, Anis Ahmed Rushdie is a Cambridge-educated lawyer and businessman whereas his mother, Negin Bhatt is a teacher by profession. He has three sisters. About his religion, he came from a liberal Muslim family, but he is now an atheist. He studied at the Cathedral and John Connon School in Mumbai, India. After that, he joined Rugby School in Warwickshire, England. Later, he pursued History at King's College, Cambridge.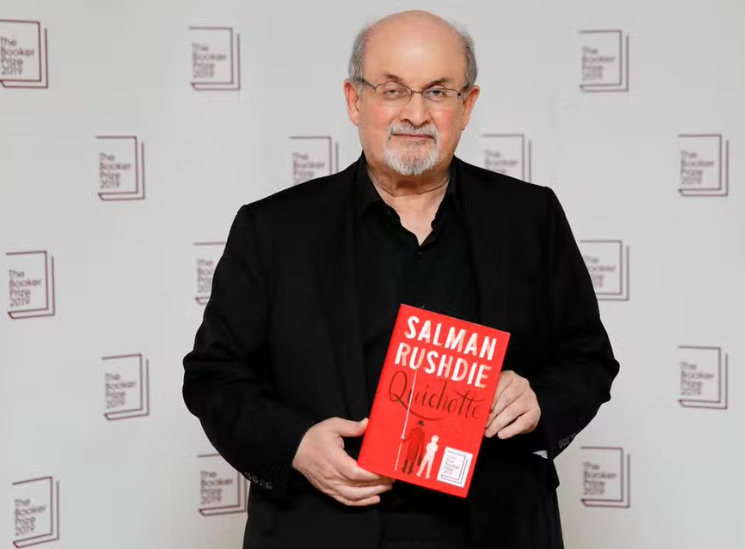 Salman Rushdie Career Timeline
Salman Rushdie initially started his career working as a copywriter for the advertising agency Ogilvy & Mather, where he came up with "irresistibubble" for Aero and "Naughty but Nice" for cream cakes, and for the agency Ayer Barker (until 1982), for whom he wrote the line "That'll do nicely" for American Express.
In the year 1975, he released his first novel "Grimus", a part-science fiction tale. 
His second novel "Midnight's Children" was released in 1981. 
He released his next work titled "Shame" in 1983. 
His next venture was released under the title "The Jaguar Smile" in 1987. The year 1988 witnessed the release of the most controversial book of Rushdie, "The Satanic Verses". A take on Prophet Mohammed's utterance of the three verses, which were later removed as they were considered offensive to the Muslims (hence the title Satanic Verses), the book caused a rage of fury amongst the Muslim community worldwide. The book was banned in 12 countries, namely India, Bangladesh, Sudan, South Africa, Sri Lanka, Kenya, Thailand, Tanzania, Indonesia, Singapore, Venezuela, and Pakistan.
Ayatollah Khomeini, the then spiritual leader of Iran, issued a 'fatwa' or a death sentence against Rushdie. He called for all obedient Muslims to assassinate Rushdie and offered a bounty to kill Rushdie.
All the copies of "The Satanic Verses" were burnt all over the globe as Muslims condemned the book for insulting their sentiments, faith, religion, and Prophet. While the book was removed from the shelves of large bookselling chains, several people who were involved with its publication were injured and killed.
He went into hiding for several years and was forced to live under police protection. Though he made a public apology and embraced Islam, he was not entirely safe and thus had to live in isolation for many years.
In the year 1990, he released his next book "Haroun and the Sea of Stories", a children's novel.
His next couple of works included a collection of essays titled "Imaginary Homelands: Essays and Criticism 1981-1991," released in 1991, and a collection of short stories titled "East, West" released in 1994.
"The Moor's Last Sigh" presented a family epic ranging over some 100 years of India's history that was published in 1995.  
"The Ground Beneath Her Feet" highlighted an alternative history of modern rock music.
His next piece of work titled "Fury" was released in 2001 which was followed by "Step Across This Line: Collected Non-fiction 1992-2002" in 2002. 
His 2005 novel "Shalimar the Clown" presents a story about love and betrayal set in Kashmir and Los Angeles and was hailed as a return to form by a number of critics. 
The year 2008 saw the publication of "The Enchantress of Florence", one of Rushdie's most challenging works that focus on the past.
In 2010, he came up with the novel "Luka and the Fire of Life". 
In 2012, he released a memoir of his days in isolation. The memoir was titled "Joseph Anton: A Memoir."
In 2012, Salman Rushdie became one of the first major authors to embrace "Booktrack" (a company that synchronizes ebooks with customized soundtracks), when he published his short story "In the South" on the platform.
His novel "Two Years Eight Months and Twenty-Eight Nights" was released in 2015. 
In 2017, "The Golden House", a satirical novel set in contemporary America, was published.
His 14th novel "Quichotte" inspired by Miguel de Cervantes' classic novel "Don Quijote" was published in 2019.
Apart from his book career, he also had a cameo appearance in the film "Bridget Jones's Diary". 
On 12 May 2006, Rushdie was a guest host on The Charlie Rose Show.
He appears in the role of Helen Hunt's obstetrician-gynecologist in the film adaptation (Hunt's directorial debut) of Elinor Lipman's novel "Then She Found Me". 
In September 2008, and again in March 2009, he appeared as a panelist on the HBO program "Real Time with Bill Maher."
In 2017, Rushdie appeared as himself in Episode 3 of Season 9 of Curb Your Enthusiasm, sharing scenes with Larry David to offer advice on how Larry should deal with the fatwa that has been ordered against him. 
Awards and Achievements
Rushdie was knighted for services to literature in the Queen's Birthday Honours on 16 June 2007. He remarked: "I am thrilled and humbled to receive this great honour, and am very grateful that my work has been recognized in this way."
His awards include:
Austrian State Prize for European Literature (1993) 
The Booker Prize (1988) 
Golden PEN Award 
Hans Christian Andersen Literature Award (2014) 
Honorary Doctor of Humane Letters from Indiana University (2018) 
Honorary Doctor of Letters from Emory University (2015) 
James Joyce Award from University College Dublin (2008) 
Outstanding Lifetime Achievement in Cultural Humanism from Harvard University (2007) 
PEN Pinter Prize (UK) 
St. Louis Literary Award from the Saint Louis University Library Associates 
Swiss Freethinkers Award 2019 
How much was Salman Rushdie's Net Worth?
Salman Rushdie is a successful novelist, writer, and professor who has released several books throughout his career. As of 2022, the net worth of Salman is estimated to have $15 Million. His main source of wealth comes from his writing career. He is living a luxurious lifestyle at present. His present salary is in millions of dollars. 
Who is Salman Rushdie's Wife?
Salman Rushdie was a married man. He firstly married Clarissa Luard in 1976. They have a son named Zafar Rushdie (b. 1979). The couple divorced in 1987. After that, he married Marianne Wiggins on January 28, 1988, and divorced on March 2, 1993. Then, he married Elizabeth West on August 28, 1997. They have a son together named Milan Rushdie (b. 1997). However, they divorced in 2004. Then, he married Padma Lakshmi on April 17, 2004, but, later divorced in 2007. After that, he was rumored to be dating Laura Gomez in 2016 and Rachel Eliza Griffiths in 2019. He is assumed to be single at present. His sexual orientation is straight.
Everything To Know About Padma Lakshmi
Since 2000, he has lived in the United States, mostly near Union Square in Lower Manhattan, New York City.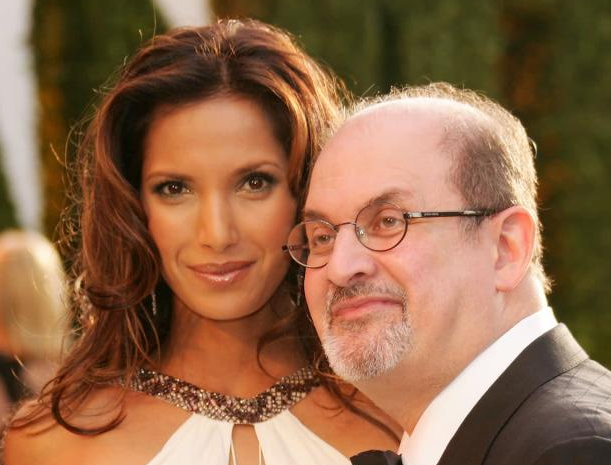 How tall is Salman Rushdie?
Salman is a handsome man with a height of 5 ft 7 in or 170 cm. His bodyweight is 78 kg or 172 lbs. His body type is average. His hair color is gray and his eye color is hazel. He keeps a French beard. In 1999, Rushdie underwent an operation to correct ptosis.
Salman Rushdie was recently stabbed by an attacker on August 12, 2022, in Chautauqua, New York, just before he was about to begin a speech. He suffered damage to several nerves in an arm and his liver too. One of his eyes was also severely damaged. The New York state police identified the attacker as Hadi Matar, hailing from New Jersey.