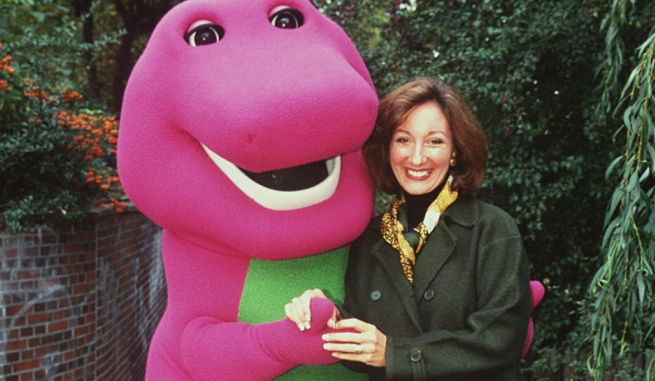 Sheryl Leach is an American children's TV show creator and author known for being the creator of the popular children's show "Barney & Friends". She is also a former teacher. Kathy Parker and Dennis DeShazer joined her in creating the show. Leach left the show in 1998. 
What is Sheryl Leach Famous For?
Sheryl Leach is a children's TV show creator and producer, best known to the world for creating "Barney & Friends" (1992-1997), and several other children's shows.
She is a well-known philanthropist, funding the Shei'rah Foundation, through which she focuses on settling the differences between cultures.
What is Sheryl Leach Born Name?
Sheryl Leach was born on 31st December 1952 in Athens, Texas, USA. Her born name is Sheryl Lyna Stamps Leach. She holds American nationality and her ethnicity is American-White. She celebrated her 69th birthday in 2021. Her zodiac sign is Capricorn. She was born into a Christianity religious family. Sheryl is the daughter of Billy and Marry Stamps, who both worked as educators. She holds a bachelor's degree in elementary education from Southern Methodist University (SMU), a master's degree in bilingual education from Texas A & M University, and an honorary doctorate degree from Texas A&M University-Commerce. 
How was the Career of Sheryl Leach?
Sheryl Leach is the Creator of Barney the Dinosaur in the mid-1980s. 
Together with Co-Creators Kathy Parker and Dennis DeShazer, Sheryl developed and launched the Barney property in 150+ countries/territories worldwide.
Later, Barney became one of the highest-rated children's television series and a best-selling children's brand globally.
Sheryl, a former teacher, worked with Parker and Deshazer on what would become the TV show in 1987. 
Originally, the star of the show was envisioned as a teddy bear, but since her toddler son sparked an interest in dinosaurs the character was changed to a dinosaur. 
She then brought together a team who created a series of home videos called "Barney and the Backyard Gang". 
In the year 1991, Connecticut Public Television employee Larry Rifkin rented a Barney video for his daughter. He liked the concept, so he spoke with Leach and other co-creators about putting Barney on television.  
In October 1991, production began on the new TV show, titled "Barney & Friends", and in April 1992, it premiered on PBS. 
Barney went on to receive numerous awards and honors. 
Aside from the original series, Sheryl has also worked on films and specials about the popular dinosaur and his friends, and so far has produced such titles as "Barney in Outer Space" (1998), "Barney: A Very Merry Christmas: The movie" (2011), "Barney: Clean Up, Clean Up!" (2012), "Barney: Let's Go to the Doctor" (2012), and "Imagine with Barney" (2013), among many others. 
Aside from Barney, Sheryl has started the production company, SL Productions LLC, through which she has worked on the feature film, "The Unicorn Sonata", among others.
Everything To Know About Bob West
Awards and Achievements
Nominated for the 20th and 23rd Annual Daytime Emmy Awards
Who is Sheryl Leach's Husband?
Sheryl Leach was a married woman and today, she is in a relationship with her parents, Howard Rosenfeld. Together, the couple founded the private organization known as the Shei'rah Foundation. The duo is enjoying their present life a lot. Her sexual orientation is straight. 
Sheryl met her first husband, Jim Leach when she was working as a writer at DLM Inc., according to the Barney Fandom Wiki. The couple dated and got married within the same year. Their son Patrick was born in 1987. Sheryl and Jim divorced in 2001. Sadly, Jim died by suicide three years later.
She along with her partner, Howard have sponsored numerous projects through their philanthropy organization the Shei'rah Foundation, including THE GREAT 14th — Tenzin Gyatso: the 14th Dalai Lama in His Own Words (PBS 2022); WOMEN OF TIBET (Frame of Mind Films); Stone Soup Leadership film; Media Venture Collective (Rudolph Steiner Youth Media Exchange Project), and more.
The Foundation also supported several youth-based media projects: Chat the Planet; Bridge to Baghdad; Taking It Global; Radio All for Peace; and Global Youth Action Network (GYAN). 
What is Sheryl Leach's Net Worth?
Sheryl Leach is a children's TV show creator who made huge fame and name being the creator of the popular children's show "Barney & Friends". The net worth of Sheryl Leach is estimated to have $20 Million as of 2022. She is making her salary in millions of dollars from her profession. Her main source of wealth comes from the entertainment industry whereas she was making a cool amount of money being a former teacher. She is living a lavish lifestyle at present. 
Sheryl Leach Height and Weight
Sheryl Leach is a beautiful woman with a standing height of 5 Feet 9 Inches. Her body weight consists of 87 Kg. She has a pair of hazel eyes and her hair color is black. She wears a dress size of 14 US. Her shoe size is 5 US. She has got a healthy body with a charming smile.