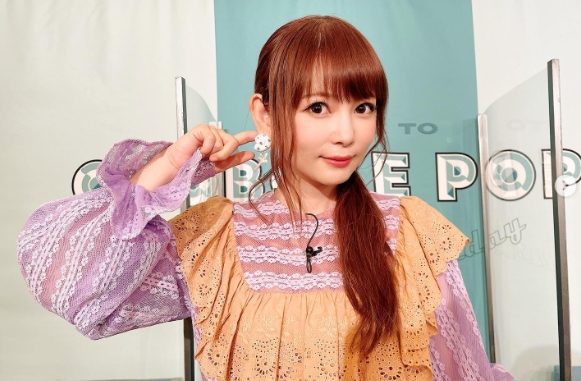 Shoko Nakagawa is a multi-talented entertainer who is a Japanese media personality, actress, voice actress, illustrator, and singer. As a media personality, she has gained widespread recognition for her work as the presenter of "Pokémon Sunday", a Japanese TV show that focuses on the Pokémon franchise. She has also showcased her acting skills in various TV dramas and films, as well as her voice acting talent in numerous anime series. In addition, Shoko is a talented illustrator who has published several art books, and she has released several albums and singles as a singer.
One of Shoko's most notable contributions to the world of anime is her performance of the opening theme for the series Gurren Lagann. The song, titled "Sorairo Days," became a popular hit in Japan and helped to solidify Shoko's status as a talented musician. She has also contributed to other anime soundtracks, including songs for the series Fullmetal Alchemist: Brotherhood and the film Summer Wars. Shoko's versatile talents have made her a beloved figure in the entertainment industry, and her fans continue to support her in all of her endeavors. 
Where is Shoko Nakagawa from?
Shoko Nakagawa was born on May 5th, 1985, in Nakano, Tokyo, Japan. She is Japanese by nationality and her ethnicity is Japanese-Asian. As of 2022, she celebrated her 37th birthday. Shoko's father, Katsuhiko Nakagawa, was a popular actor and musician in Japan during the 1980s. Sadly, he passed away from leukemia in 1994, leaving Shoko to be raised by her mother, Keiko Nakagawa. Despite facing challenges growing up, Shoko found solace in the world of Pokémon when she was in 5th grade. She has since become a well-known fan of the franchise and has even released music inspired by it. In her book, Shokotan Manual, Shoko revealed that her legal name is actually Shiyōko (しようこ) rather than Shōko (しょうこ), which she had been using for most of her life. Her mother had intended to name her Shōko (薔子), but the kanji was not approved for use in Japanese names, and her aunt wrote her name in hiragana quickly, resulting in the small "yo" appearing larger than intended and her name being recorded as Shiyōko (しようこ).
How was the Career of Shoko Nakagawa?
Shoko Nakagawa is a Japanese singer, actress, and illustrator who made her entertainment debut in 2001 by winning the Grand Prix award at the Popolo Girl Audition. Represented by Jackie Chan's talent agency, she later appeared on the "Yume-Ga-Oka Residence" program on SKY PerfecTV!, where she was given a Jackie Chan photobook by Midorikawa Shobō. Shoko's official blog, "Shokotan * Blog", opened in 2004 and quickly gained popularity, receiving a total of 100 million hits by April 2006. Her blog was accessed 1 billion times by February 2008, making her one of the most popular bloggers in Japan.
Shoko Nakagawa appeared in a number of TV shows in the early 2000s, including a guest appearance in the 38th episode of "Tokusou Sentai Dekaranger" in 2004. She also appeared as a regular on the TBS program "Ōsama no Brunch" in 2005 and on the Fuji TV show "Kangaeru Hitokoma," where she drew in the style of Kazuo Umezu. Nakagawa released her debut single, "Brilliant Dream," in July 2006, which entered the Oricon chart at number 29. She performed at Anime Expo 2008 in Los Angeles, showcasing her talents to a global audience.
She gained popularity in Japan as a TV personality with her appearances on the AX MUSIC-TV 00 and Pokémon Sunday shows. She has also appeared in various TV dramas and films, including The Fast and the Furious: Tokyo Drift, Kabuto-O Beetle, and Gothic Lolita Battle Bear. In addition, she has lent her voice to various anime characters, including Saori Kido/Athena in Saint Seiya Omega and Diana in Pretty Guardian Sailor Moon Crystal.
Nakagawa's association with Pokémon began in 2006 when she was chosen to co-host Pokémon Sunday, a weekly variety show. She also voiced various Pokémon characters in the Japanese version of the anime and in Pokémon films. Nakagawa's voice was featured in every Pokémon movie since 2007, except for Pokémon the Movie: Genesect and the Legend Awakened and Pokémon: Mewtwo Strikes Back—Evolution. In addition to Pokémon, Nakagawa has lent her voice to characters in Dragon Ball Z: Battle of Gods and Dragon Ball Z: Resurrection 'F'.
Nakagawa has also made numerous stage appearances and played the role of Alena in the video games Dragon Quest Heroes and Dragon Quest Heroes II. She has also provided the voice for Rapunzel in Kingdom Hearts III. In 2020, Nakagawa made her stage debut in the musical Maybe Happy Ending, playing the role of Claire. In 2021, she returned to her role as Diana in Pretty Guardian Sailor Moon Eternal: The Movie -Part 1&2-, the fourth season of Sailor Moon Crystal. She is set to voice Mayumi Santo in the upcoming anime Junji Ito Maniac: Japanese Tales of the Macabre.
Shoko is a Japanese singer and actress, signed to Sony Japan. She has released several singles since her debut in 2006, with her music often being featured in anime and TV shows. Her discography includes a mix of original songs and theme songs for popular anime such as Tengen Toppa Gurren Lagann and Pokémon. Her first single, "Brilliant Dream," was released on July 5, 2006, and sold 10,459 copies in total.
One of Nakagawa's most successful singles is "Sorairo Days," which was released on June 27, 2007. This song served as the opening theme for the anime Tengen Toppa Gurren Lagann and sold a total of 67,453 copies. Another popular single is "Tsuzuku Sekai," which was the ending song for the anime film Tengen Toppa Gurren Lagann: Guren-hen. It was released on September 10, 2008, and sold 49,368 copies in total. 
Her more recent singles include "Blue Moon," which was the second ending theme for the anime series Zoids Wild, and "Furefure," which was the second ending theme for Genie Family 2020. She has also collaborated with other artists on singles, such as "Love Letter From Canada," which was released on August 8, 2007, and sold 6,356 copies in total. Overall, Nakagawa's discography showcases her unique blend of J-pop and anime-inspired music, with a range of upbeat and emotional tracks.
Her popularity continued to grow, and in 2014, she published her book of autobiographical essays titled "Neko no Ashiato" ("Cats' Pawprints"), which was adapted into an anime series titled Omakase Mamitasu in March 2015. The show featured characters based on Nakagawa's cat and her late father and grandfather. In 2019, she performed the song "Kaze to Issho ni" with Sachiko Kobayashi, which was used as the theme song for the theatrical film "Mewtwo Strikes Back: Evolution". The song is a cover of a song originally performed by Kobayashi and used as the theme song for the 1998 film "Pokémon: The First Movie".
Shoko Nakagawa's career spans across various entertainment industries, showcasing her versatile skills as a singer, actress, illustrator, and author. Her immense popularity in Japan has led to her appearing in multiple TV shows and releasing numerous songs, which have been well-received by her fans. With her passion for anime and manga, she has also become a notable figure in the otaku community, inspiring a generation of fans to pursue their interests and hobbies.
Who is Shoko Nakagawa's boyfriend?
Despite being assumed to be single as of now, Shoko Nakagawa has previously expressed admiration for certain celebrities. In particular, she has mentioned her fondness for Taehyung, a member of the popular K-pop group BTS. Shoko has described Taehyung as someone who perfectly looks like a boyfriend, showing her appreciation for his handsome appearance. However, it's important to note that Shoko's admiration for Taehyung does not necessarily mean that she is romantically interested in him, as she is currently focusing on her career. With her busy schedule and commitment to her craft, it's understandable that Shoko is currently not dating anyone and is instead focusing on her professional pursuits. 
How much is Shoko Nakagawa's net worth?
Shoko Nakagawa is a well-known personality in the Japanese entertainment industry. She has made a name for herself as an actress, voice actress, illustrator, and singer. In addition to her professional accomplishments, she has also amassed a considerable amount of wealth over the years. As of 2023, Shoko's net worth is estimated to be around $5 million, which is a testament to her success in the industry. Shoko's net worth is primarily the result of her numerous projects in the entertainment industry. She has appeared in numerous TV shows, films, and stage productions. She has also provided her voice for several animated shows and movies. Additionally, her musical career has been quite successful, with several hit albums and singles under her belt. With her talent and hard work, it's no surprise that Shoko Nakagawa has become one of the most successful and wealthiest entertainers in Japan. She is living a lavish lifestyle at present. 
How tall is Shoko Nakagawa?
Shoko Nakagawa is a Japanese celebrity known for her captivating smile and radiant complexion. She is a popular figure in Japan and has garnered a significant following due to her charming personality and infectious energy. Apart from her vibrant personality, Nakagawa's beauty is also a notable aspect of her persona. With her slim body type and body measurements of 33-22-33 inches, she has become an inspiration to many young girls in Japan. 
Standing at a height of 5 feet 1 inch and weighing 45 kg, Nakagawa has a petite frame that perfectly complements her graceful demeanor. She has beautiful brown-dark hair that complements her warm, brown-dark eyes, making her look even more stunning. Her fans often admire her natural beauty, which is a reflection of her healthy lifestyle and positive attitude towards life. Nakagawa is undoubtedly a beauty icon in Japan, and her fans look up to her for inspiration on how to maintain a healthy body and a positive outlook toward life.