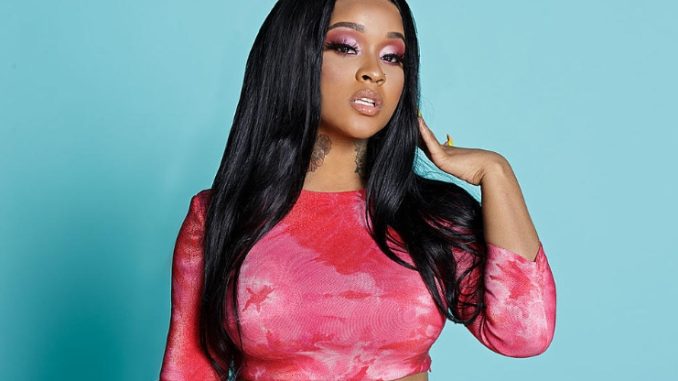 Stunna Girl is a multi-talented artist with a strong passion for music and entertainment. Her unique style of music has made her popular among fans of rap and hip-hop. She has also made a name for herself in the social media space, particularly on TikTok, where she has a large following. Stunna Girl's success is due to her hard work and dedication to her craft. She has been practicing and refining her musical skills since a young age, and her family's support has been instrumental in her journey. Her hit song "Runway" is one of her most popular tracks, which has earned her a loyal fan base. Her other singles includes "Tap Out" (2018), "On the Record" (2018), "Let It Drip" (2018), "That Part" (2019), "Back In The Day" (2019) and more. Stunna Girl is dating h er boyfriend, Richmula 500. 
In addition to her musical talent, Stunna Girl has also made appearances on reality shows and magazines. Her appearances on Baddies West Auditions and Muze magazine have further cemented her status as a rising star in the entertainment industry. Stunna Girl's success story is an inspiration to many young people who aspire to pursue their dreams in the world of music and entertainment. She has proven that with hard work, dedication, and passion, anything is possible. 
What is the Real Name of Stunna Girl?
Stunna Girl, whose real name is Suzanne Sade Brown, was born on July 2, 1998, in Sacramento, California. She is of American-African ethnicity and holds American nationality. As of 2022, she turned 24 years old, and her zodiac sign is Cancer. While she hasn't revealed the names of her parents, she mentioned that her father was a street rapper who had a studio at home. Stunna Girl grew up with three brothers and two sisters, including a younger half-sister. Although she had a loving family, her childhood was challenging, and her mother spent approximately two years behind bars when she was still a young girl. Stunna Girl is a Christian and believes in the religion. She celebrated her 24th birthday as of 2022. 
Stunna Girl's education journey was not a conventional one. She was expelled from school in the seventh grade, attended charter schools once a week in the eighth grade, and only spent a week in the ninth grade before dropping out. However, she eventually earned her GED, graduated high school, and took some college classes while incarcerated. 
Stunna Girl Music Career
Suzanne divulged that during her younger years, she would often sing and hum melodies at home. When she was only eight years old, her father introduced her to his makeshift home recording studio, which sparked her deep passion for music and her decision to become a rapper in the future. From the tender age of 12, Suzanne dedicated herself to developing her rapping skills and perfecting her vocal tone and lyrical abilities. She officially embarked on her professional music career in 2018, with the release of the music video "Real Rap" on YouTube.
Despite her early success in the music industry, Suzanne's life has not been without its challenges. Between the ages of 12 and 17, she spent time in a youth detention center for offenses that included assaults, robberies, and the use of fake IDs.  
Following her initial success, she began sharing more of her music on her personal channel, which quickly gained popularity among listeners. Notably, her song "Runway" went viral in 2019 and has since amassed millions of views. Additionally, she has released several albums, including YKWTFGO and Stunna This Stunna That, and has produced numerous hit tracks such as "On the Record," "Clout," "No Real B*tches Left," and "Pop You." Stunna Girl's widespread appeal has been further boosted by her active presence on social media platforms like YouTube and TikTok, where she has accumulated millions of followers and subscribers.
Stunna Girl's star power was further solidified in January of 2023, when she made an appearance on the reality show "Baddies West Auditions." Her appearance on the show quickly garnered attention, as fans were quick to recognize her as the voice behind the hit track "Runway." Stunna Girl's meteoric rise to fame is a testament to her dedication to her craft and her ability to connect with fans on a personal level through her music and social media presence. 
Stunna Girl has released several albums and singles over the years, including "YKWTFGO," which features hit tracks like "Runway," "Back in the Day," and "You'll Neva." Her album "Stunna This Stunna That" includes popular songs such as "RIDE," "Can't Choose," and "Two Tone." In addition to these albums, Stunna Girl has also released several standalone singles, including "On the Record," "Naked," "Let It Drip," and "Real Rap." 
Who is Stunna Girl's boyfriend?
Stunna Girl, a talented rapper and singer, is currently in a relationship with another musician and rapper named Richmula 500. They made their relationship public on February 8, 2023, and seem to have a loving and supportive bond. Stunna has even referred to Richmula as a "big daddy," which suggests that she sees him as a strong and supportive figure in her life. They both support each other's creative pursuits and work together to promote each other's music. Stunna has shared Richmula's song "Bang Bang Freestyle" on her YouTube channel to help promote his music, while Richmula captures Stunna singing on camera to encourage her artistic pursuits. Their collaboration in music indicates a high level of trust and mutual respect in their relationship.
It is worth noting that Stunna Girl had a boyfriend during her time in the California Youth Authority correctional facility. However, she has never publicly shared any details about that relationship and seems to keep her personal life private. Her current relationship with Richmula appears to be a significant and positive influence in her life, both personally and professionally. 
How much is Stunna Girl's net worth?
Stunna Girl, a prominent rapper, singer, model, and influencer, has amassed a net worth of $1 million as of 2023 through her various ventures. Her primary source of income is her successful career in music, but she has also garnered revenue from modeling gigs and promotional deals. With her significant earnings, she leads a lavish lifestyle and has even purchased her favorite cars, which she often showcases on her social media platforms. Stunna Girl has a penchant for designer clothing and accessories, and exclusively shops at branded clothing stores. Her extensive wardrobe of beautiful dresses and stylish accessories is frequently highlighted on her social media handles, where she has a substantial following.
Despite her significant wealth and luxurious lifestyle, Stunna Girl has achieved her success through hard work and dedication. Her impressive net worth is a testament to her talent and entrepreneurial spirit, and she continues to inspire aspiring artists with her accomplishments. 
How tall is Stunna Girl?
Stunna Girl is known not only for her music career but also for her striking physical appearance. She is a beautiful woman with a voluptuous body build, standing at a tall height of 5 feet 1 inch or 155 centimeters and weighing 55 kilograms or 121 pounds. Stunna Girl's hair color is naturally black, but she has dyed it in various colors, including pink, blonde, pale green, purple, red, dark green, dark blue, and silver. Her dark brown eyes are one of her defining features. Additionally, she has multiple tattoos on her legs, back, butts, shoulders, arms, and other parts of her body, adding to her unique appearance.
Along with her unique look, Stunna Girl is also known for her partying habits. She is often seen consuming liquor during parties, which has become a part of her persona. Despite her love for the party scene, Stunna Girl is a hardworking artist who has achieved significant success in her music career and continues to inspire her fans with her dedication and talents.