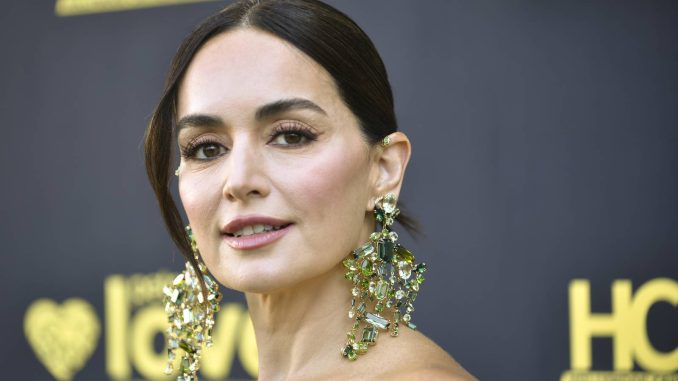 Who Is Ana de la Reguera?
Ana de la Reguera is a Mexican actress, known for her notable performances in both film and on television. She gained recognition for her roles in films such as "Nacho Libre" (2006) and "Cowboys & Aliens" (2011). Additionally, she's starred in popular TV shows such as "Eastbound & Down" (2009-2013) and "Narcos" (2015-2017), and numerous other projects.
Ana de la Reguera: Wiki, Age, Childhood, and Education
Anabell Gardoqui de la Reguera was born on 8 April 1977 in Veracruz, Mexico. Reguera's mother, Nena de la Reguera, was a former Miss Veracruz who later pursued careers as a journalist and television personality. Her father is Augusto Gardoqui, and she has a sister, Alicia de la Reguera. Ana initially studied classical ballet and later pursued performance arts studies at Instituto Veracruzano de la Cultura. She furthered her education by attending Televisa's CEA and later trained under Juan Carlos Corazza in Spain. In addition, she honed her acting skills in Los Angeles with the guidance of Aaron Spicer, Lisa Robertson, and Joan Scheckel.
Career Beginnings
In 1996, Ana de la Reguera began her career in the role of Cecilia in the telenovela "Azul", with Patricia Reyes Spindola and Kate del Castillo in the lead roles.
The following year, she appeared as Priscila in "Pueblo Chico, Infierno Grande", alongside renowned actress Verónica Castro.
In 1997 and '98, Reguera starred as Beatriz in "Desencuentro". The telenovela, directed by Ernesto Laguardia, follows the love triangle between Victoria, a firefighter and a businessman, with Laguardia, Daniela Castro, and Juan Ferrara in the lead roles.
Before the decade ended, Ana  played Fernanda Segovia alongside Eduardo Santamarina in the telenovela "Tentaciones". The series revolves around a love triangle between Fernanda, her husband, and her husband's friend, leading to passionate and complicated relationships.
The 2000s and Rise to Prominence
She began the millennium portraying Lucía alongside Diego Olivera in the new telenovela "Todo por amor" (2000-2001), which focuses on Lucía, a young woman who goes through various trials and tribulations in her quest for love and happiness.
Then in 2002, Reguera played María Aldana and Isabel Miranda, featuring alongside Saúl Lisazo in this telenovela that delves into the complexities of relationships and life.
#FOTO Pedro Pascal, Alfonso Herrera, Ana de la Reguera y Miguel Angel S. en el cóctel de los #PremiosFenix, ayer. pic.twitter.com/P8r1iZUjSS

— Team Dulce & Poncho 🐿 (@Team_Trendy) November 25, 2015
She continued with a number of TV roles in the early and mid-2000s. In 2003 she was Astrid in the television movie "Como Pedro Por Su Casa" and then co-starred with Eduardo Santamarina in the telenovela "Luciana Y Nicolas". The following year she was Maria Salome in the telenovela "Gitanas", which follows the lives of a group of women from different backgrounds who belong to a community of gypsies.
In the film "Nacho Libre" (2006), Ana de la Reguera portrayed the character Sister Encarnación in the comedy directed by Jared Hess, and starring Jack Black as Nacho, a friar who secretly becomes a luchador (Mexican wrestler) to raise money for an orphanage. Sister Encarnación is a kind-hearted nun who catches Nacho's attention and becomes a source of inspiration for him. Ana de la Reguera's portrayal adds a touch of romance and warmth to the comedic story as she forms a connection with Nacho and supports his wrestling endeavors.
From 2008 to 2012, Ana played Lorena Guerra in the drama series "Capadocia". Set in the women's prison Cappadocia, Lorena is a lawyer who becomes the new director of the prison, facing the challenges of running a corrupt and chaotic institution, while striving to bring justice and improve the lives of incarcerated women.
Ana portrayed the character Josefa Quintana in the film "Hidalgo: La historia jamás contada" (2010), which tells the untold story of Miguel Hidalgo, a key figure in Mexico's fight for independence from Spain. Josefa Quintana is a significant character in Hidalgo's life; she's his wife. The film explores their relationship and the impact they had on each other during this pivotal moment in Mexican history.
In 2011 she played Maria in the award-winning sci-fi action-drama series "Cowboys & Aliens", starring Daniel Craig, Harrison Ford and Olivia Wilde.
Continued Success
Ana continued her career rather successfully into the second half of the 2010s. In 2015 she was Elisa Alvaro in the crime-drama series "Narcos", which explores the rise and fall of the infamous drug lord Pablo Escobar, and the Drug Enforcement Administration's efforts to bring him down. Elisa Alvaro is a journalist who becomes entangled in the dangerous world of drug trafficking, as she investigates and reports on the activities of Escobar and his cartel.
Then in 2017, she portrayed Carla in the romantic drama film "Everything, Everything", based on the novel by Nicola Yoon. It follows the story of a young girl named Maddy, played by Amandla Stenberg, who suffers from a rare disease that confines her to her home. Carla is her home nurse, and they develop a friendship.
Concurrently, from 2017 to 2019, she portrayed Alicia Jimenez in the crime-drama series "Power", while from 2018 to 2021, she was Marisol Silva in the legal drama series "Goliath", created by David E. Kelley and Jonathan Shapiro.
To speak further of her accomplishments, Ana created and starred in the TV series "Ana", which tells the story of a young girl who has an epiphany moment and changes her life, co-starring Tina Romero and Andres Almeida.
In the film "Army of the Dead" (2021), Ana de la Reguera portrayed Maria Cruz. The movie is directed by Zack Snyder and is a zombie heist action thriller set in a post-apocalyptic Las Vegas. The same year, she was Adela in the film "The Forever Purge", co-starring Tenoch Huerta and Josh Lucas.
"The King of All the World" was another film in which Ana appeared in 2021,a musical image of the connection between Mexican and Spanish music, with Manuel Garcia-Rulfo and Damian Alcazar in the lead roles.
Most recently, she appeared in the film "Que Viva Mexico!", and is working on several projects, including the sequel "Army of the Dead: Lost Vegas", scheduled to premiere later this year.
Net Worth
According to authoritative sources, Ana de la Reguera's net worth is estimated at $2 million, as of mid-2023.
Personal Life, Dating, Married, Husband, Children
Ana has been silent on her personal life. Her secretive nature has spawned several rumors, including her being lesbian. She has had a few romantic scenes with the same sex in films and series, which only contributed to this rumor, however, she hasn't addressed these comments.
Charity Work
In September 2010, Ana established VeraCruzANA, a non-profit organization dedicated to making a positive impact in the underprivileged community of Veracruz, Mexico. Through various projects and programs, VeraCruzANA aims to foster economic growth and generate employment opportunities, contributing to the overall development of the community. Additionally, in 2017, Ana took on the role of chair for the ONE Children's Foundation, a 501 C3 non-profit organization based in Los Angeles. Alongside fellow actresses Karla Souza, Kate del Castillo, and Olga Segura, she played a pivotal role in the creation of Los Angeles en Mexico, which emerged in response to the devastating earthquake that struck Mexico on 19 September 2017. The foundation's efforts focus on supporting children and addressing their needs in the aftermath of natural disasters and other challenging circumstances.
Appearance and Body Measurements
Ana de la Reguera has brown hair and brown eyes. She stands at a height of 5ft 3ins (1.6m), weighs approximately 120lbs (55kgs), and her vital statistics are 33-22-33, bra size 38B.