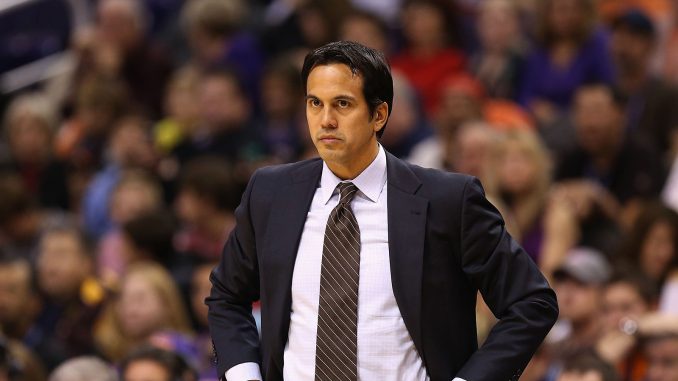 Who is Erik Spoelstra?
American professional basketball coach Erik John Spoelstra, was born in Evanston, Illinois USA, on 1 November 1970, making Scorpio his zodiac sign. He's become famous thanks to his coaching of the Miami Heat, competing in the National Basketball Association (NBA); the Heat has won two NBA Championships under Erik, and as Erik's of Asian descent, he's the first Asian-American coach to win an NBA title.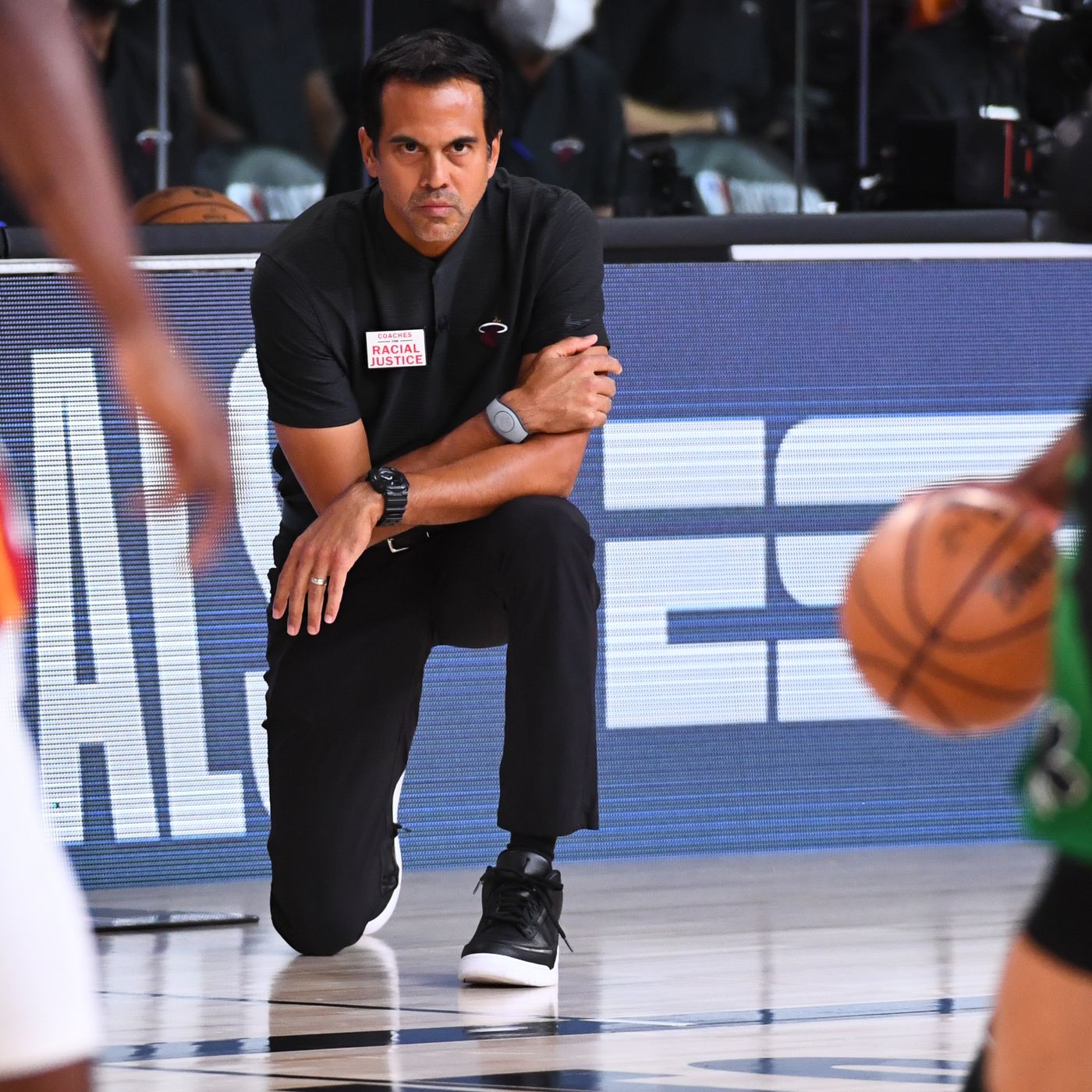 Education and early life
Erik was raised alongside his sister Monica Spoelstra Metz, by their Filipino mother Elisa Celino who's a housewife, and American father Jon Spoelstra who's an author and former NBA executive for various teams, including the New Jersey Nets, Denver Nuggets and Portland Trail Blazers. Erik's grandfather was the late American sportswriter Watson N. 'Waddy' Spoelstra, perhaps still remembered best for having written for the magazine "The Detroit News" for 28 years.
The family moved to Buffalo, New York State not long after Erik was born, and then to Portland, Oregon before he turned 10. He studied at Raleigh Hills Elementary prior to progressing to Whitford Jr. High School, where Erik became interested in playing basketball, then serious about a career in the sport upon transferring to Jesuit High School. Erik looked up to American professional (now retired) basketball player Terry Porter, and wore number 30 jersey to honor him. Before matriculating in 1988, Erik attended the Nike All-Star camp, training alongside future professional basketball players Bobby Hurley, Billy Owens and Shawn Kemp.
He was offered a basketball scholarship from several colleges, and chose to enroll at the University of Portland – in the following year (1989), Erik was named Freshman of the Year by the West Coast Conference (WCC). He was a starting guard for the Portland's Pilots during his time at the university, and was there when the late American college basketball player Eric Wilson 'Hank' Gather Jr. collapsed on the court, and died from heart failure on 4 March 1990.
Erik graduated with a Bachelor's degree in communications in 1992.
Career as a coach
Upon graduation, Erik spent some time boxing Nike shoes at a warehouse, and was in 1993 selected as an assistant coach for the professional basketball club TuS Herten of the Basketball Bundesliga's second division, a job for which he had to move to Westphalia, Germany. Erik developed back issues after two years with TuS and thought about undergoing surgery, but eventually decided against it.
After his contract expired in 1995, he was offered a new two-year deal, however, Erik was also offered to coach the Miami Heat, and thus chose them over TuS.
Erik was hired as the Heat's video coordinator, but for only one summer; not long after he joined the team, Pat Riley became the Heat's head coach. Erik then worked as a video coordinator for two years prior to becoming their assistant coach and advance scout in 1999, while the year 2001 saw him become their director of scouting; in 2006, with Erik as their assistant coach, the Heat won the 2006 NBA Finals by defeating the Dallas Mavericks.
Pat chose to step down from his position in April 2008, and Erik was named the Heat's new head coach; in his first year, he was able to take the Heat to the NBA Playoffs, even though they lost in the first round to the Atlanta Hawks. The Heat signed Chris Bosh and LeBron James in 2010, and they played in the 2011 NBA Finals, in a losing effort against the Dallas Mavericks; Pat was then asked to return and coach the Heat, but declined and expressed his support for Erik.
Erik signed a new four-year $6 million contract ,with the Heat in December 2011, and they reached the 2012 NBA Finals, winning the Championship by defeating the Oklahoma City Thunder; Erik was then chosen to coach the 2013 Eastern Conference All-Stars for the NBA All-Star Game. The Heat went on to win the 2013 NBA Finals, defeating the San Antonio Spurs.
LeBron James, Erik Spoelstra

Posted by NBA on Friday, June 21, 2013
Erik's contract was extended again on 29 September 2013, and the Heat once again reached the NBA Finals in 2014, this time losing to the Spurs; six years would pass before the Heat reached the NBA Finals again, in 2020, when they lost to the Los Angeles Lakers.
Erik won his 600th game with the Heat on 28 April 2021, and was named the 2022 Eastern Conference head coach on 6 February 2022.
Love life and wife
Erik rarely speaks about his wife and children in public, but some details regarding them are still known. He and retired Miami Heat cheerleader Nikki Sapp exchanged vows in a private ceremony on 22 July 2016, attended by only those closest to them. Nikki gave birth to their son Santiago on 26 March 2018 – he was diagnosed with Burkitt Lymphoma in July 2022, immediately undergoing treatment, and was declared cancer-free several months later.
On 4 December 2019, Nikki gave birth to their second son Dante Nicholas Spoelstra, and their daughter Ruby followed on 27 September 2022.
Erik's yet to mention other women whom he's perhaps dated, he's married to Nikki Sapp as of April 2023, and they have three children together.
Wow. Nikki Spo, Heat HC Erik Spoelstra's wife, shared on Instagram that their son battled Burkitt Lymphoma

Thankfully he powered through chemotherapy & the mass is in remission 🙏

Incredible courage by the young boy, Nikki, & Erik, for staying focused throughout the Playoffs pic.twitter.com/MuT65bs92z

— Naveen Ganglani (@naveenganglani) July 23, 2022
Interesting facts and hobbies
Erik respects his and his family's privacy, and thus isn't active on any of the popular social media networks; his fan pages have been launched on both Instagram and Twitter, while his Twitter's fan page is today followed by close to 35,000 people.
Erik's been all around the US with the Miami Heat, while he and his wife have also vacationed together in various European cities; Erik's dream travel destination's Paris, France.
He's a philanthropist, and has donated money to a number of charity organizations which aim to bring sports closer to underprivileged children.
Erik's a fan of rock 'n' roll bands Guns N' Roses and Aerosmith.
His favorite actor is Russell Crowe, while some of his favorite movies include "A Beautiful Mind", "Noah", and "Gladiator".
Height, eyes and wealth
Erik's age is 52. He has brown eyes and black hair, is 6ft 2ins (1.88m) tall and weighs around 190lbs (85kgs).
Erik's net worth's been estimated at over $14 million, as of April 2023.