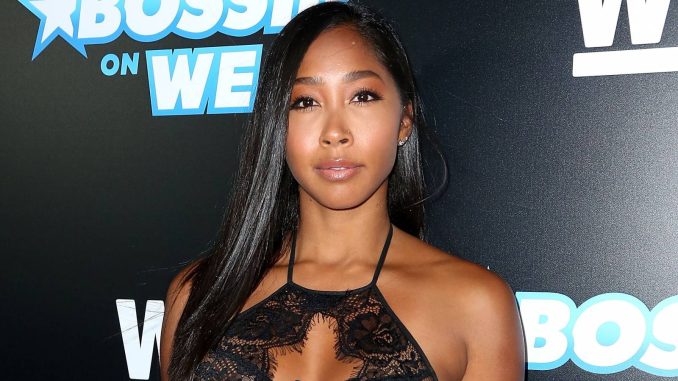 Who is Apryl Jones?
An actress who rose to fame appearing in the reality TV show "Love & Hip Hop: Hollywood", Apryl Jones was seen in 48 episodes of the series from 2014 through 2019. However, she again came into the spotlight because of her relationship with Taye Diggs, a famed actor, perhaps known best for his role as Billy Baker in the series "All American".
The two were often in the headlines because of their turbulent romance, and if you want to know more about their love story, as well as about Apryl Jones, keep on scrolling.
If your compassion does not include yourself then it is incomplete. Love YOU too! (Fit: @fashionnova)

Posted by Apryl jones on Tuesday, April 18, 2023
Early life, family, and education
Born Apryl Shantell Jones under the zodiac sign of Sagittarius on 15 December 1986, she hails from Chicago, Illinois USA, holds American nationality, and her ethnicity is of mixed African-American, Taiwanese and Chinese descent. According to records, her mother's name is Mei Hsiang Jones, while her father's name hasn't been revealed, but it's known that he's a businessman – Apryl is their only child.
Not much is known about Apryl's childhood, except that she had an interest in music from an early age. When it comes to her educational background, Apryl attended a local high school, and upon matriculating in 2004, enrolled at Butler University, from which she graduated with a Bachelor's degree in Science (Biology), in 2008.
Apryl worked at the Northwestern Memorial Hospital in Chicago, before she moved to Los Angeles, California US, to launch her music career.
Rise to prominence
In 2014, Apryl joined the cast of the reality show "Love & Hip Hop: Hollywood", as the aspiring musician and the girlfriend of the singer, Omarion, whose full name is Omari Ishmael Grandberry. The show chronicled Apryl's pregnancy with their son, named Megaa Omari Grandberry, who was born in 2014, and two years later, Apryl gave birth to their daughter, A'mei Kazuko Grandberry. A few months after the birth of their daughter, Apryl and Omarion separated; all these events were covered in the aforementioned show.
When Apryl returned to the show's sixth season, viewers could follow her and Omarion's custody battle. However, the subject of speculation was Apryl's relationship with Lil' Fizz, an American rapper. During the sixth season, the two admitted that they were romantically involved.
After leaving "Love & Hip Hop: Hollywood", Apryl launched her acting career, debuting as Mona in the 2019 TV mini-series "You Hittin Dat". Later that year, Apryl made her big-screen debut as Nikki in the comedy "I Got the Hook Up 2", followed by her role as Sugar Puss in the movie "Angel", also in 2019.
In the following year, Apryl was cast to play Sharice in the TV series "Casting the Net", in which she starred opposite Linara Washington and Siena Goines. The show followed the story of three talented actresses, who struggle to catch their big breakthrough role.
Most recently, Apryl was seen as Mona in the 2022 movie "You Married Dat", and made an appearance playing Champagne in two episodes of the series "The Oval", also in 2022.
Relationship with Taye Diggs-the ups and downs
According to them, Apryl and Taye met via Instagram. They publicized their relationship in 2022, Taye admitting that he was the one who sent the first message. He thought that Apryl was funny, after seeing her lip-sync video, and despite being afraid that he was out of her league, he sent the message.
The two often share their intimate moments on their social media accounts, and what most people comment on about their relationship is the age gap – Taye is 51 years old, while Apryl is 35. Apryl stated that they didn't touch each other for months, not even a kiss, since they wanted to nurture a friendship, and get to know each other better before they start a relationship.
Although there have been some rumors saying that the two broke up, Taye denied these assumptions, and revealed that they are working on a movie together.
As of April 2023, the two seemingly enjoy their love story, and now the rumors are saying that soon might be heard the sound of wedding bells.
Briefly about Taye Diggs
Born Scott Leo Berry under the zodiac sign of Capricorn on 2 January 1971, Taye hails from Newark, New Jersey USA, and holds American nationality. He's the son of a visual artist, Andre Young, and his ex-wife Marcia Berry, who was a teacher and former actress. The two divorced, Marcia remarried Jeffries Diggs, and Taye took his surname. Taye is the eldest, and has four siblings, namely Michael, Gabriel, Shalom and Christian.
When it comes to his educational background, he attended Allendale Columbia School and School of the Arts. Upon matriculating in 1989, he enrolled at Syracuse University College of Visual and Performing Arts, from which he graduated with a Bachelor's degree in Fine Arts (Musical Theatre), in 1993.
Taye launched his acting career on the stage, playing on Broadway, and is today a renowned actor, with nearly 70 acting credits to his name, 21 award nominations, and seven wins. He made his first television appearance as Stephon in an episode of the series "New York Undercover" in 1996, while Taye's first movie role came in 1998, when he played Winston Shakespeare in the drama "How Stella Got Her Groove Back".
Some of Taye's notable roles have been in the series "Kevin Hill" (2004-2005), "Day Break" (2006-2007), "Private Practice" (2007-2013), and "Murder in the First" (2014-2016). However, to date, his most notable role is his portrayal of Billy Baker in the series "All American".
Speaking of his personal life, Taye was married to actress Idina Menzel, with whom he has a son named Nathaniel Diggs, born on 3 September 2009. Taye and Idina were in marriage from January 2003 to December 2014. Taye then dated Amanza Smith, from 2014 through 2018, and was also romantically linked to one of the most famous American actresses, Angelina Jolie, as well as Kate Walsh and Sanaa Lathan.
As mentioned, in 2022, Taye began his relationship with Apryl Jones, and the two are now the most popular couple online since they love to share their story with their followers.