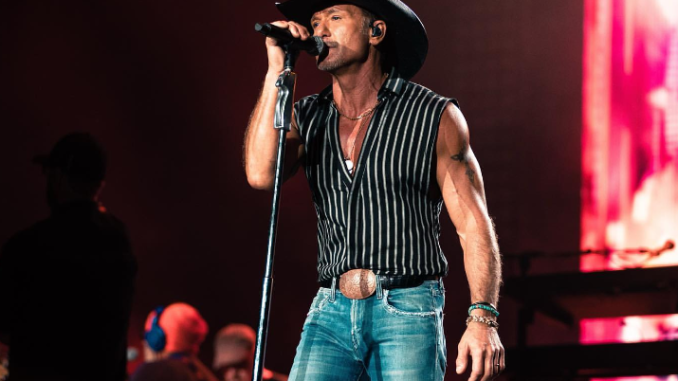 Tim McGraw is an American country music singer, songwriter, actor, and record producer. He has released 16 studio albums (11 for Curb Records, four for Big Machine Records, and one for Arista Nashville). 10 of those albums have reached number one on the Top Country Albums charts, with his 1994 breakthrough album Not a Moment Too Soon being the top country album of 1994. In total, his albums have produced 65 singles, 25 of which have reached number one on the Hot Country Songs or Country Airplay charts.
Three of these singles – "It's Your Love", "Just to See You Smile", and "Live Like You Were Dying" – were respectively the top country songs of 1997, 1998, and 2004 according to Billboard Year-End. He has sold more than 80 million records worldwide, making him one of the best-selling music artists of all time. He released his debut studio album, "Tim McGraw" in 1993.
McGraw has also ventured into acting, with supporting roles in The Blind Side, Friday Night Lights, The Kingdom, Tomorrowland, Four Christmases, and The Shack as well as lead roles in Flicka (2006), Country Strong (2010), and 1883. He made his first film appearance in an important role in the drama flick, Black Cloud in 2004. He made his TV show debut in the Feud for Thought episode of the comedy TV series, The Jeff Foxworthy Show in 1997. 
Tim McGraw Known For
Tim McGraw is known as one of the most popular and successful modern country singers. About 10 of his music albums have managed to reach the top of the Country album charts.
He is known for being cast in the supporting role in successful films such as Friday Night Lights (2004) and The Blind Side (2009).
Where is Tim McGraw From?
Tim McGraw was born with the birth name of Samuel Timothy McGraw on 1st May 1967. He is from Louisiana, USA. He is the son of Frank Edwin McGraw Jr. (Who played as a pitcher for the Philadelphia Phillies and New York Mets) and  Elizabeth Ann D'Agostino. He has three siblings; Mark McGraw (Half-Brother), Mathew McGraw (Half-Brother), and Cari Velardo (Half-Sister). He holds American nationality and his ethnicity is Mixed(Italian, Irish, English, Scottish, Swiss, Dutch, Czech, and German).
He was raised as a Baptist and has often hinted that Christianity has had a major impact on his life. However, it can't be ascertained how strong his faith is.
Where did Tim McGraw go to College?
He went to the Northeast Louisiana University (rebranded as the University of Louisiana at Monroe) on a baseball scholarship. After his chance of pursuing a baseball career came to an end due to a knee injury, he dropped out of college. Later, he got enrolled at the Florida Community College in Jacksonville. However, he dropped out after studying for one term. His present age is 55 as of 2022.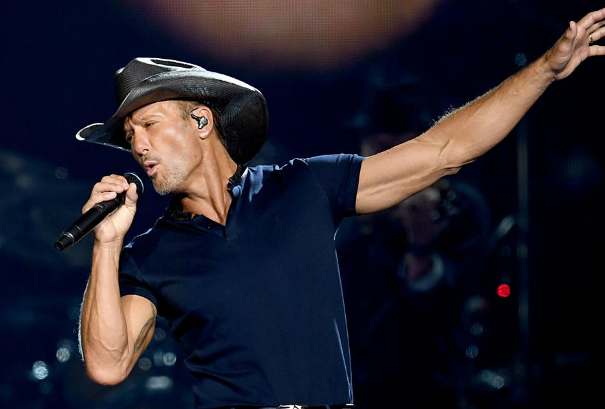 Tim McGraw Career Timeline (Singing and Acting)
Music Career
Tim McGraw came to the attention of Curb Records in 1990.
He made his debut with the single "What Room Was the Holiday In", which was released on March 29, 1991. 
Two years later in April 1993, McGraw released his debut album "Tim McGraw". 
His second album, entitled "Not a Moment Too Soon" was released in 1994. The very first single from the album titled "Indian Outlaw" became one of the most talked about songs of the year, for both good and bad reasons. 
The second single from the album "Don't Take the Girl" ended up becoming Tim's first no. 1 country single on many charts.
In 1995, Tim released his third album titled "All I Want". The lead single from the album "I Like It, I Love It" became number one on many country music charts that year.
The singer's fourth album, 1997's "Everywhere" was released in 1997. The album spawned six singles. Four of those singles – "It's Your Love" (a duet with Faith Hill), the title track, "Where the Green Grass Grows", and "Just to See You Smile".
His fifth album, A Place in the Sun was released in 1999. 
In 2000, he came up with his first greatest hit compilation, and his single "Let's Make Love" brought him the first Grammy of his musical career. 
In 2001 he kick-started the new millennium with his successful album "Set This Circus Down".
His seventh album "Tim McGraw and the Dancehall Doctors" was released in 2002. 
He gained further success releasing the albums "Like You Were Dying" and "Let It Go".
His twelfth studio album, "Southern Voice", was released on October 20, 2009. 
On November 30, 2010, Curb Records released his fourth greatest hits compilation, Number One Hits.
After that, his next album "Emotional Traffic" was released in 2012. 
He followed it up in 2013 with another album titled "Two Lanes to Freedom" and in 2014, he released another album titled "Sundown Heaven Town".
He released a single titled "Lookin' for That Girl" in January 2014. 
His eighth greatest hits album, "Love Story", is a compilation of his twelve biggest love songs and two previously unreleased recordings. It was released exclusively through Walmart on February 4, 2014, by Curb Records.
In 2015, he released a new single from his latest album "Damn Country Music" titled "Top of the World".
In 2017, Tim entered into collaboration with his wife Faith Hill to bring out the album "The Rest of Our Life".
He released two major best-selling books in 2019 – "Songs of America" & "Grit and Grace". 
He released a new album, Here on Earth, on August 21, 2020. 
In January 2021, he released the single "Undivided" with Tyler Hubbard of Florida Georgia Line. 
Acting Career
His first acting appearance on TV came in a 1997 episode of The Jeff Foxworthy Show. 
He played a sheriff in "Black Cloud" in 2004. 
His first lead role was in the 2006 film "Flicka".
He also had a small part in the Michael Mann–produced 2007 film "The Kingdom". 
On November 22, 2008, McGraw made his first appearance on "Saturday Night Live".
He appeared in the 2009 film "The Blind Side".
In 2015, he appeared in Brad Bird's Tomorrowland as Eddie Newton, a NASA engineer, and Casey Newton's (played by Britt Robertson) father.
"1883", a spinoff prequel to Taylor Sheridan's Yellowstone television series was released in late 2021. 
Awards and Achievements
Tim McGraw has won three Grammy Awards, 14 Academy of Country Music Awards, 11 Country Music Association Awards, 10 American Music Awards, and three People's Choice Awards. It includes:
Won Grammy Awards for his work in "Let's Make Love" (with Faith Hill) in 2000
Won Grammy Awards for his work in "Live Like You Were Dying" in 2004
Won Grammy Awards for his work in "Like We Never Loved At All" (with Faith Hill) in 2005
Won Billboard Awards in 1994 under Top New Country Artist
Won CMT Music Awards in 2016
Won People's Choice Awards in 2014, 2004, 2005, and 2006
Won American Music Awards in 2005
How much is Tim McGraw's Net Worth?
Tim McGraw is a Louisiana-born singer and actor, who has a net worth of $200 million dollars as of 2022. He made this fortune from his music career which is his main source of wealth. During his career to date, Tim McGraw has sold more than 80 million records worldwide. He is making his salary in millions of dollars as of today. He has appeared in TV commercials for Music streaming app, Spotify, Bud Light Beer, and Pennzoil.
Tim McGraw Real Estate and Lifestyle
In 2019, Tim and Faith listed the 600+ acres for $20 million, eventually reducing the price to $18 million and then removing it from the market. The property features horse stables, ponds multiple caretaker homes, and guest houses plus many other impressive luxuries. They own at least two other homes in the Nashville area. In the Bahamas, they have owned a 20-acre private island called L'ile d'Agnes since 2003. The main home on the island is actually made up of 8 pavilions that needed significant renovation, so they did not actually visit for a vacation until 2012. He is living a lavish lifestyle at present. 
Who is Tim McGraw's Wife?
Tim McGraw is a married man. He tied the knot to his beautiful wife, Faith Hill on 6th October 1996. They fell for each other while on the Spontaneous Combustion tour in 1996. About two months of their marriage, she announced that she was pregnant with their first child. In 1997, she gave birth to a daughter Gracie Katherine. In 1998, they welcomed their second daughter, Maggie Elizabeth. In 2001, Hill gave birth to their third daughter, Audrey Caroline. The couple is enjoying their present life a lot.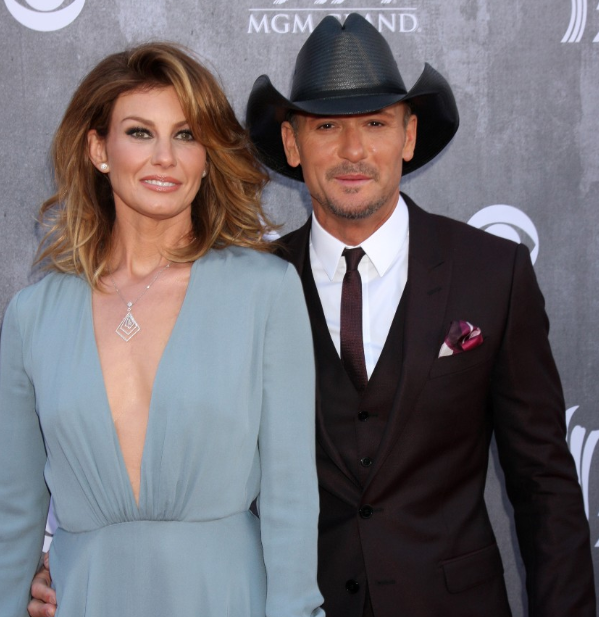 Previously, Tim dated Kristine Donahue from 1993 until 1996.
Who is Faith Hill?
Faith Hill is an American singer, record producer, and actress who is regarded as one of the most successful country music artists of all time and has released a number of successful albums and tracks like Take Me as I Am, Breathe, Faith, It Matters to Me, Joy to the World, Cry, There You'll Be, This Kiss, Love Ain't Like That, If My Heart Had Wings and Fireflies.
Everything To Know About Faith Hill
Tim McGraw Height and Weight
Tim McGraw stands at the height of 6 feet (183 cm) and his body weight is 180 lbs (81.6 kg). He wears a shoe size of 11. He has brown hair color and brown eye color. He loves wearing a cowboy hat. Tim has battled alcoholism in the past. He credits his wife Faith Hill to help him get sober.