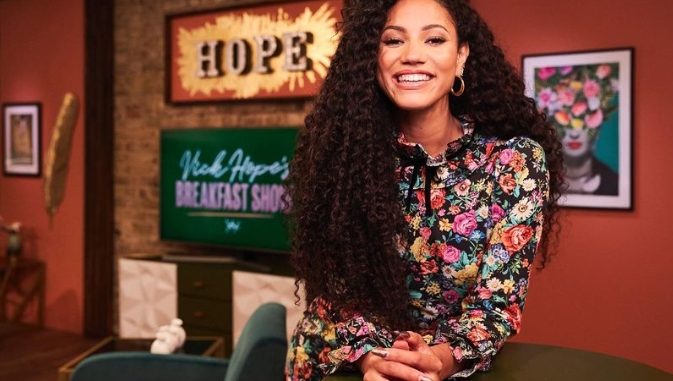 Vick Hope is a well-known British TV and radio presenter, journalist, and published author. She currently hosts three shows a week on BBC Radio 1, "Going Home with Vick and Jordan", "Life Hacks" and "Official Chart: First Look". She currently hosts the 2022 Women's Prize For Fiction podcast series after she was on the 2021 judging panel. As of May 2022, she is reportedly engaged to DJ Calvin Harris.
Hope has hosted various shows, including Capital Breakfast show on Capital FM, Crufts on Channel 4, and The X Factor's backstage presenter for ITV in 2019. Besides her work in media, she is a human rights activist and an Amnesty International ambassador, working with the organization since she was 16. In 2017, she won the Broadcasting Powerhouse Award at the Marie Claire Future Shapers Awards. Vick is a multifaceted personality who has been able to build an impressive career in various fields, demonstrating her versatility, intelligence, and dedication.
Who are Vick Hope's parents?
Vick Hope was born in Newcastle Upon Tyne, England, United Kingdom on September 25, 1989, and her birth name is Victoria Nwayawu Nwosu-Hope. She is the daughter of her father, Nigel Hope, and her mother, Adeline Nwosu. Her parents were supportive of her from a young age, and she grew up with her three younger brothers, Louis, Theo, and Gabriel. Her mother is Nigerian, while her father is English, making her a multiracial (black and white) ethnical background race. As of 2022, she is 33 years old and holds British nationality. 
Vick attended Emmanuel College, Cambridge, where she studied modern languages and became proficient in French, Spanish, and Portuguese. She taught herself Spanish and even took night classes in extra A-Level subjects to secure her place at Cambridge. Vick's career began during her university "year abroad" in Buenos Aires, Argentina, where she became the youngest journalist employed by the independent English-language ex-pat newspaper, The Argentina Independent, at the age of 19. She was then discovered by MTV and began presenting shows for them, which launched her career in the British television mainstream as a reporter and presenter. 
How was the Career of Vick Hope?
Radio Career
Vick Hope, from 2017 to 2020, co-hosted the "Capital Breakfast" show in London with Roman Kemp and Sonny Jay.
Before this, she hosted the weekend breakfast show on the sister station "Capital Xtra". During her time on the Capital Breakfast show, she became known for her bubbly personality and quick wit, which endeared her to listeners and helped to make the show one of the most popular breakfast shows in London.
In 2019, she joined Classic FM as a presenter for Classic FM's "Revision Hour", where she presented alongside Ellie Goulding, Lewis Capaldi, and Dan Smith. 
In August 2020, she replaced Cel Spellman to co-host "Life Hacks" and "Official Chart: First Look" on BBC Radio 1. 
She also co-hosted BBC Radio 1's drivetime show "Going Home with Vick and Jordan" beginning in September 2021. 
Television
Vick Hope has been involved in several TV shows and specials over the years. In 2020, Hope began hosting two new shows on ITV Hub, entitled "HOW" and "I'm a Celebrity…The Daily Drop". 
She also co-hosted the BRIT Awards 2019 International Live Stream on YouTube with Todrick Hall. 
Additionally, Hope has presented Channel 4's Crufts alongside Clare Balding, and was the backstage presenter for ITV's "The X Factor: Celebrity" and "The X Factor: The Band" live final, after hosting The X Factor's spinoff show "Xtra Bites".
In 2022, she hosted her own television show, "Vick Hope's Breakfast Show," aired every Sunday morning on ITV throughout the summer. 
She has presented several programs for different channels, including ITV, Channel 4, and Sky One. She has been an entertainment reporter for ITV's "Lorraine" and produced and presented showbiz news for FYI Daily. 
She has also worked for Channel 4's 4Music since 2014, presenting several interview shows, including "Box Fresh" and "HotBox". 
In addition, she has worked for MTV, Disney Channel UK, Capital Xtra, and Vevo. 
In 2018, she joined "The Voice UK" as a backstage reporter and presented Sky One's Carnage alongside Freddie Flintoff and Lethal Bizzle. 
She has also presented sports coverage for Yahoo Sports Presents Tailgate, Channel 4's World Chase Tag Parkour Championships, and The London Nocturne cycling event for Channel 4, Sky Sports, and Eurosport.
She produced and presented her first TV documentary, "The Slenderman Killings", for Channel 5, investigating the rise of online horror. 
She also presented "That's Not Me", exploring the use of retouching in fashion photography, which won the BBC Award for Factual Entertainment at the Visions Film Festival. 
In 2018, she participated in "Strictly Come Dancing" and was paired with professional dancer Graziano Di Prima. Despite being eliminated early on, Hope made headlines for controversially criticizing her Cha Cha dance exit and blaming judges and production crew for saving comedian Seann Walsh in the dance-off.
Her continues to expand, and in February 2022, she began co-presenting BBC's "Britain's Best Young Artist" with Kaiser Chiefs frontman Ricky Wilson. 
She also hosted her own television show, "Vick Hope's Breakfast Show", which aired on ITV every Sunday morning throughout June and July 2022.
In December 2022, Channel 4 announced that she would join Countdown's Dictionary Corner, which she renamed "Vicktionary Corner" for the week.
Writing
In 2020, Hope released her debut children's novel, "Listen Up: Rule the Airwaves, Rule the School". 
She is set to publish the sequel later this year. 
Likewise, Hope has also written for various publications including Marie Claire, Shout magazine, and New Teach.
Awards and Achievements
Vick Hope has won multiple awards throughout her career. She received a TRIC Award for Best Radio Show for Capital Breakfast in both 2019 and 2020, as well as a TRIC Award for Best Entertainment Show for Strictly Come Dancing in 2019. 
In 2019, Hope was named "Woman Who Changed The Game" by Nike x Football Beyond Borders. She has also been nominated for several other awards, including the BAFTA TV Awards, NRTA's Favourite TV Personality, an Urban Music Award, and a Royal Television Society Award. She won the BBC Award for Factual Entertainment for her documentary That's Not Me.
Hope has been recognized for her achievements outside of entertainment as well. In 2017, she won the Broadcasting Powerhouse Award at the Marie Claire Future Shapers Awards. Her accomplishments as a woman in sports were recognized when she was named "Woman Who Changed The Game" by Nike x Football Beyond Borders in 2019. 
Overall, Hope's work has been highly regarded, and her numerous nominations and awards are a testament to her talent and hard work. 
Who is Vick Hope's boyfriend?
Vick Hope is currently in a relationship with DJ and music producer, Calvin Harris, whom she started dating in 2021. In March 2022, it was reported that the couple had become engaged. Calvin proposed to her on his farm in Ibiza with a diamond engagement ring. She shared a photo of a tree at Calvin's 138-acre farm, Terra Masia and Calvin had previously posted the same tree where he proposed to her. They have been spotted together at various events and seem to be enjoying their relationship.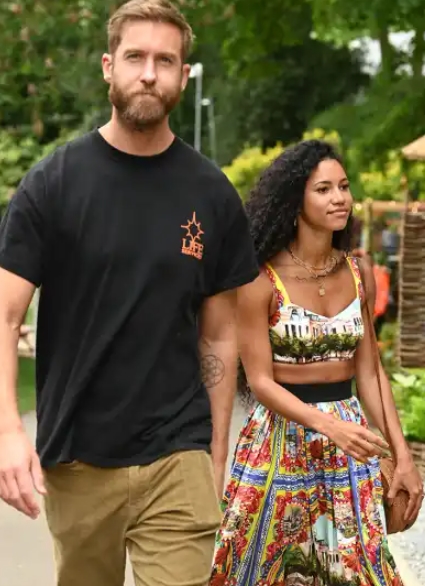 Before dating Calvin Harris, Vick Hope was in a long-term relationship with British actor Tom Rosenthal, which lasted from 2013 to 2017. After their breakup, she was linked to Welsh reality television personality Jordan Davies. There have also been rumors that she had a past relationship with musical artist Myles Stephenson, although this has not been confirmed. Vick Hope identifies as straight in terms of her sexual orientation. 
How much is Vick Hope's net worth?
Vick Hope is a prominent figure in the British entertainment industry, having made a name for herself as a TV and radio presenter. Her primary source of wealth comes from her work in the entertainment industry, where she has been able to command a high salary due to her popularity and talent. Vick has worked for a variety of media outlets, including the BBC, ITV2, and the BoxPlus network, where she has served in various roles. She is known for her dynamic personality and her ability to connect with audiences of all ages, which has helped her become a household name in the UK.
With an estimated net worth of $2 million as of 2023, she has established herself as one of the most successful media personalities in the UK. With a lavish lifestyle that includes luxury cars, designer clothing, and exotic vacations, Vick is living proof that hard work and determination can pay off in the entertainment industry. She is enjoying her present life a lot. 
How tall is Vick Hope?
Vick Hope is known for her stunning looks and slim body type. She has black hair with a curly texture that compliments her dark brown eyes. Her beauty regime seems to be working, as she looks radiant and healthy. Additionally, she likes to dance and participated in the show Strictly Come Dancing, showcasing her dancing skills and passion for physical activity.
With a height of 5 ft 7 in or 170 cm, Vick has a lean physique, and her body weight is around 55 kg or 121 lbs. Aside from her work in the entertainment industry, Vick is passionate about staying fit and healthy. She is an avid cyclist and a sports fan, regularly sharing her love for different sports on her social media accounts. Her interest in sports is evident from the fact that she has presented various sports programs, including cycling coverage for Channel 4, Sky Sports, and Eurosport. She has got a healthy body with an attractive personality.