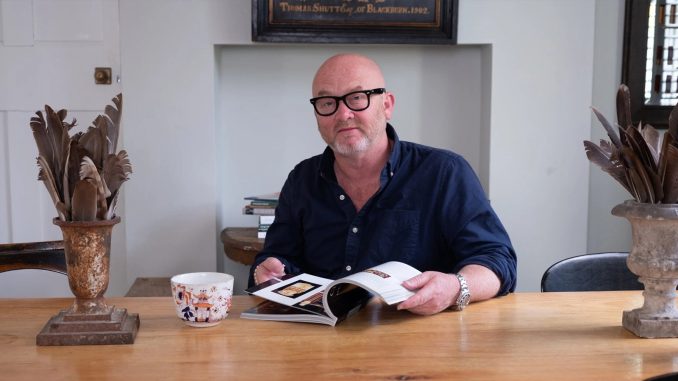 Drew is a Welsh television personality, architect, antique dealer and author, probably most popular for hosting Quest TV's "Salvage Hunters" for more than a decade, and for his renowned antique stores. Most recently, he has appeared in other TV shows such as "Salvage Hunters: Classic Cars", "Salvage Hunters: Best Buys" and "Three Men Four Wheels". The antique dealer has been a household name for years, achieving millions of views of his TV shows. Most recently, he has faced some challenges, which we'll be diving into today, so stay tuned to find out more about what happened to "Salvage Hunters" star Drew Pritchard, his backstory, career and what he's up to now.
Who is Drew Pritchard?
His early life, family and educational background
Andrew Thomas Pritchard was born sometime in 1970 in Conwy, Clwyd, Wales into a working class Welsh family. Not much is known about the identity of his parents, or siblings— if there are any— or his educational background. As a young child, he spent a lot of time around his father, who was a car and motorcycle enthusiast and would repair and restore them as a hobby.
From when he was just eight years old, Drew would scour the neighborhood for things people threw away, salvaging almost anything he found, especially car badges, push bikes and scraps. He filled boxes and boxes with his finds and hid them in his bedroom. One of his salvaging highlights from his early years was finding pieces for his dad's vintage cars in scrap yards. Interestingly, his parents are still uncovering those boxes from his childhood!
This doesn't happen often my brother @guyopritchard and my son #TomHP working alongside me and @BartyGavin in the Showroom today #family #Pritchard #conwy #antiquedealersofinstagram pic.twitter.com/WQEPMZDDCM

— Drew Pritchard (@DrewPritchard) July 26, 2019
He and his father would tour the farmyards in North Wales searching for motorbike parts, as well as entire summers spent on the beach, salvaging boat parts and other paraphernalia. He would then sell his finds on the side of the road, in awe of his new treasure hunting hobby. Eventually, his passion for treasure hunting lead him to starting his own vintage car collection at the age of 15.
At 16, he started an apprenticeship under Ysgol Dyffryn Conwy, where he became a trained stained glass restorer. He worked and travelled across the country for several years, visiting castles, cathedrals and historic buildings in Wales, and eventually began his architectural antique dealership when he was 23 years old, naming it "Drew Pritchard Antiques". Unbeknownst to him, his childhood interest would eventually turn into a lifelong career.
Careers
Television host
Drew became a household name when he was approached by producers from Quest TV, who wanted to film him and his successful business. The show, "Salvage Hunters" premiered in 2011 on Quest TV in the UK, and follows Drew, a Welsh antiques dealer and his crew as they scour valuable items in a number of locations including other antique shops, scrapyards, the beach and unusual places. His team includes gilders, wood carvers, renovators and upholsterers, who search for unique items such as architectural remains, antique furniture, car parts and more. They then restore the pieces and attempt to sell it for a profit.
It became quite popular among antique lovers and salvaging enthusiasts. Viewers get to see the team in action, travelling across the UK, finding treasures, and their restoration process. The show has since become the channel's most popular, reaching an impressive viewership of 11.2 million people in the UK alone! It's currently broadcast in more than 30 countries and has since had 17 seasons and more than 215 episodes. Each episode features a specific theme— some of the most popular including "The French Adventure", "The Salvage Safari" and "The Italian Job". In 2018, he began hosting the spin-offs "Salvage Hunters: The Restorers" as well as "Salvage Hunters: Classic Cars". He then hosted "Salvage Hunters: Best Buys", in which he went over previous buys and the profits he made from them. His most recent credit is in 2021, when he began hosting "Three Men Four Wheels".
Entrepreneur
Even before his success on television, Drew was the owner of buildings in Glan, Conwy for more than 25 years. His store, which was close to Snowdonia National Park, had a diverse clientèle— from celebrities such as Ringo Starr's son, Zac Starkey and Hollywood actor Jim Carrey to luxury stores Monaco and Ralph Lauren, to restaurants such as Jamie Oliver, Soho House and Marco Pierre White, to royals. His products have been named '… original, masculine and beautifully-made' by customers around the world.
Besides being the set for his TV show, his store became one of the must-see sights in Conwy, attracting tourists and treasure hunting enthusiasts.
Some interesting and unknown facts
When asked on his favorite pieces to sell, he said, '… I absolutely love 19th century industrial design furniture and early Georgian painted furniture and most things from the aesthetic movement'. He sells the pieces he loves, that reflect his taste.
In an interview, Drew revealed that the team he has to date has been pretty much the same since day one. His newest member has been there for a year, and his oldest for thirteen years. It seems that he's a great boss!
In the newest series, he recalls his highlights to be filming in Northern Ireland and Germany. '… We bought fantastic amounts of great pieces with some mega finds amongst them! A highlight for me was standing in the roof of a fairy-tale, Bavarian Castle in Germany buying bronze swan lights from a Count and a Baron'.
One thing that Drew has never found but wishes to is any piece of antique furniture by designer Charles Rennie Mackintosh.
He once salvaged a life-size Elvis figure, which he then donated to a hospice to raise essential funds for them.
Drew's current home used to be a regency Chapel, before he began converting it over the last 19 years. Located in North Wales, his home is a showcase of all his biggest and best finds over the years.
What happened to him?
Closing his store
Drew closed his antiques store in Conwy just years after he opened it in 2017 – the store was located on High Street, and was one of the main attractions in town. It experienced mass success over the years, as tourists from all over the world came to his famous emporium; it even cemented Conwy's place as a favorite destination for tourists and antique lovers alike. Owing to the huge success, Drew acquired permission to expand his store to accommodate more people and inventory in 2019.
For unknown reasons, he announced that he would be closing down the store in search of 'new pastures'; a restaurant group took over shortly afterwards. He said, 'Our Conwy showroom has now closed whilst we move to new pastures, so please don't travel to visit us. We continue to trade online as we have always done with new stock listed every week'. Fortunately, it seems business is still booming for the TV personality.
In light of the escalating Corona virus outbreak in the UK, we have decided to keep the showroom closed beyond the 25th…

Posted by Drew Pritchard Architectural Antiques on Monday, March 16, 2020
His marriage and subsequent divorce
Drew first met Rebecca Jane when she came to his store as a customer. At the time, she was a fashion and retail consultant who worked for clients in the UK and abroad. She had two decades of experience in the field, and had a good eye for aesthetic pieces. Their shared love for antiques brought the pair closer, and in no time they began dating, and tied the knot soon afterwards. Although the exact date of their marriage is unknown, apparently sometime in the early 2000's.
The pair began working together at the store, and then on television – Drew would find the antiques while Rebecca would analyze and price the items; the pair worked wonders together. Unfortunately, the pair began to drift apart, resulting in Rebecca's exit from the show in 2016, and a year later they finalized their divorce and parted ways. The pair have managed to remain amicable despite their split, and share custody of their son and the business.
Pub brawls
The famous antiques dealer is apparently no stranger to controversy. In October 2017, Janus Thomas— an owner of a crane firm— was fined £1,440 in an assault case against Drew, which took place at the Liverpool Arms Conwy pub in the evening of 24th February. During the court proceedings, Llandudno Magistrates' Court heard arguments from both sides in an attempt to get the facts. Michael Gray, the defence solicitor explained how Thomas had been provoked by Drew, who had been having an affair with Mrs Amanda Thomas. Two years after she broke off the affair, Drew continued to contact her with threats to publicize their affair, and soon after, she was threatened by Drew's partner as well, blaming her for ruining their relationship. Overwhelmed, Amanda confessed to her husband, but the pair decided to remain together. On the other hand, Drew continued threatening Amanda—evidence of his texts were presented to the magistrates, leading to his assault by her husband. Both men were then given a temporary ban from the pub, as well as a fine for Mr. Thomas.
A year later, Drew got into another brawl, this time earning him a permanent ban from the same pub. Although this latest brawl didn't involve Mr Thomas, it did earn Drew a spot on the pub watch banned list of every pub in his hometown of Conwy. According to The Mirror, a landlord confirmed Drew's presence on the banned list but didn't wish to comment further nor be identified. The fight took place on the 14th of February (the day Wales went against Ireland in the Rugby Six Nations) and could be a cause. North Wales Police revealed that investigations into the attack were underway, and neither Drew nor his assailant had been seriously injured. Journalists at the Daily Post contacted the 52-year-old antiques dealer with some questions about the fight, but were met with silence.
Where can you find him?
Drew can be found on the show "Salvage Hunters," on Quest TV in the UK. It has also been aired in other countries, including the US, Australia, and New Zealand. Additionally, he can be seen in several spin-off shows, including "Salvage Hunters: The Restorers" and "Salvage Hunters Classic Cars.". He has his own website, on which he shares his expertise and conducts his online business. He has a strong social media presence, with a huge following on Instagram, Twitter and Facebook.
His salary and net worth
As for Drew Pritchard's net worth and salary, the information available online isn't reliable, and it's difficult to confirm the exact figures. Drew has kept his personal life private, and there are no official reports on his income or net worth. Regarding his income sources, Drew earns money from his business, "Drew Pritchard Antiques," through which he sells architectural antiques and decorative items. Additionally, he earns from his TV appearances and various events, including antiques fairs, talks, and auctions. As of 2023, authoritative sources estimate Drew's net worth to be an impressive $9 million.
Summary
Drew Pritchard is well-known as one of the UK's top antiques dealers. He built his career out of his childhood passion for salvaging items from scrapyards and beaches and turned it into successful international empire. For over a decade, Drew and his team have restored countless items including doors, furniture, garden ornaments, lighting, car parts and paintings, to name a few. One of his best discoveries include a set of 19th century stained glass windows— an extremely rare set by William Morris— which he found in the cellar of a deceased demolition contractor. After painstakingly restoring the 14-piece set, he sold it for over £100,000. Despite recent issues, Drew is still making waves in the antique restoration field and apparently has no plans to stop anytime soon.
Conclusion
Drew Pritchard is one man who took the saying 'One man's trash is another man's treasure' literally. Cited as a 'Modern-day treasure hunter', Drew Pritchard, continues to maintain his role as one of Britain's leading architectural salvage dealers. His story is one of passion, dedication and determination to succeed, inspiring many. It is impressive how he turned his childhood passion into a full-time, hugely successful career— a feat only few people manage to accomplish. We wish him all the best in his future endeavors, as he gears up to film new seasons of his TV shows.