Who is Amy Sedaris?
American actress, comedienne and author Amy Louise Sedaris was born in Endicott, New York State USA, on 29 March 1961, making Aries her zodiac sign. She's appeared in over 120 TV series and movies, ut is perhaps still known best for playing Deb in the hit 2003 adventure family comedy movie "Elf", which Jon Favreau directed, and which starred Bob Newhart, James Caan and Will Ferrell. It follows oversized elf Buddy as he's travelling from the North Pole to New York City to see his biological father; the movie won two of its nine award nominations.
Amy's still today highly active in the film industry, and is currently working on two upcoming projects: the series "Bedrock" and the movie "Ghosted".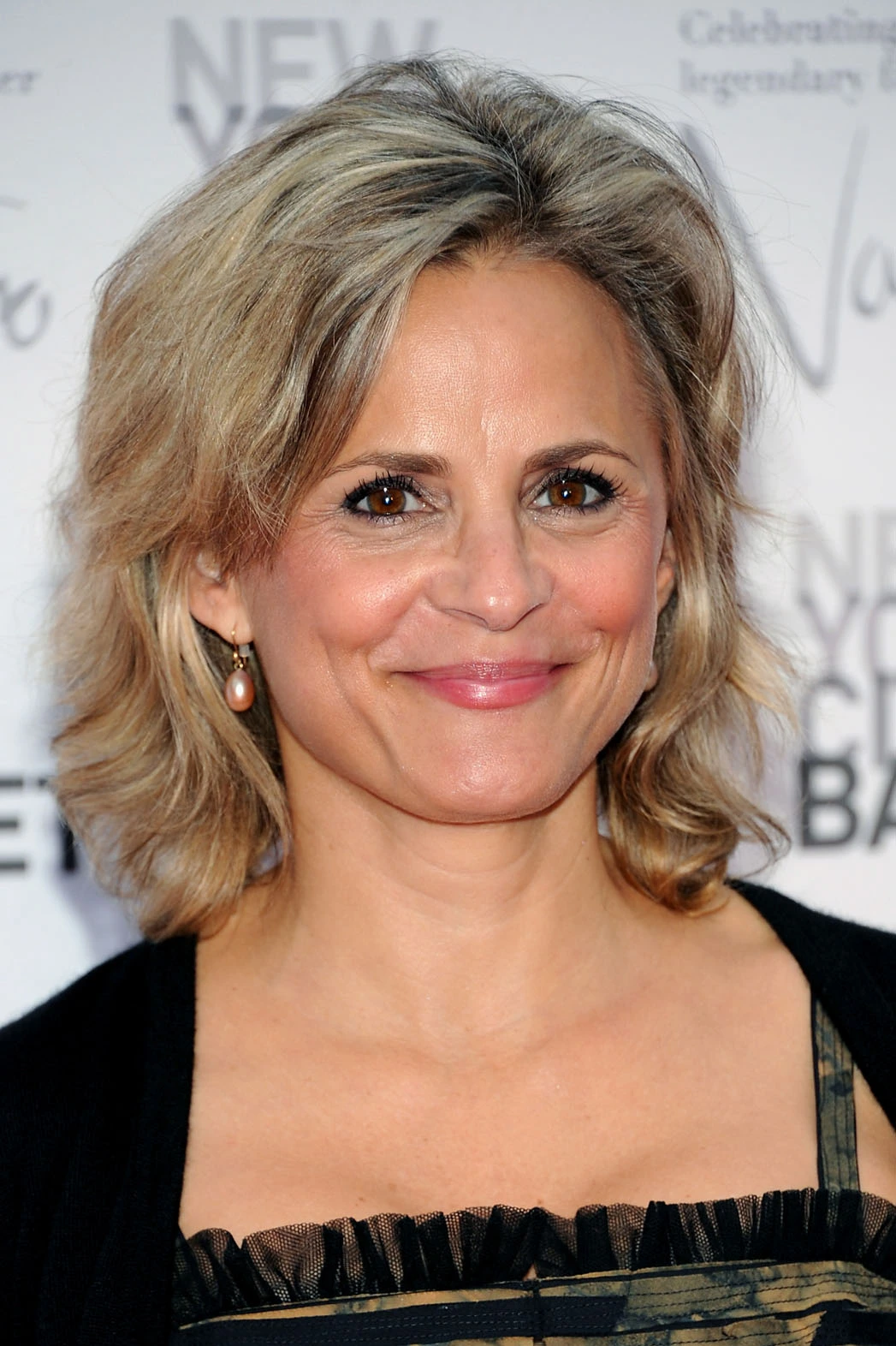 Education and early life
Amy was raised in Endicott alongside her five siblings Paul, Tiffany, Gretchen, David and Lisa, by their father Louis Harry 'Lou' Sedaris, and mother Sharon Elizabeth (nee Leonard); Amy's of Greek descent from her father's side and Anglo-American through her mother – she was raised Greek Orthodox Christian.
She studied at Jesse O. Sanderson High School, and it was during her time there that she became interested in comedy and acting, however, Amy wouldn't pursue a career in the film industry until over 10 years later. She was also into sports while at Jesse O. Sanderson, playing soccer for the school team.
Amy matriculated in 1979 and then didn't enroll at college, but rather spent the following 12 years working various jobs to financially support herself, including being a cashier at the Winn-Dixie supermarket, and a waitress at Zanies Comedy Club in Chicago, Illinois.
Roles in movies
Amy's debut film role was playing Topaz Radulavitch in the 1991 comedy "Big Deals", while some of her following roles were in the 1997 romantic comedy "Commandments", the action adventure comedy "Six Days Seven Nights" and short comedy "Wheels of Fury" both in 1998
In 2001, she portrayed Other Student in Class in the popular romantic comedy "Jump Tomorrow", written and directed by Joel Hopkins, and which starred Tunde Adebimpe, Hippolyte Girardot and Raul A. Reyes. It follows a Nigerian man who's about to marry a woman chosen for him by his parents, while he's now fallen in love with a Latina woman who's also about to marry; the movie won four of its 10 award nominations. Amy could then have been seen appearing in the 2004 comedy "My Baby's Daddy", and in 2005 the comedy "Strangers with Candy" and the romantic musical comedy "Romance & Cigarettes".
The year 2009 saw her play Toni Lesnicki in the horror comedy "Jennifer's Body", directed by Karyn Kusama, and which starred Megan Fox, Amanda Seyfried and Adam Brody. It follows a high school cheerleader who's turned into a succubus, and has begun killing her classmates; the series won three of its seven award nominations.
Amy voiced Jill in the critically acclaimed 2011 animated adventure comedy "Puss in Boots", and was then cast to appear in the sports comedy "Ping Pong Summer", the comedy "Hits" and the adventure comedy "Chef", all released in 2014.
She voiced Guinea Fowl in the 2019 animated adventure "The Lion King", which Jon Favreau directed, and which starred Donald Glover, Beyonce and Seth Rogen. The movie follows a young lion who's run away from his kingdom following his father's murder – the movie won 21 of its 66 award nominations, including an Oscar nomination for Best Achievement in Visual Effects.
Amy's three most recent film roles have been in the comedy "Theatre Camp", the crime drama "Harley Quinn & The Joker: Sound Mind" and the romantic comedy "Somebody I Used to Know", all released in 2023.
Roles in TV series
Amy's debut TV series role was playing various characters in 12 episodes of the 1995 comedy "Exit 57", and in 1999 and 2000, she stared as Jerri Blank in all the 31 episodes of the comedy "Strangers with Candy", created by Stephen Colbert and Paul Dinello, who also starred in the series; it follows a 46 years old former drug addict who's just enrolled at high school.
The first half of the 2000s saw Amy appear in an episode or two of the comedy "Just Shoot Me!", the romantic comedy "Sex and the City" and the drama "Fling", and in 2007, she played Beth in the hit comedy "Rescue Me", which Denis Leary created, as well as starred in, alongside Steven Pasquale and Michael Lombardi. The series follows the life of firefighter Tommy Gavin, it aired from 2004 through 2011, and won nine of its 37 award nominations.
In 2011, Amy voiced a character in an episode of both the animated family comedy "SpongeBob SquarePants" and the animated comedy "Bob's Burgers", and in 2013 and 2014, she starred as Louise Laffer in the comedy "Alpha House", created by Garry Trudeau, and which also starred John Goodman and Clark Johnson. It follows the lives of four Republican senators, and the series won one of its six award nominations.
Amy Sedaris and Baby Yoda.

Name a more iconic duo.

You literally can't. pic.twitter.com/lHsOJodwsV

— Mike T (@rhymeswithbeg) December 6, 2019
Some of Amy's most recent roles in TV series have been in four episodes of the animated comedy "American Dad!" 2009 to 2012 (voice role), four episodes of the action adventure fantasy "The Mandalorian" since 2019 and the 2022 episode "Tech" of the comedy "ZIWE",.
Other credits
Amy wrote all 12 episodes of the 1995 comedy series "Exit 57", and all the 31 episodes of the 2000 comedy series "Strangers with Candy", while she also wrote and produced the comedy series "At Home with Amy Sedaris", which aired from 2017 through 2020.
Some of her most recent talk-show appearances have been in "Watch What Happens Live with Andy Cohen", "Jimmy Kimmel Live!" and "60 Minutes".
Awards and nominations
Amy's been nominated for 15 awards, including two Primetime Emmys for Outstanding Variety Sketch Series in 2018 and 2019, both for "At Home with Amy Sedaris".
She was also nominated for a 2016 Gold Derby Award for Comedy Guest Actress, for her performance in "Unbreakable Kimmy Schmidt", two Writers Guild of America Awards for Comedy/Variety Sketch Series in 2019 and 2020, both for "At Home with Amy Sedaris" and a 2021 Critics Choice Super Award for Best Voice Actress in an Animated Series, for "BoJack Horseman",
Love life and boyfriend
Amy avoids speaking about her love life in public, but has shared with her fans that she's never wished to marry or have children, and has maintained that.
There's only a single man whom Amy's been with, that her fans know about: in 1999, she met American comedian, actor and screenwriter Paul E. Dinello while shooting together for the series "Strangers with Candy"; Paul's appeared in 14 TV series and movies, and has won 16 of his 53 award nominations. He and Amy were together for eight years, breaking up in 2007 for unknown reasons, however, they've remained close friends to this day, and Amy's godmother to Paul's two children.
Amy seems to be unattached as of April 2023, hasn't married and doesn't have children.
Interesting facts and hobbies
Amy's a supporter of the organization People for the Ethical Treatment of Animals (PETA), and took part in their anti-fur campaign.
She was featured in Dolly Parton's 2007 music video "Better Get to Livin'".
Amy's today running her own company Dusty Food Cupcakes, which she runs from her own kitchen.
She's a star on Instagram, as more than a million people are following her on the social media network today, while she's posted nearly 9,000 pictures and videos; most of Amy's content has been taken by her, as she's a passionate amateur photographer.
She and her older brother David Sedaris wrote together the play "The Book of Liz".
Amy published her guide to entertaining – "I Like You: Hospitality Under Influence" – in 2006.
Her favorite actress is Meryl Streep, while some of Amy's favorite movies include "Adaption", "Before and After" and "The Manchurian Candidate".
Height, eyes and wealth
Amy's age is 62. Her hair and eyes are brown, she's 5ft 1ins (1.56m) tall and weighs around 105lbs (48kgs).
Amy's net worth's been estimated at over $6 million, as of April 2023.