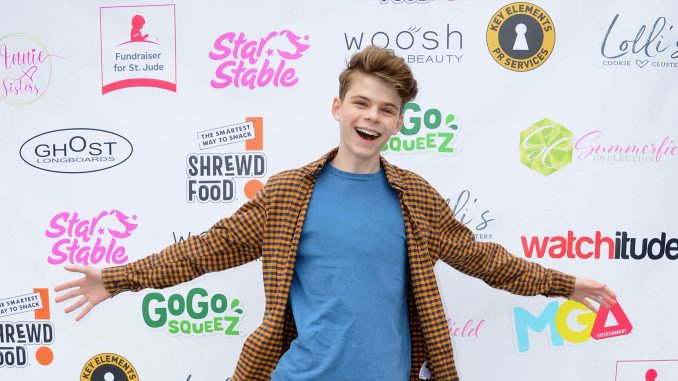 In 2017, when he was 12 years old, Merrick Hanna from Encinitas, California, dazzled millions with his spectacular performances in the hit talent competition show "America's Got Talent," often called just "AGT". His talent and passion for freestyle dancing, the flo-bot dance technique in particular, enabled him to become an effective storyteller as he moved the hearts of his audience. After his participation in the reality television series, many wondered what became of him.
One of the coolest pictures from this season 😀 Bello Nock Bello really is awesome! #AGT #AMERICASGOTTALENT America's Got Talent Bello Nock

Posted by Merrick Hanna on Saturday, September 2, 2017
Get to know Merrick Hanna as a young child
Merrick William Hanna was born on 22 March 2005, to parents Shawn and Aletha Hanna. As a little boy he was quite shy and didn't speak until he turned three. His mom said that not only was he not talking, but he also wasn't making eye contact. Seeing her boy not having any friends on the playground was heartbreaking for her. Merrick shared that things changed when he got his first little toy robots, and thought they were the coolest things ever. He imagined that they were all alive with minds of their own – they became his best friends. Aletha observed that as Merrick and the robots 'talked back and forth,' it somehow brought her son out of his shell, and soon after that, he began talking with other kids at school. Merrick claimed to have become robot-obsessed as he mimicked the way they talked, and eventually started dancing like one as well.
People who inspired and influenced Merrick to dance
He wasn't exactly sure when he began dancing, because he was just goofing around at first before taking it seriously; his best guess would be at eight years old. Upon seeing the hip-hop dance crew JabbaWockeeZ who wore masks and gloves and performed in "America's Best Dance Crew," he started copying the way they danced. When it came to popping animation dance moves, he looked up to a lot of people, including Marquese Scott, Poppin John, Boogie Frantick, and Fik-Shun. Aside from animation and popping, he didn't do other styles of dancing, because he tried them but he simply wasn't good at them.
For Merrick, practice makes perfect. He uploaded a video onto his YouTube channel of how much progress he'd made in two years from when he was nine years old to 11, which equated to 700 hours of practice. He said that there was really no trick to getting good at it, except to just dance a lot. He credited his 80-year-old grandmother for influencing him in a big way in this regard – apparently, she took four dance classes a week.
Merrick before "America's Got Talent" fame
Being shy and all, he said that he didn't like watching himself on TV. He knew it sounded weird because he was on TV or social media platforms a lot, but it really made him self-conscious. He liked making people happy, and this explained why he loved to perform all the time. With his participation in various dance competitions such as "Lip Sync Battle Shorties", and on a hip-hop dance theatrical in Culture Shock's "Nutcracker," he slowly made a name for himself in the genre.
Competed in "So You Think You Can Dance" ("SYTYCD")
Someone shared a video of Merrick dancing on YouTube, and it caught the attention of the people from "SYTYCD," a dance competition show on the Fox network. He passed the audition for the 13th season, premiered on 30 May 2016. Unlike the previous seasons, it put the focus on young competitors between the ages of eight to 13, so it was called "The Next Generation." The panel of judges was Jason Derulo, Paula Abdul, and the show's co-creator Nigel Lythgoe, and they all gave Merrick a standing ovation. He started slowly, and for a moment, the judges thought he was no good, then shocked everyone when he suddenly began hitting hard and impressed them with the fluidity of his robotic movements. He was given a ticket to the Dance Academy, but didn't make it to the Top 10 finalists.
Guest appearance on "The Ellen DeGeneres Show"
Merrick shared that being on the show was better than he thought it would be. He was initially stressed out because he was worried about having to answer questions that the host would ask. He talked about participating in dance battles, and that his favorite part was how his rivals, mostly grown-ups, must have thought that they could easily beat a young kid and would be surprised at how good Merrick was. The experience of being in the show was actually so much fun for him, with Ellen being hilarious as usual. He said that she was constantly making him laugh, and gave him a whole bunch of toy robots as a present; Merrick was only 10 at that time.
Merrick's journey in "America's Got Talent"
NBC's "America's Got Talent," is a competition show created by Simon Cowell, to give opportunities to amateur or unknown performers of all ages to take center stage and showcase their talents. Season 12, of which Merrick Hanna was a part, premiered on 30 May 2017, and the judges were the creator of the show, Simon Cowell; Canadian TV personality Howie Mandel; English singer-songwriter Mel B from the defunct girl group Spice Girls from the '90s; and American and German model, Heidi Klum. Here's how it went:
He auditioned three times
Many of his fans were surprised to learn that he auditioned to be on "AGT" three times, and this wasn't because he wanted badly to be in it. His first audition was for season 10 of the show when he was nine, and had just starting to dance. At that time, he wasn't good at it, but the experience was quite memorable for him because he met amazing dancers, singers and magicians. He came back for season 11 but didn't make it – he said that it was a huge surprise for him when he eventually got into the show.
His successful "AGT" audition – Merrick captivated with "I Built A Friend"
It was nerve-wracking to be performing on stage, knowing that millions of people were watching. What helped him were the bright lights on his face as it meant that he couldn't see the audience, but just the four judges in front of him. Avid viewers of the show had seen their share of incredible dance performances, so judge Mel B had to ask Merrick what made him different from everybody else. He described his dancing as an impersonation of a robot that was 'broken and floppy.' True enough, his style was quite unique as it combined popping or robotic movements with graceful and fluid ones. It was called the "flo-bot" dance technique, and it was popular on TikTok and other social media platforms.
His performance of the song "I Built A Friend" by the American singer-songwriter Alec Benjamin made the audience emotional along with the judges. Simon, who was known particularly for being blunt, dgave him a standing ovation and said, 'This to me, honestly, was one of the best dance performances I've ever seen on the show.' For him, Merrick was someone he would put in a pop video in a heartbeat, because the way the boy interpreted the song was so clever and remarkable. Howie was of the same opinion, saying that Merrick was so 'en pointe' in telling the story of the song that it made him teary-eyed. He said that it surprised him because it was 'just a dance,' and that showed how amazing Merrick was. All Merrick could do was jump for joy as he listened to the praise coming from the judges, especially when all of them voted yes to getting him into the next round of the competition.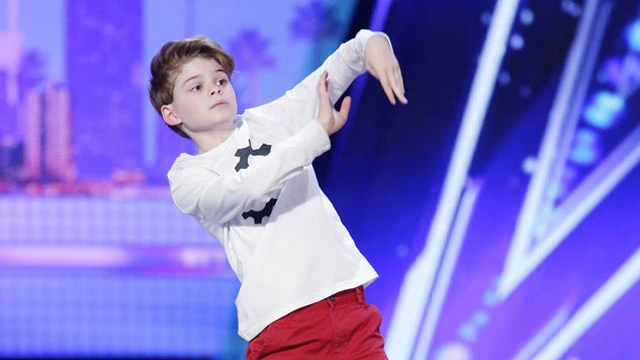 Delivered with "Something Wild"
For the Judge Cuts, Merrick performed "Something Wild," a song having a happy and energetic vibe from the 2016 fantasy-adventure film, "Pete's Dragon." He admitted to being a bit nervous, but excited as well for that round. Simon along with Mel B. and the audience gave Merrick a standing ovation. He said that although the song choice during the audition was much better than the one Merrick just performed, the way he told the story with robotic dance made it 'different, relevant, and cool.' Howie complimented Merrick on his facial expression and body movement. For this segment, only seven out of 20 acts that performed would advance to the next round. It was a tough day for the judges as everyone was so good. Fortunately, Merrick got enough votes to get to the Live Shows.
Mesmerized with "Lost Boys"
His performance of a cover song of "Lost Boys," originally sung by Canadian singer Ruth B., for the quarterfinals again brought the audience to their feet. Howie found him to be very original and 'a great entertaining act for the whole family.' Mel B said that she was constantly in awe of him, as he delivered a brilliant performance from start to finish. Heidi felt that Merrick had something unique to offer that made his interpretation of a song resonate with people. Simon continued to appreciate Merrick's talent for storytelling using his body. The act was the best he had seen so far that night, which said a lot considering that he'd seen all sorts of good performances in the show over the years. He advanced to the next stage.
Left a lasting impression with "iRobot"
Merrick could command the stage all on his own. With his interpretation of "iRobot" by American singer-songwriter Jon Bellion, he enthralled the audience. At one point in his performance, he soared high in the air and danced; he said that the high-wire act was a first for him, and it felt incredible. Heidi said that Merrick had come a long way in his journey in "AGT", and it was well deserved as he raised the bar each time he performed. Simon admitted to being a fan of Merrick since the start, and hoped to see him in the last round as he knew the young boy still had so much more to offer. After hearing Merrick's story of being unable to communicate when he was a toddler, and seeing how good he was on stage now in expressing the emotions or meaning of a song with his dancing, Howie couldn't help but be amazed.
Unfortunately, Merrick didn't get enough votes, and so failed to make it to the finals. He thanked everyone for their support, and shared how being part of the show changed his life in a big way. He had become so much better in his craft and made many friends. Perhaps Simon was right when he said in a previous episode that the American audience had so far overlooked how talented and original this young boy was. Nevertheless, when fans talked about season 12 of "AGT," they never failed to mention 'the dancing robot boy' as his performances were memorable.
What happened to Merrick after his "AGT" stint?
Even if he didn't win in "AGT", and take home the prize money of $1 million, his popularity reached new heights.
"Dance Squad" host
He was the presenter for the "Dance Squad," which aired on the Fox Family Entertainment YouTube Channel from December 2018 to November 2019. For 50 episodes, the show delighted viewers with performances from various dance groups, that took inspiration from hit movies such as "The Sound of Music," "Night at The Museum," "Ice Age," and "Alvin and the Chipmunks: The Squeakquel." Merrick challenged each group to learn some of the fun and coolest moves he just showed them and then create an entire piece or choreography around it. For the pilot episode, they took the 'dancespiration' from "Home Alone."
Interestingly, when Merrick was 10, he played the role of Kevin McCallister in a dance tribute for the 25th anniversary of the modern holiday classic in 2015. He had a dance battle with Poppin John and Madd Chadd who played the incompetent burglars Harry and Marv, respectively. They did a lot of body popping and robotic movements to "Dance of the Sugar Plum Fairy" remixed version. Toward the end of the video, Merrick did the iconic scene in the movie of using an aftershave for the first time, and screaming in pain.
Goth Boy in "Mani"
Brat TV's comedy series "Mani," was about a non-stereotypical nanny named Mani (Lawrence Wayne Curry), who was hired to look after a young girl named Sky. Merrick auditioned for the role of Goth Boy Edward and passed. He joined the cast in episode two of season four, which aired in June 2019. He found it really enjoyable to play his character because of how different it was from how he was in real life. He appeared in 26 episodes with the last in season seven aired in December 2022. There was no announcement if it would be renewed, or had been canceled.
Not many knew that Merrick began acting in theatre for Shakespeare's "A Winter's Tale" and "Much Ado About Nothing." For someone who was naturally introverted, it helped him a lot in terms of performing in front of a huge crowd. His most recent acting projects included "Alienated" (2021), "A Genie's Tail" (2022), and Brat TV's "Attaway General" for eight episodes in 2021 and '22.
Content creator
His "AGT" stint jumpstarted his career not only as a dancer, but also as a content creator, which he said was a dream come true for him. He was on various social media platforms before, but because of his exposure in the hit show, his followers grew at a crazy pace. Currently, his YouTube Channel, Merrick Hanna, which he launched in August 2015, has over 8.5 million subscribers, and his videos have close to seven billion views. His TikTok account has more than 30 million followers, with nearly 600 million likes of his clips, and his Instagram over three million followers. So far, his content is filled with dancing and a lot of visual effects. He said that he tried doing a vlog with 'real' or 'normal' content, but it wasn't his style. He liked writing, scripting, editing and filming his own content.
Merrick interacted with fans from time to time, as he would go live on Instagram to answer questions. He had no serious issues to address, but just wanted to say 'hello', have fun, and keep his followers updated. He was asked back in January 2022 if he had plans to go back to "AGT" but said 'no'. The reason he gave was that he found it very tiring, and especially hard on his family. He had done a lot of reality shows, and although it was a very fun experience, he felt it was time to move on from that genre. Merrick said that he enjoyed doing videos on his own, and planned to stick to that. A fan also asked if he was gay and he said no, but that he was an ally of the LGBTQ community.
I really enjoy so much my school time prepared by @AGT , this time with Merrick Hanna. He is not only good at dance but also good at study! pic.twitter.com/TnakpbUGE8

— Celine Tam (@celinetam) September 9, 2017
In 2018, he was asked how he envisioned himself in the next five years, he said that he didn't have anything specific in mind on what he wanted to do or where he wanted to be, because he was someone who did whatever was making him happy in that moment. In 2023, he's still doing what he loves best – dancing and creating content.