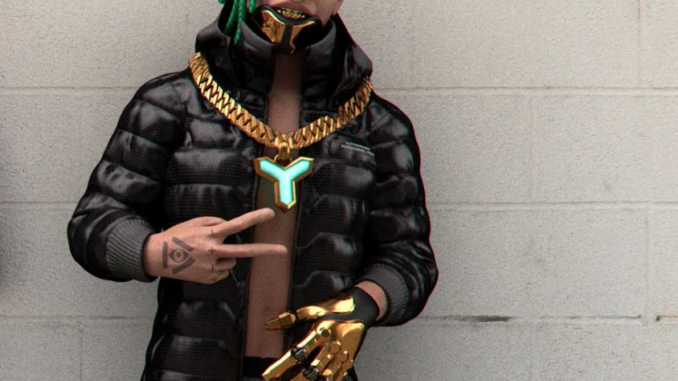 FN Meka is an AI rapper and recording artist who is given the appearance of a black male cyborg. He is well recognized for his hit songs including "Moonwalkin", "Florida Water", and "Internet". FN was created in 2019 by Anthony Martini and Brandon Le who are the co-founders of Factory New, which billed itself as a first-of-its-kind, next-generation music company, specializing in virtual beings. FN's songs are performed by a human, an anonymous Black man, according to Martini but the music and lyrics are generated by an AI that analyses popular music. Capitol Records announced it had signed FN Meka just 10 days ago, billing the rapper as the world's first AR artist to sign with a major label. Moreover, FN is also active in social media as he has earned more than 223K followers on his Instagram account and over 10.3 million followers on his TikTok account.
Who is the creator of FN Meka?
Being a robot, FN Meka was created on 20th August 2019 by Anthony Martini and Brandon Le.
FN Meka Career
FN Meka kicks off his rapping career and launched the song "Moonwalkin'" in 2019 after which he released "Speed Demon" in the following year. FN released one song with Capitol, titled "Florida Water", with the US rapper Gunna in 2022. Likewise, Meka's other songs include "Cowboy" and "Internet".
Who is Anthony Martini?
FN Meka dropped by Capitol over racial stereotyping
A record label has cut ties with an AI rapper, FN after criticism it contained racial stereotypes, including repeated use of the N-word. Before CMG dropped the rapper, black activist group Industry Blackout sent them an open letter saying Meka was "offensive" and "a direct insult to the Black community and our culture".
They said it was "an amalgamation of gross stereotypes, appropriative mannerisms that derive from Black artists, complete with slurs infused in lyrics". They pointed out FN had released a song with the rapper Gunna, who is currently awaiting trial in the US on criminal charges with lyrics and social media posts being used as evidence.
"He is currently incarcerated for rapping the same type of lyrics this robot mimics. The difference is, your artificial rapper will not be subject to federal charges for such," they said. "This digital effigy is a careless abomination and disrespectful to real people who face real consequences in real life." Speaking to the New York Times on Tuesday, before FN was dropped, Mr. Martini said he was anticipating it would happen due to "clickbait headlines".
After being asked about an image of Meka being beaten by a police officer, he said: "Some of the early content, now if you take it out of context, it obviously looks worse or different than it was intended." In their statement to Radio 1 Newsbeat, CMG also admitted to "signing this project without asking enough questions". "We thank those who have reached out to us with constructive feedback in the past couple of days your input was invaluable as we came to the decision to end our association with the project," they added.
How much is FN Meka's Net Worth?
FN Meka has a net worth of $5 million to $6 million as of 2022 whereas he also earns a handsome amount of salary which is around thousands of dollars per year. His major source of income is his rapping career.