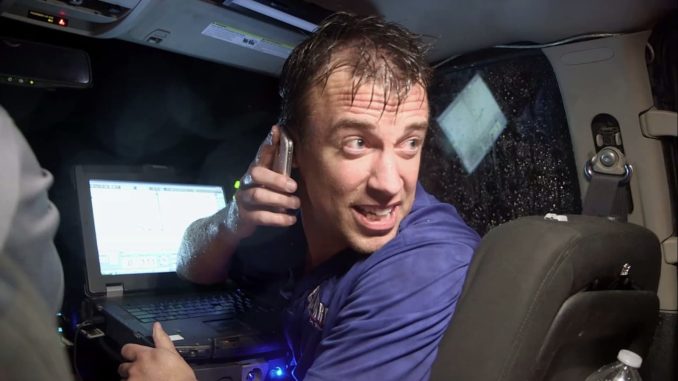 The American storm chaser and meteorologist Reed Timmer, is perhaps best known for starring in the reality show "Storm Chasers," and the documentary movie "Tornado Glory."
Age, Early Life, and Education Background
Reed Timmer hails from Ada Township, Michigan, and was born under the Pisces zodiac sign on 17 March 1980, which makes him 43 years old as of 2023. He developed an interest in weather at the age of 13, when he was struck by golf ball-sized hail in his front yard. Although Reed was afraid of lightning and thunder as a child, he was very fascinated with science and weather changes, and was addicted to various weather channels.
Timmer attended Forest Hills Central High School, in Grand Rapids, Michigan, where he played football and ran track. In 1998, he matriculated to the University of Oklahoma (UO), where he studied Meteorology, and where he became good friends with the American meteorologist, Dave Holder. Timmer taped his first tornado in October 1998. In 2015, he was awarded a PhD in Meteorology from UO.
Hobbies and Facts
As a child, Reed loved insects and had preserved a collection of bugs in glass jars. He was obsessed with moths, and kept several praying mantises as pets.
He is a dog lover and owns a pet named Gizmo – he's usually seen with him on chases.
Reed is well-versed when it comes to playing oboe, which is a woodwind instrument. He performed live when his sister was getting married.
The famed meteorologist is physically active, and hits the gym regularly to keep fit for his job. He likes playing basketball with friends in his spare time.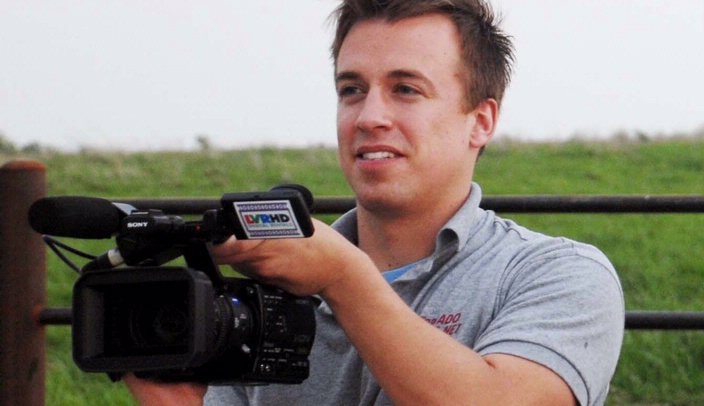 Career
Timmer began his meteorology career during his college days, and caught the public's attention with his collection of extreme weather videos and pictures, which he posted on the website, TornadoVideo.net. He fearlessly charges toward severe weather, and intercepts hurricanes and tornados with his TornadoVideos.net squad in a series of armored vehicles (SRV Dominator), with the aim of researching, reporting and warning others before impending natural disasters strike.
Reed's team uses small aircraft and drones to gather information about tornados and strong winds. In 2004, Timmer appeared in an episode of the WGBH science TV program "Nova" before he was hired to work as a storm chaser for the Oklahoma City-based television station, KFOR-TV. He also worked for AccuWeather, but quit in October 2019 to begin a career as a storm chaser and weather forecast content creator.
SVR Dominator Vehicles
In the 2008 and 2009 storm-chasing chasing seasons, Timmer modified a 2007 Chevrolet Tahoe, and used it as his first SVR Dominator named Dominator 1. In early 2011, Timmer and other TVN members bought a GMC Yukon XL (2011 model) and converted it to an SVR Dominator named Dominator 2. His third armored vehicle, Dominator 3, debuted in April 2013. The vehicle was originally a Ford F-350 pickup, modified with gull-wing doors for hail repulsion, thick Lexan Windows, and a polyethylene Kevlar to withstand harsh weather conditions. The vehicle was modified with a hydraulic system, which lowered it 8ins (0.20m) to the ground in case he experienced a strong storm.
Timmer's fourth vehicle was a modified 2018 Subaru Forester named Dominator Fore. The vehicle features numerous hail stone dents, and underwent various window and windscreen replacements due to Timmer's attraction to sitting under major 'Gorilla Hail Storms.' In September 2022, Reed abandoned Dominator Fore to the tidal surge of Hurricane Ian, and in December of that year, bought a 2016 Subaru Forester and converted it to an SVR Dominator (Dominator 5).
Live update from Norman, OK with a #tornado chase tomorrow in northwestern OK into southwestern KS. I will be chasing in the Dominator 3 tomorrow for the first time in years! @accuweather pic.twitter.com/wfZkVyYSWm

— Reed Timmer, PhD (@ReedTimmerAccu) May 3, 2023
"Tornado Chasers"
Reed created the documentary series "Tornado Chasers," which premiered on the website TVNweather.com in September 2012. In the first season of the show, Reed, together with his team travels across the US and Canada intercepting tornados and strong hail – their vehicle's windscreen is shattered by a strong hail in one of the episodes. The second season of "Tornado Chasers" has more tornado footage compared to the first, and the most notable was the 31 May 2013 Central Oklahoma's El Reno tornado. In that season, Reed appears alongside Joel Taylor, Jim Cantore, and Ginger Zee.
Social Media Presence
Timmer launched his self-titled YouTube channel on 16 May 2006, has garnered over 800,000 subscribers, and posted over 2000 weather-related videos, which have a total of over 280 million views as of 2023. Some of his most viewed videos include "Video Inside a Tornado! Severe Weather Vlog | Aurora, NE 6/17/2009" which has over 32 million views, "Monstrous Flash Flood & Debris Flow | Johnson Canyon, UT 7/16/2018" (27 million views), and "The Most Insane Tornado Video Compilation of All Time (Drone & Ground Footage, Andover, KS)" (with over 16 million views).
Reed has a verified Twitter account (@ReedTimmerAccu), on which he describes himself as an 'Extreme meteorologist, inventor, and storm chaser intercepting the most powerful storms on the planet. I'm driven to push the science and its education forward.' He opened the platform in February 2009 and is currently followed by around 670,000 fans. He's also active on Instagram (@reedtimmer).
Personal Life
Reed is a married man. He met his future wife, the meteorologist Maria J. Molina, in 2014 while they were chasing a tornado in Arkansas. The duo became engaged on 5 October 2014 and eventually exchanged vows in a private ceremony in Nicaragua in late 2015. From 2010 to 2016, Molina worked as a weather forecaster for Fox News, has also worked at the National Center for Atmospheric Research, and is currently working as an Assistant Professor at the University of Maryland, College Park's Department of Atmospheric and Oceanic Science. The couple divorced in 201 – Reed doesn't have any children as of 2023.
Previously, Reed was in a brief romantic relationship with the meteorologist, Ginger Zee. In 2013, Lee replaced Sam Champion as the chief meteorologist for "Good Morning America."
On 4 October 2013, Reed suffered an epileptic seizure, while he was storm chasing together with KFOR-TV's weather team in Nebraska. He was rushed to a nearby hospital by the weather team.
Height, Weight, and Physical Appearance
Timmer is of White ethnicity, and has a pair of blue eyes and short brown hair. He's 5ft 8ins (1.75m) tall, and weighs approximately 155lbs (70kgs).
Net Worth
Reed has become very popular, and accumulated a good sum from his meteorology career. He is reputedly worth around $250,000, as of 2023.