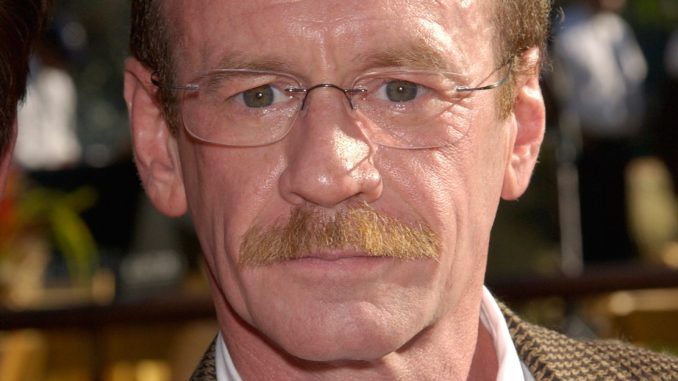 Who Was Michael Jeter?
Michael Jeter was an American actor known for his versatile performances on stage, film, and television. He was probably best known as Herman Stiles in the TV series "Evening Shade" (1990-1994), then as Norm Snively in the film "Air Bud" (1997), and as Eduard Delacroix in the film "The Green Mile" (1999), in addition to numerous other notable roles he has had during his acting career.
Michael Jeter Wiki: Age, Childhood, and Education
Robert Michael Jeter was born on 26 August 1952, in Lawrenceburg, Tennessee, USA. His mother, Virginia (née Raines), was a homemaker, while his father, William Claud Jeter, was a dentist. Michael grew up with his brother William, and four sisters, Virginia, Emily, Amanda and Lori. Initially, Jeter attended Memphis State University – now the University of Memphis – with an interest in studying medicine. However, his passion for acting grew, and he started participating in plays and musicals at the Circuit Theatre and its sister theatre, the Playhouse on the Square, in Memphis. Jeter eventually left Memphis to pursue his acting career further in Baltimore, Maryland.
Career Beginnings
Michael Jeter's professional acting career began in the late 1970s, with minor roles in films such as "Hair" (1979) and "Ragtime" (1981). He continued his career with similar roles in such projects as the TV series "Search for Tomorrow" (1982) and the film "The Money Pit" (1986), with Tom Hanks, Shelley Long and Alexander Godunov in the main roles.
In 1988 he portrayed the character Dr. Art Makter in the medical drama "Hothouse", and before he was cast in the "Evening Shade", he was seen as Adolph in the Coen Brothers' "Miller's Crossing" (1990).
Success with "Evening Shade"
Jeter played the role of Herman Stiles in the television series "Evening Shade" from 1990 to 1994. The show was created by Linda Bloodworth-Thomason and starred Burt Reynolds as Wood Newton, a former professional football player who returns to his hometown of Evening Shade, Arkansas, to coach the high school football team.
Jeter's character Herman Stiles was the assistant coach of the team, and provided comic relief in the show with his eccentric personality and antics. He often had funny lines, and was known for his quirky mannerisms, which made him a fan favorite.
The show was a critical and commercial success, and Jeter's performance as Herman Stiles was highly praised by both critics and audiences. He won an Emmy Award in 1992 for Outstanding Supporting Actor in a Comedy Series for his role in the show.
Other Projects and Continued Success
In 1993, Michael Jeter had a diverse range of projects across film and television. In the film "Bank Robber", he took on the role of Night Clerk #1. He also appeared in the comedy film "Sister Act 2: Back in the Habit", in which he portrayed Father Ignatius.
On the television front, Jeter had a notable guest role in the drama series "Picket Fences" as Peter Lebeck. His portrayal of a man with Gilles de la Tourette syndrome in three episodes earned him critical acclaim and a nomination for the Primetime Emmy Award for Outstanding Guest Actor in a Drama Series.
Additionally, Jeter had a role in the TV miniseries "Tales of the City", playing the character Carson Callas in three episodes of the miniseries, which was based on the novels by Armistead Maupin, exploring the lives and relationships of a diverse group of individuals in San Francisco.
In 1995, he appeared as Gregor in the post-apocalyptic film "Waterworld", which starred Kevin Costner, and in the same year, he was nominated for the Primetime Emmy Award in the category of Outstanding Guest Actor in a Drama Series for his guest appearance as Bob Ryan in the medical drama "Chicago Hope", in which he played a homeless man with a rare condition called foreign accent syndrome.
After his TV success, Michael Jeter continued to appear in various films and TV shows. In 1996, he played Dr. Enoch in the TV series "Dream On", while in 1997, Jeter starred in the family comedy "Air Bud", playing the role of Norm Snively, a clownish and abusive owner of a dog who becomes the star of a basketball team. That same year, he appeared in "Mouse Hunt" as Quincy Thorpe, a shady lawyer who tries to swindle the film's protagonists out of their inherited mansion.
Two years later, he appeared" as Dr. L. Ron Bumquist in the critically acclaimed film "Fear and Loathing in Las Vegas, alongside Johnny Depp and Benicio Del Toro. The film was directed by Terry Gilliam, and based on the novel by Hunter S. Thompson. The same year, he starred as Eduard Delacroix in another eponymous release, "The Green Mile", a death row inmate who has a special connection with a mouse, starring alongside Tom Hanks, David Morse and Bonnie Hunt.
In 2001, Michael Jeter played the role of Udesky in the action fantasy-drama film "Jurassic Park III", which starred Sam Neill and William H. Macy. Udesky was part of a team of mercenaries sent to Isla Sorna.
The following year Michael played "Toto" in the crime comedy film "Welcome to Collinwood", directed by Anthony and Joe Russo and starred William H. Macy, Isaiah Washington, and Sam Rockwell.
Jeter worked on several projects before his death, and a number of projects were released posthumously. In the Western film "Open Range" he was Percy, starring Kevin Costner, Robert Duvall, and Annette Bening. Michael's final film role was in the 2004 animated film "The Polar Express", in which he voiced the characters of Smokey and Steamer. The film was directed by Robert Zemeckis and starred Tom Hanks, Daryl Sabara, and Nona Gaye.
Theater Career and Awards
Jeter had a prosperous career in theater, performing in a variety of plays and musicals. He was a frequent collaborator of the playwright and director Lanford Wilson, and his work in the theater earned him critical acclaim. Some of his notable stage performances included "Once in a Lifetime", "G. R. Point", "Cloud 9", "Grand Hotel", "Alice in Concert", and "Greater Tuna". In 1990, Jeter won a Tony Award for his performance in "Grand Hotel", and also received Tony nominations for his roles in "The Grand Tour" and "The Best Little Whorehouse in Texas".
Net Worth
According to authoritative sources, Michael Jeter's net worth is estimated at $2 million as of mid- 2023.
Personal Life, Relationships, Sexuality, Health, and Death
Michael Jeter was known for being open about his sexuality. He came out as gay, and had a long-term partner, Sean Blue, whom he met in 1995. The couple remained together until Jeter's death in 2003.
Jeter also publicly disclosed that he was HIV positive during a 1997 interview with Entertainment Tonight. He was a strong advocate for AIDS awareness and prevention, and he even recorded a public service announcement to raise awareness about the disease. Despite his diagnosis, Jeter remained healthy for many years.
In addition to his HIV diagnosis, Jeter had a history of substance abuse, but announced that he'd recovered while accepting his Tony Award in 1990. Despite his struggles, Jeter continued to work steadily in film, television and theater throughout his career.
Sadly, Michael Jeter passed away on 30 March 2003, at the age of 50, from an epileptic seizure.