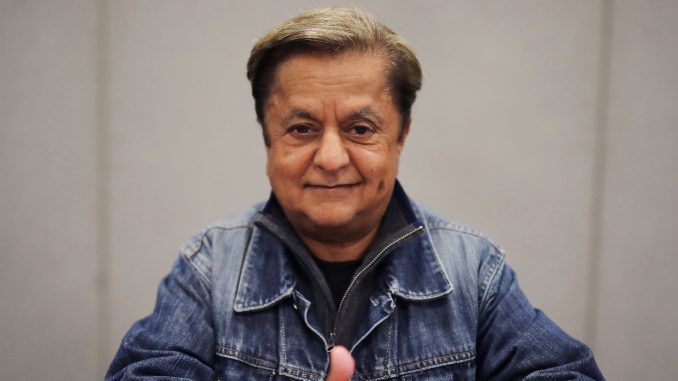 Who is Deep Roy?
The diminutive Kenyan-British actor and stuntman Gurdeep 'Deep' Roy was born Mohinder Purba in Nairobi, Kenya, on 1 December 1957, making Sagittarius his zodiac sign. He's appeared in 57 movies and TV series, but is probably still known best for playing Oompa Loompa in the hit 2005 adventure family comedy movie "Charlie and the Chocolate Factory", which starred Freddie Highmore and Johnny Depp, and was directed by Tim Burton. It follows a boy from a poor family who's won a tour through the world's most magnificent chocolate factory: the film won 15 of its 67 award nominations, including an Oscar nomination for Best Achievement in Costume Design.
Education and early life
Deep was raised in Nairobi by his Indian mother Soon Yee Roy who was a housewife, and Indian father Burt Roy who was a factory worker – Deep's family's Sikh; because he hasn't spoken about having siblings, most people believe him to be an only child.
Deep and his parents moved to London, England before he turned 10, and his father found a job at a factory there. Deep became interested in acting while attending a local high school, and upon matriculating in 1976 enrolled at an accounting school, but dropped out after only half a year, and enrolled at The Slim Wood School of Comedy.
Roles in TV series
Deep's debut TV series role was playing Klokoe in the 1976 episode "Target!" of the popular action mystery thriller "The New Avengers", which starred Patrick Macnee, Gareth Hunt and Joanna Lumley, and follows secret agent Steed and his two colleagues as they're working for a secret British organization responsible for preventing evil plots aimed at world domination.
From 1978 through 1980, Deep played several characters in four episodes of the adventure science fiction "Blake's 7", and from 1977 through 1986, he was Possican Delegate aka Mr. Sin in seven episodes of the hit family adventure "Doctor Who?", which starred Patrick Troughton and William Hartnell, and was created by Donald B. Wilson. It follows the adventures of Doctor Who?, the Time Lord, the initial series aired from 1963 through 1989 and won five of its seven award nominations.
Deep's only TV series role in the '90s was playing Tanned Mike in the 1996 episode "Infomercial Addicts" of the comedy "Night Stand", and the 2000s saw him appear in an episode or two of three series: the crime mystery "The X-Files", the comedy "Soccer with the Sirens", and the sports comedy "Eastbound & Down".
He's since appeared in only a single TV series, portraying Mr. Jo in the 2012 episode "Hungry Like the Wolf" of the comedy "Wolfpack of Reseda", which starred Deanna Russo and Tate Ellington, and follows Ben March who's convinced himself that he's been bitten by a werewolf; the series was nominated for a New Media Film Festival Award.
Deep Roy is undoubtedly the MVP of that film. He is forever imprinted on my brain because of the Badlaa episode of The X Files! pic.twitter.com/a3kXs2KEWJ

— Mike Konchuk 🇨🇦 🇺🇦 (@MikeKonchuk) June 29, 2022
Roles in movies
Deep's debut film role was playing Italian Assassin in the 1976 crime comedy "The Pink Panther Strikes Again", written and directed by Blake Edwards, and which starred Herbert Lom and Peter Sellers. It follows Charles Dreyfus who's just been released from an insane asylum, and has sent 26 assassins after Inspector Clouseau; the movie won two of its five award nominations, including an Oscar nomination for Best Music, Original Song. The remainder of the '70s saw Deep appear in the 1978 family drama "Benji's Very Own Christmas Story", and the crime action "Roots of Evil" and the action comedy "Undercover Lover" both in 1979.
The year 1983 saw him play Droopy McCool in the evergreen action adventure fantasy "Star Wars: Episode VI – Return of the Jedi", which starred Harrison Ford and Mark Hamill, and was directed by Richard Marquand. It follows the Rebels as they're trying to destroy the second Death Star, while Luke's trying to rescue Darth Vader from the dark side; the film won 23 of its 43 award nominations, including an Academy Special Achievement Award. Deep could then have been seen appearing in the 1984 family adventure "The Never Ending Story", the 1986 musical action comedy "Weekend Warriors", and the 1989 action science fiction comedy "Rising Storm".
What marked the '90s for him was perhaps portraying Small Hitman in the 1998 crime comedy "Mafia!", written and directed by Jim Abrahams, and which starred Jay Mohr, Christina Applegate and Lloyd Bridges. It follows the son of a mafia boss who has to take over now that his father's dying, and the film was nominated for two awards.
In 2003, Deep portrayed Mr. Soggybottom in the adventure fantasy "Big Fish", which starred Albert Finney and Ewan McGregor, and was directed by Tim Burton. It follows a frustrated son who doesn't believe in his dying father's life stories; the movie was nominated for 69 awards, including an Oscar nomination for Best Music, Original Score. Some of Deep's notable performances in the remainder of the decade were in the 2005 animated family drama "Corpse Bride" (voice role), and in 2009 the action science fiction adventures "Transformers: Revenge of the Fallen" and "Star Trek".
He's since appeared in only a couple of movies, with his three most recent roles having been in the 2016 action science fiction adventure "Star Trek Beyond", the 2017 short comedy "God Came 'Round" and the 2019 short comedy "Deep Into Love".
Deep's currently shooting for the upcoming movie "Time, the Fourth Dimension".
Other credits
Deep's performed stunts in 23 movies and TV series, most recently in the 2003 fantasy horror comedy movie "Leprechaun 6: Back 2 Tha Hood", the 2004 action fantasy adventure film "Van Helsing", and the 2009 mystery horror thriller movie "The Unborn".
Some of his recent talk-show appearances have been in "Joshy", "Inspiration for Your Soul" and "Ambre Lynn Rock'N'SeXXXy Uncensored".
Awards and nominations
Deep's won 11 awards, with some of these being a 2018 Mindfield Film Festival Albuquerque Diamond Award for Best Actor, a 2018 Global Film Festival Award for Actor and a 2018 LA Shorts Gold Award for Best Actor, all for his performance in "God Came 'Round".
Love life and marriage
Deep Roy's highly secretive when it comes to speaking about his love life in public, but it's still today known that he and British non-celebrity Millie Farris have been married since 2014.
Deep hasn't shared any details concerning his wife, neither has she appeared alongside him at any of his red carpet events; it's widely believed that the two were together for five years prior to exchanging vows, but this hasn't been confirmed by Deep.
He's yet to mention other women whom he's maybe dated, Deep's married to Millie Farris as of May 2023, and doesn't have children.
Interesting facts and hobbies
Deep portrayed all of the 165 Oompa Loompas in the 2005 movie "Charlie and the Chocolate Factory", and had to take dance and Pilates lessons for the role.
Deep and British actor and screenwriter Simon Pegg are the only two actors to appear in the science fiction trifecta comprising "Star Trek", "Star Wars" and "Doctor Who".
He's a fan of American movie director Tim Burton, and has appeared in a number of his movies.
Deep's name 'Gurdeep' means 'God's Light'.
He's followed by over 45,000 people on Instagram, and has uploaded more than 400 pictures onto the network; most of these show him during his everyday life.
Deep's two favorite actors are Al Pacino and Johnny Depp, and he's recently had an opportunity to pose for a photo with both; some of Deep's favorite movies include "88 Minutes", "Danny Collins" and "Frankie and Johnny".
Height, eyes and wealth
Deep's age is 65. He has brown hair and eyes, is 4ft 4ins (1.32m) tall and weighs around 90lbs (40kgs).
Deep's net worth's been estimated at over $500,000, as of May 2023.