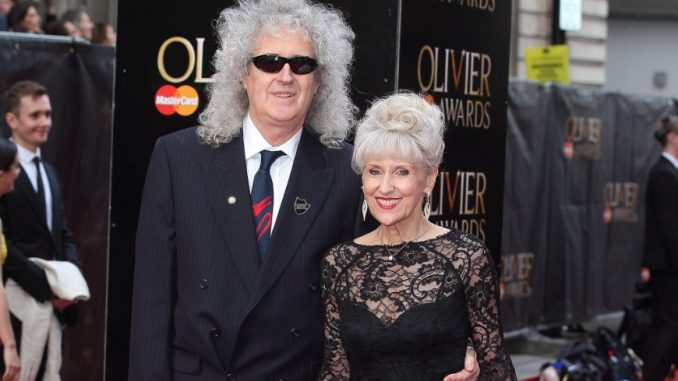 Anita Dobson is a British stage, film, and television actress who is best famous for her role from 185 to 1988 as Angie Watts in the BBC soap opera "EastEnders". For her role, she won the Pye Award for Outstanding Female Personality. Dobson is also known for being the spouse of Brian May who is the lead guitarist of the rock band "Queen".
In 1986, her song "Anyone Can Fall in Love" peaked at number four on the UK Singles Chart. Likewise, she is famed for her TV role in the 1989 ITV sitcom "Split Ends". In addition, she starred in the West End as Mama Morton in the musical "Chicago" (2003) and Gertrude in "Hamlet" (2005), and made her RSC debut in the 2012 revival of "The Merry Wives of Windsor." Her recent film works include "Andy and the Band", "Dodge", "Tomorrow Morning", and "Christmas at the Holly Day Inn". She is set to appear in"Doctor Who" for its 14th series in 2024.  
Where is Anita Dobson From?
Anita Dobson's parents, Alfred William Dobson and Amy Amelia Dobson welcomed her into this world on 29th April 1949 which makes her the present age of 73. She is from Stepney, London, England and she holds British citizenship. When it comes to her ethnic background, Anita belongs to British-White. She spent her early life with her younger sister, Gillian Dobson.
Anita joined the Webber Douglas Academy of Dramatic Art in London in 1970 and started performing arts, such as acting and music. She made her acting debut in 1979 playing the role of Roxanne in the TV movie "Leave Him to Heaven". After a couple of years, she was seen in a musical titled "Chorus Girls".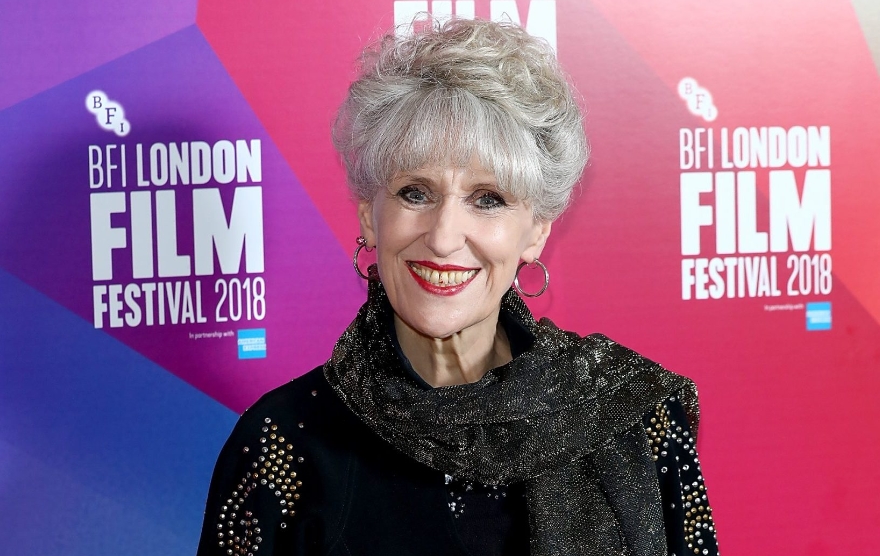 Anita Dobson's Career Explored
During the 1980s, Anita Dobson rose to fame by appearing in the series "Up the Elephant and Round the Castle" (1983), and "EastEnders" (1985-1988) as Angie Watts. After she left EastEnders in 1988, BBC executives made numerous offers for her to return but she did not accept the offer. 
Then, the actress appeared in television, film, and theatre roles, including the BBC sitcoms "Red Dwarf", "Rab C. Nesbitt" and her own sitcom series "Split Ends" (1989). Also, she guest appeared in the BBC dramas "Dangerfield" (1995), "Ghosts" (1995), "Sunburn" (1999) and "Hotel Babylon" (2007), and the ITV detective series "The Last Detective" (2004). Likewise, she appeared in the films – "Sweet Revenge" (1998) and "Darkness Falls" (1999). 
In 2005, she starred in the ITV1 police drama "The Bill", and BBC1 medical drama "Casualty" (2000, 2009, 2011, 2013, and 2017) and appeared on the radio 'Doctor Who' serial "Blood of the Daleks". 
She next featured in the film "London Road" in 2015 followed by "The Rebel" in 2016. On 20th January 2023, it was announced that she would be guest-starring in the fourteenth series of "Doctor Who." Her casting was announced alongside Michelle Greenidge. 
Moving to her stage and music career; Anita, as a singer, reached No. 4 on the UK Singles Chart with "Anyone Can Fall in Love" in August 1986. In addition, she has also released several other singles and albums with minor chart success.
Moreover, she has starred in repertory at Salisbury Playhouse in Shaw's Pygmalion in 1980; in the 1981 Ray Davies/Barrie Keeffe musical Chorus Girls, and as Hazel Fletcher in the short-lived musical Budgie with Adam Faith on stage. 
Next, she appeared in the revived Tom Stoppard musical Rough Crossing, played a holocaust survivor in My Lovely Shayna Maidel, and appeared as Mama Morton in the West End musical Chicago. She also played the role of Gertrude in the English Touring Theatre production of "Hamlet" in 2005. 
Then, she played the role of Mistress Quickly in the Royal Shakespeare Company production of The Merry Wives of Windsor in 2012, appeared as Madame Morrible in the musical Wicked at the Apollo Victoria Theatre in London (2016-2017), and joined Trevor Nunn's West End revival of Fiddler On The Roof at the Playhouse Theatre playing the role of Yente (2019).
She also took part in "Strictly Come Dancing" in the ninth series in 2011 where she partnered with Robin Windsor. The pair was eliminated on 27 November 2011 after Robin Windsor had been unable to dance for a week due to an injury. She then rehearsed and danced the Cha Cha Cha and the Swingathon with Brendan Cole. 
Who is Anita Dobson's husband?
Married woman, Anita Dobson tied the knot to her husband, Brian May on November 18, 2000, after dating for 12 years. She met Brian at the preview screening of a comedy film "Down and Out in Beverly Hills" in 1986. May stated that Dobson had inspired him to write the 1989 song "I Want It All." In one of her interviews, Anita Dobson stated that she works hard to keep her marriage alive in spite of being in love with her husband. Their love bond is going very strong with the passage of time and they are enjoying their present life happily. 
Anita became the stepmother of James (born 15 June 1978), Louisa (born 22 May 1981), and Emily Ruth (born 18 February 1987) who were born from May's previous marriage with Christine Mullen.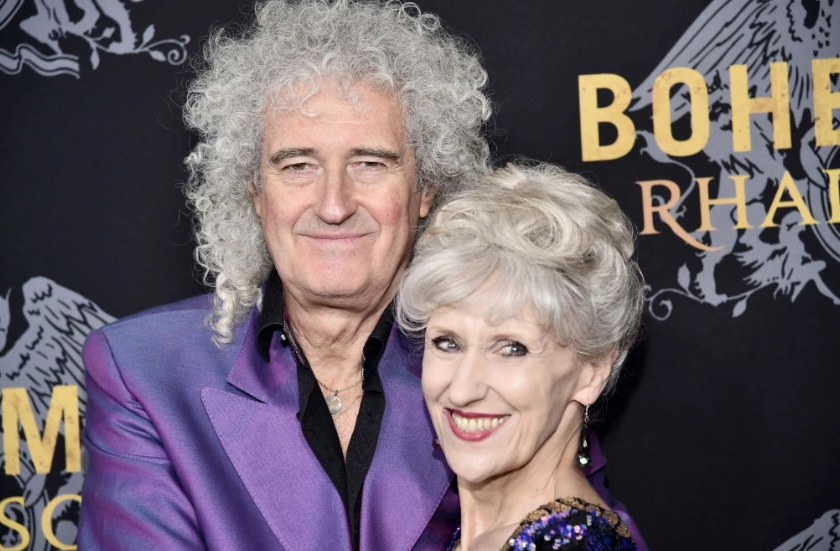 Who is Brian May?
Brian May is an English musician and astrophysicist who rose to fame as the lead guitarist of the rock band "Queen" which he co-founded with the singer Freddie Mercury and the drummer Roger Taylor. He wrote numerous hits for Queen, including "We Will Rock You", "I Want It All", "Fat Bottomed Girls", "Flash", "Hammer to Fall", "Save Me", "Who Wants to Live Forever", "Too Much Love Will Kill You", and "The Show Must Go On". 
What is Anita Dobson's net worth?
Anita Dobson is a stage, film, and television actress, and singer. Her career took to the next level after she played the role of Angie Watts in the BBC soap opera "EastEnders" (1985-1988). During her career timeline, the actress has appeared in several movies, TV series, and stage work. She is making her money via the entertainment industry which is her primary source of wealth. Her annual income is around $1 million from her career work. 
Anita Dobson has accumulated a net worth of $5 million. Her acting profession has contributed to her entire net worth. She has spent a notable amount of time in the entertainment industry. She is undoubtedly one of the most talented personalities in the entertainment industry. Her skills in acting, singing, and humor have impressed a number of people. On the other side, the net worth of her husband, Brian May is estimated to have $210 million from his successful career as a musician. 
How tall is Anita Dobson?
Anita Dobson has a perfect body shape, and she is good and fit. She has a slim body type as she takes great care of her fitness. She has a pair of attractive green pair of eyes with grey-light brown hair color. 
Anita stands tall at the perfect height of 1.6 m with a bodyweight which consists of 55 kg. At age 73, the actress still looks very beautiful and young with a charming smile on her lips attracting a lot of viewers' attention towards her.