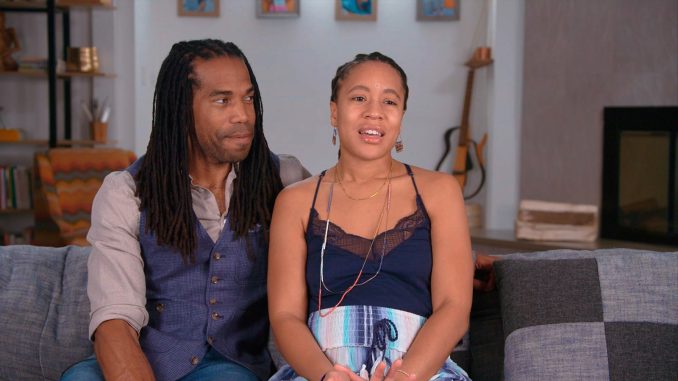 Although there were minor indications that Ashley may return to Dimitri after their tumultuous relationship ended in 2021, no one thought that would happen. However, after some time apart, during which she turned to Christianity to learn forgiveness, Ashley revealed to InTouch Weekly in November 2022 that she'd reconciled with him despite the severe allegations of abuse that Christeline Peterson came forward with. Here's what happened.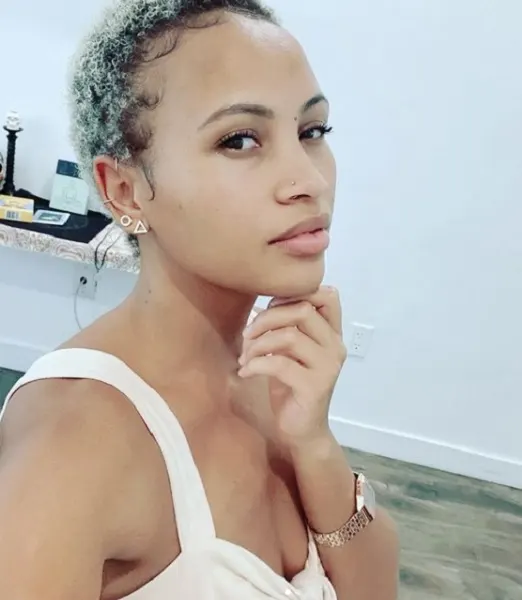 Christeline revealed serious abuse
Dimitri and Ashley, who debuted during the inaugural "Seeking Sister Wife" season, had a solid marriage for three seasons. Although they had two failed sister wives, Vanessa and Tayler, chaos unfolded after Christeline filed a restraining order against Dimitri in 2021, for forcing himself on her, i.e., committing physical and sexual abuse. She alleged that he slammed her head into the bed and the headboard during intercourse, and continued even when she asked him to stop. She also alleged that he choked her during intercourse, which wasn't consensual.
Other sister wives supported Christeline's accusations
Ariadne Joseph, another sister wife, confirmed some rumors by describing her experience during the marriage, and moving in with Ashley and Dimitri. She testified that the couple required her to walk around naked, and that Ashley insisted on watching during her intercourse with Dimitri.
Furthermore, Dimitri didn't allow her to leave the family home unless he was with her, and she had to sleep in the same bed. Moreover, as with other sister wives, Ariadne allegedly had to sign an NDA (non-disclosure agreement) despite a personal story of assault, meaning TLC was partially responsible. On one occasion, he shoved her, making her fall onto a table full of guns. Moreover, according to her, he also forced himself upon her at least once.
Ariadne concluded her emotional admission by saying that Ashley is also an abuser, particularly a manipulator, and that the two 'gang up on sister wives and are happy when they are terrorizing someone.' Their third sister wife, Tayler, didn't share a personal story, but has asked TLC to cancel "Seeking Sister Wife." Unfortunately, the executives disregarded her complaints, as they did Ariadne's. Finally, Vanessa stated that Dimitri was a liar who needed professional help.
#SeekingSisterWife In a disturbing new interview with @JohnYates327, former Snowden sister wife Ariadne Joseph speaks out about abuse she suffered while living with Ashley & Dimitri. She says she & other exes told TLC, but they kept filming new seasons. https://t.co/UoigdBe9nu pic.twitter.com/Fl5MwTd06F

— Starcasm (@starcasm) May 6, 2021
Ashley broke up with Dimitri in mid-2021
After the abuse allegations, viewers indirectly pressured Ashley to leave a bad situation, or prove that Christeline or Ariadne's claims were false. She posted a response on her Facebook page in July 2021, noting that social media misinformation is harmful. She also gave her fans some advice, including not asking people they don't know personal questions and that no one owes them an answer only because they are curious. She thanked the fans who supported her and appreciated her as a person through direct messages and comments.
She defended him but took a year to recover
Ashley's decision to leave Dimitri seemed definite at the time, but viewers saw that she remained on his side in the abuse case. Also, she was accused and complicit, whether through emotional abuse or not reporting Dimitri. Moreover, they have been together for over a decade and have had three children. Thus, deep down, the people at home expected the couple to get back together for the fourth reason, and speculated that money or fame would be an additional financial incentive.
That did not happen, but over a year after their breakup, Ashley said, 'He's a good human being, no matter what you may have heard or read or what you think you see or saw. I know who I chose and why I chose him.'
After being accused of having battered wife syndrome, and ignoring all the glaring issues out of fear or intentional unawareness, she stated that the decision was a long time in the making and that she felt it was the best thing for her family. Ashley clarified that it 'took them time, therapy, tears, acknowledgment, and apologizing repeatedly', and that they examined many unsettling events during their year apart.
Ashley ended her statement by saying that she no longer wants to carry resentment and hurt at that point in her life, and that they are moving on with love and appreciation.
She cited being on a healing, religion-driven journey
Ashley also revealed that getting back together with Dimitri was 'a blessing, specifically tied to her faith walk with Christ, as part of understanding the responsibility of forgiveness.' She added that she has undertaken a healing reconciliation journey with Dimitri, which includes working on being true to who they are, and filtering out the noise of the entitled people who think they can intrude. To wrap the interview up, she confirmed that she is still doing wellness coaching and selling plant medicine on Etsy, while Dimitri is providing 'experience design,' which involves media, tech and product design on his website, DimitriSnowden.com.
Dimitri and Ashley may remain in a monogamous marriage
Although Dimitri emailed a client in June 2021, saying that he wants to 'pay what he owes by working on a farm, building or fixing a website, or providing his body or mind because he is homeless,' he bounced back afterwards. While it's unclear whether he still lives in the California home they had during the show, his online business is operational.
Since all the wives had a negative story to share about Ashley and Dimitri, and they all divorced Dimitri in their respective seasons before his first wife also broke things off, the chances of finding a new sister wife are slim to none.
In a way, they deserve each other. Ashley not only ignored Dimitri's bad traits but seemed to enjoy contributing to his abuse, including not reacting when he punched walls and furniture and yelled in front of the kids. She also disregarded all claims from Christeline, Vanessa and Tayler and labeled them 'egregious attempts at defamation.' Ashley even took Dimitri back without addressing all the concerns, explaining it with, 'We want God to forgive us for the things that we do and the hard heart that we've had, and yet we are so unwilling to forgive each other.'
Ups and Downs | Seeking Sister Wife

Ups, downs, babies, and potential wives! See more of the Snowdens on #SeekingSisterWife, premiering Monday at 8/7c.

Posted by TLC on Thursday, March 18, 2021
Ashley showed signs of brainwashing
While Ashley is an adult who's allowed to make decisions, some viewers were worried for her after remembering the long heartfelt letter that she allegedly wrote to Dimitri in July 2021 before breaking up. Ariadne leaked it during the "Seeking Sister Wife: EXPLOSIVE Tea with John Yates on the Snowden's, Part 3" podcast. According to Ariadne, Dimitri frequently shared the messages Ashley sent him with other sister wives, and one of them sent it to her.
Among other things, Ashley mentions that she got over the alleged cheating. Dimitri had a wife before her, Claudette, and returned to her, presumably for physical intimacy, while dating Ashley. She wrote, 'I feel we are out here living a lie. No woman on this planet would knowingly accept the things I've accepted with regards to infidelity.' She admitted that he often contradicted himself, and attacked her physically and emotionally at times. Yet, she took him back and kept feeling the pressure of judgment from others for staying with him.
Toward the end, she stated that she had no one to talk to, and that he ignored her suggestions to take a break from seeing more women and work on their relationship. She even agreed to take a break from their marriage if he promised to use protection while having intercourse, and that he could get a chance to try some sexual positions she was unwilling to try. She finishes the letter by saying that she feels 'stuck, terrorized by her shadow, numb and depressed,' but that he never acknowledged those feelings.
The most worrying was the last part of the letter. Ashley apologized for 'making their marriage uncomfortable by being affectionate and not listening better, and saying that she would feel bad if her long message angers him.' Those closing words showed how much Ashley feared his reaction, and how emotionally manipulated she felt. Many of her fans stopped feeling pity afterward; she knew how poorly Dimitri treated her, but swept all the red flags under the rug, and took him back.