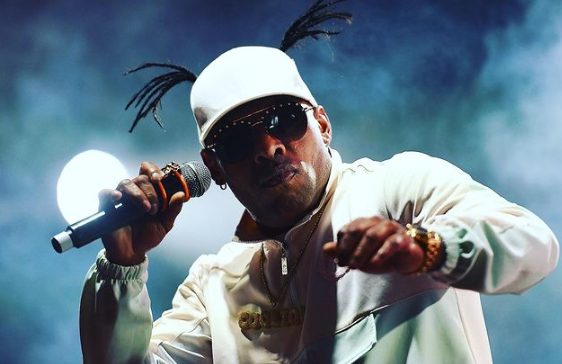 Coolio was an American rapper who rose to fame as a member of the gangsta rap group "WC and the Maad Circle". He achieved success as a solo artist in the mid-to-late 1990s with his albums "It Takes a Thief" (1994), "Gangsta's Paradise" (1995), and "My Soul" (1997). He is best known for his 1995 Grammy Award-winning hit single "Gangsta's Paradise", as well as other singles "Fantastic Voyage" (1994), "1, 2, 3, 4 (Sumpin' New)" (1996), and "C U When U Get There" (1997). He provided the opening track "Aw, Here It Goes!" for the 1996 Nickelodeon television series "Kenan & Kel".
He also created the web series "Cookin' with Coolio" and released a cookbook as well. His appearances in TV shows were met with a lot of audience interest. Coolio appeared in Celebrity Fear Factor, Celebrity Paranormal Project, Celebrity Wife Swap, Sabrina The Teenage Witch, as well as Celebrity Big Brother. He made his theatrical film debut as himself in "Phat Beach" in 1996. He made his TV show debut as himself on "All That" in February 1995. He had collaborated with rappers such as Method Man, LL Cool J, and Busta Rhymes. 
Coolio, "Gangsta's Paradise" rapper dies at 59
Coolio passed away on 28th September 2022. He was discovered unresponsive on a bathroom floor while he was at a friend's Los Angeles house. He was pronounced dead by first responders. He was 59 years old at the time of his death. Police have opened an investigation into his death, though foul play is not suspected, and His manager stated he appeared to have suffered a cardiac arrest. 
Celebrities including Ice Cube, Snoop Dogg, "Weird Al" Yankovic, Martin Lawrence, Michelle Pfeiffer, Kenan Thompson, LL Cool J, Melissa Joan Hart, MC Hammer, Bret Michaels, Denzel Curry, and LeBron James paid tribute to Coolio following his death. 
What is Coolio Known For?
Coolio was an American rapper.
He was known for his singles Fantastic Voyage (1994) and When U Get There (1997).
Known for featuring in the theme song for the "Kenan & Kel" series on Nickelodeon.
For starring in the web series "Cookin' with Coolio" and had served as a part of "WC and the Maad Circle" rap group.  
What is Coolio's Real Name?
Coolio was born with the real name of Artis Leon Ivey Jr. on 1st August 1963. He was from Los Angeles County, California, U.S. He held American nationality and his ethnicity was American-African. He believed in God, but not in any organized religion. Leo was his zodiac sign. He lastly celebrated his 59th birthday in 2022. His father, Artis Leon Ivey Sr. was a carpenter, and his mother, Jackie Slater was a factory worker. His mother died of a stroke. 
After he graduated high school, Coolio went to Compton Community College. After his college, he worked in jobs such as volunteer firefighting and security at Los Angeles International Airport, before becoming a rapper. 
How did Coolio start his career?
Coolio started his music career recording his first single in 1987, titled "Whatcha Gonna Do?" which was followed by "What Makes You Dance (Force Groove)" with Nu-Skool in 1988.
In 1991, he ended up joining the group WC and the Maad Circle, led by rapper WC. 
He is a credited co-contributor on the group's debut album Ain't a Damn Thang Changed, including on the single "Dress Code".
He signed to Tommy Boy Records and released his debut solo album It Takes a Thief in 1994. "Fantastic Voyage" is the lead single. 
In 1995, Coolio released "Gangsta's Paradise", featuring R&B singer L.V., for the film Dangerous Minds. The album contains two other major hits "1, 2, 3, 4 (Sumpin' New)" and "Too Hot". 
In 1996, Coolio had another top 40 hits with the song "It's All the Way Live (Now)" from the soundtrack to the movie Eddie. 
In 2014, the band Falling in Reverse did a cover of "Gangsta's Paradise" for Punk Goes 90s Vol. 2, with Coolio making a cameo in the music video.
In 1996, he appeared on the Red Hot Organization's compilation CD America Is Dying Slowly. That same year, he recorded the music video "Aw, Here It Goes!" for the opening sequence of the Nickelodeon television series Kenan & Kel.
His third solo album, My Soul, came out in 1997. 
Since then, 2001's Coolio.com, 2003's El Cool Magnifico, 2006's The Return of the Gangsta, and 2008's Steal Hear, 2009's From the Bottom 2 the Top, and 2017's Long Live the Thief have not charted on any Billboard chart.
He did have a minor hit in the UK in 2006 with "Gangsta Walk" (featuring Snoop Dogg).
Everything To Know About Snoop Dogg
He is featured on an international collaboration track called "Fuck the DJ" by UK rapper Blacklisted MC, also featuring Bizarre of D12, Adil Omar (from Pakistan), and Uzimon (from Bermuda). 
He appeared as a contestant on Comeback – Die große Chance in 2004. 
In 2009, Coolio appeared as a housemate on the sixth season of the UK version of Celebrity Big Brother.
He later went to appear on the UK's Ultimate Big Brother in 2010. 
In January 2012, he was one of eight celebrities participating in the Food Network reality television series Rachael vs. Guy: Celebrity Cook-Off. 
He also guests starred as himself on Sabrina the Teenage Witch. 
He was featured on the March 5, 2013, episode of the ABC reality program Wife Swap. 
Further, he appeared on the UK game show Tipping Point: Lucky Stars in 2013. 
On June 30, 2012, he voiced a wax figure of himself on Gravity Falls. 
He also appears on "Homie-Work", a 1998 episode of The Nanny. 
Later, he guest starred in a 2014 episode of the Adult Swim show Black Jesus titled "Gangsta's Paradise". 
He performed on ABC's Greatest Hits in July 2016. 
In 2019, he appeared on Irish rap group Versatile's track "Escape Wagon". 
Next, he was featured on their 2021 album, Fuck Versatile, on the track "Coolio Interlude".
Coolio Awards and Achievements
Won American Music Awards under Favorite Rap/Hip Hop Artist in 1996
Grammy Awards for his work in "Gangsta's Paradise" in 1996
Won MTV Video Music Awards for his work in "Gangsta's Paradise" in 1996
How much was Coolio's Net Worth?
Coolio was a rapper who had made a cool fortune from his profession. The net worth of coolio was estimated to have $1.5 Million at the time of his death. He was making his annual salary in around $250K. He received around $23K in royalties per year for Gangsta's Paradise and earned between $134K and $225K annually for his 123 songs. He had appeared in commercials such as Verizon Wireless phone service (2003), The Best Rap Album in the World…Ever!, and Mike's Hard Lemonade.
He had supported charities such as Music Saves Lives, Environmental Justice and Climate Change, and the Asthma and Allergy Foundation of America. He also owned a management company named Crowbar Management, as well as a hair salon named Whoop-De-Doo located in Long Beach, California, United States. His main source of wealth was from the music industry. Aside from his music career, he had also spent time on television and in film. He even had his own reality TV show "Coolio's Rules" which ran for one season on Oxygen Studios.
His secondary source of wealth was from the entertainment industry. He was living a cool lifestyle from his career earnings. Moreover, he owned multiple houses all over the world and he also owned cars including a 1996 Hummer H2 and more. 
Who is Coolio married to?
Coolio was a married man and he was assumed to be single at the time of his death. Initially, he dated the singer, Adina Howard, early on in his career. He then dated and married Josefa Salinas on May 18, 1996. Unfortunately, the marriage went on for 3 years only, because they got divorced in 2000. They have four children namely Artisha Ivey (b. January 14, 1988), Brandi Ivey (b. April 19, 1988), Artis Ivey (b. September 28, 1989), and Jackie Ivey (b. January 26, 1993).
It was rumored that Coolio and Nora Amile had an encounter in 2007, but broke up the same year. He had other children with women who weren't publicly known – sons Artis Ivey III, Grtis Ivey, Darius Ivey, and Milan Ivey, as well as daughters Zhaneand Ivey, Shayne Ivey, and Kate Ivey. His sexual orientation was straight and he was not gay. 
Coolio Height and Weight
Coolio had a height of 5 ft 8 in or 173 cm and his body weight was 80 kg or 176.5 lbs. His hair color was dark brown and he had dark brown eyes. He had braids that resembled antennae. He often wore hats. While touring with hip-hop duo Insane Clown Posse, he received a tattoo as an homage to the group's fanbase, reading "Juggalo Cool".
Likewise, he had inked a lot of tattoos on his body. His body type was average. He had asthma since he was a kid and his children were asthma sufferers as well, which was the reason that he supported the Asthma and Allergy Foundation of America.