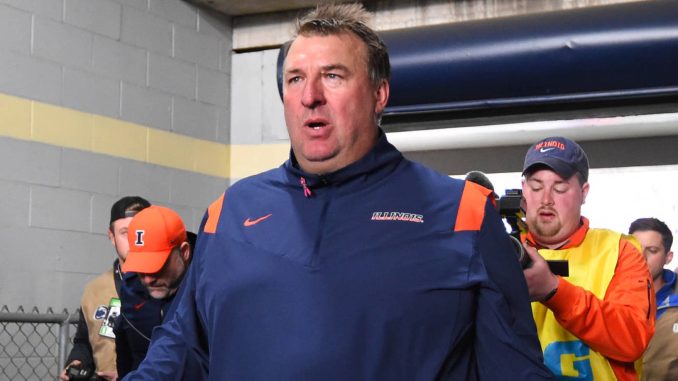 Who is Bret Bielema?
A former American Football player, and the current head football coach at the University of Illinois Urbana-Champaign, Bret Bielema has worked with great National Football League (NFL) teams such as the New England Patriots and the New York Giants. However, he came into the spotlight back in 2013, when it was revealed that he'll become the head football coach at the University of Arkansas.
It came as a shock to most of the college football world when he left the University of Wisconsin-Madison for Arkansas, since many thought that he was on top of the world with Wisconsin. More about the reasons why he left, and all about his journey from playing to coaching you'll find out by reading this paper. So, keep on scrolling.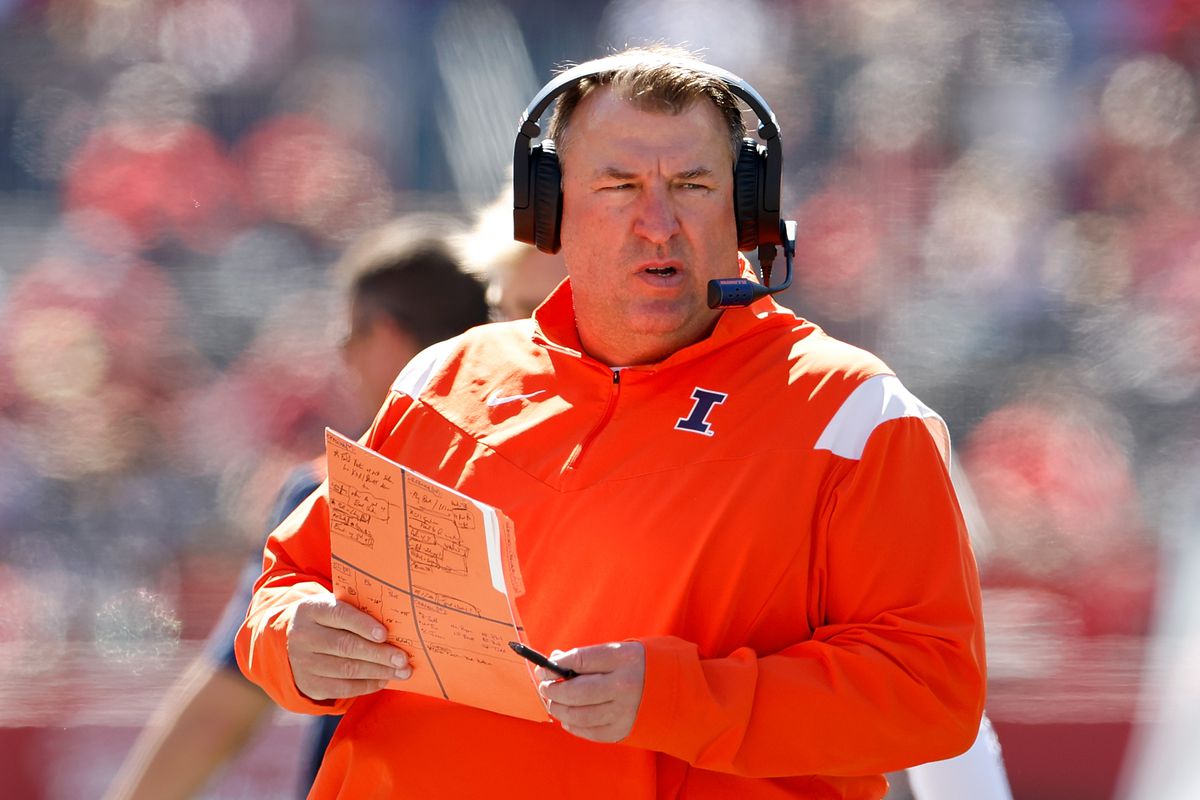 Early life, family, and education
Born Bret Arnold Bielema under the zodiac sign of Capricorn on 13 January 1970, in Prophetstown, Illinois USA, he holds American nationality and comes from a family of Caucasian descent. Bret was raised in his hometown by his parents, Arnie and Marilyn, alongside his four siblings, sisters Brandi and Betsy, and brothers Barry and Bart.
Growing up with two elder brothers, Bret followed in their footsteps, and from an early age competed in track, wrestling and football. He attended a local high school where he focused on football, playing linebacker and tight end.
Upon matriculating in 1988, he enrolled at the University of Iowa, where he was a defensive lineman, and in his senior year served as team captain; he graduated with a Bachelor's degree in Marketing in 1992. Bret signed as a free agent with Seattle Seahawks after going undrafted in the 1993 NFL draft, however, he was cut during the summer. In 1994, Bret played for the Milwaukee Mustangs, a professional Arena Football League team.
From Iowa Hawkeye to NFL Coach
At the end of the 1994 season, Bret returned to Iowa where he began his coaching career, as a graduate assistant. Two years later, he was promoted to linebackers coach, and served in this position until 2001.
From 2002 through 2003, Bret was co-defensive co-ordinator for the Kansas State Wildcats, helping them to win the 2003 Big XII Championship.
Posted by Bret Bielema on Saturday, December 12, 2020
After that season, Bret was next hired as the defensive co-ordinator for the Wisconsin Badgers, under head coach Barry Alvarez, a position he served in for two years, and when Barry announced his retirement after the 2005 season, he stated that his successor would be Bret.
In his first season as the coach (2006), Bret became the third Wisconsin Badgers head coach to win the first three games of his career. His team continued with winnings, and by the end of the season, he became the third coach in the National Collegiate Athletic Association (NCAA) history to win 12 games in his rookie season. He was named the Big Ten Coach of the Year.
In October 2010, the Wisconsin Badgers defeated number-one-ranked Ohio State, which was the team's first victory over a number-one ranked team since 1981. Bret won the Bear Bryant Award for College Football's Coach of the Year.
In the following year, Bret led his team to an 11-3 record, ranking the Wisconsin Badgers in 10th place in the final Associated Press (AP) poll. In his last season with Wisconsin, Bret and the Badgers finished with a 70-31 score in defeating Nebraska Cornhuskers in the Big Ten Championship Game.
As mentioned, he left Wisconsin in the 2013 season, and his statement said that he felt that it was time to spread his wings and try to fly a little further, which many considered difficult to understand after his great work and achievements with Wisconsin. According to certain sources, the underlying reason for his leaving was that Bret felt his assistant coaches were underpaid.
Bret stayed with Arkansas from 2013 to 2017, and in the second season with him as the head coach, the team showed some improvements. At the time, he was the highest-paid state employee in Arkansas, with a salary of over $4 million. However, the Razorbacks and Bret finished their last season together with a 48-45 loss – Bret was fired in November 2017.
Bret debuted in the NFL as a defensive consultant to the famed team's head coach, Bill Belichick, when he was hired by the New England Patriots in the 2018 season. In the following year, he was promoted to defensive line coach, and won his first Super Bowl title with the New England Patriots that season in Super Bowl LIII.
In January 2020, Bret was hired by the New York Giants, where he served as the outside linebackers coach and senior assistant, then in December of that same year, it was announced that Bret would become the next head coach at the University of Illinois Urbana-Champaign, where he currently serves.
Illini football coach Bret Bielema on recruiting Chicago players, NIL and more https://t.co/E1rvdSRMyu pic.twitter.com/5Qjp69CFoF

— CBS Chicago (@cbschicago) May 20, 2023
Love life and wife
Bret is a married man since 2012; his wife is Jennifer 'Jen' (nee Hielsberg) Bielema, a model from Tampa, Florida. The two met in Las Vegas, Nevada at an event, and dated for four years before they exchanged their wedding vows. At the time when they married, Bret was 42 years old, and his wife was 27. The couple has two daughters – their firstborn, Briella, came into the world in 2017, while Brexli was born in 2019. As of May 2023, Bret is still in a marriage, and the family of four lives in their residence in Illinois.
Age, appearance, and net worth
Bret is a 53-year-old big guy, with a height of 6ft 2ins (1.8m) and weight of around 220lbs (100kgs). His hair is light brown, and the color of his eyes is blue.
As mentioned, while serving as the head coach for Arkansas his salary was a whopping $4.2 million, and when he signed with the University of Illinois Urbana-Champaign, he received a six-year contract with $4.2 million the first year, plus annual raises. This salary makes Bret the ninth-highest paid among the 14 members of the Big Ten Conference. According to sources, as of May 2023, Bret has a net worth estimated at over $8 million.