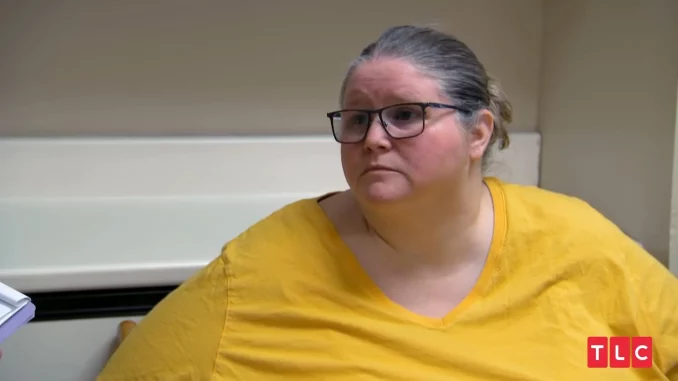 Bethany Stout embarked on her rocky weight-loss journey in the eighth season of "My 600-lb Life." Viewers may remember how much she depended on her daughters daily, including maintaining proper hygiene. After admitting that she felt like a failure, Bethany refused to dwell on negative thoughts, and signed up for the weight loss program led by Dr. Younan Nowzaradan, aka Dr. Now, the show's surgeon. He admits patients of all obese sizes, but the TV show films people who weigh around 600lbs or 272kgs. However, that isn't always the case; some, such as James King, weighed about 800lbs or over 360kgs when they debuted.
After reviewing and accepting her application to become a patient, Dr. Now invited Bethany to his Houston, Texas, clinic. He put her on his standard workout regimen and 1,200-calorie diet plan, clarifying that losing weight is a prerequisite for his surgical operation, indicating the commitmernt necessary to achieve the objective. She lost over 100lbs or 45kgs, which was enough for the doctor to perform a bariatric operation, but sadly regained some weight before leaving the program. Thankfully, the effort still flipped a switch, and Bethany became much healthier and slimmer after her last appearance in the TV show.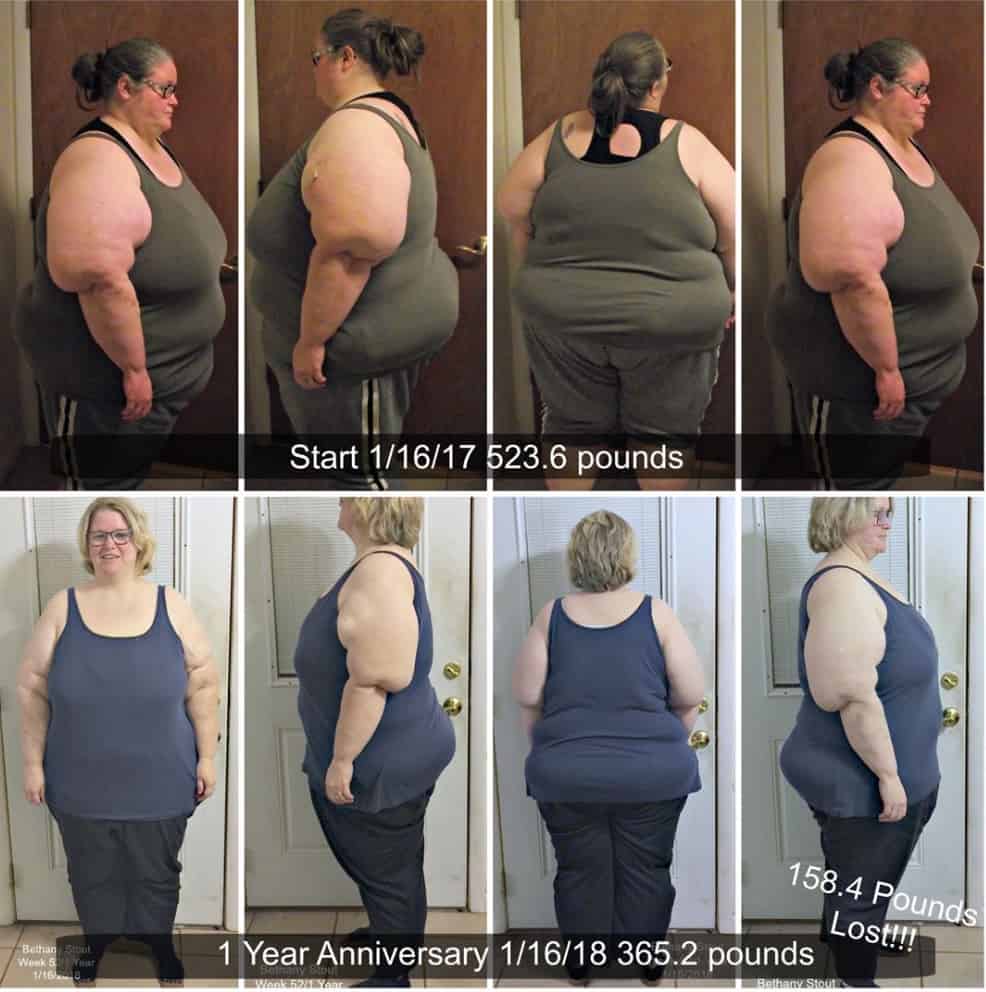 She bounced back after a temporary failure
When viewers met Bethany, she was down on her luck and desperately needed help. However, it was evident that she cared about the people around her – that isn't always the case with the show's participants, who expect others to enable their lousy habits, bathe them, and administer medicine; in short, be their caretakers. Bethany immediately admitted that not being a contributing family member bothered her.
However, the weight loss program helped her lose a drastic amount of weight, and even with a setback at the end of her episode, she left weighing around 500lbs or 225kgs. Bethany pulled herself by her bootstraps and dropped 150lbs or 68kgs by mid-2021. Moreover, she occasionally updated and inspired her Instagram and Facebook fans, and blogged about her experience on her website, www.BariatricMama.com. Unfortunately, she hasn't been active online since March 2022, hence, little is known about her life nowadays.
Her credentials shocked everyone
Neither her weight nor her story, featured in the "Bethany's Story" episode aired on 15 January 2020, attracted much attention. Many contestants were well over the 607lbs or 275kgs that the scale showed when Bethany stepped on it. Similarly, most patients depended on their family members, and felt that they weren't giving back enough. Moreover, she suffered from food addiction, the primary source of morbidly obese patients' woes.
However, it quickly became apparent that Bethany had practical and theoretical knowledge to change her situation, as she actually specialized in the illness that caused her weight to spiral. Bethany revealed that she previously worked as an addiction counselor, and held a master's degree in counseling psychology, worked in the medical industry. Luckily, it seemed like people, including her family members, saw the good side; they thought that Bethany only needed a little push and a proper diet and exercise plan to apply her understanding of psychology.
She criticized the show's portrayal of her
Bethany spent eight months following Dr. Now's program, and her weight went down to 496lbs or 225kgs at the end. Although she regained some of it afterwards, and her chances of slimming down were low, she didn't give up. While Bethany credited the show and the doctor for changing her life, she ultimately disliked how the show's editing depicted her.
She told her Facebook fans not to believe everything they saw on TV in March 2021 via Facebook, and explained that a 90-minute episode could not show the real story. That's why Bethany quit the show, cut ties with Dr. Now, and embraced independence. It worked; she reported a difference in how she looked and felt in 2020, a year after the filming ended, and shortly after her episode aired.
The change was evident a year later
Fans were hungry for more information about her progress, prompting Bethany to write, 'Hey, it's me! I will update here when I can' on her public Facebook page – @bethanystout600. Her first noteworthy post was from March 2021, and under the explanation for her departure, she attached her picture. It showed Bethany wearing a t-shirt and jeans, proudly writing that she went from US size 38 jeans to US size 18, and was wearing her husband's medium-size t-shirt. She added that her family members are in healthy and loving life since she's in good shape and more physically active.
Bethany provided some clues to her success
Bethany didn't disclose her food and exercise regimen after Dr. Now's prescribed 1,200-calorie diet and moderate workouts. Luckily, she wanted to do her part to indirectly inspire her social media followers, and post about solutions to her food addiction. Motivational quotes and her Christian religion were a driving force, telling her followers that 'struggling doesn't mean that they are failing.' Also, she spent every evening swimming, and reported feeling amazing about reaching her goals and becoming stronger.
However, the key was her weight loss wish list. She penned over 20 things that she couldn't do when weighing over 500lbs or 230kgs. Some included going bowling with family, snorkeling, riding a jet ski, and taking a yoga class. Thus, she crossed activities off her list when she got to do them. That let her reward herself with something other than food, and she reported feeling a dopamine rush since she saw each activity as a checkpoint on her journey. Additionally, she colored her hair pink in 2020 to celebrate the first anniversary of her operation. She also got a colorful tattoo of a semi-colon the next year to celebrate her physical and mental progress.
She wanted a skin removal operation
Bethany knew that shedding weight likely wouldn't satisfy her; the excess skin on her torso and limbs bothered her, and inhibited her from reaching her weight goal. Therefore, on top of her work in healthcare, she started a Facebook group, Bethany's Crochet Corner, on 11 November 2020. That allowed her to earn extra money toward her skin removal surgical operation from followers who loved her on-screen persona and crocheting skills. Unfortunately, she stopped replying in 2021, but her followers took it upon themselves to keep her passion alive by posting exciting designs.
Bethany changed her last name and occupation
Bethany mentioned 'her man' and took selfies with an unnamed gentleman on social media, but rarely discussed her romantic life. However, the name of her private Facebook profile, which still has "bethany.stout" as part of the URL, became Bethany Brotherton in 2023. That could mean that she married whomever she dated, or took back her maiden name. Neither option makes sense from an outsider's perspective, however; her profile lists her as having a relationship with a man named Douglas Vreeland.
Moreover, she recently started working outside the medical industry, becoming an administrative office assistant at Brandley Pest Control on 14 December 2022, working in scheduling, sales, and customer service. In early 2023, she took on a new position as an office manager at Express Services based in Oklahoma City.
Her public profiles were active until 2022
Though she posted sporadically, her fans were disappointed when Bethany stopped posting on her Facebook page, Bethany Stout My 600 Pound Life, in March 2022. She may have become tired of the negativity; she consistently had to ban haters and trolls from commenting since 2020. Moreover, Bethany asked them not to come at her with their hate, to get a life, find positivity somewhere, and mind their business.
Similarly, she last uploaded a picture to her Instagram account, @bethanystout600lblife, in July 2021 and abandoned her TikTok account, @bstout1980, at one point. Her blog, BariatricMama.com, which she registered on 7 January 2020 and last updated in 2021, has no content, even though she reserved the domain name until 6 January 2025.
Haven't updated in Awhile! Loving life May God bless you all

Posted by Bethany Stout My 600 Pound Life on Friday, March 25, 2022
Bethany is focused on her family
Although she never mentioned numbers, Bethany was evidently approaching her goal weight in her last full-body social media update, a mirror selfie of her wearing a t-shirt, plaid shirt, and jeans. She said that she loved life and hated taking pictures, but couldn't help herself when she felt terrific. Bethany stated that she had 'over 100lbs or 45kgs to lose' when her jeans were US size 22 in 2021 and most recently reported being at size 18. Judging by the experiences of MyFitnessPal.com platform members, Bethany weighed between 220lbs or 100kgs and 290lbs or about 130kgs at size 18.
With that said, Bethany abandoned her plans to leverage her TV show fame, and instead of deleting them, she stopped using her public Facebook, Instagram, and TikTok accounts and her blog. However, her friends and family, her biggest support, and some lucky fans can cheer her on as long on her private Facebook profile, as they are friends. Although she hasn't posted about them since 2020, her four daughters motivate her daily; being there to see them grow up was one of the main reasons Bethany contacted Dr. Now.