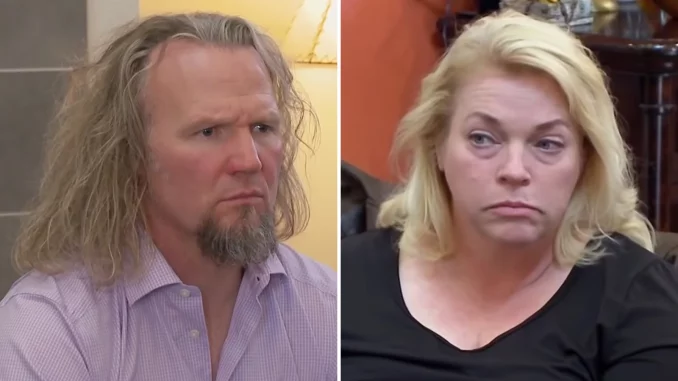 In 2022, "Sister Wives" ended a dramatic, emotionally charged, and thrilling 17th season in a cliffhanger over the status of Janelle and Kody Brown's relationship, leaving fans divided; some excited over the possibility of a reconciliation, while a second group hopes that Janelle will follow in the footsteps of her favorite sister wife, Christine, and end the 'marriage' permanently. However, fans understand that, unlike Christine, who didn't share Kody's faith deeply, Janelle is a devoted adherent of a sect of the Fundamentalist Church of Jesus Christ of Latter-Day Saints known as the Apostolic United Brethren (AUB) sect. Here is how Kody and Janelle's religion handles divorce, and its implication on the status of their marriage after their public announcement of their separation a few months ago.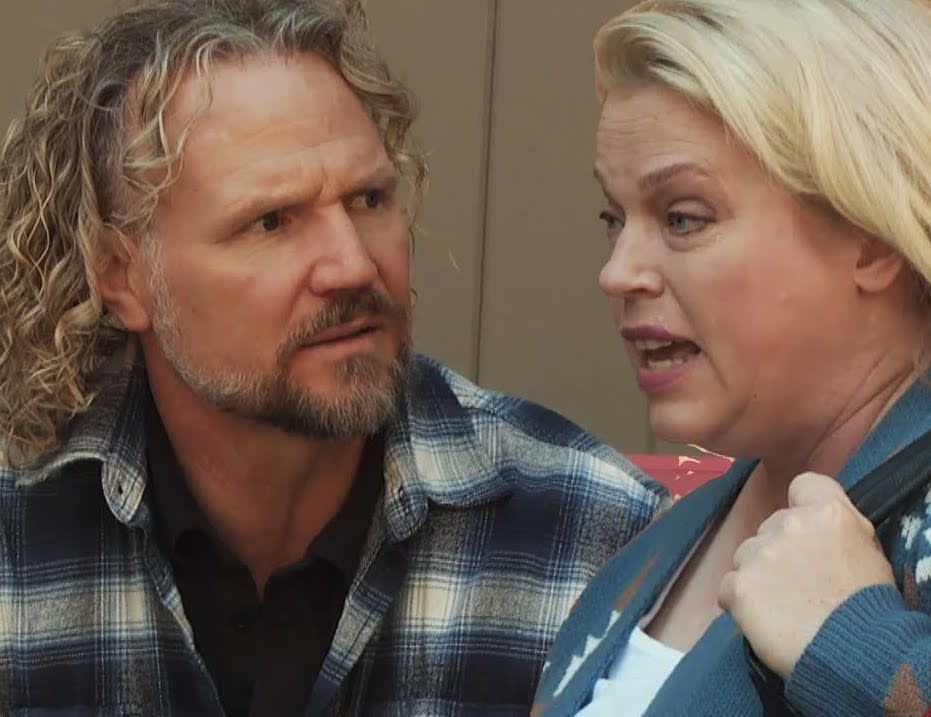 Janelle and Kody's Relationship Timeline
Janelle and Kody's relationship was borne of a series of coincidences that brought the two together, and had them walking down the aisle to tie their lives together in a spiritual union. Their journey started in 1989 when Janelle met Kody for the first time; according to the now-former sister wife, seeing Kody evoked a feeling of recovering a memory she had long forgotten. She didn't experience the feeling again, but fate would bring her and Kody together again the following year at her sister-in-law's wedding. Adam Barber, Janelle's husband at the time, had a sister named Meri who was marrying the love of her life, Kody Brown. When Janelle's marriage to Adam disintegrated a short while after Meri and Kody's wedding, Kody courted and later married her as his second wife. Meri welcomed her former sister-in-law-turned-sister wife into the family in 1993.
Janelle's relationship with Meri before they became sister wives is not the only strange coincidence surrounding her marriage to Kody, since in addition to being his wife of over 30 years and the mother of their six children, Janelle is also Kody's step-sister. In 2013, Janelle shocked her fans and the viewers of the show when she revealed that her mother, Sheryl Brown, was married to Kody's father, making her both Kody's mother-in-law and stepmother. Sheryl had met Kody's father while Janelle was still married to Meri's brother; at the time, Janelle and Kody had formed a close friendship, since Kody and Meri visited her family often. Eventually, Janelle's mother met Kody's family, but was wary of their views on plural marriage. Over time, Sheryl went from being worried that Kody's family would indoctrinate Janelle into polygamy, to marrying into the family herself. She remained married to Kody's father until her death.
Celebrating 25 years with this amazing man. The time seems to have flown by, yet I can remember all the details of the years past. Thank you for the fulfilling and wonderful life. Here is to the next 25 years sweetheart. ♥️♥️ pic.twitter.com/b7xKx3MdUi

— Janelle Brown (@JanelleBrown117) January 18, 2018
Janelle only married Kody a few years after her mother married Kody's father. Within a year of marriage, Kody and Janelle welcomed their first son, Logan, and the following year, their first daughter Madison, going on to have four more children together, Hunter, Savanah, Gabriel and Garrison. Keen fans started to pick up on the lack of a strong connection between Kody and Janelle early on in "Sister Wives."- some noted that while Kody praised Janelle's intellegence and enjoyed engaging in intellectual conversations and discussions with her, he was barely as affectionate towards her as he was with Christine and Robyn. Eventually, their interactions were limited to the time they spent jointly with their children and other family members, and their conversations centered on their children and general family matters. Therefore, fans weren't shocked in January last year when Janelle finally admitted that her relationship with Kody had deteriorated to the point of hinting at walking out on the marriage. She made good on her threat later in the year, when she made the official announcement of her split from Kody after over 30 years of marriage and six children.
Faith and Religion
Janelle has been a devoted adherent of the Church of Jesus Christ of Latter-Day Saints all her life; her devotion to the church was evident long before she met and married Kody Brown. For instance, she was cautious to date and later marry her first husband and Meri's brother, Adam, because he subscribed to fundamentalist faith and wasn't a Mormon. It was not until he converted to her faith that she agreed to a courtship, but his devotion to her faith was lacking. His limited spiritual conviction started a series of problems that culminated in the dissolution of the marriage in 1990.
Kody was the complete opposite of Janelle's first husband with regard to religion. His devotion and spiritual conviction matched Janelle's, making the two highly compatible in that regard. Like Janelle, Kody is an ardent believer in the ways of the Apostolic United Brethren church – he particularly believes in and practices its call for its followers to practice plural marriage, and has been quoted justifying it by saying "Love should be multiplied and not divided." Despite Kody's strong faith and practice of the Apostolic United Brethren church's way of life, he's not afraid to call out fellow adherents when they use his beliefs as a front for immoral behavior. In the past, he's been quoted calling out and distancing himself from extremist Mormons who allow abusive people to engage in and shape the image of plural marriage as seen by the rest of the world.
The Apostolic United Brethren
The fundamentalist Mormon faith to which Janelle and Kody conform has liberal guidelines for marriage in general. The church allows members to marry any person of their choosing, but outlaws incestuous marriage, and discourages marriage for members under the age of 18. Polygamy is allowed and encouraged, but despite being the leaders in their homes, men are required to seek the approval of their wife or wives before taking and adding a new wife to the family. In most instances, as depicted in "Sister Wives," , before marrying into a polygamous family, the women are involved in the courtship process to ensure a new wife's compatibility with the rest of the family. A man is not limited to a specific number of wives. The church discourages arranged marriages, and doesn't tolerate any form of abuse in marriage.
The marriage ceremony seals the partners. Therefore, adherents consider marriage an eternally binding commitment whose vows tie partners together beyond our world into the afterlife. However, since Janelle announced her decision to walk out of her marriage, several cast members of "Sister Wives" have shared the Apostolic United Brethren's beliefs and practices surrounding divorce. According to Christine, their religion dictates that a couple that seeks to divorce must ask to be released spiritually from their marriage.
Janelle and Robyn have confirmed Christine's interpretation of their church's rules on divorce. Robyn Brown, the only sister wife who has remained married to Kody, explained that Christine isn't divorced despite her public announcement that she considers herself a divorcee. Robyn insisted that, according to their church, Christine would only be considered divorced once she engages in a sexual relationship with another man. Janelle confirmed that their religious dogma states that a spiritual union with one's ex-husband can only be terminated after having a sexual relationship with another man. However, the process must be initiated at the church first, for the partners to be released from their spiritual union.
The partner who intends to initiate the divorce is required to apply for the cancellation of sealing to the church's First Presidency. Once the official grants the request, the woman is unsealed from her husband, and granted a temple divorce. The process separates the woman from her husband permanently, allowing her to marry another man if she chooses. A divorce does not affect a woman or man's place in the congregation.
The Fate of Janelle and Kody's Marriage
Janelle's insight into how she and Kody's religion handled divorce raises the question of the status of her marriage. Since she hasn't initiated the process by writing to the church to request that the spiritual bond between her and Kody to be broken, Janelle is still spiritually married to Kody, and is therefore only separated from him. However, she seems to be considering a more permanent end to the marriage, as she works to reconcile her religion, which teaches that she should try to make her marriage work, and her current situation, in which she is happy and at peace away from Kody. She was recently quoted that she isn't interested in rekindling her relationship with Kody.
Luckily, fans won't have to wait long to know the fate of Janelle and Kody's marriage, since TLC is likely to announce the release date for a new season of "Sister Wives" soon. Paedon Brown went live on TikTok in March this year, and let it slip that fans should expect a new season of the show in September. Christine also teased a new season in an announcement that she was filming in Salt Lake City. The new season will address new rumors that Kody and Robyn are courting a new sister wife, and fans hope that they will get to witness the final chapter of Janelle and Kody's marriage.