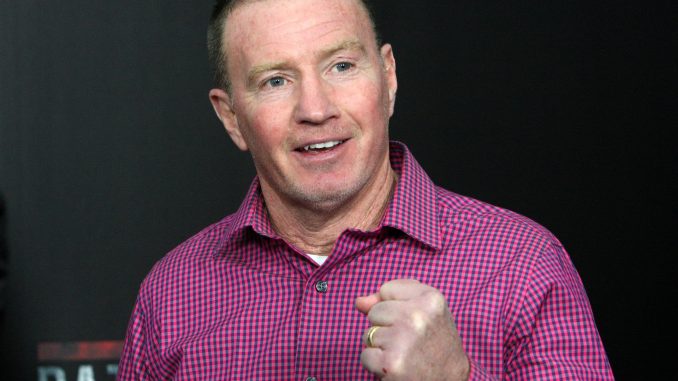 Who is Micky Ward?
Micky is a retired American professional boxer, who is most famous for his legendary trilogy of fights against Arturo Gatti, for which he received the Fight of the Year award two times, and he held the WBU light welterweight title in 2000. He retired from boxing in 2003.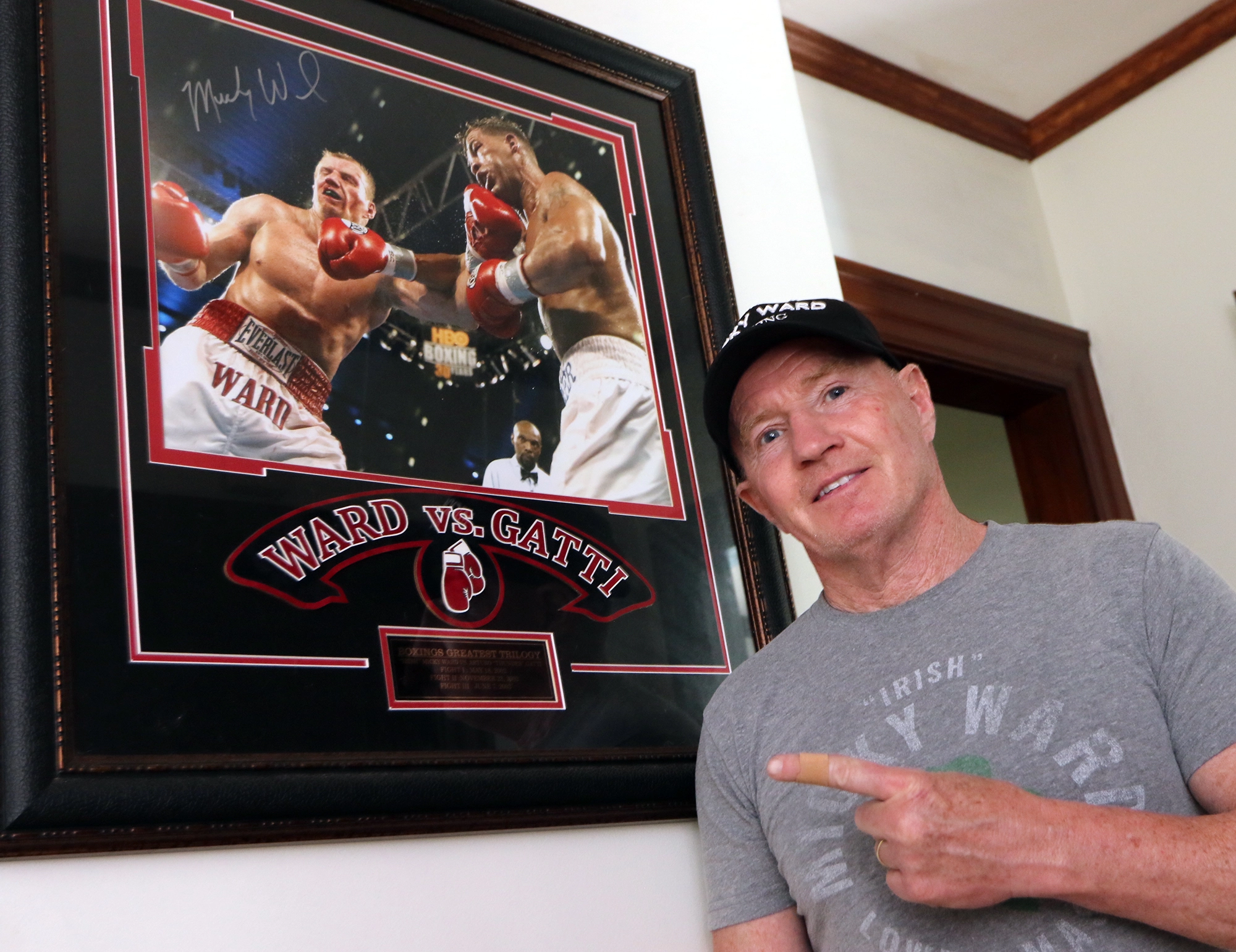 Micky Ward Wiki: Age, Childhood, and Education
George Michael Ward Jr. was born on 4 October 1965, in Lowell, Massachusetts, USA. Of Irish ancestry, he grew up in a tough neighborhood where criminal groups ruled. Drugs and weapons were available on the street, but Micky turned to boxing to stay out of danger. His father was jailed for drug trafficking, so Micky looked up to his older half-brother Dicky Eklund, who was an amateur boxer with 190 amateur fights in his boxing gloves.
Micky started boxing at just seven years old, and his interest in the sport increased as he got older. Before turning pro, Micky won several prestigious competitions, including three-times New England Golden Gloves champion.
Career Beginnings
Micky turned pro in 1985, and his  professional boxing career started with a series of wins, his first 14 fights from 1985 to 1986, including nine wins by knockout. During this period, he quickly gained a reputation as a tough and determined fighter with a powerful left hook.
On his way to the perfect score, Micky defeated such boxers as David Morin, which was his first fight, then Chris Bajor, Mike Peoples, Luis Pizarro, Ken Willis, and Derrick McGuire, before he lost his first match to Puerto Rican fighter Edwin Curet, on 25 September 1986 at Resorts International, Atlantic City, New Jersey, USA.
Nevertheless, he recovered quickly and went on to win a series of bouts against such opponents as Joey Olivera, Joey Ferrell, David Silva, and Marvin Garris to take his record to an outstanding 18-1.
This quickly turned to 21-3, but he lost to Frankie Warren for the USBA light welterweight title. He lost another title match, this time against Harold Brazier for IBF Inter-Continental light welterweight title, and again for the vacant USBA light welterweight title against Charles Murray.
Micky had several unsuccessful bouts in 1991, after which he decided to take a break from boxing.
Return and International Stardom
While away from boxing, he worked full-time on a road-paving crew in Lowell, Massachusetts. During this time away from the sport, he also underwent surgery to address a chronic problem with his right hand, which had been causing him issues for several years, and he'd previously undergone multiple surgeries to try to correct the problem. However, these weren't successful, and he continued to experience pain and limited mobility in his hand.
To address the problem once and for all, Ward underwent a major surgery that involved taking bone grafts from his pelvis and fusing them to the bones in his hand. The procedure was successful, and Ward was able to return to boxing with a fully functional right hand.
The surgery and recovery period were financially demanding for Ward, and he used some of the money he earned from his day job to pay for the procedure. However, the investment paid off in the long run, as Ward's newly strengthened hand helped him to achieve some of the most significant victories of his career, including winning his first nine fights. In 2000, he won the WBU's Intercontinental Light Welterweight Title in a fight against Shea Neary, which was a significant achievement in his career.
One of the most memorable fights in Ward's career was his 1997 match against Alfonso Sanchez. Ward was losing the fight on points, but he managed to turn things around in the seventh round with a powerful left hook to the body that knocked out Sanchez. The punch was a perfect example of Ward's exceptional power and accuracy with his left hook, which had become one of his signature moves in the ring.
In 2000, Micky Ward traveled to London to fight Shea Neary, who was the WBU Light Welterweight Champion. Despite being the underdog in the fight, Ward managed to win by TKO in the eighth round, becoming the new WBU champion.
However, Ward never defended his title, and he split his next four fights. Despite this, he continued to be known as a fan favorite and a tough fighter in the ring.
One of the most memorable fights of Ward's career was his ten-round decision victory over Emanuel Augustus (then known as Emanuel Burton) in 2001. The fight was a back-and-forth battle that showcased both fighters' skills and determination. The fight was later voted as The Ring magazine's 2001 Fight of the Year, cementing Ward's status as a respected and admired boxer.
Trilogy Battle with Arturo Gatti
On 18 May 2002, Micky faced off against his most famous opponent, Arturo Gatti. The fight was an intense back-and-forth battle, but Ward managed to knock Gatti down in the ninth round and win the fight by majority decision. The fight was later named The Ring magazine's 2002 Fight of the Year, but both fighters were taken to hospital for treatment after sustaining injuries.
The two fighters agreed to an immediate rematch, which took place in November of the same year. This time, Gatti won the fight, knocking down Ward in the third round. Despite the loss, Gatti praised Ward's resilience and tenacity in the ring.
The fighters then agreed to a third fight, which was another intense and closely contested battle. Although Gatti dominated early on, Ward managed to knock him down in the sixth round. However, the bell rang before the referee could count to ten, and Gatti was able to recover and win the fight by unanimous decision. Once again, both fighters required medical attention after the fight, and the bout was named The Ring magazine's 2003 Fight of the Year, making it the third consecutive year that one of Ward's fights was named as such. This accomplishment had not been achieved since the 1950s, by Rocky Marciano and Carmen Basilio.
The trilogy of fights between Ward and Gatti was the most lucrative of Ward's career, earning him approximately $3 million.
He retired from boxing shortly after, with a record of 38-13.
Arturo Gatti outpointed his old nemesis and friend, Micky Ward, with a unanimous 10-round decision #OnThisDay in 2003 at…

Posted by Boxing News and History on Monday, June 7, 2021
Life in Retirement
Since retiring from boxing, Mickey part owns and runs a boxing gym and an outdoor hockey rink. His business partner is his half-brother Dicky Eklund.
'The Fighter'
Mickey's life and the start of their professional career were depicted in the biographical sports-drama film "The Fighter", directed by David O. Russell, and starred Mark Wahlberg as Micky and Christian Bale as Dicky.
Net Worth
According to sources, Micky Ward's net worth is estimated at $500,000, as of mid-2023.
Personal Life, Marriage, Wife, Children
Micky has been married to Charlene Fleming since 1999. He has one child, Kasie Ward, born on 20 September 1989 – he was married before Charlene, but there is no information on this relationship.
Appearance and Body Measurements
Mickey has light brown hair and blue eyes. He stands at a height of 5ft 8ins (1.73m), while he weighs approximately 140lbs (64kgs). His vital statistics are unknown, but he/s maintained an athletic figure, as he still trains in the gym.