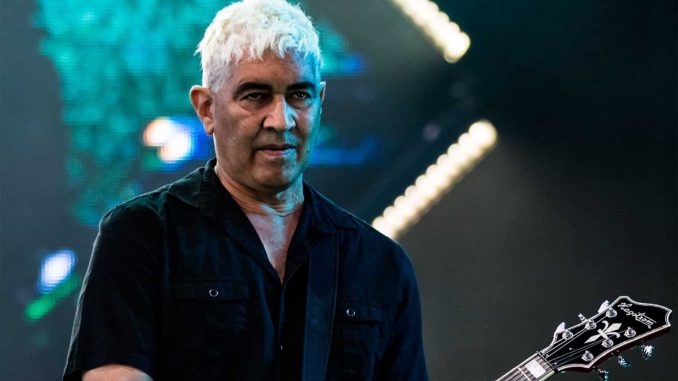 Who is Pat Smear?
Pat Smear is a musician, guitarist, and songwriter, best known for his work as a full-time member with the rock bands Nirvana and Foo Fighters, and as a touring musician.
Happy Birthday to Pat Smear! This Grammy winning American guitarist Pat Smear was a founding member of the influential…

Posted by Modern Music Studio on Thursday, August 5, 2021
Pat Smear Wiki: Age, Childhood, and Education
Georg Albert Ruthenberg was born on 5 August 1959, in Los Angeles, California, USA, to a German-Jewish father and a mother of African-American and Native American descent. His father was a professional astrologer, and his mother was a teacher. It's unknown when and why he adopted Pat Smear as his stage name.
Smear grew up in West Los Angeles, where he attended piano lessons from 11 years of age. However, just a couple of years later, he started teaching himself to play guitar. In interviews, Smear also stated that he was raised in a religious household.
However, at 13, Smear left home and joined a commune, where he lived for several years. He later attended the alternative Innovative Program School (IPS), within University High School in Los Angeles. It was there that he met Darby Crash, with whom he would go on to form the influential punk rock band The Germs in the late 1970s.
Career Beginnings
In 1976, Smear formed The Germs with Darby Crash, Lorna Doom and Dottie Danger (the pseudonym of Belinda Carlisle, who later fronted The Go-Go's). Smear was the only member of the band with any musical knowledge or proficiency at that time, but during his time with the Germs, Smear often had to borrow guitars, as he didn't own one. The band released their debut album, "(GI)", in 1979, which was produced by Joan Jett. The album is considered a landmark in punk rock history, and Smear received praise for his guitar work on it.
The Germs with Smear as a member, were featured in the documentary film "The Decline of Western Civilization" (1981), directed by Penelope Spheeris. However, the band broke up following the death of Darby Crash, who died before the film's release.
After the Germs disbanded, Pat briefly played with Twisted Roots in 1981, alongside ex-Screamers keyboardist Paul Roessler and his sister Kira Roessler. The band became very popular in the Hollywood punk scene, although their tenure was short-lived.
Smear continued to pursue music, playing with Nina Hagen, and recording two solo albums, Ruthensmear (which he recorded with Roessler) and So You Fell in Love with a Musician. He also briefly played with the punk band The Adolescents in 1981.
After this, he tried himself in acting, and had bit parts in several projects, including the film "Breakin'". On the film set, he became friends with Courtney Love, which later led to his stint with Nirvana.
Nirvana, Touring Musician, and Formation of the Foo Fighters
In 1993, Pat Smear received a surprising phone call from Kurt Cobain, asking him to join Nirvana as a second guitarist for an upcoming tour. Smear initially believed it was a prank by his friend Carlos "Cake" Nunez, but Courtney Love had informed him days before that Cobain would be reaching out. Smear accepted the offer without hesitation, and debuted with Nirvana on "Saturday Night Live" on 25 September 1993. He toured with the band for approximately six months, contributing to the live albums "MTV Unplugged in New York" and "From the Muddy Banks of the Wishkah", as well as to compilations such as "With the Lights Out", and the concert DVD "Live and Loud".
After Cobain's death, Dave Grohl formed Foo Fighters to promote his debut album under that name, although the band's name did not exist yet. Smear joined the band when it was first created in late October 1994, however, he didn't feature in a Foo Fighters album until 1997's The Colour and the Shape, as their debut album was composed of demos recorded by Grohl himself. After the release of The Colour and the Shape, Smear left the band, explaining that he left mainly due to exhaustion from their extensive touring schedule. The tensions within the band, which arose from Grohl's divorce from his first wife, Jennifer Youngblood, who was a close friend of Smear, also contributed to Smear's departure. Grohl implored Smear to stay, and Smear agreed to stay temporarily for their scheduled tours until a replacement guitarist was found. Ultimately, Grohl invited Franz Stahl, his former bandmate from Scream, to replace Smear as the lead guitarist. Smear announced his departure from Foo Fighters during their live performance at the 1997 MTV Video Music Awards. He played for part of the set, and then introduced Stahl who finished the show.
Later Career and Reunion with Foo Fighters
During the time that he wasn't in Foo Fighters, Smear stayed out of the public eye. He worked as a consultant for a movie about the Germs and Darby Crash entitled "What We Do Is Secret", which was named after one of the band's popular songs. Starting in 2005, he began playing with the Germs again for reunion shows. Actor Shane West, who played Darby Crash in the movie, took on the role of lead singer during these performances.
Starting in late 2005, Smear began making appearances in a few Foo Fighters shows. His performances were not for the entire duration of the concerts, but he played with the group on and off until rejoining them full-time in 2010. He took part in the making of their album Wasting Light and went on to record with the band for their eighth studio album, Sonic Highways.
.@foofighters Dave Grohl, Pat Smear, and Chris Shiflett join me on @DoubleJRadio tomorrow at 10am. 🤘🏼 pic.twitter.com/P4aOlHkGjS

— Zan Rowe (@zanrowe) February 22, 2022
Since then, Pat has been a full-time member of the band, contributing guitar riffs on albums "Saint Cecilia" (2015), "Concrete and Gold" (2017), and "Medicine at Midnight" (2021), which has turned him into a true living rock legend.
Net Worth
According to authoritative sources, Pat Smear's net worth is estimated at $25 million, as of mid-2023.
Personal Life, Dating, Married, Wife, Children
Pat Smear likes to maintain a low profile, but some information has become available to the public. According to reports, he's married to Jenna Caldwell, and they have a daughter together.
Appearance and Body Measurements
Pat Smear now has gray hair and brown eyes. He stands at a height of 6ft 1in (1.84m), while he weighs approximately 165lbs (75kgs), with vital statistics of 40-12-34.