Mikaela Shiffrin is an American World Cup alpine skier. She is famous for being the youngest Olympic slalom champion in alpine skiing history at 18 and 345 days. She is currently in a relationship with her boyfriend, Aleksander Aamodt Kilde who is also a skier.
The skier holds the record for the most World Cup wins in history. She has won two Olympic Gold Medals and is a five-time Overall World Cup champion, four-time world champion in slalom, and seven-time winner of the World Cup discipline title in that event. On February 16, 2023, she won her seventh career Alpine world championships gold medal, bringing her total to 14 medals from 16 career world championship races. This accomplishment makes Shiffrin the most successful skier in the modern era.
Where was Mikaela Shiffrin born?
Mikaela Shiffrin was born on 13th March 1995 in Vail, Colorado, USA to her mother, Eileen, and her father, Jeff Shiffrin. Her parents were both former ski racers from the Northeastern United States. Her dad, Jeff raced for Dartmouth College, while her mum, Eileen raced in high school. Her older brother, Taylor also raced for the University of Denver. Her paternal grandfather was Jewish. Her full name is Mikaela Pauline Shiffrin. She is 28 years old as of 2023. She is American when it comes to her nationality and her ethnicity is American-White. When Mikaela was eight years old, the family moved to rural New Hampshire, where her father worked at Dartmouth–Hitchcock Medical Center. After five years, they moved to Denver, where Mikaela attended middle school.
Mikaela showed great promise as a ski racer from a young age. At 14 years old, she won both the slalom and GS at the Topolino Games in Italy. The following winter, she won a Nor-Am Cup super combined race in British Columbia. She continued to perform well in her next three Nor-Am races, placing on the podium in each one. In January 2015, Mikaela named Janica Kostelić and Bode Miller as her idols while growing up. Despite her success, Mikaela has faced setbacks, including the death of her father in 2020. However, she has continued to compete and has become one of the most successful ski racers in history, with multiple Olympic and World Championship medals to her name.
How was the career of Mikaela Shiffrin?
Shiffrin's first World Cup appearance was in March 2011 in the Czech Republic. By early April of the same year, she had already secured the slalom championship at the US National Championships, becoming the youngest American to do so.
At age 16, during the 2012 Alpine Skiing World Cup, Shiffrin earned her first World Cup podium in slalom at Lienz, Austria, despite losing her left shin guard halfway down and starting 40th.
At age 17, Shiffrin secured her first World Cup win in a night slalom in Åre, Sweden, followed by two more wins at night slaloms in Zagreb, Croatia, and Flachau, Austria, ultimately earning the 2013 season title in the slalom discipline after winning at the World Cup finals in Lenzerheide, all while managing to graduate on time from Burke Mountain Academy.
Shiffrin then began the 2014 season with a career-best sixth place in giant slalom at Sölden, followed by her fifth World Cup victory with a win in the slalom at Levi, Finland. Throughout the season, she secured additional wins in Bormio, Italy, Flachau, Åre, and Lenzerheide, ultimately earning her second consecutive World Cup slalom title and ending the season as the reigning Olympic, World Cup, and world champion in slalom, as well as being named one of ESPNW's Impact 25.
Starting with her first World Cup win in giant slalom at Sölden in October 2014, Shiffrin struggled in the first three slalom races but emerged victorious in races at Kühtai, Zagreb, Maribor, Åre, and Méribel, ultimately winning the slalom world cup title once again and also securing the World Championship in slalom held in Beaver Creek near her hometown of Vail, Colorado.
During the 2016 season, she won all five slaloms she started, including setting a new record margin for women's slalom at Aspen, but missed the other five slaloms due to injury and chose not to compete in parallel slalom in Stockholm.
In the 2017 season, Shiffrin continued her impressive streak with multiple victories in both giant slalom and slalom races. She also posted her best result in a speed event, finishing fourth in the super-G. 
At the World Championships in St. Moritz, she won the gold medal in slalom and took the silver in giant slalom, becoming the first woman to win three consecutive slalom gold medals in the World Championships. Shiffrin also won her first super combined race and secured her fourth slalom world cup. She finished the season with more World Cup victories before the age of 22 than Ingemar Stenmark and received the "Skieur d'Or" award for the best alpine skier of the year.
In the 2018 skiing season, she won multiple races in different categories including giant slalom, downhill, slalom, and parallel slalom, setting records and becoming the first woman in history to win the first five World Cup races of a calendar year. 
She won gold in giant slalom and silver in super combined at the 2018 Winter Olympics in Pyeongchang, making her the most decorated American Olympian and female alpine skier. She secured her second consecutive World Cup overall title with 5 races left in the season and won the slalom at the World Cup Finals in Åre, tying for second with teammate Lindsey Vonn for most World Cup wins in a single season by a woman.
In 2018 and 2019, Mikaela achieved numerous milestones in her career. She won all six currently contested alpine skiing disciplines, becoming the only skier to do so. 
Furthermore, she also broke records for the most World Cup wins in a single calendar year and the most World Cup wins in a season by any alpine skier. She won gold and bronze at the 2019 Alpine World Ski Championships, despite suffering from a lung infection on the day of one of her races. She became the first skier to win the overall, super-G, giant slalom, and slalom World Cup titles in a single season.
During the 2020 season, she experienced some inconsistency in technical races, with fluctuations in ranking in both slalom and Giant Slalom. However, she performed well in speed races, with six victories for the season, including one each in giant slalom, Super-G, and Downhill. 
Unfortunately, on February 2, 2020, her father passed away in an accident, causing her to take an indefinite break from the World Cup tour and ending her chances of a fourth consecutive title. Despite attending the final competition in Åre, Sweden, the race was canceled due to the coronavirus, allowing Petra Vlhova to take over the top spot in the slalom rankings, and Federica Brignone to take over the lead in the overall standings, marking the end of Shiffrin's three-year winning streak.
After missing the first race of the 2021 season due to a back issue, Shiffrin returned to the World Cup circuit with consistent top-six finishes and victories in the Courchevel giant slalom and Flachau night slalom. 
At the 2021 World Championships in Cortina d'Ampezzo, Shiffrin won four medals, including a gold in the Alpine Combined, making her the most successful American alpine skier in the World Championships. 
In the Giant Slalom, she won the silver after a narrow miss for the gold, finishing only .02 seconds behind Lara Gut-Behrami. Shiffrin won a bronze medal in the slalom, which was her 11th world championship medal, tying her with Anja Parson for the most medals won since World War 2 and extending her record as the most decorated American alpine skier in world championship history.
Shiffrin failed to win a medal in any of the individual events she competed in at the 2022 Winter Olympics, including her signature slalom and giant slalom, and finished fourth in the mixed team event.
Shiffrin surpassed Stenmark's record with her 87th World Cup win and previously earned her 84th and 85th victories, putting her in second place for most wins. Stenmark praised Shiffrin in a recent interview, stating that she is superior to him and cannot be compared.
How much is Mikaela Shiffrin's net worth?
Mikaela Shiffrin is a ski racer who has made a huge sum of money from her professional career. She is making $515,000 per year and she has recorded $885,000 in prize money from World Cup seasons. She has also partnered with major companies such as Adidas, Barilla, Visa, Longines, Bose, IKON Pass, and Oakley, as well as suppliers including Atomic, Reusch, and Leki. Despite her success, Shiffrin is still a young athlete with a promising future ahead of her in the slalom competition.
Mikaela Shiffrin's impressive career as an alpine ski racer has earned her a net worth of $3 million. Her victories at various competitions have made her one of the most decorated skiers in U.S. history. The majority of her net worth is attributed to her career since 2011. In addition to her skiing career and lucrative endorsements, Shiffrin enjoys luxury living and has purchased a lavish home in Colorado. Her house reflects her preference for classic, European-inspired decor with a relaxing ambiance, which she describes as a "sanctuary." Shiffrin shares her home with her mother and is also a car enthusiast, particularly for classic cars like her Range Rover. With her talent and passion for skiing, as well as her successful endorsement deals and love for luxury living, Shiffrin's net worth is sure to continue to grow in the future.
Who is Mikaela Shiffrin's Boyfriend?
Mikaela Shiffrin is currently in a happy relationship with fellow skier, Aleksander Aamodt Kilde since 2021. The couple has been open about their relationship, and it is known that they are planning to get married. Mikaela identifies as straight and she has not been involved in any extra affairs. Aleksander supports her career, and the two have a strong understanding of each other's professional commitments. 
As of now, Mikaela and Aleksander do not have any children, but they seem to be content with their relationship and focused on their careers. They frequently share their adventures on social media, which has made them one of the most talked-about couples in the skiing world. With their mutual love for skiing and similar lifestyles, Mikaela and Aleksander seem to be a perfect match for each other. They are enjoying their present life a lot without any disturbances.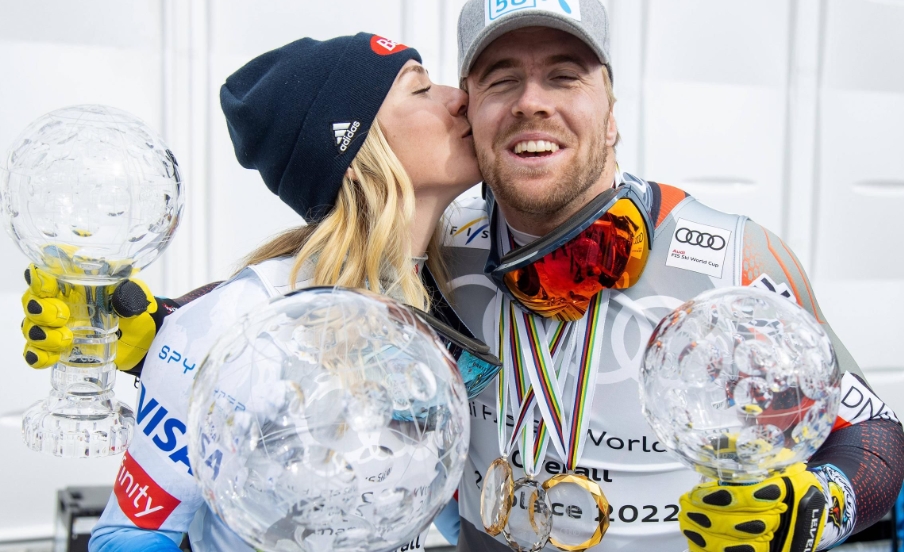 How tall is Mikaela Shiffrin?
Mikaela Shiffrin is a beautiful lady with blonde hair, striking gray eyes, and a hint of green. Her distinct features include a charming smile, wavy hair, and broad shoulders. Her workouts are under the guidance of Jeff Lackie, and she starts with some basic cardio on the stationary bike followed by stretching. She also trains on a slackline to maintain her balance and has showcased her coordination skills by juggling in a video posted on Instagram. 
Mikaela Shiffrin, who stands at 5 ft 7 in or 170 cm tall, maintains her athletic build through a rigorous training regime. She has a body weight of 64 kg or 141 lbs. She has got a healthy body with a glowing face. Her intense interval training includes sprints while pushing and pulling a weighted sled, squats, rowing machine work, and skating on a slide board. Her trainer also focuses on eccentric overload training, including various squats and lifts with weighted training to strengthen her lower body. In terms of her diet, Mikaela consumes a balanced meal plan consisting of proteins, fruits, vegetables, and plenty of carbohydrates, but in moderation. Her superfood is pasta, and she usually consumes around 3000 calories a day, with meals consisting of eggs and toast, chicken or fish with pasta and salad, and either chicken or steak with pasta and vegetables for dinner. She snacks on nuts, seeds, and dried mangoes to keep her energy levels up throughout the day.