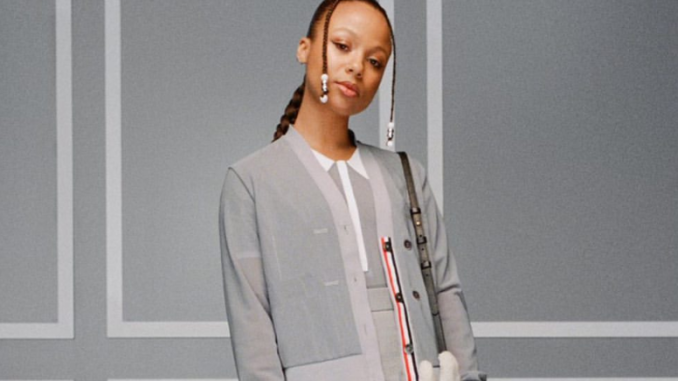 Myha'la Herrold is an American actress who is known for her role as Harper Stern in the British television drama "Industry" and her role as Jordan in the comedic horror film "Bodies Bodies Bodies". She acted primarily in theater roles including on the Broadway production of "The Book of Mormon" as Nabulungi. In the play, Nabulungi is the daughter of Mafala and the love interest of Arnold Cunningham, who dreams about going to Sal Tlay Ka Siti one day. She made her film debut in 2018 with "Rehabilitation of the Hill" in which she played the role of the background. she made her television debut when she appeared in an episode of the American anthology series "Modern Love" as Tami. She is the recipient of the award for best lead actress at the Bay Area High School Musical Theatre Awards (2013) for playing the role of Olive in the musical 'The 25th Annual Putnam County Spelling Bee.' She was also honored at the California High School Musical Theater Awards (2014). 
Myha'la Herrold Known For
Known for her theatrical play debut in 2017 on the nationwide tour of the popular musical The Book of Mormon.
Known for starring in the British TV drama "Industry" as Harper Stern. 
For her appearance in films and TV series such as "Rehabilitation of the Hill", "Premature", "The Tattooed Heart", "Plan B", "Bodies, Bodies, Bodies". 
When was Myha'la Herrold born and raised?
Myha'la Herrold took birth on 6th April 1996. She was born and raised in San Jose, California, USA. Her full name is Myha'la Jael Herrold. She holds American nationality and she belongs to the Jamaican-American ethnicity. Her mother, Susan, ran a salon. Her father is Jamaican. She has no siblings. Despite being practically raised in a beauty salon, Herrold had a complicated relationship with beauty since her childhood. In an interview she said, Growing up, I was heavily influenced by this eurocentric idea of what beauty is and so I always felt 'othered'. It really started to affect how I felt about myself was when I was 16, turning 17. I had this mantra where I'd tell myself, 'You're beautiful,'—but I couldn't help feel so insecure, wishing that I had anything but my own body, my own face." Her present age is 26 as of 2022. She was born into a Christian religious family. Aries is her zodiac sign as per her birth date. She started getting interested in acting when she was only 6. In her hometown, she got the opportunity to star in various community theatrical productions. She was a prominent member of the Children's Musical Theater in San Jose. In 2014, she was featured in the "YouthLive! Talent Promo" video on Unity Care's YouTube channel. About her education, she attended Archbishop Mitty High School and Carnegie Mellon University School of Drama, graduating in 2018. 
Myha'la Herrold Career Timeline
Herrold made her film debut in "Rehabilitation of the Hill" in 2018. 
After a year, she appeared as Dymond in "Premature". 
In 2019, she was seen in the short film "The Tattooed Heart" as Lulu. In the same year, she played the role of Tami in the TV series "Modern Love". 
In 2021, she appeared as Logan in "Plan B" which was followed by "Bodies, Bodies, Bodies" in 2020.
She is currently playing the main role n the TV drama series "Industry" (2020-Present). 
She will next be appearing in the film "Leave the World Behind". 
Who is Myha'la Herrold's Boyfriend?
Myha'la Herrold is not married yet and she is still to get married. She is currently dating her boyfriend, Armando Rivera who is a professional footballer who plays for the College of the Desert in Palm Desert, California. COD Football is a member of the American Division-Mountain Conference in the Southern California Football Association (SCFA). The duo is enjoying their present life a lot. Her sexual orientation is straight.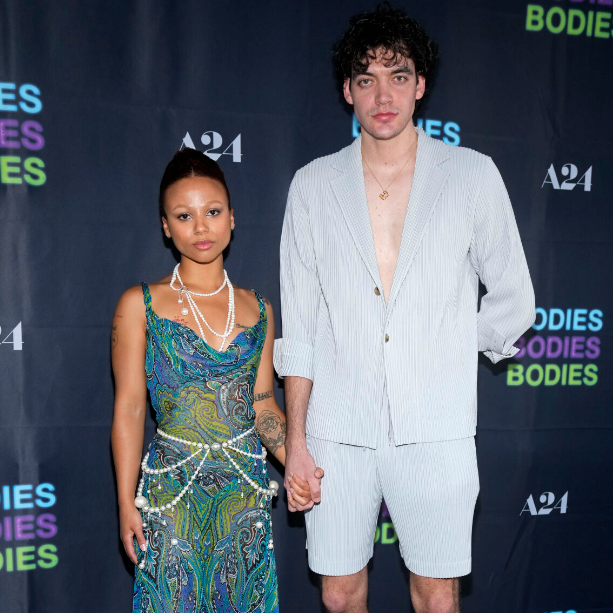 How much is Myha'la Herrold's Net Worth?
Myha'la Herrold s an aspiring actress who has appeared in a number of movies and TV series. She has accumulated huge fame at this young age. The net worth of Myha'la Herrold is estimated to have $1 Million at the time of writing. She made this fortune from the entertainment industry which is her main source of wealth. She is a very hardworking and dedicated woman towards her work. Her present salary is in thousands of dollars from her professional work. She is satisfied with her earnings. She has not shared the details about her property, house, and car collection with the public. 
Myha'la Herrold Height and Weight
Myha'la Herrold is a beautiful actress with a charming face. She stands at the perfect height of 5 feet 1 inch. Her body weight consists of 52 KG or 114 lbs. Her hair color is brown and she has a pair of beautiful brown eyes. She often changes her hairstyle and she does it by herself. She once shaved all of her eyebrows until there was nothing left for experimentation purposes. She has sharper canine teeth on the upper jaw. She has a 'Babygirl' tattoo inked on her chest, a woman's face inked on her right thigh, a 'Sweet' tattoo inked above a heart tattoo with 'MAMA' inscribed in it, '96' inked on her left shoulder, a rose tattoo inked on her left arm, 'Salad' her cat's name inked on her left thigh, 'Hungry' inked on her right arm and more. She has a septum piercing, and she also wears a nose ring.