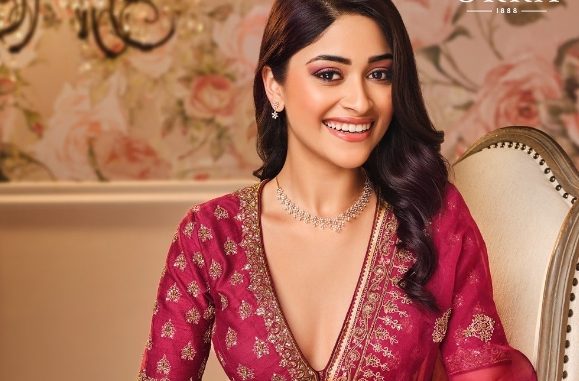 Nandini Gupta is a model and actress who gained immense popularity after winning the prestigious title of Femina Miss India 2023 at the 59th Femina Miss India beauty pageant held in Imphal, Manipur. She was just 19 years old when she won the coveted title, which was presented to her by Miss India 2022 Sini Shetty. Gupta's victory not only catapulted her to national recognition but also earned her a legion of fans who were impressed by her talent and beauty. Nandini will compete in the 71st Miss World pageant in the United Arab Emirates in 2023. 
Industrialist and philanthropist, Ratan Tata is one of the most influential people in Nandini Gupta's life, as she considers him an inspiration. However, it was Bollywood actress Priyanka Chopra's win at the Miss World 2000 pageant that sparked Gupta's interest in modeling. Gupta's success at such a young age has inspired many, and fans are eager to see what she will achieve in the future.
Where is Nandini Gupta from?
Nandini Gupta, an Indian by nationality, was born in 2004. She is from Kota, Rajasthan. She comes from an Indian-Asian ethnic background and practices Hinduism as her religion. Gupta has always had a passion for hospitality and excelled in this field from a young age. Additionally, she nurtured a childhood dream of winning the title of "Miss India." As of 2023, Gupta is 19 years old and continues to make waves in her professional life. She is the daughter of her father, Sumit Gupta, and her mother, Rekha Gupta. She also has a younger brother who is studying engineering. 
Gupta completed her primary education at St. Paul's Sr. Sec School before enrolling at Lala Lajpat Rai College, where she pursued a degree in business management. She later completed her education at the University of Delhi, where she honed her skills and prepared herself for a successful career. Her educational background and expertise in hospitality have helped shape her career path, and she continues to inspire others with her dedication and hard work.
Nandini Gupta Miss India 2023 Career
In 2018, Nandini's foray into the realm of beauty pageants commenced with her participation in the Miss India pageant. Despite not clinching the title, she secured a spot among the top 10 finalists, impressing the judges with her confidence, poise, and intelligence. Following her participation in Miss India, Nandini was offered numerous modeling and acting assignments. She also launched her own YouTube channel where she shares beauty and lifestyle advice with her followers. As her popularity grew, she became a social media sensation with a large and devoted fan base.
Nandini has received multiple awards and accolades for her exceptional work in the fashion and beauty industry. In 2019, she was recognized as the "Emerging Face of Indian Fashion" at the Indian Fashion Awards. Her notable accomplishments in the industry have also earned her recognition in various magazines and newspapers.
Her then career in the entertainment industry began after she won the prestigious title of Femina Miss India 2023 at the 59th Femina Miss India beauty pageant in Imphal, Manipur. Since then, Gupta has made a name for herself in the modeling and acting industries, appearing in various TV ads and films. She appears in print advertising for Orra Jewellery. 
Her exquisite talent, captivating appearance, and endearing demeanor have made her a fan favorite. Despite her young age, Gupta's hard work and dedication to her craft have helped her establish a solid career in the industry.
Gupta started her career as a model and eventually transitioned into acting. She has taken on a range of roles and is known for her versatility as an actress. Gupta's performances have earned her numerous accolades and recognition in the entertainment industry. Her talent and perseverance are sure to bring her even more success in the future.
Nandini is inspired by industrialist and philanthropist Ratan Tata and credits actress Priyanka Chopra for igniting her passion for modeling. With her talent, dedication, and passion, Gupta is poised for a bright future in the entertainment industry, and fans are eagerly anticipating her next move.
Everything To Know About Priyanka Chopra
Nandini Gupta Wins Miss India 2023
Nandini Gupta, a 19-year-old model from Kota, Rajasthan, was crowned Femina Miss India 2023. The highly-anticipated beauty pageant, which took place at the Indoor Stadium in Imphal, Manipur, saw Delhi's Poonja and Manipur's Thounaojam Strela Luwang being declared as the first and second runner-ups, respectively. Nandini beat out stiff competition from the other contestants to win the title of Femina Miss India World 2023. The official website of Femina Miss India praised Nandini's performance, stating that she had conquered the stage and captured the hearts of the judges and audience alike with her magnetism, charm, endurance, and beauty. The website further stated that Nandini had worked extremely hard to earn the crown, and they were extremely proud of her journey. The grand finale ceremony was attended by several celebrities, including Ananya Pandey and Kartik Aaryan, who gave stellar performances. The event was hosted by Bhumi Pednekar and Maniesh Paul, and the state winners were judged by a panel of distinguished individuals, including Neha Dhupia, Laishram Sarita Devi, Terence Lewis, Harshavardhan Kulkarni, Rocky Star, and Namrata Joshipura.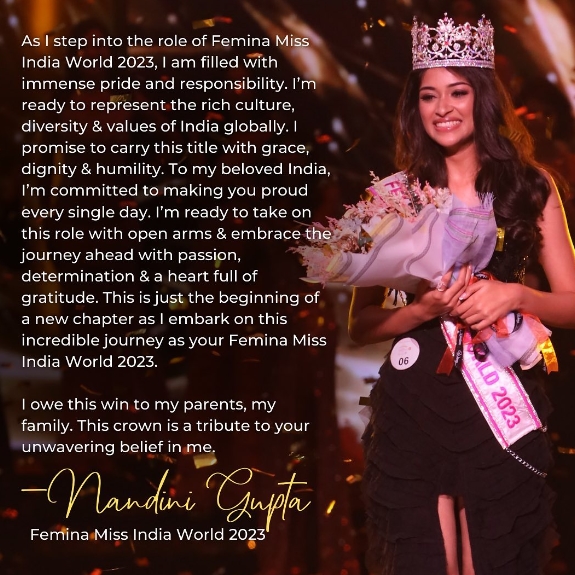 In addition to the coveted title, Nandini also received several prizes and opportunities, including a chance to represent India at the Miss World pageant. The Femina Miss India pageant is one of the most prestigious beauty contests in India, and winning the title is considered a significant achievement in the world of fashion and beauty. Nandini's victory has propelled her to the forefront of the Indian modeling industry, and she is expected to enjoy a successful career in the years to come.
Who is Nandini Gupta's Boyfriend?
Nandini Gupta, a renowned public figure, has managed to keep her romantic life away from the public eye. Currently, there is no information available about her relationship status, and it's uncertain whether she is married or not or have a boyfriend. Gupta has always been tight-lipped when it comes to her personal life, and she has never made any public declarations or statements about her marital status. It's possible that she is single and focusing on her career or perhaps in a relationship but chooses to keep it private. Regardless of her romantic connections, Gupta's impressive accomplishments in her profession continue to inspire many through her dedication and perseverance. As a public figure, Gupta has every right to keep her personal life private, and she deserves respect and admiration for her achievements and talents.
Despite being a public figure, Nandini Gupta has successfully kept her personal life a mystery. She hasn't been seen in public with any romantic partners, and her relationship status remains unknown. It's possible that she is not currently married and has chosen to focus on her career. Alternatively, Gupta might be in a relationship but prefers to keep it private, away from the public eye. Regardless of her personal life, Gupta's career achievements and commitment continue to inspire people worldwide. As a well-known personality, Gupta has the right to maintain her privacy and keep her personal life separate from her public persona. Ultimately, Gupta's dedication to her profession serves as a testament to her strength, determination, and hard work, and she remains an inspiration to many.
How much is Nandini Gupta's net worth?
As of 2023, Nandini Gupta's estimated net worth is around $1 million. Her primary source of income is from her modeling assignments, which she has been actively pursuing since winning the Femina Miss India 2023 title. Apart from modeling, Nandini also earns from her YouTube channel, where she shares her beauty and fashion tips. Additionally, she has endorsed various brands, including Colorbar Cosmetics and ORRA Fine Jewellery, which have contributed to her overall net worth.
In addition to her modeling career, Nandini Gupta is also a savvy investor in startups and has a keen interest in entrepreneurship. She is an intelligent young woman who is interested in diversifying her income streams and exploring new opportunities. Gupta's luxurious apartment in Mumbai is valued at approximately $500,000, and she also owns a BMW 5 series, which she purchased in 2020. Her love for cars is well-known, and she has expressed her desire to own a Lamborghini in the near future. She is living a lavish lifestyle as of now. 
How tall is Nandini Gupta?
Nandini Gupta is a woman with a slim body type and a height of 5 feet 6 inches or 167.5 centimeters. Her weight is around 51 kilograms or 112.5 pounds. She has dark brown hair and eyes, with a noticeable beauty spot on the left side of her upper chest near her collarbone. Being a dance and workout enthusiast, she keeps herself fit and active. She has a body measurement of 36-24-33 inches (breast-hips-waist). She wears a shoe size of 6 US. 
Apart from her physical attributes, Nandini is also known for her passion for dance and fitness. She is enthusiastic about trying out different dance forms and regularly shares her workout routines on social media. With her commitment to a healthy lifestyle and love for movement, she inspires many to stay active and prioritize their well-being.