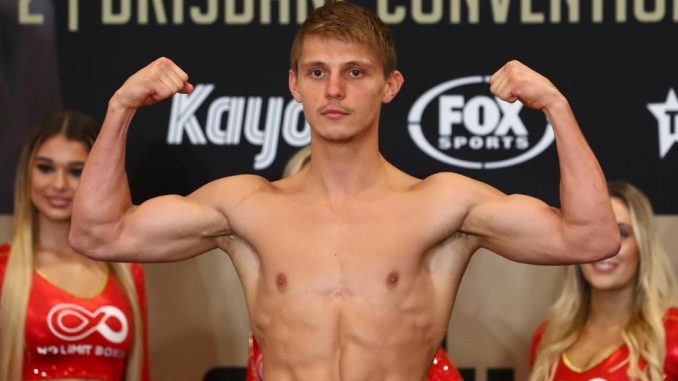 Nikita Tszyu is a rising boxer in the world of professional boxing, hailing from Australia. Nikita has already made a name for himself in the industry, following in the footsteps of his father, former world champion boxer Kostya Tszyu, and his brother, fellow boxer Tim Tszyu. Tszyu's weight class is light-middleweight and his stance is a southpaw.
With an impressive record of five wins, all by knockout, Nikita is quickly establishing himself as a force to be reckoned with in the boxing world. He is known for his dedication to his craft, his disciplined training regimen, and his ability to deliver powerful punches in the ring. As he continues to rise through the ranks of professional boxing, fans, and followers are eager to see what Nikita will achieve next in his career. 
What is Nikita Tszyu's nationality?
Nikita Tszyu was born in Sydney, New South Wales, Australia in 1994, which makes him 25 years old as of 2023. He comes from a Russian family and is the son of former world champion boxer Kostya Tszyu, as well as the brother of boxer Tim Tszyu. The siblings share an age difference of 3 years. Besides Tim, he has a step-mom named Tatiana Averina and two half-siblings. Tszyu's ethnicity is mixed, with his father being of ethnic Russian, Korean, and Mongolian descent and his mother of ethnic Russian descent. He holds Australian nationality.
Despite his boxing heritage, Tszyu initially decided to pursue education over boxing, quitting the sport at the age of 16 to focus on his studies. After graduating from Newington College in 2015, he enrolled in a Bachelor of Architectural Design at the University of Technology Sydney and worked in the industry for several years. It was not until he was 23 that he returned to boxing and began making a name for himself as a rising star in the sport.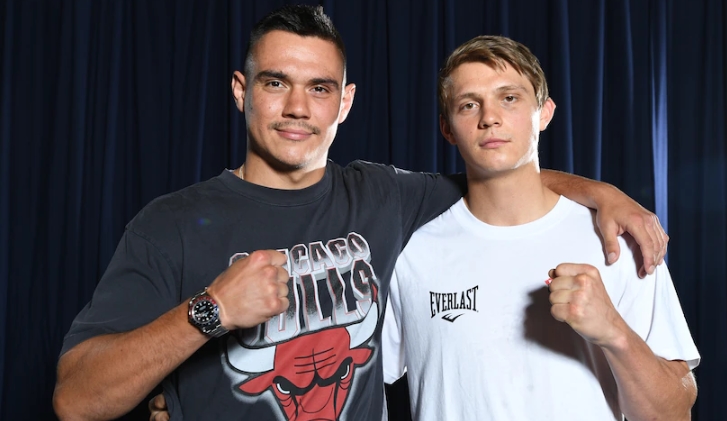 How was the career of Nikita Tszyu?
Nikita Tszyu made his professional boxing debut in March 2022, and in his first match, he faced Aaron Stahl at Nissan Arena in Brisbane. He secured a victory via technical knockout (TKO) in the second round of the match. Interestingly, his professional debut took place almost exactly 30 years after his father's first professional fight. 
Following this win, he fought Mason Smith on May 11, 2022, and won by TKO in the first round, thereby moving his record to 2-0.
On September 2, 2022, Tszyu defeated Ben Horn to move to 3-0. He then fought Darkon Dryden in October and secured a stoppage win, which helped him move to a 4-0 record. 
Up next for Nikita was Tasmanian Bo Belbin, who he faced on his brother Tim's undercard. He showcased a dominant performance and stopped Belbin with a devastating display, thereby moving his record to an impressive 5-0.
His success in the professional boxing world has been attributed to his focus and dedication to the sport. He has mentioned in several interviews that he is committed to following in his father's footsteps and building his own legacy in the sport. He is known for his aggressive fighting style and has been training with his father since he was a child. His brother, Tim Tszyu, is also a professional boxer, and the two share a close relationship and often train together.
Despite his young age and limited professional experience, he is considered one of the rising stars in the world of boxing. He has already gained a significant fan following and has been compared to his father, who is regarded as one of the greatest boxers of all time. 
The boxer has been vocal about his ambitions to become a world champion and has been working tirelessly towards achieving this goal.
His performance in his fights has also caught the attention of several boxing experts, who have praised his skill and technique. Many believe that he has the potential to become one of the best boxers in the world if he continues to train and fight with the same intensity and focus.
As of 2023, Nikita has a bright future ahead of him in the world of professional boxing. With his talent, dedication, and commitment to the sport, he is expected to achieve great things and leave a lasting legacy in the sport, much like his father before him. 
In terms of his professional boxing career record, Tszyu has competed in a total of four matches thus far and emerged victorious in all of them. Out of these wins, three were secured via knockout while one was through a decision.
Who is Nikita Tszyu's girlfriend?
Nikita Tszyu is currently not married and there are no rumors about him dating anyone at the moment. It appears that he is solely focused on his professional boxing career and has not expressed interest in any romantic relationships. His sexual orientation is straight.
On his Instagram account, Nikita primarily shares content related to his boxing career. He often posts updates about his training, upcoming fights, and victories. His feed is filled with photos and videos of him in the gym, during fights, and behind the scenes at various events.
How much is Nikita Tszyu's net worth?
Nikita Tszyu, being a successful professional boxer, has earned a significant amount of money from his career. With his impressive record and fighting skills, he has earned a good paycheck for each of his fights. As a result, it's likely that he has saved a considerable amount of money. However, the average salary of a professional boxer in Australia is around $42,407.
According to sources, Nikita Tszyu's net worth is estimated to be $500K in 2023. The source of his wealth is primarily his boxing career. Despite his success, he leads a modest lifestyle and is known to focus on his career rather than an extravagance. He has not shared many details about his personal life, so it's not clear how he spends his earnings outside of boxing. 
How tall is Nikita Tszyu?
Boxer Tszyu is known for his fit and healthy physique, which he maintains through regular workouts at the gym. He is conscious of his diet and carefully monitors his food intake to ensure he stays in shape. Tszyu has a charming smile and a glowing face that adds to his overall appearance. He has light brown hair and brown eyes, which complement his features well. However, he has not shared any specific details about his body measurements.
Nikita Tszyu is a tall boxer, standing at around 5 feet 10 inches or 1.77 meters or 177 centimeters. He has a slim and athletic body type, weighing around 55 kilograms. His highest reach is 178 centimeters (70 inches), which he uses to his advantage during fights. Overall, Tszyu's physical attributes, along with his impressive boxing skills, make him a formidable opponent in the ring.