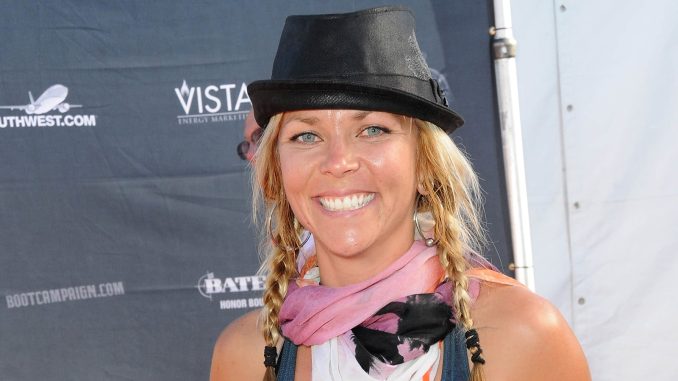 On Tuesday, 27 August 2019, Jessi knew she would make history. She woke up in the morning, headed to the Alvord Desert with her partner, went through all the safety checks, recounted the safety protocols, got in the North American Eagle Supersonic Speed Challenger that had become her lucky charm after she drove it straight to her land-speed record, and strapped herself in, ready to drive her way into a Guinness World Record. However, fate had a different plan for Jessi's life. Unknown to her, her partner, her crew, and her legion of fans around the world, Jessi's ride across the desert would be her last. In a few moments, she would crash at the highest speed she had ever recorded, and her car would catch fire. Here is a look at the accident that cost motorsports enthusiasts one of their most promising legends, and the object that caused it.
The Rise of a Daredevil, Speed Racer, Speed Champion
Jessi Combs is a legend in the world of speed racing. Her journey to the top of the motorsports industry started with the dream of a little girl in Rapid City, South Dakota. Jessi was lucky to grow up in a family that loved to explore the outdoors, which introduced her to off-roading. From there, her passion for machines and speed was born, and she ecame fascinated with everything automotive. In addition, Jessi was a talented artist who loved to work and create things with her hands. She worked with every material she could find, but was particularly partial to metal and leather, two materials that complemented her passion for cars.
The drive, passion, and courage that emanated from Jessi during her racing events were a part of her character and personality since she was a child. They drove her to abandon a fully sponsored spot at a prestigious interior design school, to try her hand at snowboarding in Denver, Colorado, however, her heart wasn't in it, and before long, she was headed to Laramie, Wyoming to pursue her love for speed racing and passion for automotive machines. She enrolled at Wyotech, and took courses that aligned with her passion such as Chassis Fabrication, Trim and Upholstery, Collision and Refinishing, and Street Rod Fabrication. She topped her class, and graduated with a degree in Custom Automotive Fabrication.
With her degree, Jessi was ready to conquer the world of automotive fabrication. Her alma mater, Wyotech, showed its confidence in her skills and its Custom Automotive Fabrication program by hiring her to build a car with another student. Within six months, Jessi and fellow student Ben built and showcased their creation at a specialty equipment event in Las Vegas. The car was auctioned, and Jessi set off to make her place beyond Wyotech. The automotive and collision school recognizes her as one of its most successful students, and honored her contribution to the field of automotive fabrication with the "Jessi Combs Foundation Scholarship," which is awarded to young women pursuing the trades and careers in other male-dominated industries.
Another #throwbackthursday to the Girls in the Garage Car Show last year at the Automobile Driving Museum with…

Posted by Jessi Combs on Thursday, March 15, 2018
Work and Television
Jessi ventured out on her own as soon as she completed her contract with Wyotech after her car was auctioned off for charity; she moved to California and opened a fabrication shop. Television executives soon came calling, drawn in by her skills, passion, and desire to bring more women into motorsports and automotive fabrication. She first appeared on television as a guest fabricator in "Overhaulin'", before securing a permanent position as a co-host of Spike Tv's "Xtreme 4×4." She co-hosted over 90 episodes of the show over four years, building everything from small to large and complicated machines with co-host Ian Johnson, until a freak accident in 2007 led her to leave the show.
An accident involving machinery falling on her that fractured her spine and had her bedridden for months, didn't dampen Jessi's resolve to pursue her passion for speed racing, and building cars from scratch. As soon as she recovered from the accident and regained mobility, Jessi was back on television. Her appeal was largely based on her ability to pique her audience's interest in the things she was building, her expertise, and the maintenance of her integrity in her craft. She made appearances on "Pirate 4X4," "Bosch 125," and "2 Guys Garage", and was a regular in several shows on the Velocity Channel, including "All Girls Garage" and "The List: 1001 Car Things To Do Before You Die." Jessi even graced fans' television screens after her death, following the release of a documentary she'd been filming for years before her death.
Achievements
Jessi's success in her career as a fabricator didn't come close to the success she enjoyed as a performance driver and speed racer. She had always loved racing for fun, but didn't venture into speed racing as a career until she trained as a performance driver for some of her television shows. After her training, she could drive anything with wheels, from monster trucks and rally cars to super speed cars and hot rods. As her experience and confidence as a driver grew, Jessi ventured into stunt driving, and started to enter professional racing events. At the height of her career, Jessi raced in the most difficult races and tracks. She became the first female driver to record a win in the Ultra4's King of the Hammers in 2014, having already won the Baja 1000 and a National Championship.
Some of Jessi's wins broke records and elevated her to a position she enjoyed as a role model for women in motorsports. For instance, in 2013, Jessi set the record for the Fastest Woman on Four Wheels when she reached 440mph and recorded an average speed of 398mph while driving the car that would kill her in six years. Two years later, she finished first in an all-women off-road drive across the Sahara Desert, and in the same year, Jessi became the first woman in history to compete in "The Race of Gentlemen", and wrote a children's book about a young girl who rode motorcycles. As an influential woman in a male-dominated industry, Jessi used all her wins as a platform to inspire girls and women to take their place in the trades and sports.
Fatal Accident
Jessi started her preparations for the most defining moment of her career years before she boarded the car that took her life, but helped her carve a place for herself in the Guinness Book of World Records, documenting the journey that would culminate with the historic moment when she would be crowned the fastest woman, after setting a new land-speed record. In addition to practicing and documenting her journey, Jessi had taken another important step. She'd visited Kitty O'Neil, the woman whose record she intended to break, to seek permission. Kitty was honored by the gesture, and passed on the torch to Jessi.
It may seem a little crazy to walk directly into the line of fire… those who are willing, are those who achieve great things. .
.
People say I'm crazy. I say thank you 😉
.
.
.#fastestwomanonearth #almost #fasterthanfast #jetcar #afterburner #landpsee… https://t.co/IrnCQQWMGJ pic.twitter.com/A5NZ6Luq0u

— Jessi Combs (@TheJessiCombs) August 24, 2019
With years of training and experience, a car she knew well and had used to set another record in the past, and the blessing of her hero, Jessi was unstoppable. She set off across the Alvord Desert under the full view of the cameras. Everything seemed to be going well until one of her vehicle's front wheels failed. At the time of the incident, she was cruising at 550mph, making it impossible for her to recover from the damaged front wheel. Within seconds, the vehicle crashed, Jessi hit her head against one of its surfaces, and the vehicle exploded in flames. Jessi was dead of blunt force trauma, before the vehicle caught on fire.
Further investigations showed that the wheel failure was not caused by mechanical problems in the vehicle. Rather, Jessi hit an object along her path, which led to the collapse of the front wheel assembly. The nature of the object has remained a mystery, but it lay along the dry lake bed in which Jessi drew her last breath. The speed racing legend died at 39, after breaking Kitty O'Neil's record of 512 mph. In her death, the honor she chased in the last moments of her life was conferred upon Jessi Combs. She currently holds the record for the fastest land speed record (female) of 522.783 mph or 841.338 kph. Her name is enshrined in the Speed Racing Hall of Fame.